Why You Should Visit Banff National Park
Is it worth the drive to see Banff National Park Canada? Definitely! Keep reading to learn why!
Banff National Park Canada is a beautiful part of Canada located in the province of Alberta. It has such massive mountain ranges that you can drive through, and you'd never get bored because every slight turn shows another magnificent view of the Earth.
Note: This post uses affiliate links which means if you make a purchase I may make a small percentage at no extra cost to you.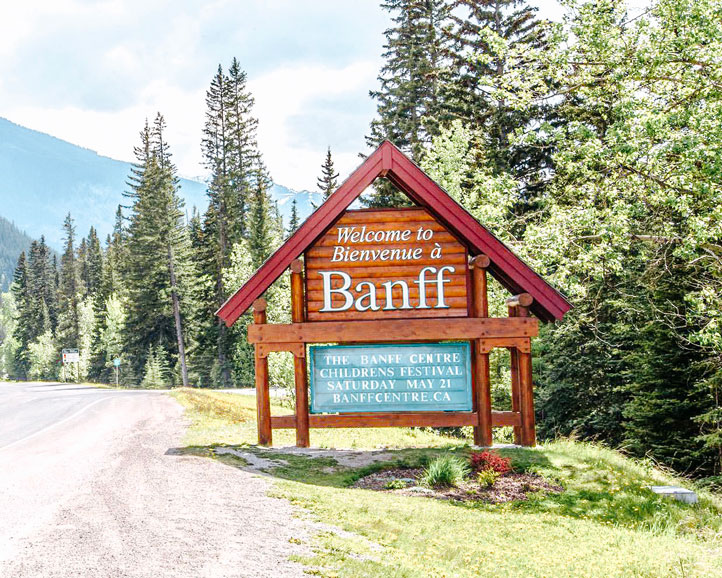 There are many ways to make your trip to Banff. The easiest way if you're coming from outside of Alberta would probably be to fly to the Calgary airport, then drive into the mountains. There are so many beautiful Banff hotels available for you, especially in the main town of Banff.
When I visited Banff Alberta, I had actually taken a flight from Toronto to Edmonton because I was staying with a friend who lived in Saint Albert. We did a day trip from Saint Albert to Jasper National Park one day, and on a separate day did a drive down to Banff. It's a long day of driving to do this, but it's definitely possible. I would suggest staying somewhere in the Banff National Park if possible though so you have time to really see the different parts of the park, as well as check out the town.
Banff is well known for its skiing since the mountains are a perfect place for downhill skiing, so they have multiple really nice ski lodges that you can stay at and ski, which would be ideal for anyone wanting to travel to Banff for a winter holiday. It would save money to stay a bit further out of course, so you'll have to decide if it's worth the price tag to stay central, or if you'd rather save money by staying off site and driving in.
Recommended Read: Lonely Planet Banff, Jasper and Glacier National Parks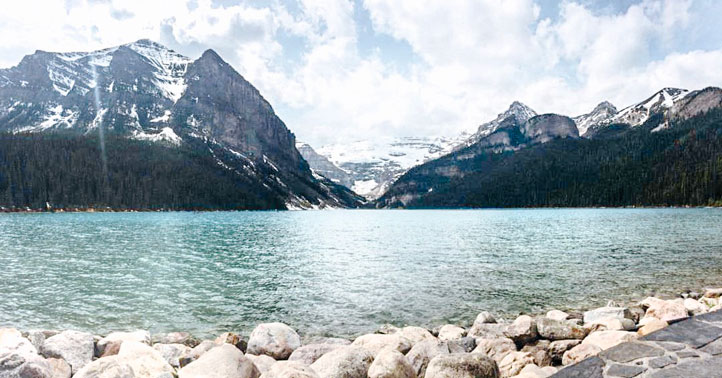 I visited during the month of May, and was sad that I didn't have more time to spend in the town of Banff because it looked like one of the cutest towns I've ever seen! The ski lodge vibe is all through the town!
Also worth seeing when you're in Banff Alberta is the famous and beautiful Lake Louise! Lake Louise is a beautiful, clear lake at the bottom of a glacier. There is also an amazing hotel overlooking Lake Louise called the Fairmont Lake Louise. You can stay overnight to really enjoy the beauty of the area, or you can pop into a restaurant for something to eat while overlooking the mountain and lake.
Going at the end of May was great timing for Lake Louise because my friend had been there about two weeks before and it was still frozen and covered in snow, so she didn't see the beautiful blue water until we went down together on my trip.
I've been asked before if I prefer Banff National Park or Jasper National Park, and I have to say they are both wonderful, so it depends what you're looking for. I'll break it down a bit for you.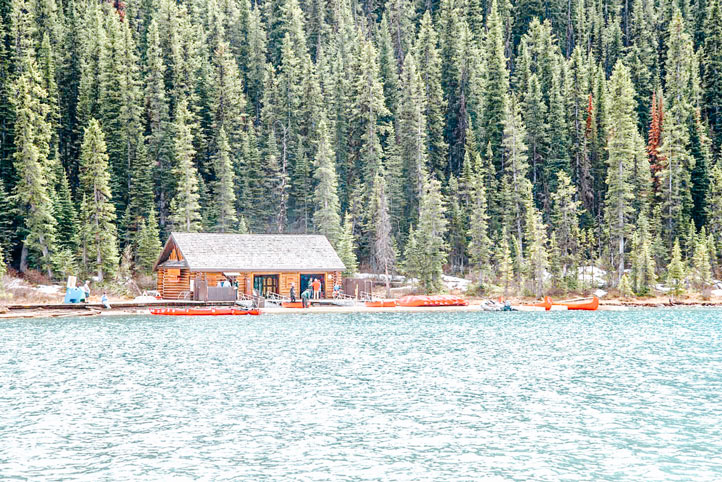 Banff National Park vs. Jasper National Park
I found Banff to be a bit more touristy. There were definitely more people and traffic. I also found the mountains in Banff to be more impressive. They seemed larger, and more picturesque to me somehow. I think looking at the sheer size of the mountains is very humbling, and I found the mountain-scape in Banff offered that more than in Jasper.
When it came to my visit to Jasper (which I'll be writing about soon!) I found that although the mountains weren't as imposing, the nature was more at the forefront. There seemed to be a lot less people around, and as a result, I noticed much more wildlife when I was in Jasper. When you first drive into Jasper,you see some mountains off in the distance until you get farther in, but in Banff you are greeted by large and vast mountains all around
So the choice really comes down to what you're looking for. If you want to see larger mountains and experience more of a tourist location, then I would say Banff would be the choice for you. If you're looking for a quieter experience and would like to see some wild animals in their natural habitat, then Jasper might be more of your cup of tea. Of course you could always visit both places and experience both!

Just a note, make sure you're always respectful of wildlife. Don't feed them, and don't get into their personal space. It is common sense, but every year I hear stories about people not behaving respectfully around the animals, so I just wanted to make sure to add that little disclaimer here.
Final Thoughts On Banff National Park
Visiting Banff National Park is something I would highly recommend to anyone who enjoys nature, mountains and skiing. Visiting Banff is a great option no matter what time of year you plan to go. If you're a fellow Canadian especially from somewhere like Ontario or the Prairies, visiting Banff can almost feel like you're in another world! It's so different from the flat areas that we have.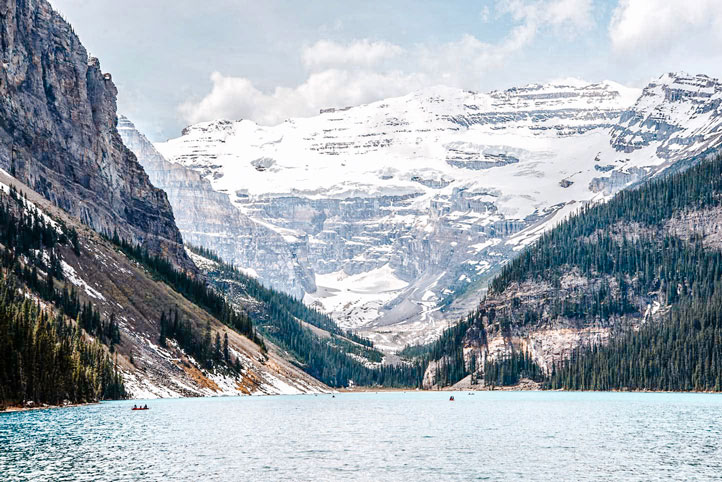 I would also recommend doing a road trip through the Banff National Park and spending at least a day or two in the area to really get to see it. If you want to stay at an Airbnb to save some money vs staying in a hotel you can use my Airbnb code here to save $45 CDN on your stay! Being able to take a car through all of the mountains is a great experience, and there is so much to see at every turn.
I'd be sure to have my camera ready for all of the different beauties like waterfalls that can appear out of nowhere! Also take advantage of pit stops that are added to the side of the road every so often. They're often strategically placed so that you can get out of the car to stretch, take a break, and catch a fantastic view of mountains, rivers, and even glaciers!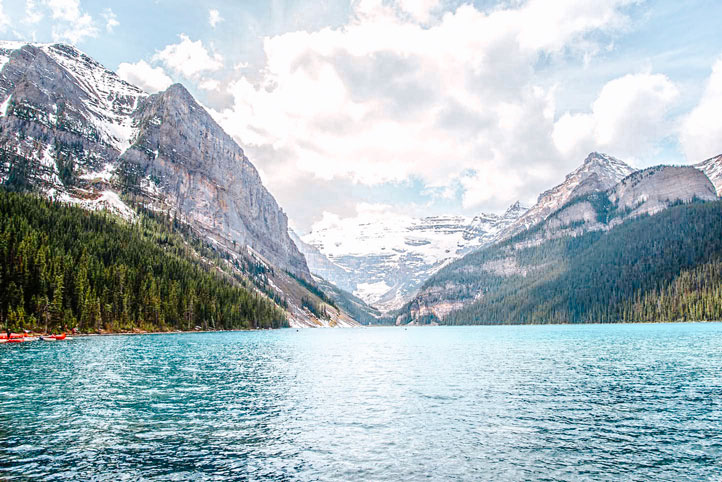 It's amazing that we have nature like this in our home country with the Canadian Rockies. It can make you feel like you're in a place like Switzerland, when you're really just a drive away from home instead of an ocean away! (That's for us Canadians).
If you're looking for some Banff Canada hotel options for your trip here, some good options could be:
If you'd like to see more posts about mountain areas and see more photos of them, be sure to let me know in the comments below. I have a post about Jasper Alberta coming up, and will be writing about my experience in the mountains of British Columbia as well!
Related Travel Blog Posts:
5 Road Trip Tips To Help You Have Fun
Top 10 Things To Do In Copenhagen Denmark
St Jacobs Market: Day Trip From Toronto
Banff National Park Canada