One Day in Zurich Switzerland: 11 Things to Do
Planning to spend one day in Zurich? Here are the best things to do when spending 24 hours in Zurich!
The financial capital of Switzerland, Zurich is undoubtedly one of the best places to visit. It has been the most favourite places of travelers who want to have a look at the typical Swiss city life.
This city has everything, from the best museums, historic monuments, art galleries, lakes, beautiful alps to some of the best restaurants.
Although one day is a very less time to explore this beautiful city, here are some places which you shouldn't miss on your one-day trip. In this post, we are sharing some of the most amazing, picturesque places in Zurich that you should definitely visit to make your trip super fun and memorable.
So, without wasting much time, let's explore Zurich in one day!
The Old Town
To start your day with, we suggest visiting the old town which is also known as the heart of Zurich. This stunning place is still the same as it was before centuries, nothing has much changed. So, if you want to experience the ancient Swiss life, head on to the old town.
The most beautiful thing about visiting the old town is the sparking blue Limmat river that flows right through the center of Zurich. You can spend hours watching the soothing beauty of this place. You can freely roam on the streets and explore some ancient structures, cafes, restaurants and shops. Also, don't forget to visit the St. Peter's Church and Niederdorfstrasse while wandering in the old town.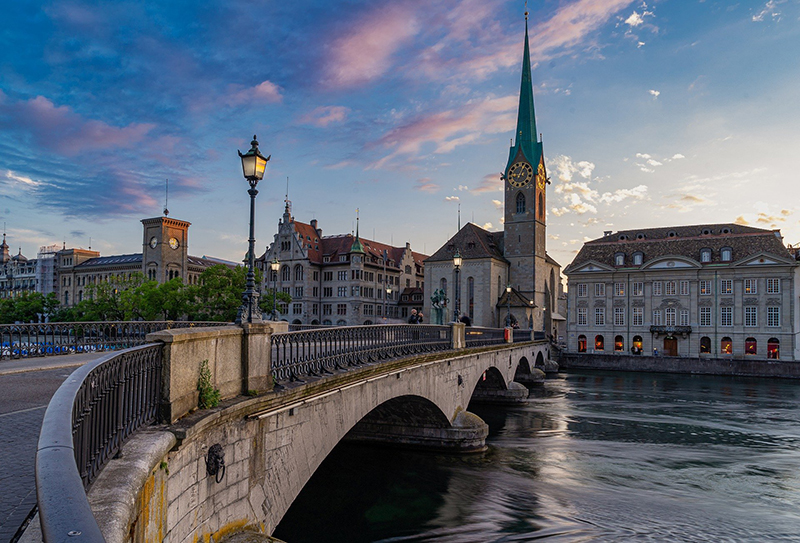 Grossmünster Church
On your way back from the beautiful old town, don't forget to miss the most interesting "salt and pepper shakers" landmark, where you'll find the Grossmünster Church. You will be able to see it through the blue river as it stands tall like a salt shaker. The church is so beautiful, you'll see some amazing architectural designs like bronze doors, stained glass windows. Also, from its towers, you will get breathtaking views of the city. Although you have to climb a lot of stairs, the view is totally worth it. The best part is, it only cost 2 bucks!
Bahnhofstrasse
A visit to Zurich will not be completed without strolling along the streets of Bahnhofstrasse. This place is known as the shopper's paradise as there are almost all kinds of shops and luxe stores. From Channel, Gucci, Givenchy you'll find every store of your dreams. You can go for a quick window shopping or purchase any essentials, make sure to take a look at this place.
It's not a very big place, if you're in no mood of shopping, you can cross the street in just 20 minutes by walking. However, if you're a crazy shopper, a single day will not be enough to explore each store. You'll totally love the feel and vibe of Bahnhofstrasse.
You may ask, what kind of shops are there? Well, there is almost every type of shop. You can find some amazing cafes, restaurants, fashion stores, boutiques and souvenirs shops as well.
And not to forget, you can devour some of the best Swiss delicacies such as chocolate and waffles.
Basically, this place has many more things to offer than shopping. Also, there are also some other streets close to Bahnhofstrasse that are totally worth giving a look. Make sure to check out those as well.
Lindenhof Hill
Following in our list is Lindenhof Hill. After getting enough look at the old Swiss life and the old churches, head on to this place for having a look at the fresh city life.
This amazing hill is known to be the historical center of Zurich. During the medieval and Roman era, the city of Zurich has grown around this hill.
It is mostly recommended for the one-day trips because you get to see a large portion of city life without having to wander through hundreds of streets. The interesting fact about Lindenhof hill is, it's a portion of the remains of a glacier and still it's not flat.
After taking some cool pictures of the city, you can also check out some other picturesque sites such as a Masonic lodge, a park and most importantly the Hedwig Fountain which was built in 1688.
St. Peter Church
If you're interested more in the historic monuments, then St. Peter Church is a must-visit.
This church is known for its gigantic clock faces on four sides of its tower that can be spotted from a long distance. These clocks are said to be the biggest in entire Europe with a diameter of about 9 meters. If we turn the pages of history, Rudolf Brun, the first mayor of the city was buried at this church long back in 1360. You can find a copy of his tombstone in the church.
Moreover, this is the first Zurich church that was a place of worship for Protestants post-reformation. You will find some oddly satisfying vintage scenes at the church. The vintage wooden chairs, huge gates, carved furniture and whatnot. Make sure to take your camera with you. You might be able to click some aesthetic pictures.
And don't forget to get clicked with the huge clock-faces in the background. You'll surely get thousands of likes on this pic on your Instagram!
Schipfe
To end your beautiful and fun day in Zurich, we suggest visiting Schipfe which is again one of the oldest parts of Zurich. It is situated along the river Limmat and on the foot of Lindenhof hill. This was a place where the fishermen used to lay their boats on. Today, you can find numerous tiny shops and cute stalls.
In fact, this is the most favorite place of the travelers. The reason behind is, the area is full of art galleries, little shops, cafes on the narrow streets that are worth capturing.
That's all about it. Although there are a lot of other places to visit in Zurich but we know you have a time constraint. However, if you've changed your mind and extended your trip, let us know in the comment box below and we'll come back with some more amazing sites to visit in Zurich!
Quaibrücke
If you want to get an amazing view of Zurich by the Lake, a great place to visit is Quaibrücke. This is a bridge that goes over Lake Zurich. Don't worry, it's completely safe to go out and take pictures on this bridge, there's a pedestrian walking area to help you get across!
Lake Zurich
Speaking of views by Lake Zurich, you definitely have to spend some time along the lake. The water is so beautiful and clear, and you'll get beautiful views of Zurich as you walk along the water's edge.
Uetliberg
Uetliberg is a mountain near Zurich. If you're spending a short time in Zurich but still want to fit in going for a hike in the beautiful nature of Switzerland, try going for a hike up Uetliberg.
Fifa Museum
This one is for the soccer fans. You can find out more about the Fifa Museum and grab your tickets here!
Experience Famous Swiss Treats
The Swiss are famous for their fondu and of course their chocolate! Be sure to try some Fondu before you leave, and pick up some local chocolate before heading home!
I hope you've found this post helpful for planning your one day in Zurich itinerary, or is helpful even if you're spending 3 days in Zurich!
Related Posts
30 Places To Visit Before 30: Travel Bucket List Before 30
Where To Travel Alone: Best Countries To Travel Alone