7 Things to do in London on Christmas Day
Trying to find ideas of things to do in London on Christmas Day? Keep on reading!
There could be many reasons why you might want to spend the day exploring London on Christmas Day, but of course, it could be difficult to find many things since so much is closed. You can use this to your advantage though!
Note: There is no public transit available on Christmas Day!
Here are some ideas of things to do in London on Christmas Day.
Go For A Walk
For real, take advantage of the empty streets! Explore the city and take your time meandering up and down the streets. Appreciate the decorations and window displays as you go. If you like taking pictures, this is an ideal time to get some great shots without having to battle the crowds!
Take A Bus Tour
You can grab a Hop on Hop Off bus tour with Big Bus Tours on Christmas Day. This is another great way to explore the city, and what's better is there will be much less traffic that you'll have to contend with!
You can also enjoy the twinkling Christmas lights in the evening with this tour!
Bus Tour and Cruise
You can take a Christmas Day bus tour complete with a cruise along the River Thames. What better way to enjoy the season than by viewing the city by land and by water!
Watch the Peter Pan Cup Race
If you feel like watching some action, try watching the Peter Pan Cup Race. This event is where swimmers in Hyde Park brave the freezing cold water for a Christmas swimming race!
Attend a Christmas Service
If you're interested in attending a Christmas service, you can attend one at one of the many beautiful churches across the city, such as St. Paul's Cathedral! What better time to get into the Christmas spirit, and see some beautiful architecture!
Go skating at JW3
If you're looking for somewhere to go skating on Christmas Day, it's worth checking out the skating rink at JW3 in London!
Go swimming at Hampton Pool
Lastly, if you're in the mood to go for a dip, but you're not interested in freezing along with the swimmers at the Peter Pan Cup Race, then perhaps going for a swim at the heated Hampton Pool will be more your style!
I hope this post gave you some good ideas for things to do in London on Christmas Day! Merry Christmas!
Related Posts
Getting into the Christmas Spirit in New York City
Christmas Market Holidays: Best Christmas Markets Around The World
Toronto Christmas Market: Holiday Traditions
5 Best Christmas Destinations for Solo Travellers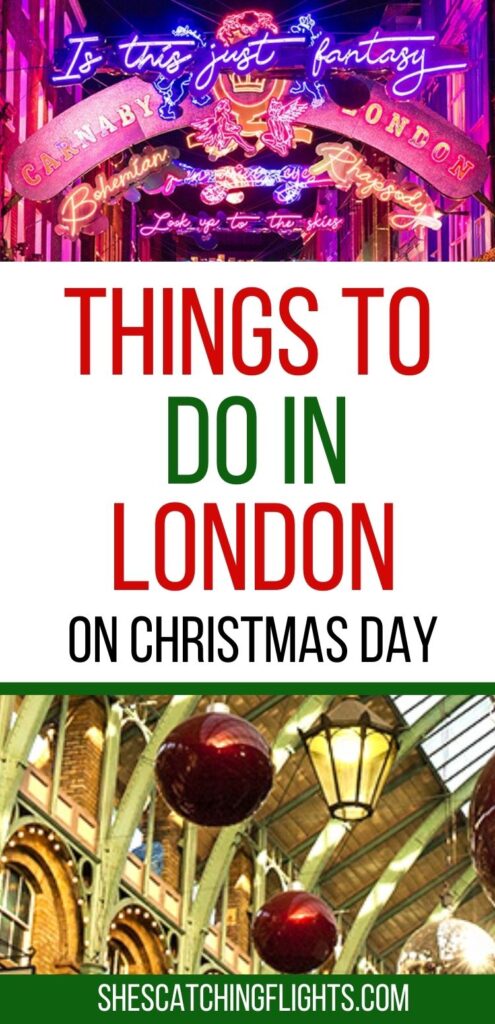 Things to do in London on Christmas Day