Christmas Market Holidays: Best Christmas Markets Around The World
If you're looking for where to travel during the Christmas season, check out these ideas for Christmas market holidays around the world!
Christmas time is such a cozy time of year! The twinkly lights, hot chocolate to warm your hands, and if you're lucky, there's a dusting of snow around.
The best way to get the full Christmas experience is to visit some European style Christmas markets! Of course you can find these throughout Europe, but luckily they are quite popular in other parts of the world so you likely won't even have to travel far! (Hint: try to Google "Christmas markets near me" and see what comes up).
Keep on reading to see 30+ great suggestions of Christmas market holidays to take!
A huge thank you to everyone who contributed to this post!
Bath UK Christmas Market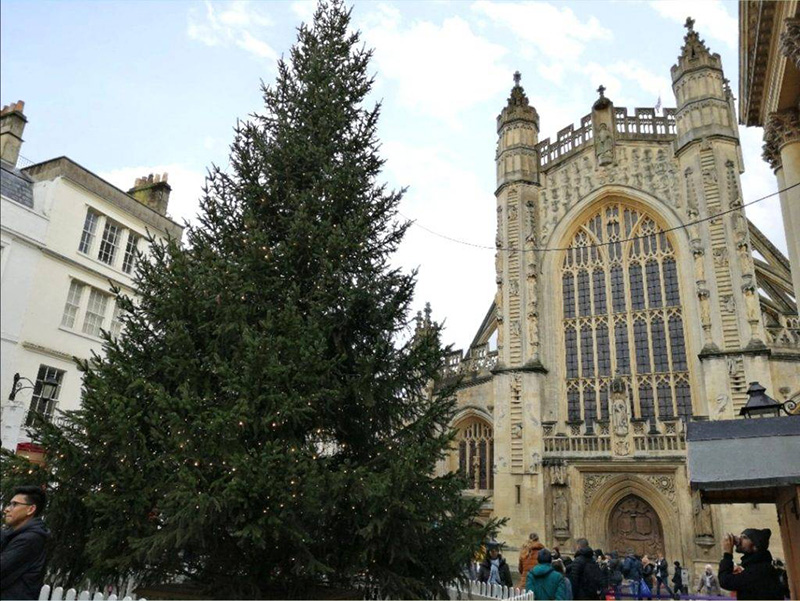 In the UK one of the most popular Christmas markets is held in the beautiful city of Bath. Most people might know Bath because of the famous Roman Baths right next to the historic Abbey. And it's this idyllic location that the Christmas market is held each year.
Every year the market seems to get bigger and bigger, and with it, busier and busier. People flock from all over to taste the mulled wine and browse the trinkets and toys. There is a great variety of stalls at Bath Christmas market, more than I've seen at other British Christmas markets. From chocolate wine to handmade jewellery, wooden crafts to dog toys, there's something for everyone. And don't forget the food and drink! Grab a mulled cider or a hot chocolate, a Greek gyros or a toasted marshmallow and enjoy the vibrancy of the place.
Bath Christmas market is best visited just as the sun is setting and the lights come on. It really is the scenery that makes Bath so special at Christmas. The tree, right outside the Abbey is breathtaking and the quaint British streets, all lit up with fairy lights, are something to remember.
The market only runs for about two and a half weeks and finishes in mid December so make sure you don't miss it. And if you want to avoid the crowds then I recommend visiting on a weekday rather than the weekend!
Source & Photo Credit: Mary from The Travel Journal
Bratislava Christmas Market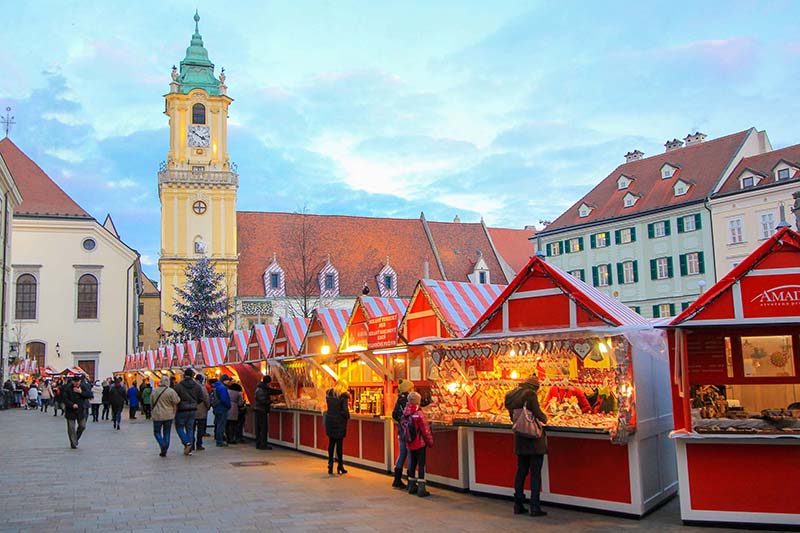 If you are looking for a unique Christmas destination, then you definitely should check out Bratislava – the main city of Slovakia in Europe. Visitors are amazed by the many picturesque Christmas Markets and the unique atmosphere when visiting Bratislava in Winter time! The best one can be found at Hlavné und Hviezdoslavovo námestie – where you will also find plenty of excellent accommodation like the beautiful APLEND CITY Hotel Perugia
During Christmas time the city is full of local specialties, delicious food and charming goodies. People come together for having some punch or mulled wine and enjoy the true atmosphere of a traditional Christmas Market. Really delicious is here the Loksa, a salty pancake or the traditional Strudl, a crisp cake filled with apple and raisins. Also the mulled vine is here in Bratislava tasty – probably because it comes from local vineries nearby the city.
In addition to amazing food you will find plenty of home-made products and traditional souvenirs – perfect to bring home some souvenirs for your beloved.
Another highlight and for many a must-do is ice-skating. Especially at the Main Square you will find a very well-prepared open-air ice rink. Not only kids, also adults love to turn some rounds in this incredibly beautiful atmosphere. Skates are available to hire, so you don't have to bring your own ones.
In the evening, local artists – singers and dancers perform directly at this Christmas Market and make each visit to an extraordinary experience. Christmas Markets have had a long tradition in Bratislava and therefore a visit to Bratislava for Christmas is absolutely recommended.
Source & Photo Credit: Martina & Jürgen from PlacesofJuma
Luelå Sweden Christmas Market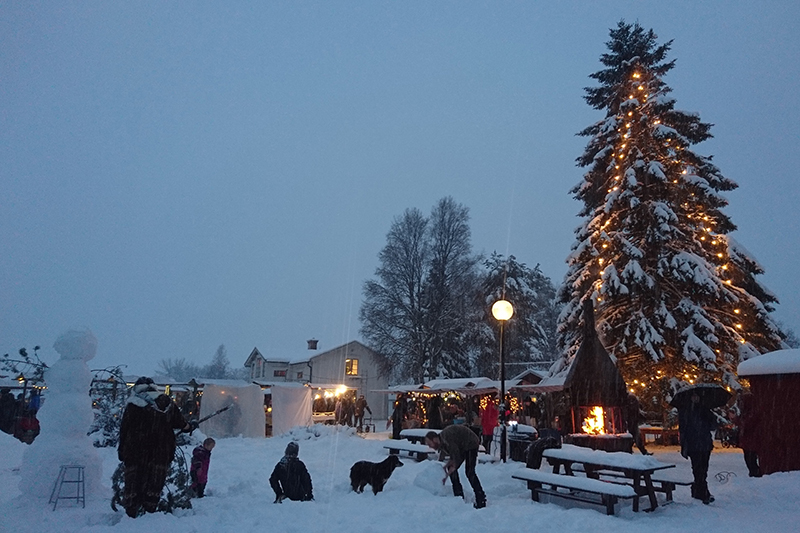 Luleå is an often overlooked town in the Swedish Lapland, the homeland of reindeer and Sami people. During winter it becomes a snowy fairytale: the sea in the bay freezes over, the snow comes up over your knees, daylight becomes a rare commodity and pretty soon it's time for Christmas. Although Luleå's Christmas market is quite small, it is well worth a visit and was probably the most idyllic one I've visited so far.
The Luleå Christmas market is held in Hägnan Open air museum, which is essentially a replica of a traditional Swedish village, complete with an old timey shop that's only open for special occasions, such as Christmas. Since it is always dark during winter, there are fire pits and lanterns all over the market for that extra quaint atmosphere and you'll probably even see a couple of snow-topped sheep huddling nearby.
The locals show off their wares inside wooden old fashioned houses and on the market stalls in the centre of the village, next to a tall Christmas tree. The offerings range from local food (cheeses, lingonberry jam and sweets) to various handicrafts: slippers, jewellery, toys, doilies and fluffy, warm knitted socks and gloves. There's also a horse-drawn carriage for kids and a live fire show in the evening. When you eventually get cold, which you most certainly will, as the temperatures can drop down to -20°C in December, you can warm up with a coffee and a piece of cake inside two small cafes.
As an added bonus you'll pass through the historical churchtown of Gammelstadt on the way to the market, which is a uniquely Scandinavian thing and is actually on the UNESCO World Heritage list. It was built in the 15th century and consists of a central church and about 400 red and white wooden Swedish cottages, which make for an absolutely beautiful sight when covered in snow. If you decide to go, make sure you dress extra warm and have a glass of glögg, the Swedish mulled wine!
Source & Photo Credit: Petra Jan from Erratic Engineeress
RELATED: Christmas in Las Vegas
Gothenburg Christmas Markets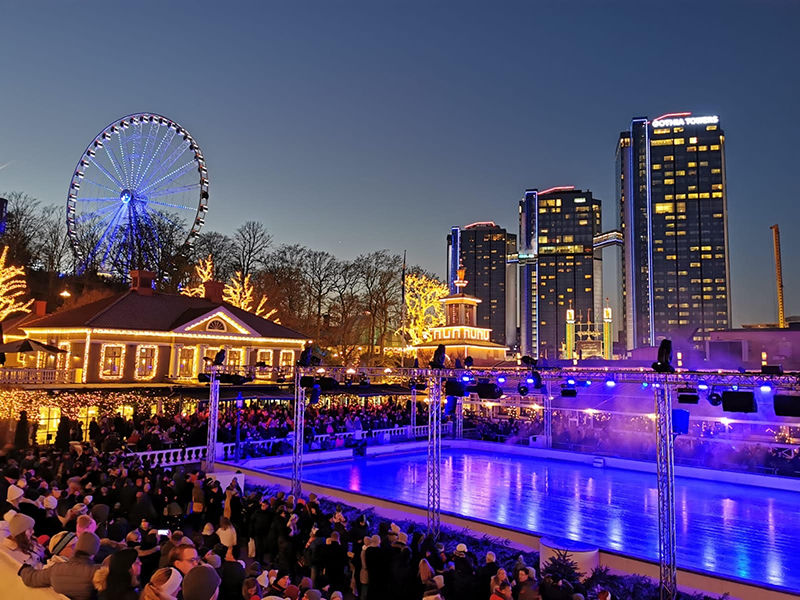 Although Gothenburg is Sweden's second city, the Christmas Markets in Gothenburg are the largest in the country. The most popular is found at Liseberg amusement park, which is turned into a winter wonderland by over 5 million Christmas lights all sustainably powered by the theme parks wind turbine. During Christmas, Liseberg combines festive stalls and rollercoasters to create an amazing day out for all the family. Over 500k visitors come to enjoy the Swedish sweet treats, the festive ice skating ballet show, the traditional Christmas buffet dinner, and Santas workshop. For shoppers, there are two Christmas markets, a traditional one and a modern one with over 80 stalls filled with bespoke handicrafts.
Gothenburg is also home to three other smaller Christmas markets, all with their own theme. The most traditional one is found at Kronhuset, one of the oldest preserved buildings in the city. The more food focused Christmas market is found in the Haga neighbourhood which is home to the largest cinnamon rolls in Sweden! The most modern of all the Gothenburg Christmas Markets is the designer goods market at the iconic Roda Sten Konsthall. The venue is a renovated boiler plant that is primarily used for art exhibitions and is well worth a visit!
Source & Photo Credit: Roshni from The Wanderlust Within
Prague Christmas Market
Visiting Prague in winter comes highly recommended, especially if you love Christmas markets. Late November sees them popping up all over the city.
The main Christmas market is traditionally held at the Old Town Square. You'll find the largest Christmas tree in Prague there and even its first lighting up is a popular ceremony for tourists and locals alike. There are plenty of stands selling food, hot drinks such as hot mead and mulled wine, as well as handicrafts. This is the market that's most frequented by tourists.
Prague's Wenceslas Square Christmas market is relatively new and definitely not as charming. Locals mostly don't even bother to come to this one. It is, however, conveniently located and worth checking out.
If you're looking for more charm, you cannot go wrong with the Prague Castle Christmas Market. It's little and enclosed by the magnificent buildings that make up the Prague Castle complex. Adjacent to the St. Vitus Cathedral, you really can't ask for a better placement. Who cares the prices can be a bit higher there and that you need to walk through a security frame to get in, it's all worth it.
For the most authentic Christmas market experience, head to one of Prague's neighborhoods. Vinohrady Quarter, largely popular among expats, is still within a stone's throw away from the city center, but the Christmas market feels a lot more "real". Located at the Náměstí Míru Square, the Market sees the majestic St. Ludmila's church looming over. This market is relatively small, but has a wonderful atmosphere. All generations, locals and foreigners alike, happily crowd it, arrange meetups with their friends over mulled wine, listen to Christmas carols and take photos with the Christmas tree and the nativity scene.
Source & Photo Credit: Veronika Primm from Travel Geekery
Related: Getting into the Christmas Spirit in New York City
Madeira Island Christmas Market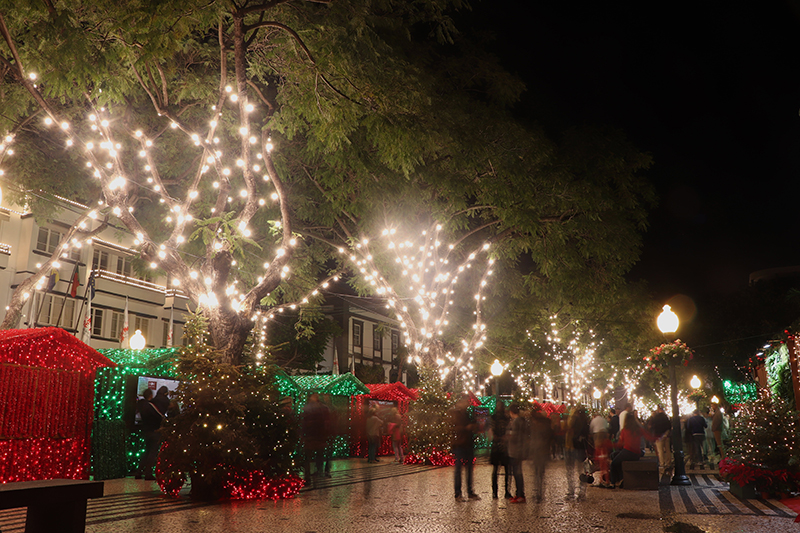 Madeira Island is a small Portuguese island on the Atlantic Ocean, chosen by many Europeans as their winter escape destination. If you as well would like to escape snow, rain and cold, but not the great Christmas vibe, you should definitely consider Madeira.
Since the first week of December, the entire island is starting to get ready for Christmas. Funchal – the islands main city is decorated with probably thousands of Nativity Scenes of all types and sizes, Christmas decorations, and huge Christmas light installations. The go-to spot in that beautiful period is the Arriaga Avenue in Funchal, where you won't only find two big Nativity Scenes, but also the "Mercadinho de Natal" – the main Christmas Market. For many of us, visiting Christmas markets without skating rings, snow and winter jackets may be a new experience, but it is definitely a place with a wonderful Christmas vibe. You will find there small many wooden cottages offering visitors local Christmas food and drinks, especially the famous Poncha drink (a strong alcoholic drink made with fruit juice and aguardente) or a delicious cherry liqueur called Ginjinha, served in a chocolate cup. There is also live music, concerts and performances. "Mercadinho de Natal", is open for a couple of weeks, but there is one more event that is worth mentioning – the "Market Night" itself. It is a special evening, important for all local residents. On the 23rd of December the entire city center of Funchal transforms into a big market with live music, concerts and street parties, broadcasted live on a local TV.
Did you also know that Madeira Island is an ex-Guinness record holder for the biggest firework spectacle? Yes, it is hard to believe, but a small city on a small island succeeded to break the record and hold this title since the winning show of 2006/2007 until year 2012. When spending Christmas in Madeira, make sure you stay on the island at least until the New Year's Eve show. It will be definitely worth it.
Source & Photo Credit: Edyta from Say Yes To Madeira
Texas Christkindl Market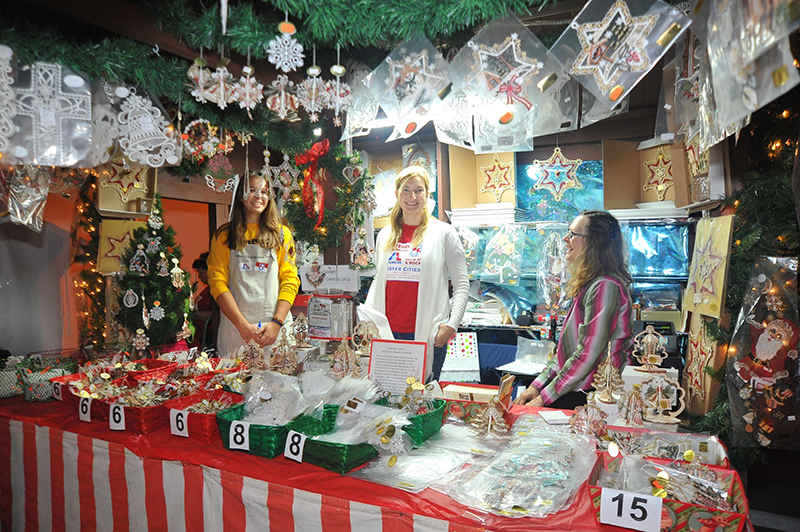 Want to sink your teeth into a fresh strudel? Inspired by a German tradition, Arlington, Texas, is home to one of the largest open-air holiday markets in the southwest, the Texas Christkindl Market. At this family friendly annual event visitors get the chance to enjoy authentic German treats, holiday beverages, live music, children's activities and even visit with the Christkindl Angel.
In some parts of Germany and Europe, the Christkindl Angel brings gifts to children on Christmas. The Christkindl Angel is depicted as a fairly-like being with angelic wings, dressed in gold and white. At the Texas Christkindl Market the Christkindl Angel is at the heart of the festivities. Not only does she open the market but she makes a few visits throughout the market, so watch for her if you want to grab a photo.
Other Texas Christkindl Market traditions include sipping gluhwein and enjoying German treats. Gluhwein, considered the unofficial drink of the Texas Christkindl Market, is a hot spiced wine that pairs perfectly with juicy brats, creamy spaetzle, Jager fries, strudel, and warm cinnamon nuts. While you are eating and drinking make sure to stroll through the vendors at the Texas Christkindl Market, where you will discover handcrafted gifts and collectibles. Many vendors delight shoppers with demonstrations in their booths. You'll also find authentic German products like nutcrackers and cuckoo clocks. Enjoy the wonderful magic and feeling of German markets at the Texas Christkindl Market.
Source & Photo Credit: Julie from Julie Measures
Bruges, Belgium Christmas Market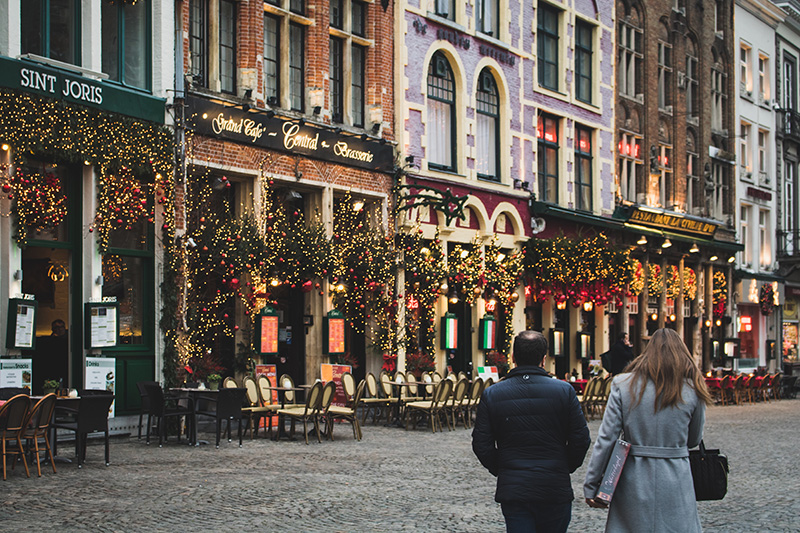 Perfect for a December city break, the postcard-perfect city of Bruges is a huge draw for tourists year-round, but particularly at Christmas. This city is famous for its gorgeous canals and medieval cobbled streets, but in December, complete with snow on the ground, cosy Christmas Markets and the famous Burg Square Christmas Tree, Bruges becomes even more beautiful.
Most visitors to the city tend to spend only one day in Bruges, but over Christmas you should visit for at least two full days. Starting your trip in Grote Square, check out the huge Christmas Market which is erected there every December. Complete with mulled wine, gingerbread and cutesy stalls selling trinkets and christmas decorations, this market will easily get you into the Christmas spirit. You can even go ice skating if that's your thing – you'll find the Christmas Market's ice rink in the centre of Grote Square. Obviously, any trip to Belgium would not be complete without sampling some Belgian chocolate, and there are many chocolate shops surrounding the square offering up amazing treats. For a Christmas Market that's slightly quieter, head over to the one in Simon Stevin Square.
If you love huge Christmas Trees, you'll love the one in Burg Square. This tree, which is decked out in fairy lights, is placed right in front of the picturesque Town Hall and Belfry Tower. Visit the tree both in daylight and at night to witness just how beautiful it is, and don't forget to pose in front of the tree for a great Christmas photo!
Source: Ella from ManyMoreMaps
Feria de Belen, Seville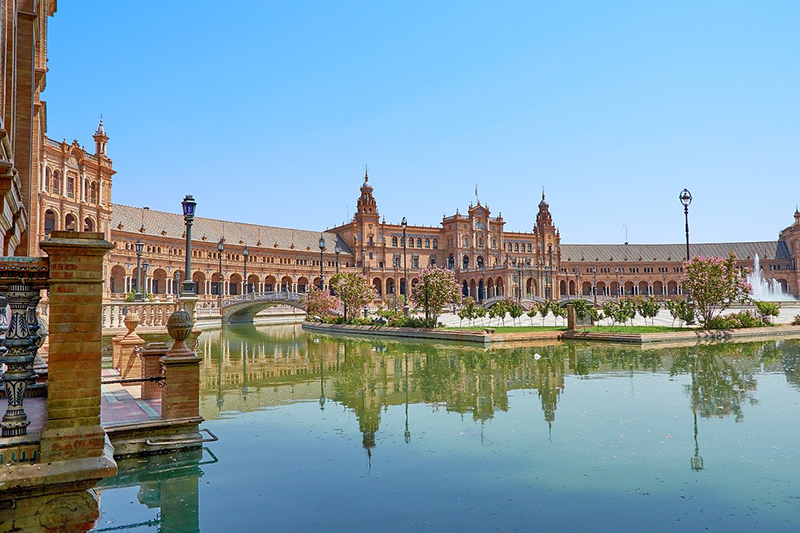 When it comes to doing Christmas marketing in Spain, the market of Feria de Belen, Seville seems the most appealing option as per my previous best Christmas shopping experience. Being one of the most visited and attractive Christmas markets in Seville, it has around 80 wooden corners, spread over Plaza Nueva with customary Andalusian artistic endowments on offer. The market is generally held at the Avenida de la Constitucion, which is located near Sevilles historic substantial gothic cathedral. The Christmas market usually remains open from November 13 to December 23, i.e., for nearly four whole weeks.
From my experiences, I would recommend others to purchase the most popular items of this market, including embroideries for Beléns, Christmas trees, and ornamentals for decorating your home, during Christmas Eve. Each stall set up nearby offers embellishing presents like wooden toys, lights, ceramics, and stoneware that suits all customs and generations.
The entire market is filled up with various handcrafted materials and traditional food items that will let you celebrate a classical Christmas over the modern style. All in all, you likewise will get to explore so many unique nativity scenes of such authenticity, which you have perhaps never witnessed before.
The place also has several hotels to choose from, yet, I would personally suggest a stay in Palacio de Los Duques Gran Melia as it is budget-friendly plus one of the best family hotels in Seville. Hopefully, you too will get to enjoy and cherish your Christmas shopping memories, like me.
Source: Paulina from Paulina on the Road
Aachen Christmas Market
If you're planning a German Christmas market itinerary, the charming town of Aachen needs to be on your list.
Situated along the borders of Germany, Belgium, and The Netherlands, Aachen is best known for its grand cathedral and Rathaus that tower over the lovely streets and historic buildings. And when winter rolls around, the cathedral and town hall provide the perfect fairytale backdrop for holiday festivities.
Aachen Christmas market has over 100 stalls spread across the Munsterplatz, Katschhof, and adjacent streets. Many of them are the Insta-worthy traditional wooden stalls so emblematic of Germany's oldest markets.
Visitors can enjoy all the classic Christmas market fare here, from mulled wine to roasted sausages. The must-try local specialty is Aachener Printen, a type of lebkuchen shaped like a flat rectangle. You'll also find a variety of cookies, chocolates, pretzels, schnitzel, and other iconic German foods.
Aachen's Christmas market is also packed with stalls selling beautifully crafted ornaments, snowglobes, and Nativity scene figures. It's an ideal place to shop for unique souvenirs and one-of-a-kind Chrmistas decorations that you'll cherish for years to come.
You can get fantastic views over the markets from the front and rear steps of the town hall building. And while you're doing a bit of sightseeing, be sure to explore the stunning Aachen Cathedral. The UNESCO World Heritage Site is utterly spectacular inside and out, with gilded shrines, mosaic tiled ceilings, a treasury room, and Charlemagne's Tomb.
Source & Photo Credit: Chelsea from The Portable Wife
RELATED: Toronto Christmas Market: Holiday Traditions
Edinburgh Christmas Market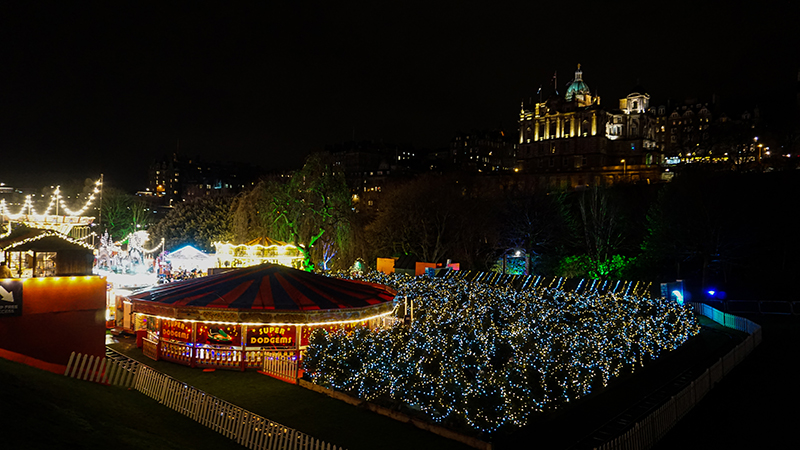 Christmas is a magical time for Edinburgh where a large part between the Old and New Town is converted to a Christmas Market. The market is full of food and drink options, handmade goodies to buy and funfair rides. The two most recognized landmarks of the market are the Big Wheel and the Star Flyer rides which stand right next to the Scott Monument and make a classic image of Christmas in Edinburgh.
At the market, expect to find many local products to try such as whiskeys, jams, marmalades and more. Of course, there is no shortage of items made by local artists and many delicious goodies, such as fudge and coated marshmallows. Spend a moment sipping a warm drink, before heading to stand in the line for Santa's Grotto or for one of the other rides.
Although the market is quite big, it is relatively easy to navigate and visit all the main areas in an evening. Just make sure to follow the trail of stalls between the Princes Street and Market Street entrances. If you are in a hurry, I recommend using the Princes Street entrance as this is where you will find the most variety of things to do. On the other side, if you have more time to spare, you should check out the nearby ice rink at St. Andrews Square, the Scottish Market at George Street and the Festival Square Theatre at Lothian Road for some festive shows.
Source & Photo Credit: Elina from Empnefsys & Travel
Cologne, Germany Christmas Markets
I have to admit that I fell in love with the German Christmas markets once I experienced them! The passion for Christmas aromas, cheerful mood and holiday smiles brought me to German-style Christmas markets all over Europe. A couple of years ago, my husband and I set off on a mission to visit the Christmas markets in Cologne and enjoy as many Weihnachtsmarkts in the city and around as we can.
The cathedral in Cologne is probably the best highlight of the city. But it's just less dark and actually quite attractive to us when it turns shiny and glittery by its Christmas market (Weihnachtsmarkt am Kölner Dom) that is there every year from the end of November until just before Christmas Eve. It's great to start your Christmas market tour in Cologne from the traditional cathedral market although it sets the bar high. Next, you can continue wandering the streets until you stumble a smaller market where they offer Feuerzangebowle. That's mulled wine, mixed with some spirit (usually, rum), and they burn some sugar on top of it so it turns to the ultimate Christmas drink.
Continue to the Old Christmas Market (Heinzels Wintermärchen) to meet dwarfs and witches and taste home-made marmalades together with mulled wine. Harbour Christmas Market at the Chocolate Museum is waiting for you with the beautiful views towards Rhine river, chocolate (of course), hot chestnuts and fried in beer potatoes. And we get to our favorite – Angel's Christmas market (Neumarkt). Thousands of stars are hanging in the trees, beautiful voices sing heavenly songs, and magic gingers were pointing you to the next beautiful piece of art. As it gets darker and darker, more and more people get together to enjoy the lights, chat, and making their way to the next mug of warm magic. That's definitely the most magical Cologne Christmas market!
You can explore many more markets during your time in Cologne and each of them will be a Christmas Market to remember!
Source & Photo Credit: Bistra from The Magic of Traveling
Christkindlmarket, Milwaukee, Wisconsin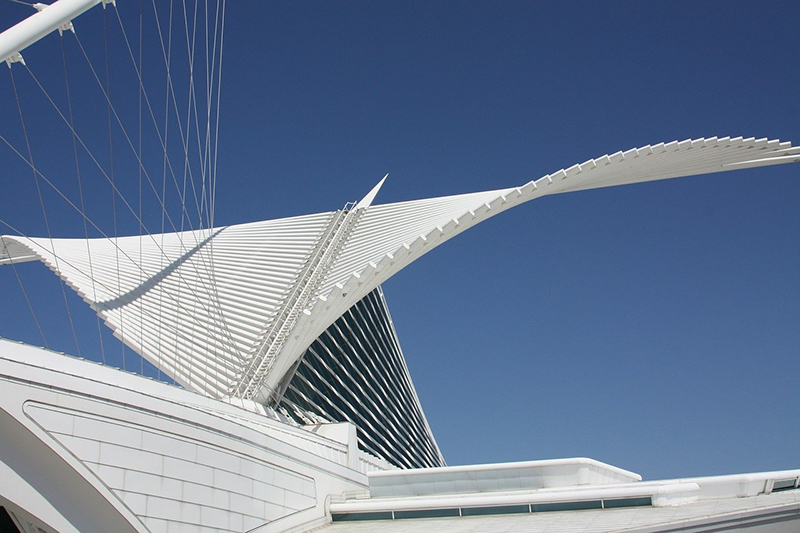 When it comes to doing Christmas shopping in the USA, I always prefer to do it from Christkindlmarket, Milwaukee, Wisconsin, which is nothing less than remarkable. Spiked with colorful embellishments, dazzling displays of the streets, and spiced wine served in collective mugs, I had a marvelous experience at the Christkindlmarket in Milwaukee, last winter.
Being rooted in the German tradition, you will witness several enthralling and traditional candy canes tied to ropes and hooks in the Christkindlmarket. As far as I can recollect from my experience, I can tell you that the magical market will offer you unique collectibles and Christmas gift items along with many delicious foods and drinks. I would especially recommend you to explore the market as much as possible so that you can buy all your favorite Christmas items/gifts from the hundreds of stalls set up there. Alike me, you too can complete your Milwaukee Christmas shopping from tiny, wooden cottages, loaded up with treasures like handcrafted Christmas trimmings, woodcarvings, and tasty Christmas treats.
Apart from Christmas marketing, there are many other things to do in Milwaukee in winter, like enjoying local performances, attending theatre Christmas shows, Ice skating, or Ice fishing, building an igloo on the lakefront, winter camping, and so on.
So, you, too, must give a visit to Christkindlmarket, located right next to the Fiserv Forum at the heart of the city, which is an authentic German-style outdoor Christmas market, usually operating every year between November-December, from 11 am to 8-9 pm daily.
Source: Paulina from Paulina on the Road
Montepulciano Christmas Market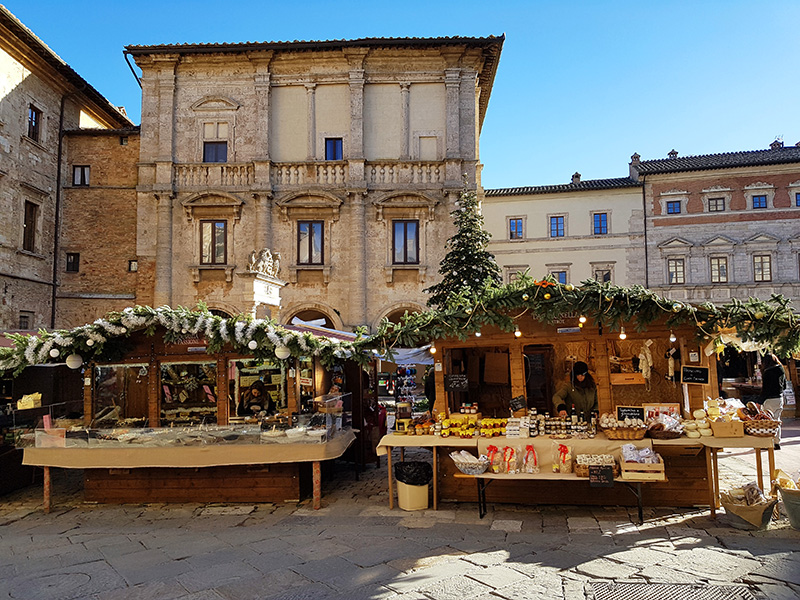 Montepulciano, situated among the Tuscan hills, is undoubtedly one of the most beautiful Italian towns. This medieval town is worth visiting, not only during summer. It deserves attention also during winter, especially during Christmas time. At this grand time, the town is full of festive decorations. Christmas trees, centrepieces, and garlands are bedecked narrow streets and squares. Every door, every shop window deserves attention.
Montepulciano Christmas Market is not as spectacular as famous European markets in Vienna, Berlin, or Krakow. It's because the town is tiny. Only 14 thousand people inhabit it. Therefore it has an unusual mood at Christmas time. So, if you do not like the hustle and bustle of large cities, it is worth choosing Montepulciano. People know each other and greet each other warmly. Christmas stalls are tempting with flavors and fragrances. Local vendors offer fresh produce, including cold cuts, cheese, olive oil, and, above all, wine. The air is filled with the scent of donuts and hot wine with cloves, oranges, and cinnamon. You can also buy beautiful handicrafts and gifts: handmade baubles, embroidered tablecloths, or jewelry. Everything is very intricate and precisely made. The town itself is famous for its unique cuisine and world-class wine, which is Vino Nobile di Montepulciano. Furthermore, it was here that the filming of the movie The Twilight Saga: New Moon.
The colorful townhouses from the 15th and 16th centuries are beautifully decorated and attract attention. The most famous monuments in the town are cathedral Assumption of the Blessed Virgin Mary (Santa Maria Assunta) built in the years 1592-1630 with an unfinished facade. And the church of St. Agnes with a characteristic striped facade, built in the 14th century. That is why a visit to this place during Christmas will be a real feast for the body and soul.
Source & Photo Credit: Agnes from The Van Escape
Berlin Christmas Markets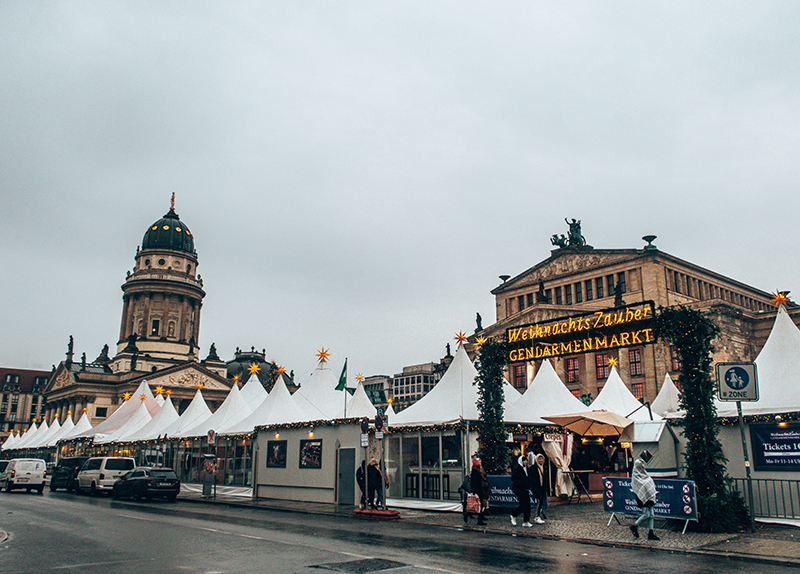 Berlin is king when it comes to Christmas markets. The city is host to over 80 Christmas markets, meaning you'll never run out of festive fun. The great thing about the Berlin Christmas markets is that there is something to suit everyone. There are ice skating rinks, funfair rides, amazing bauble shops, lots of delicious places to eat, an eco-friendly Christmas market, a Christmas market in a magical forest and so much more. Some of the most popular (and best) Christmas markets in Berlin include those located at Alexanderplatz and Potsdamer Platz, and the fantastic Gendarmenmarkt Christmas market which requires a small entrance fee, but is totally worth it for the many unique stalls, Christmassy atmosphere, and live entertainment. If you've only got a short time to visit Berlin, then make sure you at least go to those 3 Christmas markets and try some ice skating. Berlin has a Christmassy vibe throughout the entire city too. You'll see countless Christmas trees and fairy lights lining the streets of the city, and one of the best is located at Brandenburg Gate.
Source & Photo Credit: Cazzy from Dream Big, Travel Far
Christkindlmarkt in Bethlehem Pennsylvania
Christkindlmarkt, in Bethlehem Pennsylvania, is a well known European inspired Christmas Market in the US. A destination in and of itself, Christkindlmarkt is a must during a holiday trip to Bethlehem.
The popular Christmas market features handmade collectables and decorations from Germany, glass blowing and ice carving demonstrations, and goods from over 150 of the top artisans from around the country. Some of the stands include Christmas decorations, handmade soaps, leather goods, spices, tea, jerkey, gourmet goods, toys, and jewelry, among others.
There's no shortage or food and drink stands. Visitors will find everything from greek gyros to PA local cookies. After all the shopping, you'll want to grab a snack and a local brew and listen to live Christmas music which plays throughout the day. Additional events, like Breakfast with Santa, are offered, as well.
Christkindlmarkt is located at the PNC Plaza at the Bethlehem SteelStacks and does cost a small fee.
Of course there's plenty of other festive things to do in Bethlehem. Bethlehem, which is affectionately known as Christmas City, offers a beautifully decorated downtown, holiday shopping, local history tours, and Christmas carriage rides. There's no shortage of local places to eat or warm libations, as well, making Bethlehem a perfect holiday destination.
Source & Photo Credit: Tori from Tori-Leigh
London Christmas Markets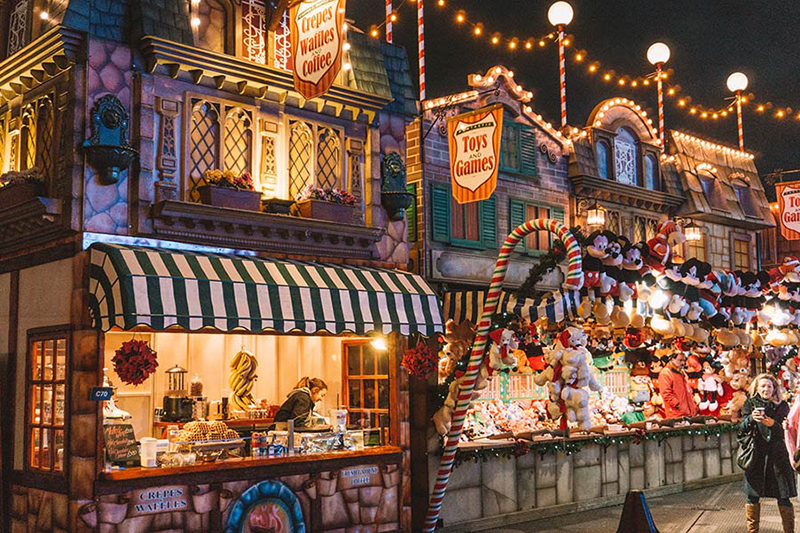 London is one of the best cities in Europe to visit during Christmas with many decorative lights and markets dotted around the capital. The most well known market to visit during the run up to Christmas is located inside Winter Wonderland in Hyde Park – a large open-air festival with heaps of attractions.
Here you will find a large traditional German style market where you can shop for handmade crafts and gifts and enjoy delicious street food including raclette, bratwurst and mulled wine (glühwein). As well as the market there are other festive things to do including an ice skating rink, Santa's grotto, a giant observation wheel, fairground rides, shows/circuses and themed indoor and outdoor bars serving large steins of beer with live music. There is also a huge outdoor area called the Ice Kingdom with children's film character ice sculptures along with ice sculpting workshops.
Tip – try to visit the venue outside of peak hours (evenings and weekends) as winter wonderland is extremely popular with both locals and visitors. Some of the attractions need to be booked in advance so check their website before you visit.
As well as Winter Wonderland, you'll also find lots of fun things to do in London at Christmas. Head to the south bank to visit their riverside Christmas market with several traditional wooden chalets, as well as a two-storey Scandinavian style house with traditional fire pits, serving authentic Swedish food and hot winter drinks.
Source & Photo Credit: Caroline from CK Travels
Salzburg Christmas Markets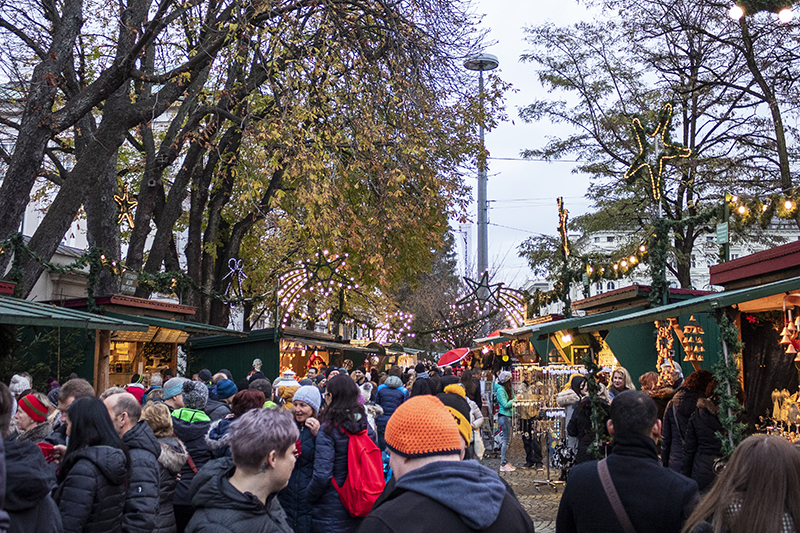 Salzburg is known for so many things: where the "Sound of Music" was shot, the birthplace of Mozart and, of course, the most amazing Christmas markets in Europe! Nestled in the mountains, with a castle sitting atop the hill, during the month of December, the whole city is taken over by various Christmas markets spread all through the city's main squares!
You can find these squares in front of major churches in the city. In December, huge Christmas trees are set up, along with a ton of stalls that make up Christkindlmarkts. Imagine hundreds of stalls opening up, instantly adding life and magical Christmas joy to the city. Best of all, you get delicious whiffs of food and drink as you walk by them.
These Christmas markets are the best places to get some local handmade souvenirs if you're looking to bring some gifts home with you. Although most of the souvenirs sold are very Christmas-y in nature, that's probably what you want!
Another great thing about the Christkindlmarkts is all the food and drink you can get there. Stall after stall sells local and traditional fare, from hearty meals to decadent desserts. Plus, you can 'rent' a souvenir mug that you can fill and refill with mulled wine and apfelpunsch, a boozy apple drink. When you've had enough, you can return the mug and get your deposit back, or take the mug home as a souvenir. A double win by our books!
Source & Photo Credit: Carine and Derek from We Did It Our Way
Park Street Kolkata Christmas Markets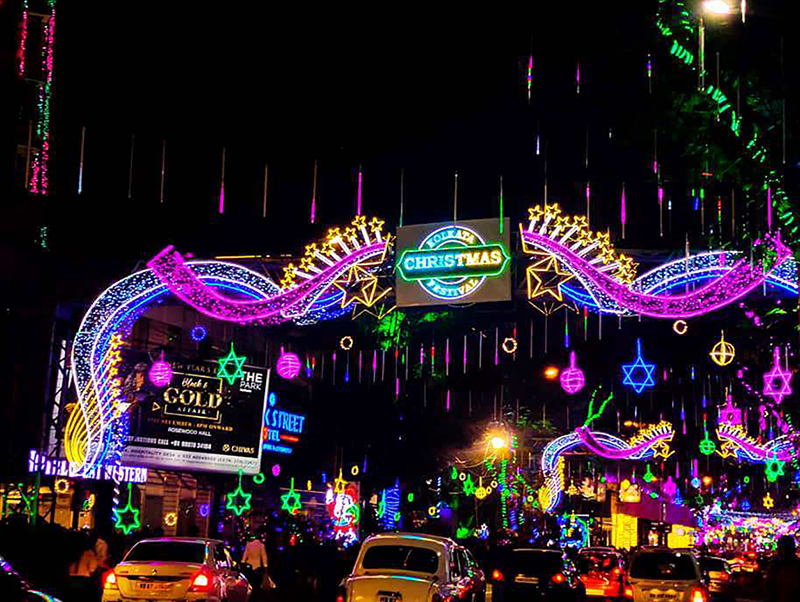 Park Street is an amazing place to celebrate Christmas carnival Eve in Kolkata. All roads are beautifully decorated with colourful lights, Christmas trees, balloons, etc. Lots of people come to enjoy this majestic place with their family and friends.
Maidan and Park Street metro stations both are the nearest from here. Buses are also available to reach. Park Street is also famous for Christmas Markets.
Various Branded food shops are arranged on both sides of the road, such as The Lalit, Machhli Baba, Flourish, etc. Mainly the Turkish icecreams stalls that will be more tempting to you. Be sure to taste it. The price is approx 150 rupees for 2 people. You can also get shops such as flowers, showpiece, jewellery, Santa Claus hats, masks, etc.
Another food which will also appeal to you for taste, that is the fruit cake.
Price ranges are approx 550 rupees to 600 rupees per pound (500 gm). Also, the smell of fast food like fish fry, egg roll, chow mein, momos, etc will make you anxious.
Fish fries are approx 150 rupees per plate, egg rolls 60 rupees, chow mein 50 rupees per plate, momo- veg 55 rupees, and chicken 70 rupees per plate. If you want, they will pack the food to take home.
Enter Allen Park once in the middle of your shopping. Lose yourself for a moment in ceremony, lighting, decoration, photography, enjoying live performances etc. There is no second place in Kolkata for Christmas celebrations and Christmas Markets like Park Street. Definitely come once, and enjoy the place.
Source & Photo Credit: Ruma from The Holiday Story
Vienna Christmas Markets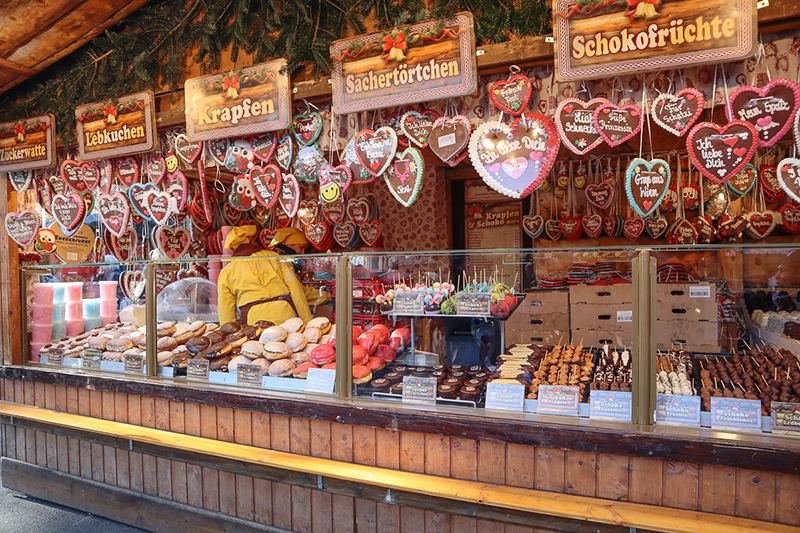 If you're planning a trip to the Austrian capital this winter, make enough time on your itinerary to wander around its majestic Christmas markets.
Starting with the largest one in the city, you cannot miss the Rathausplatz Christmas market, taking place in the city hall square. This is where you'll find dozens of stalls selling decorations, artisanal goods like candles and ceramics, and delicious food like dumplings, stuffed potatoes, and pretzels. Around the market, you'll also find a huge ice skating rink and winter-themed displays, which make the whole experience even more enchanting and fun. Tip – be sure to visit the market by day when it's not so crowded and by night when everything is illuminated and you can really feel the magic.
Beyond the city's big markets, I also recommend visiting a few smaller ones, which are still charming yet are a lot less crowded. One of my favorites was the Spittelberg Christmas market. Taking place in a small yet super cute quarter in the center of Vienna, this market is an absolute delight to explore. It feels cozy and relaxed, and you won't regret adding it to your Vienna itinerary.
This city is, without a doubt, home to some of the best Christmas markets in Europe, so be sure to add it to your European winter travel bucket list.
Source & Photo Credit: Or from My Path In The World
Kongens Nytorv Christmas Market Copenhagen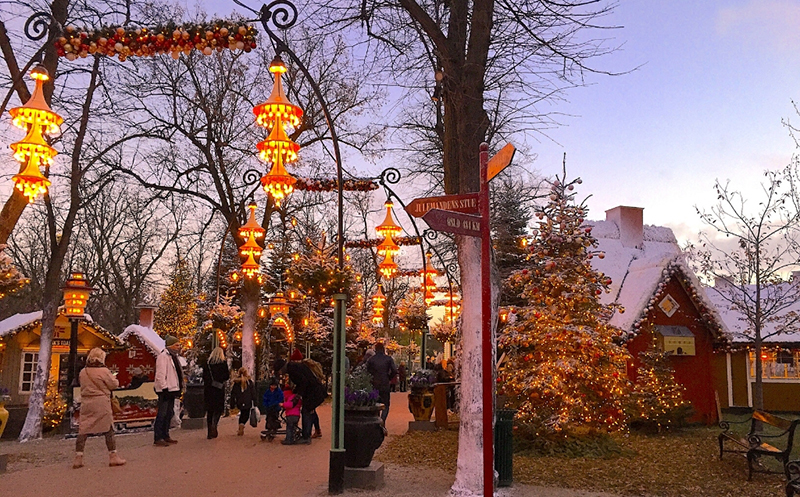 Copenhagen, Denmark is one of the best destinations in Europe for Christmas Markets. The city is incredibly festive during the season so walking between Copenhagen Christmas Markets means walking through streets criss-crossed with lights and evergreen boughs.
One of the best markets to visit is the Kongens Nytorv Christmas Market. It's located in one of the city's most beautiful plazas but it's wonderful during the holiday season. In the square of Kongens Nytorv you'll find the Hotel D'Angleterre. It's a luxury hotel in Copenhagen that transforms its facade into an advent calendar each December. The windows are covered with LCD screens and illuminated to count down the days until Christmas. It's a beautiful backdrop to enjoy the vendors, food stalls and gift shopping in Kongens Nytorv.
Another great market to explore is Højbro Plads. It's in the vicinity of Christianborg Palace and resembles a traditional German-style Christmas Market. The foods, stands and atmosphere are quintessential Christmas Market.
Besides Christmas Markets, the city offers a wonderful and festive experience at Tivoli Gardens. The charming Danish amusement park is transformed each year into a winter wonderland. Inside, the amusement rides continue to operate but the park is decorated in an incredible way that rivals a movie set. When you visit the festivities at Tivoli Gardens you'll feel like you've walked into an ornate snow globe Christmas village.
All of these Copenhagen Christmas markets are worth the visit to Denmark's capital this winter.
Source & Photo Credit: Derek and Mike from Everything Copenhagen
Højbro Plads Copenhagen Christmas Market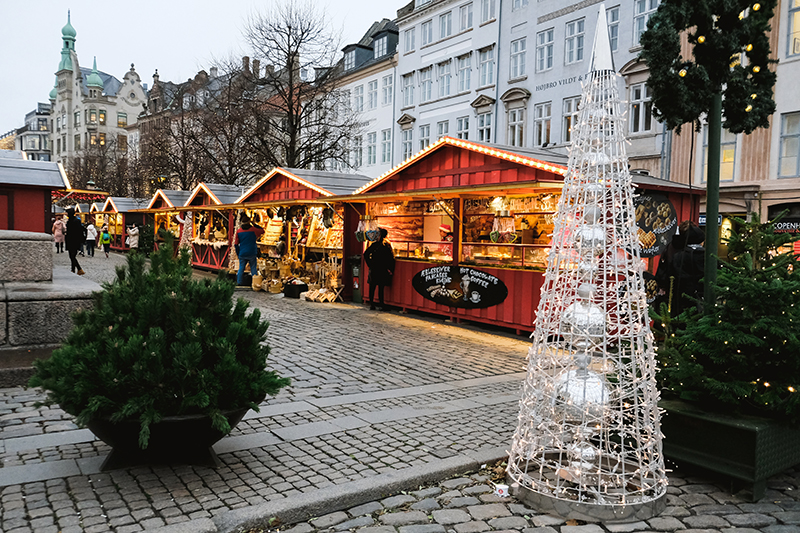 Christmas Market Højbro Plads is one of the less-known of all the charming Christmas markets in Copenhagen. It's located close to Christiansborg Palace and Royal Library Garden which makes it a perfect spot to warm up with some glögg or hot chocolate while exploring the cultural and historical aspects of Denmark's capital. There are many museums and cozy cafeterias in the area as well.
Højbro Plads market usually opens in mid-November and looks very cozy with all the wooden stalls featuring local handmade goods and Danish comfort food. You can't possibly miss it as it has a big horse statue at the entrance and the whole market is properly decorated and illuminated. Must-try local dishes include waffles on a stick and all kinds of Smørrebrød sandwiches. There are many booths that sell Christmas toys, wooden kitchen tools, woolen clothes, and lots of carved candles that will fill your home with the Scandinavian feeling of hygge.
The opposite end of the market is near Strøget street which is the most famous shopping street in Copenhagen and definitely worth visiting too if you come for Christmas markets. Each shop along Strøget is being wonderfully decorated every year so the whole street feels like a fairytale!
Source & Photo Credit: Juliet from Live Your Dream Today
Belfast Continental Christmas Market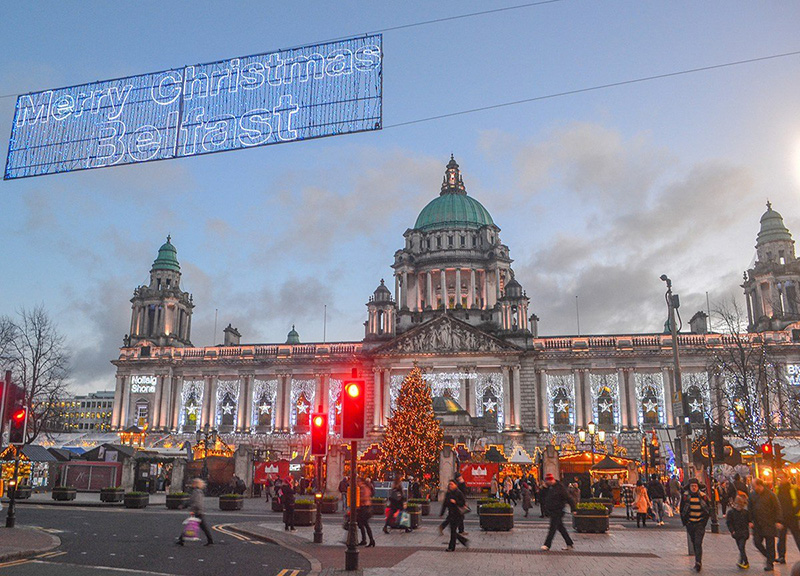 Belfast is one of those lesser celebrated cities in Europe which does work to its advantage as a relatively small and close-knit destination to explore on a short weekend of getaway over Christmas. As, even in the busiest times, the city centre and main attractions are still fairly easy to navigate and enjoy without the crowds. So at the centre of the city is Belfast City Hall which makes for a rather majestic backdrop for the annual Belfast Christmas Market which is dotted between the gates and monuments of its central grounds. There is also always the opportunity for tours of the building itself throughout the day. The market itself is fairly small and new on a continental scale, but it does share all the same themes as those of Germany's Christkindlmarkt and the rest of Europe with hog-roasts, marshmallow toasting, and lots of chocolates, sweets, candies, and sausage. Central to it all is also two heated/sheltered beer tents selling all the popular festive drinks including mulled wine (gluhwein) and big steins of Paulaner. But the real excitement in Belfast is the local banter (aka craic) which the Northern Irish are famous for. And while days may start at the Christmas Market, there is so much excitement in the traditional bars and pubs in the city streets surrounding it.
Source & Photo Credit: Allan from Bangorni
Budapest Christmas Market
Last year the Advent Christmas Markets at the Basilica in Budapest won the best Christmas market for 2020! This Christmas market is absolutely stunning and magical. If you're really looking to get into the Christmas spirit, this is the place.
The city is cold in December, but the Christmas decorations everywhere light it up, and the beautiful ice skating rinks and thermal baths make it cozy. The way they decorate the city was unlike anything I'd ever seen in Europe. The trams are decked out with Christmas lights, and the lights drip over every intersection in the city.
One of the best reasons to visit Budapest for Christmas is the prices. Our seven day trip for two people totaled $1,100. You'll find mulled wine for $1 and a fancy fillet mignon for $11. We dined like kings and queens and really enjoyed the Christmas spirit.
Budapest is known for some lovely winter cocktails, like Irish coffee and warm dinner dishes like goulash. While you're there, don't pass up a Lángos or Kürtőskalács.
Lángos resemble fry bread and is topped with onion, garlic, and sour cream, or alternative sweet toppings. And Kürtőskalács are chimney cakes, cooked over hot coals, and served warm dipped in cinnamon, sugar, or chocolate. If you're looking for Europe's best Christmas market, this is it!
Source & Photo Credit: Lindley from Lindley Loraine
Frankfurt Christmas Market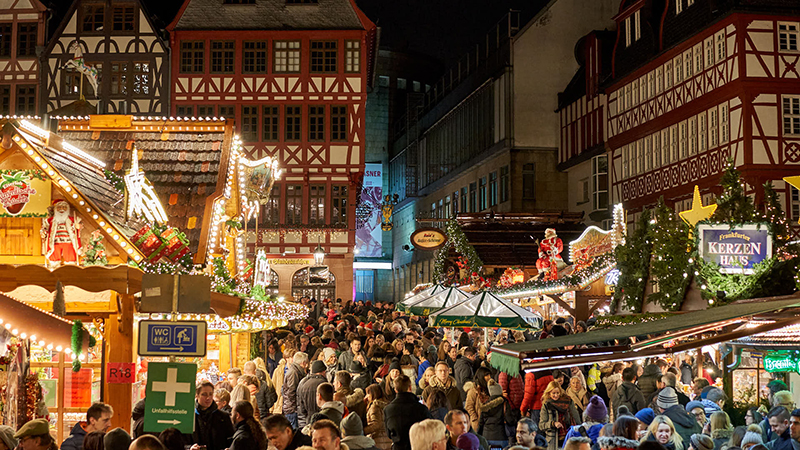 One of our favourite Christmas markets is the one in Frankfurt. It is also one of the oldest and biggest Christmas markets in Germany. Did you know that three million people visit the market every year?
The Frankfurt Christmas market sprawls out through the Old Town. Start in front of the Town Hall at Römerberg, where you will find a giant Christmas tree. This area is also great for eating fondue made with Handkäs, a local cheese speciality.
If you go north from here, you can see an original half-timbered house. This is the Honey House. The building comes from a village in the area, and the owners transport it and set it up here every year. Inside, you can try all kinds of honey products.
While at the Frankfurt Christmas market, make sure also to check out some other local specialities. Bethmännchen and Brenten are marzipan cookies you can only find in Frankfurt.
We also recommend the mulled wine, a must-have at any German Christmas market. Try the alcohol-free version made of juice if you don't like wine much.
In Frankfurt, most locals will drink hot Apfelwein. This drink translates to apple wine and refers to a unique, less sparkly variation of cider. Drink it hot, mixed with spices, for a local taste.
We recommend that you also go to the Pink Christmas, the LGBTQ+ market which you can find very close to the primary market. At this pink market, you can find excellent Christmas food as well as local handicrafts. And, of course, amazing hot Apfelwein.
Source & Photo Credit: Daniel and Ilona from Top Travel Sights
Philadelphia Christmas Market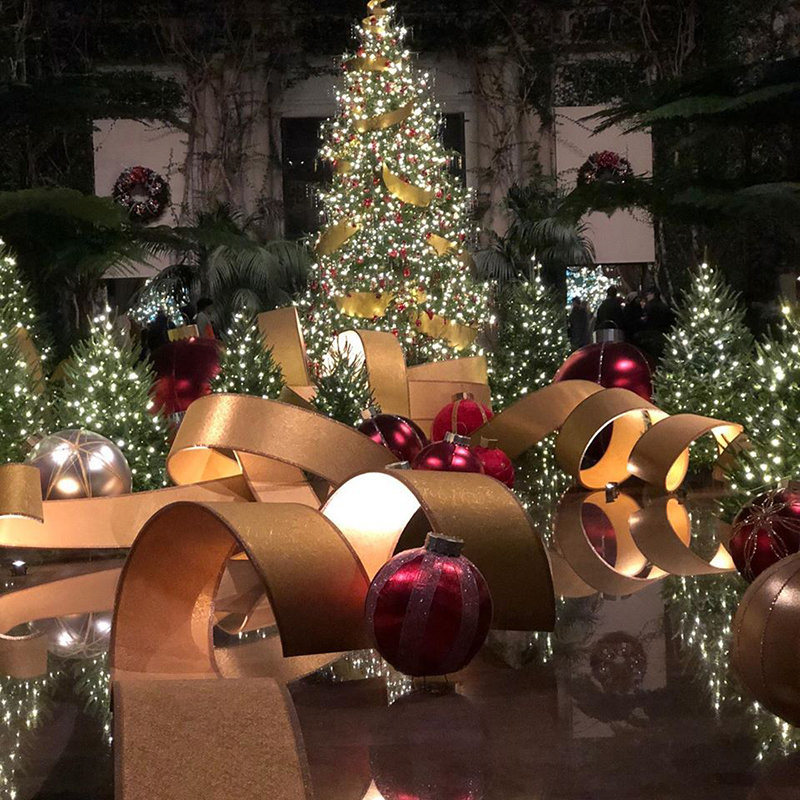 Philadelphia is one of the best places to visit for American Christmas Markets. Two of the best ones in the city are actually close to one another at City Hall's Dilworth Park and in LOVE Park.
At City Hall you'll find food stalls, craft and gift vendors and hot chocolate stands. There's also a beautifully decorated Christmas tree inside the City Hall courtyard. It's a festive site and there are often carollers and musicians in the courtyard. On Dilworth Park there's also an ice skating rink to get you into the Christmas spirit.
Across the street in LOVE Park you have another festive collection of vendors, food stalls and gift purveyors. There are a lot of shops selling local ornaments and artwork. The best part of visiting the market in LOVE Park is the view down Benjamin Franklin Parkway to the Philadelphia Museum of Art. It's a beautiful view and there are eye-catching landmarks in every direction. One other highlight, of course, is the brilliant red LOVE sculpture in the center of the park.
It's easy to continue a festive day in Philadelphia by heading one block down Market Street to Macy's Department Store. On the third floor you'll find the Dickens's Christmas Village, a lifelike display of the setting from Charles Dickens classic A Christmas Story. One of the best day trips from Philadelphia is visiting Longwood Gardens at the holidays. They have amazing holiday light and floral displays in expansive botanical gardens just 30 minutes from the city center.
Source & Photo Credit: Derek and Mike from Robe Trotting
Tallinn Christmas Market
Germany, France, Austria…. Everyone knows that they have beautiful Christmas markets. They're frequently written about, photographed and visited. But, what about the Baltic states? Estonia is a beautiful country on the Baltic sea and its capital city, Tallinn, gives you the feeling that you have stepped back in time. From cobblestone streets to iron lamp posts and rustic stalls that are dragged around the city on carts. So of course, you'd expect its Christmas market to be no different. Unlike many other European cities, there is only one Christmas market in Tallinn. It is set in one of the best-preserved medieval town squares in Europe, filled with approximately 50 market stalls.
The markets are open every day from the end of November until just after New Years days, not only are there stalls to buy hand crafted wooden decorations, ornate ceramics and of course, hand knitted socks, but you will also find folk dancers and choirs on the weekends. Oh, and if you're in town on a Sunday don't miss the advent candle being lit.
Of course, a Christmas market wouldn't be a Christmas market without some steaming hot food. Tallinn has that too but with a twist, try some sour cabbage with blood sausage, or perhaps that isn't your thing? Maybe pork sausage with potato sits better. Grab yourself a plate and a mug of Glogg and stand by the open fire taking in the atmosphere. After dinner, grab some sweets to munch on as you walk around the market. Gingerbread and marzipan are market favourites.
After spending two months travelling around the Christmas markets in Europe, I am so glad our final destination was Tallinn. It was unlike any of the other two thousand Christmas markets we saw and a great place to pick up some unique gifts and souvenirs.
Just a word of warning, English at some of the market stalls was somewhat limited, so make sure you point at the pork sausage if you don't want to end up with a blood sausage.
Source & Photo Credit: Fiona from Travelling Thirties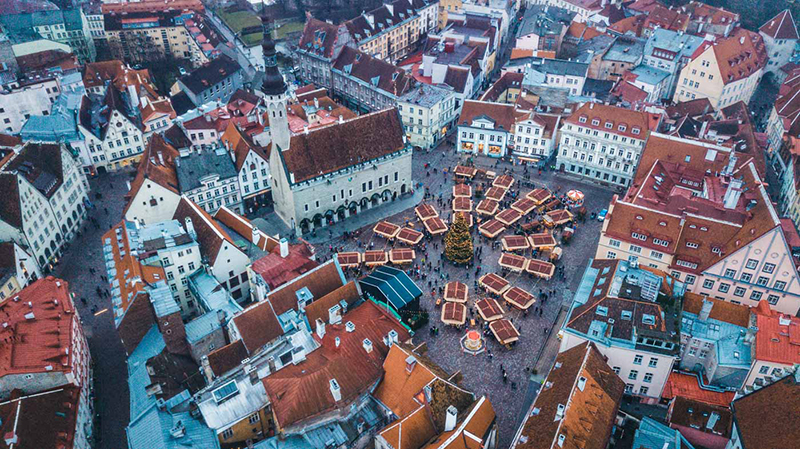 Tallinn is known for having one of the best Christmas markets in Europe. The fairy lights, decorations and Christmas spirit have enraptured visitors for generations. The market is held in Tallin's Town Hall Square and open each year from November to late December.
The square is dominated by a massive Christmas tree and surrounded by stalls and vendors selling handicrafts, food and drink. Don't miss a chance to try traditional Estonia dishes such as sausage and sauerkraut while sipping on the famous spiced mulled wine. There are many different variations of the mulled wine which you will find at vendors scattered around the market.
Performances are held every weekend and by January over 3000 performers take the stage. For the little ones, there is a dedicated children's program which includes musical performances by Santa and his elves and a chance to meet Santa at "Santa's Hut".
The historical center where the market is held is a joy to roam around. The cobblestone streets and historical buildings dating back to 1400's can't be beat. If you are looking to spend the holidays at a Christmas market you can't go wrong with the Tallinn market.
Source & Photo Credit: Oksana and Max from Drink Tea & Travel
Innsbruck Christmas Markets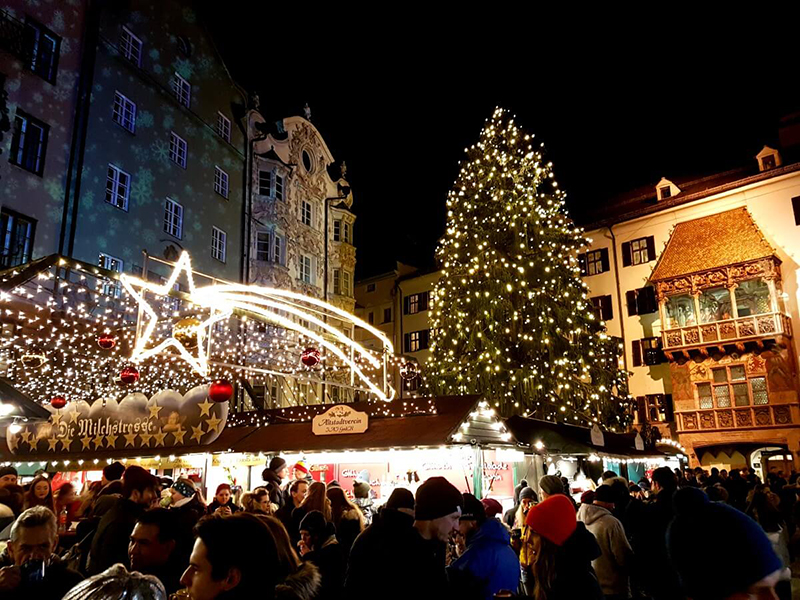 With its mountain backdrop and old-town atmosphere, the Innsbruck Christmas Market in Austria counts among one of the most romantic Christmas markets in Europe. Here you can wrap your hands around a warm mug of mulled wine under a giant Christmas tree in the shadow of the famous Golden Roof.
The Innsbruck Christmas Market is actually made up of 6 smaller markets each with its own unique character. Four of them are also within walking distance of each other in the city. The focal point is most definitely the area in front of the Golden Roof in the Innsbruck old town. This is where you can shop for homemade gifts, listen to trumpeters playing Christmas carols, and enjoy seasonal delicacies.
From the Golden Roof, you can explore the network of alleys in the old town or walk on to the markets in Maria Theresa Street or the Market Square. The latter is home to a towering Swarovski crystal Christmas tree. It's also where children feel most at home, with an old-fashioned carousel and a daily puppet show.
For a true mountain experience, the Hungerburg Christmas market is reached via cable railway from the city center. It offers stunning views of the lights in the Inn Valley and across the city towards the Bergisel ski jump, where another Christmas market waits to be explored outside the Tyrol Panorama Museum.
The main Innsbruck Christmas Market open around 15 November each year and run to 23 December.
Source & Photo Credit: Linda from Travel Tyrol
Christkindlmarket Chicago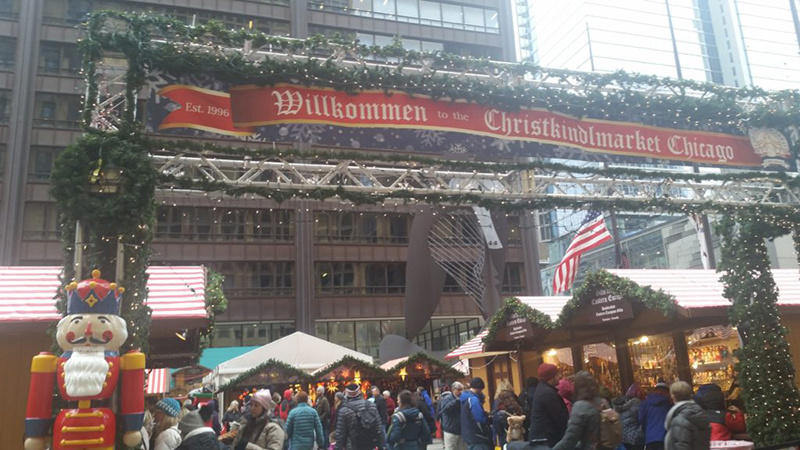 Christkindlmarket Chicago is one of the best Christmas markets outside of Europe. It is one of the most famous Christmas markets in the US and has become a very popular Christmas holiday event in Chicago attracting many locals and tourists. The German style outdoor market is actually inspired by the Christkindlesmarkt in Nuremberg, Germany. The majority of vendors are from Germany, but there are vendors from all over the world selling holiday decorations, ornaments, handicrafts, toys, and other souvenirs. Visitors can also enjoy a large variety of food, treats and beverages. The market sells a lot traditional German food such as Leberkaese, sauerkraut, bratwurst, and potato pancakes. You can sip on a warm drink such as hot chocolate, hot apple cider and mulled wine to keep warm during cold winters. It is also a tradition to purchase a commemorative souvenir mug decorated with the market's signature logo and year to remember your visit. Admission is free so even those on a budget can window shop and enjoy the music and performances. The original and main Christkindlmarket is conveniently located downtown in the Loop, close to the main tourist attractions and stores, but a second location in the city has been added in recent years.
Source & Photo Credit: Patti from The Savvy Globetrotter
Birmingham Christmas Market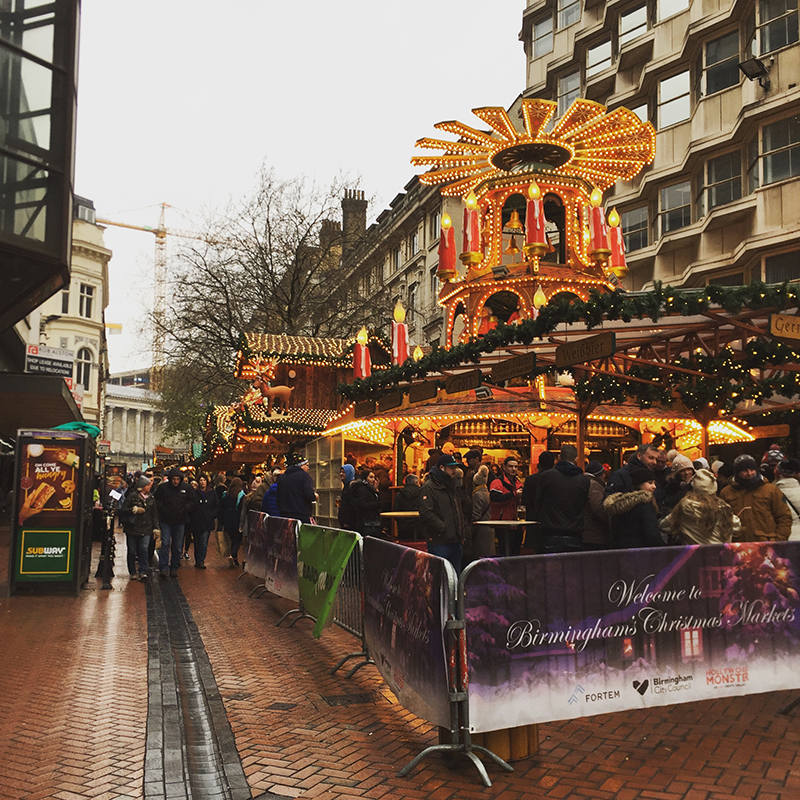 The Frankfurt Christmas Market in Birmingham is the largest authentic German Christmas market outside of Germany and Austria. Visitors can expect a huge selection of craft, gift and food stalls that are spread across the city centre in November and December each year. I've visited this Christmas market on a couple of occasions and particularly enjoy sampling the delights of the German food stalls. I'd recommend trying the bratwursts and schnitzels, washed down with some gluhwein in a souvenir mug.
This market can understandably get busy, so visiting at the beginning of the day, when it opens at 10am, is going to be the quietest time to browse for Christmas gifts. Heading to the food court area during the evening is a great way to get into the Christmas spirit and meet up with friends. There is a bandstand for live music and entertainment in this area within Victoria Square, which has full programme throughout the day. You will also come across some unique and talented street performers dotted between the market stalls on New Street.
If you live in the UK and are looking for a traditional European Christmas market, Birmingham ticks a lot of boxes. You can see this market in one full day or make a weekend of it by combining a visit to the Black Country Living Museum in nearby Dudley.
Source & Photo Credit: Laura from Cruise Lifestyle
Lille, France Christmas Market
While I worked and lived in London for two years, I was determined to get to at least one European Christmas market. I had been told how magical the European markets were and how I wouldn't have really experienced Christmas in Europe, unless I had been to an authentic market. Taking full advantage of being in London and the efficiency of catching the train to France, that is exactly what I did – I went to Lille for the day, especially for the Christmas market!
WOW, did Lille put on a great show! There was no snow but there were theatrics and it was more than this Aussie girl had ever thought it would be. The streets were lined with market stalls, festive music was played throughout the entire town, it was perfectly French and the vin chaudis (mulled wine) was magnifique.
I rode the ferris wheel, ate crepes and bought authentic gifts to send home to family and friends. I spent the entire day wide-eyed wandering the streets, popping in and out of shops and cafes, marvelling at the beauty and the festivity that accompanied this beautiful French Christmas market in the gorgeous village of Lille.
I would highly recommend London dwellers to take the trip across the Channel to experience Lille's Christmas event.
Source & Photo Credit: Erin from Love To Travel Stay-Eat-Do
Lubeck Germany Christmas Market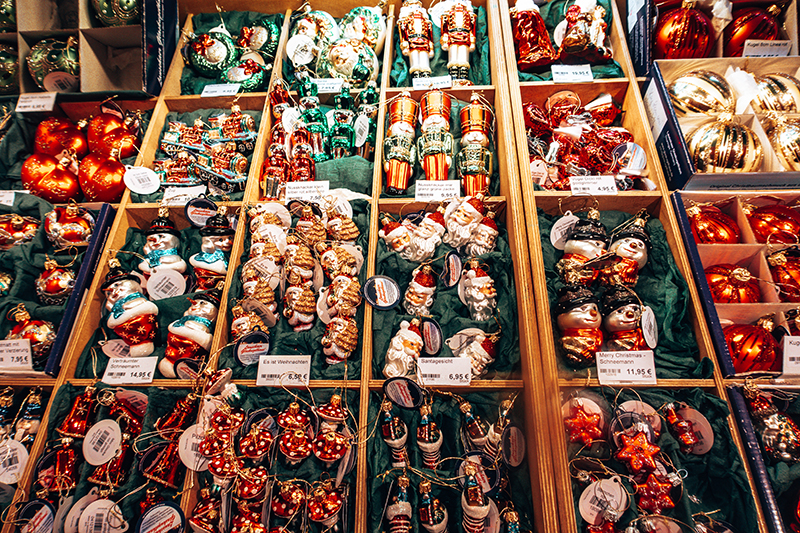 Lubeck is one of the coolest Christmas markets in Germany. Lubeck itself is a charming German town to visit and has quite a romantic atmosphere to it, but it exceeds expectations when it comes to Christmas markets. There are so many markets in this town to choose from. Some of the highlights include an indoor market that showcases local produce, crafts, and gifts, a traditional beer garden-style market complete with funfair games and rides, an awesome medieval-style market that is packed with delicious delights and unique gift ideas, and a traditional Christmas market complete with a bauble shop and German food favourites, including Bratwurst and Currywurst. Not only that, as you wander the main high street, it's also lined with Christmas market stalls, so there is so much to eat, see and do! What's even better about this Christmas market is the fact it's all extremely well priced. Food ranges from €1 to €7 and drinks range from €1-4. You'll also find a wide range of gifts including handmade jewelry, unique Christmas baubles, and local alcohols. You should combine a trip to the Lubeck Christmas markets with a city break in Lubeck itself. This charming place will steal your heart at Christmas.
Source & Photo Credit: Cazzy from Dream Big, Travel Far
Toronto Christmas Market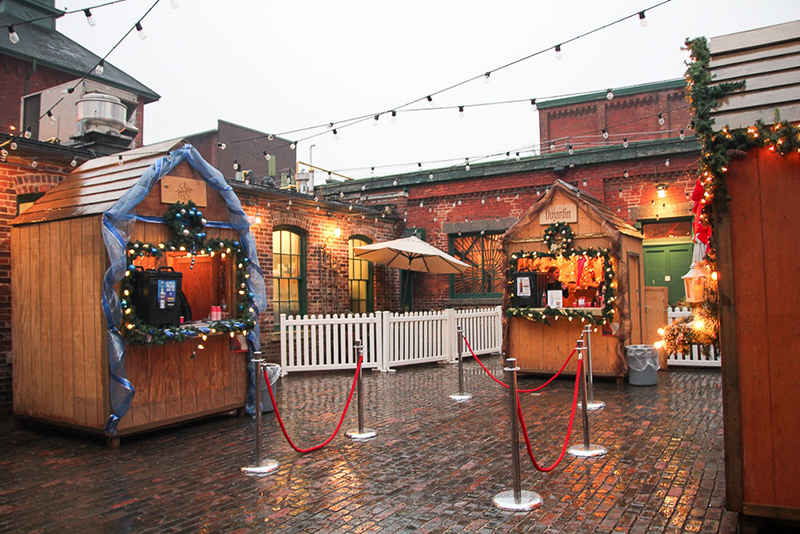 Christmas in Toronto is a grand affair and one of the highlights of the season is the Distillery District Christmas Market. The annual market has been running for almost 10 years now since its start in 2010 and is one of the best ways to experience the holiday season in Toronto.
The market is hosted in the historic Distillery District on the east side of downtown Toronto. It typically runs from mid November to the weekend before Christmas and is open all days except for Mondays. Visiting on a weekday (except for Friday evenings) is also free which is super nice! If you visit on Friday evening or the weekend you do need to pay admission ($8CAD if you purchase in advance and $12CAD if purchased on-site).
There are a number of highlights to the market that have to be experienced. The little alleyways of the market all host wooden little huts (similar to the European markets) where vendors sell snacks, hot chocolate and mulled wine and goods that make perfect Christmas gifts. There is a giant Christmas tree and a Ferris wheel which make for excellent photo opportunities. There's also plenty of Christmas decor all around for those great selfies and there's a huge countdown clock that counts down the days until Christmas – perfect to get everyone excited about how close it is.
While the restaurants in the district stay open during the market, you can also get plenty of food from the huts selling goods. Options include turkey legs, pies, fondues and so much more. Once you're stuffed and shopped out, you can head over to the stage area and listen to some live caroling.
Source & Photo Credit: Liliane from My Toronto My World
Lisbon, Portugal's Winter Wonderland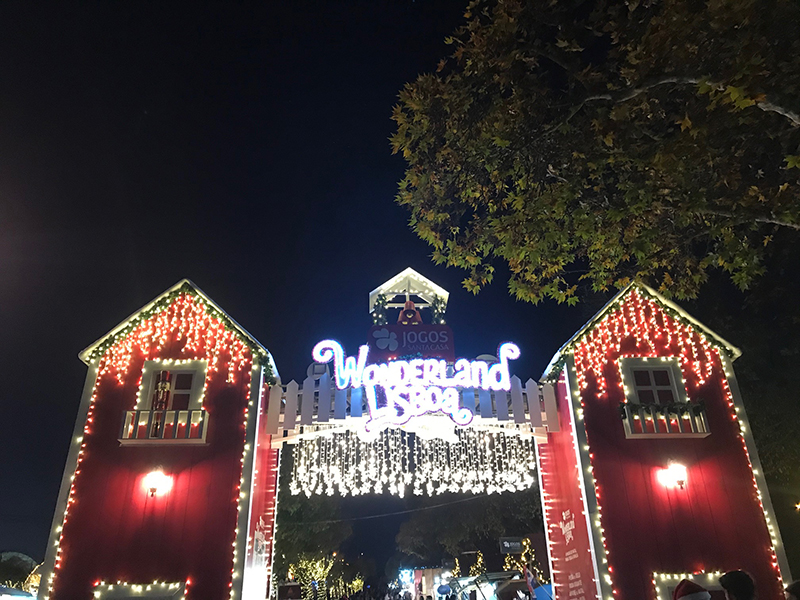 Christmas in Lisbon, Portugal? Think of a European Winter Wonderland and you may immediately be conjuring up images of snow-covered Christmas markets in Germany or Austria. Whilst these countries are what you'd quintessentially expect from a European Christmas, I'm here to tell you not to overlook, Lisbon Portugal.
Portugal may be much warmer over December, compared to other European neighbours, but equally, as festive, Lisbon is home to the magical Winter Wonderland Christmas market and fair, hosted along the city's iconic Parque Eduardo VII park in the heart of Lisbon.
Each year thousands of Portuguese families and tourists alike flock to Lisbon's Winter Wonderland to browse through the numerous craft and food stalls, drink some 'Vinho Quente' (hot wine), ice skate or take in the gorgeous night-time views over the city from the Ferris Wheel. For the kids, a visit to Santa Claus is a must too!
Bringing festive cheer to Lisbon, the Winter Wonderland fair usually runs throughout the month of December with free entry for all.
After taking a selfie at the giant Christmas tree, buying some last-minute Christmas gifts or delighting in some of Portugal's Christmas treats, head just down to the road to the tree-lined Avenida Liberdade and stroll along this gorgeous avenue lined with spectacular Christmas lights.
Source & Photo Credit: Marco from Travel-Boo
I hope this post inspired you to take some Christmas market holidays to explore the best Christmas markets around the world!

Which of these markets are on your bucket list? Let me know in the comments!
Related Posts:
Toronto Christmas Market: Holiday Traditions
Getting into the Christmas Spirit in New York City
St. Jacobs Market: Day Trip From Toronto
Things to do in London on Christmas Day
5 Best Christmas Destinations for Solo Travellers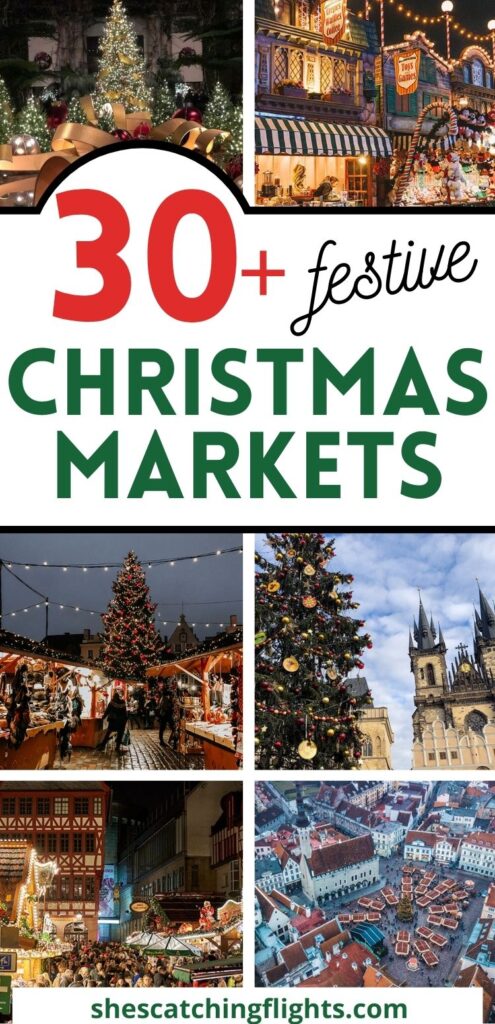 Christmas Market Holidays: Best Christmas Markets Around The World