The 7 Best Christmas Destinations for Solo Travelers in 2023
If you're traveling around the world around the holidays, then keep on reading to see the best Christmas destinations for solo travelers.
Christmas is one of the coziest times in the whole year, and if you find yourself traveling solo around the holidays, you may as well visit some of the places best known for how they celebrate the season!
Solo travel can be a lot of fun, but if you're someone who can be a bit lonely during the holidays, a great way to curb that would be by seeing some of the most festive, best Christmas destinations for solo travelers!
If you're interested in reading about more enchanting Christmas markets, you can read my blog post on must see Christmas markets around the world here.
The 7 Best Christmas Destinations for Solo Travelers
Christmas in Tallinn Estonia
Tallinn Estonia is a beautiful, old city which is only made more beautiful by the twinkly Christmas lights of their famous Christmas market! Estonia is also a great place to visit if you find yourself traveling solo on a budget around Christmas. You'll still get beautiful, historical architecture, a festive market, and some wonderful Christmas memories.
Be sure to bring cash when coming to this market if you plan to buy some trinkets or food and drink, because most stalls prefer cash transactions, and some only have a cash option for payment!
Christmas in Copenhagen Denmark
It should be no surprise that Denmark would make it onto the list of best Christmas destinations for solo travelers! Denmark is not only a super safe country but the whole concept of "hygge" was born here!
What is hygge? While hygge has no direct english translation, it loosely translates to a feeling of comfort, coziness, and wellbeing. Isn't that basically what Christmas feels like?
Copenhagen has multiple Christmas markets worth visiting, and the city as a whole is decked out in beautiful Christmas lights and decor. I highly suggest visiting the Tivoli amusement park and gardens around Christmas time!
Christmas in New York City USA
If you're going to be in the USA around Christmas time, New York City is of course one of the best Christmas destinations for solo travellers. New York always has so much to offer, but at Christmas it becomes a winter wonderland! Wander around 5th Avenue and other main streets to check out the beautiful window displays.
Of course, you should also check out the skating rink and famous Christmas tree at the Rockefeller Center! If you want to read more about everything you should do in New York City at Christmas time, hop on over to my post on Christmas in New York City here.
Christmas in London England
London is a must see for anyone traveling around Christmas time! London does Christmas right with many different Christmas markets and events. Like New York, many stores also decorate for the holiday season outside, so walking around the city is a cozy Christmas treat! Be sure to bring your camera around the city with you, because you'll find beautiful displays around every corner!
Check out this post on things to do in London on Christmas Day if you'll be in the city!
Christmas in Colmar France
If you're looking for a smaller Christmas adventure and want to escape the busy cities, then perhaps visiting Colmar France for Christmas would be more up your alley. Wander through the village and see the beautiful, historical buildings decorated festively for Christmas and explore the stunning market. Being in Colmar any time of the year always feels like being in a storybook, but at Christmas it's definitely amplified! This is definitely a Christmas experience to have at least once!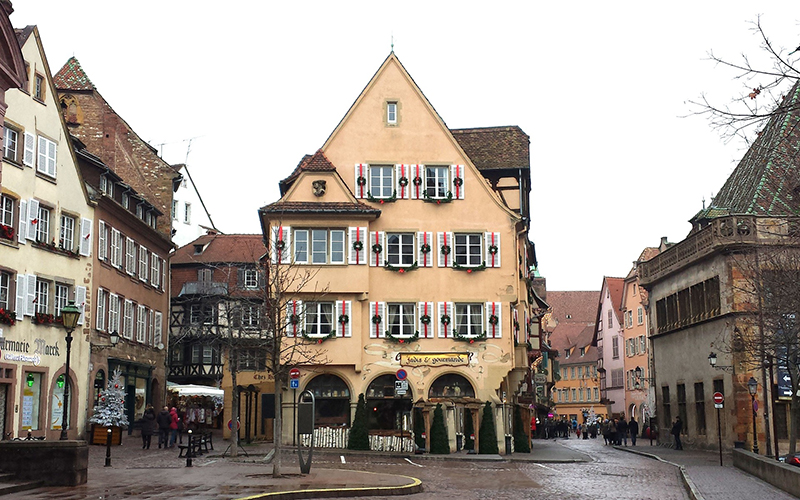 Prague, Czech Republic
Prague is a city that comes alive during Christmas time. The smell of mulled wine and gingerbread fills the air, and the sound of carols can be heard echoing through the streets.
With its festive atmosphere and stunning architecture, Prague is the perfect destination for solo travelers who are looking to get into the holiday spirit.
The city's Old Town Square is particularly magical during this time of year, with its magnificent Christmas tree and beautiful nativity scene.
Whether you're looking for a traditional Christmas experience or a more unique way to celebrate the holidays, Prague is sure to have something for everyone. So why not make this year's Christmas one remember by spending it in this fairytale city?
Vienna, Austria
Vienna is a fairy-tale destination any time of year, but it's especially magical during Christmas. The city comes alive with festive markets, twinkling lights, and carols in the air. solo travelers will find plenty to do in Vienna during the Christmas season.
The central location of most of the city's attractions makes it easy to explore on foot. Start at Rathausplatz, where you'll find the biggest and most popular Christmas market.
Stroll through the stalls, do some holiday shopping and sample traditional treats like gingerbread and roasted chestnuts. Then, pay a visit to Schönbrunn Palace, where you can see the imperial Christmas trees or take a guided tour of the lavish rooms decorated for the holidays.
After dark, don't miss a performance of The Nutcracker at the State Opera House or a horse-drawn carriage ride. With so much to see and do, it's no wonder that Vienna is such a popular Christmas destination for solo travelers.
Final Thoughts
I hope these destinations gave you some ideas for the best Christmas destinations for solo travelers if you find yourself traveling alone around the holidays!

If you find yourself exploring any of these places, we'd love to see your photos, so be sure to tag us on Instagram @shescatchingflights!
Related Posts
Getting into the Christmas Spirit in New York City
Things to do in London on Christmas Day
Christmas Market Holidays: Best Christmas Markets Around the World
Toronto Christmas Market: Holiday Traditions