The Solo Travelers Guide to Visiting Seattle
Ready to explore Seattle solo? This guide is full of tips and advice on how to make the most of your solo trip to Seattle. From finding the best neighborhoods to stay in to planning your days around the city's top attractions, this guide has everything you need to know to plan a solo trip to Seattle that's both safe and fun.
Disclaimer: Below may contain affiliate links, where I make a small commission. I only recommend products that I use and love at no cost to you.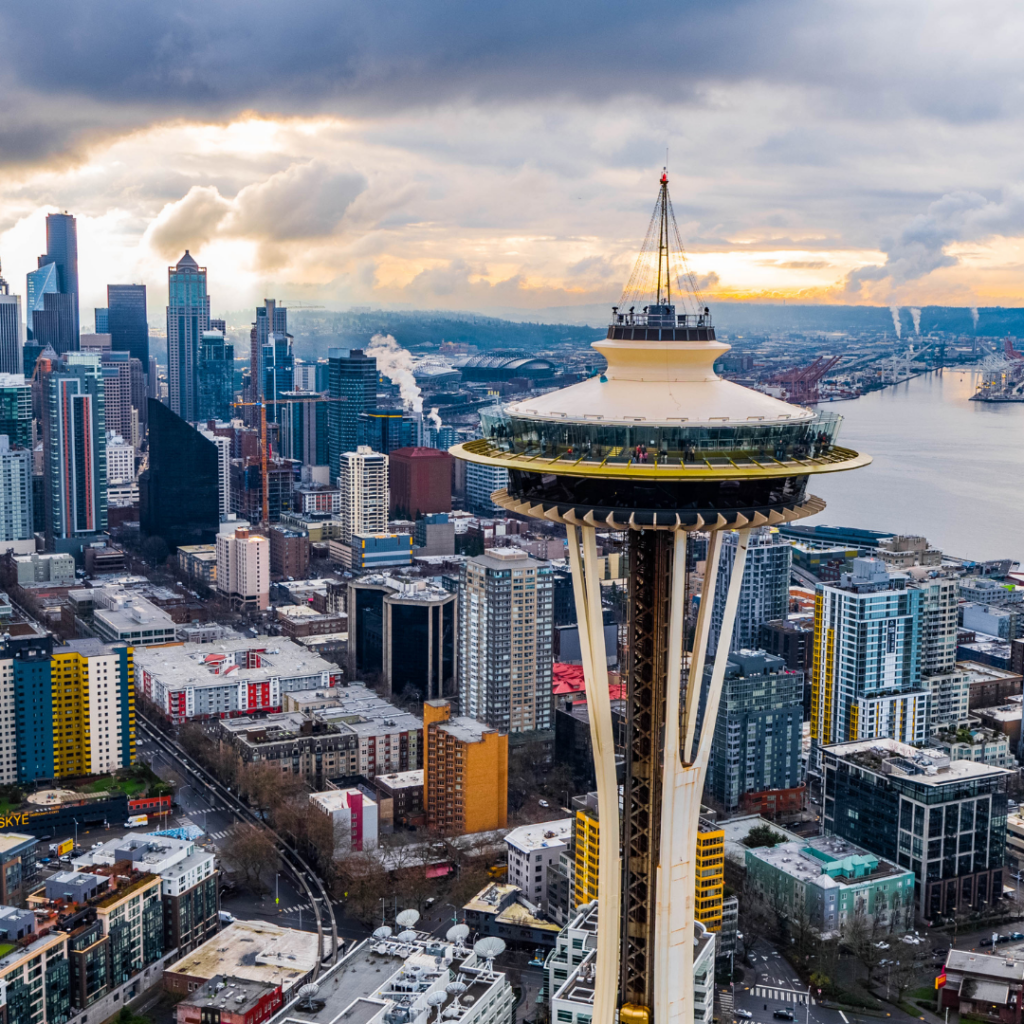 Is Seattle a Good Solo Trip to Take?
Seattle is a beautiful and vibrant city, with plenty to see and do regardless of your interests. If you're a fan of the outdoors, you'll find no shortage of parks and hiking trails to explore.
And if you prefer to spend your time indoors, you can visit one of the city's many museums or art galleries. Seattle also has a thriving food scene, so be sure to sample some of the local cuisines.
Best of all, Seattle is relatively easy to get around, making it a great choice for a solo trip. With its lively atmosphere and an abundance of things to do, Seattle is the perfect place to go if you're looking for an exciting and enriching travel experience.
When it comes to booking affordable flights, I love using the Skyscanner App!
Where to Stay As a Solo Traveler : Our Top Neighborhood Picks
When solo traveling, it's important to choose a safe and convenient place to stay. In Seattle, there are a few different neighborhoods that are ideal for solo travelers.
Belltown
This is a great option for solo travelers thanks to its central location and wide range of dining and nightlife options. This neighborhood is also home to some of Seattle's best hotels, so you'll be sure to find a comfortable place to stay.
Capitol Hill
This vibrant and historic neighborhood is full of great restaurants, bars, and shops, and is easy to navigate thanks to its gridded streets. It is also centrally located, making it a great base for exploring the rest of Seattle.
Queen Anne
This neighborhood is perfect for solo travelers who want to be close to the action but also have a little more space to themselves. Queen Anne is located just north of downtown and is known for its charming Victorian-style houses and calm, residential feel.
Is It Safe to Travel to Seattle Alone?
Overall, Seattle is a safe city for solo travelers. You can explore most areas of the city without any issues, and there are plenty of people around to ask for help if you need it.
Of course, as with any solo trip, it's always important to take some basic safety precautions. When walking around Seattle, try to stay in well-lit and populated areas. And be sure to keep your belongings close to you at all times.
It's also a good idea to let someone back home know your travel plans, so they can check in on you during your trip. By following these simple safety tips, you can solo travel Seattle with confidence.
What to Do As a Solo Traveler in Seattle?
Now that you know where to stay and how to stay safe, it's time to start planning your solo trip to Seattle.
Here are a few ideas of things to do while you're in the city:
Visit the Space Needle
No trip to Seattle is complete without a visit to the Space Needle, one of the city's most iconic landmarks. Take the elevator to the top for stunning views of the city, or visit the Space Needle Museum for a closer look at this Seattle icon.
Explore Pike Place Market
Pike Place Market is a must-visit for solo travelers in Seattle. This historic market is full of stalls selling everything from fresh produce to handcrafted goods. Be sure to try some of the local foods on offer, and don't forget to pick up a souvenir or two.
Visit the Museum of Pop Culture
This museum is perfect for solo travelers who want to learn more about Seattle's musical history. The Museum of Pop Culture houses exhibits on a wide range of musical genres, from rock to hip hop. And if you get hungry, you can grab a bite to eat at one of the museum's on-site restaurants.
Take a Hike
Seattle is surrounded by beautiful scenery, and there are plenty of hiking trails to explore. solo travelers. Whether you want to trek through a forest or hike to the top of a mountain, you'll find the perfect trail nearby.
By following these tips, you're sure to have a solo trip to Seattle that you'll never forget.
Related Posts:
The Solo Traveler's Guide to Visiting Clearwater Beach
The Solo Travelers Guide to Visiting Ericeira
Solo Luxury Travel: 10 Tips For Your Next Trip
Final Thoughts
Solo travel can be a rewarding and enriching experience, and Seattle is the perfect place to do it. With its stunning scenery, vibrant neighborhoods, and wealth of things to do, the city has something to offer solo travelers of all interests and backgrounds. So what are you waiting for? Start planning your solo trip to Seattle today.