The Best Adventures for Solo Travelers in 2024
Solo travel is on the rise, with more and more people choosing to explore the world alone. And it's no wonder why: solo travel can be liberating, empowering, and downright exciting.
If you're thinking of embarking on a solo adventure in 2023, we've got some great ideas for you. Check out our top picks for the best adventures for solo travelers in 2023.
Disclaimer: Below may contain affiliate links, where I make a small commission. I only recommend products that I use and love at no cost to you.
Snorkeling at Silfra
Out of all the cool things you can do while traveling solo, snorkeling at Silfra must be really high on your list. This place is truly unique, there's really no other place in the world where you can swim or dive between two continental tectonic plates. Located in the Thingvellir National Park in Southern Iceland, this is one of the best things you can do while in Iceland.
Snorkeling at Silfra is an adventure for any solo traveler. Even getting ready will feel out of this world as you prepare to enter nearly freezing water. This water is one of the clearest in the world, so it is definitely worth the struggle.
No matter what tour you take, or if you decide to book directly with the providers, they will place you in a group of 4-6 people. This way, the group stays manageable for the very competent instructor that will guide you through the whole experience. The instructors are not only responsible for your safety, but also for keeping up the environment safe, as the area is protected. So take their words as orders, not gentle reminders.
Don't worry about the freezing water. You'll wear a dry suit to keep you not only dry but also floating, and you get the benefit of mostly looking like a seal until you take it off. You'll only have wet hands and face, but your face will be numb quite soon and you won't feel a thing.
But the views, the views are spectacular. Especially if you're in luck and have a clear day, you can really see incredibly deep in the water. If your vision is good enough, you might see the center of the Earth through that crack. Joke aside, it is truly an incredible thing to do and see.
We recommend booking this best-selling tour HERE.
Written by Cristina from Honest Travel Stories
Swim with Whale Sharks in Mexico
One of the most exciting activities for a solo traveler is swimming with the largest fish in the world. Whale sharks can reach a length of 20 m and are gentle species that consume plankton. Swimming beside one of them is safe and unforgettable.
Mexico is one of the best places in the world where you can swim with whale sharks. Between June and September, you will find plenty of group tours that offer this seasonal experience just off the Yucatan Peninsula coast.
It is one of the best adventures for a solo traveler because whale shark tours are in small groups. Only two people (not including the guide) can jump into the water at the same time to swim with a whale shark. Moreover, some of the guides will let you do it twice!
This activity is so exciting that makes a strong bond between people participating in the tour. Unlike the other tours where people are so focused on learning about the history that they don't have time to talk with each other. You will not feel alone there as everyone will be cheering for you to have the best swim with the whale shark in your life.
This once-in-a-lifetime experience is one of the best things to do in the Yucatan Peninsula. After a bit of adrenaline on the Caribbean Sea, you will be able to relax at one of the most beautiful islands in Mexico. Isla Mujeres is the final stop before getting back to Cancun, so make sure to enjoy this picture-perfect location.
I recommend this popular tour from Viator HERE.
Written By Paulina from the UK Every Day
Komodo National Park, Indonesia
One of the most amazing adventures and nature-inspired solo trips one should take is to visit Komodo National Park in Indonesia, a Unesco World Heritage site. A string of islands that are mostly uninhabited except for guests and rangers, Komodo National Park has the largest lizards that range freely over this rugged and gorgeous landscape.
To get to Komodo National Park, you have to book a tour through various outfits that are located on the main island of Flores in the port city of Lubuan Bajo. There are daily tours that range from longer visits to just the highlights tour and on faster boats that speed through the hundreds of islands to get to the three main islands that compromise this national park.
Tours around Komodo national park is mandatory because of the wild nature of the komodo dragons which can be very aggressive and dangerous, so the rangers know how to protect their visitors while showing the amazing landscape and landmarks on the main island of Komodo. This is definitely a once in a lifetime journey and worth the experience to get all the way out here to visit the dragons of Komodo National Park.
We recommend this popular experience HERE.
Written by Noel with The Mature Traveler
The Dragon Trip, China
Whether you are traveling for the first time, heading to a destination that makes you nervous, have limited time to plan, or want to cover a lot in a short amount of time, organized tours are an awesome option for solo adventurers.
There are lots of different types of organized tours, from budget to luxury, and slow to fast. What is guaranteed is that you will meet like-minded travelers and experience a country in a way like no other.
Due to the lack of other backpackers, language barriers, and size, China isn't a popular destination to visit and isn't one that you will find on the typical banana pancake route.
After visiting China a few times, Ramsay Kerr realized that one of the biggest reasons people weren't traveling to China was due to their lack of speaking Mandarin, and so, in 2010 he founded The Dragon Trip.
Now the best seller, the 25-day China Loop was the first tour offered and is the best backpacking China tour on the market.
Starting and ending in the hustle and bustle of Hong Kong, the highlights include bamboo rafting in Yangshuo, seeing giant pandas in Chengdu, visiting Xi'an's Terracotta Warriors, learning Kung Fu from a monk in Shaolin, camping on the Great Wall of China in Beijing, exploring an ancient waterfront town in Hangzhou, experiencing Shanghai's magical nightlife, and embarking on a bike tour around traditional tulous in Fujian.
As someone who was diagnosed with anxiety and depression in their teens, and is now awaiting a re-diagnosis, possibly including borderline personality disorder and autism, I never imagined or thought possible that I'd have been exploring China at 18. I left England being extremely socially anxious and came back with some incredible friends, lots of awesome memories, and a little bit of Mandarin.
The Dragon Trip is a company that I'd recommend to anyone. They are a very responsible travel company, offering employment and leadership opportunities for locals, teaching language lessons to travelers, working with local suppliers, and using public transport for flights. In 2019, they partnered with One Tree Planted, and they are also working on creating "branded reusable items, to help our customers to avoid single-use plastics" as well as "providing an eco-friendly packing list".
The best part about The Dragon Trip is that they use a different guide in each location. This meant that in each place we got a local adventure leader who was familiar with that place. It also meant that we got to hear about and experience China in nine different and unique ways.
Written by Lana from Wallflower in Wonderland
Yellowstone and Grand Teton National Parks
Yellowstone and Grand Teton National Parks are two of the most beautiful places in the western United States.
Both are perfect for solo travelers, especially those on their first travels alone.
With them being such popular parks, you're bound to see others on almost any trail or attraction that you visit.
This can help solo hikers or travelers feel safer and more comfortable with being alone, since there are plenty of others to talk to or ask for help from.
Yellowstone is such a large park that it can almost be explored entirely by car, if you prefer. But it's recommended to get out and hike to at least a few of the major attractions.
Grand Prismatic Spring and the Grand Canyon of the Yellowstone are two of the best things to see during your visit, both of which are easy hikes and have plenty of others.
A drive through Lamar Valley is a great way to spend a day, as you surely won't be alone with the plethora of wildlife that graze the area.
In Grand Teton National Park, there are a huge variety of hikes that offer incredible views of the Teton mountain range.
One of the top longer hikes is Delta Lake, while a shorter option is the viewpoint at Schwabachers Landing.
If you're searching for a bit of relaxation and an area with others to chat with, Jenny Lake is a popular location with a lodge nearby.
A road trip through Yellowstone and Grand Teton National Parks is the perfect beginner trip for solo travelers.
Written by Kassidy from the Hiking Helper
Acatenango Volcano Hike
The 2-day overnight Acatenango Volcano Hike is one of the most epic adventures for solo travelers in Guatemala – if not the most epic one. What makes this hike so special, apart from its
beautiful landscapes, is that while camping on Volcano Acatenango, you will have a view over Volcano Fuego spitting lava every 20 minutes. This is a truly unforgettable place to spend the night!
Acatenango Volcano is located close to Antigua, a charming colonial city full of cobblestone streets and colorful houses in Guatemala, and the Acatenango Volcano Hike can easily be booked from here.
On day one of the hike, you will head to base camp, where you will get to camp overlooking Volcano Fuego spitting lava. The second day of the hike will take you to Acatenango's crater, which is stunning as well and offers more spectacular views over Fuego.
Though it is possible to do this hike on your own too, note that you do need previous trekking experience if you want to do so. You will also have to bring and carry your own food and tent, something you won't need to do if you trek with a reputable company (Make sure to check this in
advance though, as some cheaper companies will require you to carry your own tent).
It's good to know that the Acatenango Volcano Hike isn't the easiest hike out there. However, it is one that you will remember for a lifetime. You don't get to spend the night overlooking an erupting volcano every day, after all!
Written By Laura of Laure Wanders
Kite-surfing in Essaouira, Morocco
Laidback Essaouira sits on the west coast of Morocco, just a three-hour drive from Marrakech. The breezy, traffic-free medina is far more relaxed than Marrakech, the sellers are far less pushy, and the grid pattern is easier to navigate, making it the perfect destination for solo travelers to Morocco.
But there's more to this coastal town than pretty media. Indeed, there are so many things to do in Essaouira. But considering this coastal town has been coined, the 'Windy City of Africa", it's no surprise that Essaouira is one of the best places in the world for kite-surfing.
Now kite-surfing isn't a team activity and is actually best experienced on your own; that feeling of the kite flying you over the tops of waves, being at one with both the power of wave and wind, is one of the most invigorating feelings.
Essaouira kitesurfing season generally starts in late March and runs all the way until September. Most days there is good wind, especially in July and August when the wind speed can increase to 35+ knots. But there are also the odd calmer days. So if you are planning to visit Essaouira to kite-surf, try and stay at least a week to allow for the weather.
As the main beach of Essaouira is an arc, the prevailing winds are in a better direction at the far end of the beach, opposite the end of the medina. This is where Moga Surf is based, one of the best kite-surfing schools in Essaouira.
Although do be warned, kite-surfing isn't something you pick up in a day, and you also need decent upper-body strength. But if you're up for the challenge, it really is a superb solo traveler adventure sport.
Written by Jenny from Explore Essaouira
Rafting at Soca Valley
One of the best experiences for adventurous solo travelers is definitely a visit to the Soca Valley in Slovenia! Especially outdoor fans love this natural jewel, where there are countless possibilities for excursions and activities. From picturesque mountain lakes, spectacular waterfalls, breathtaking gorges, and scenic mountain scenery to the world-famous Soca River, it's all here. Fantastic hikes for all ages and many sporting activities await you here, kayaking, skiing in winter, and swimming in the rivers in summer. A real highlight, however, is rafting in the Soca Valley, an experience that attracts countless visitors from all over the world.
It is best to plan a rafting trip in the summer. During this time, you can expect the best weather and the cool rivers and mountain lakes invite you to jump into the cool water. Rafting is also possible in autumn, but in rainy weather, the rapids are much stronger and faster. You can book a tour on the spot. Especially in the resorts of Bovec and Kobarid, you will find numerous providers who offer rafting tours. Another option would be to book a tour online (e.g. on GetYourGuide), where you have the advantage that you can check out reviews in advance.
The Soca Valley is located in the west of Slovenia and can also be reached from Italy. However, the arrival from abroad is usually from Ljubljana, the capital of the country, where the international airport is also located. As an accommodation tip for solo travelers, we recommend the hostel Soča Rocks, where you can also get into conversation with other travelers!
Written by Martina from Places of Juma
Maria Island – Tasmania
Maria Island off the east coast of Tasmania is a beautiful and exciting adventure destination for solo travelers. The 45-minute ferry ride to Maria Island leaves from the small town of Triabunna, just over one hour from Hobart. If you don't have a car there is a regular bus service between Hobart and Triabunna.
Maria Island offers a lot for solo travelers. It is a ruggedly beautiful place with a spectacular coastline, mountain peaks, white sandy beaches, and unspoiled bushland. In these diverse habitats lives a huge range of wildlife, it is a nature lovers paradise. See kangaroos, wallabies, wombats, Tasmanian Devils, bandicoots, and over 150 different types of birds. There are no cars on the island, so you travel on foot or by bike. It is a great chance to either safely be on your own or to meet other travelers as you see the sights.
One of the best adventures on Maria Island is the walk to the summit of the Bishop and Clerk. The reward for this challenging 4-5 hour hike is breathtaking views from the summit along the east coast of Tasmania. If you stay overnight on Maria Island, you can tackle the 8-hour Mount Maria hike too. There is cheap accommodation on Maria Island – there are free campsites or bunkhouse rooms, but you will need all your own food and supplies.
Solo travelers can also join a 3 day guided walk of Maria Island. Here your food and accommodation is provided and guides take you on the best walks and to amazing sights like the Painted Cliffs, Fossil Cliffs, and the stunning McRaes Isthmus. Whether you go on a guided tour or explore on your own, the remoteness, wildlife, and beauty of Maria Island will be an unforgettable adventure.
Written by Natalie & Steve from Curious Campers
Kareri Lake Trek
Kareri Lake is also known as Kumarwah Lake is a hidden pristine lake perched atop surrounded by lush green views and mighty mountains. It is a shallow, fresh water, high altitude Lake perched south of Dhauladhar range from northwest of Dharamshala in Kangra district of Himachal Pradesh, India.
The Kareri Lake Trek offers beautiful views along the path which leads through the jungle trail, rivulets, scenic lush green valleys, steep upward hikes, beautiful mountain views, and rocky stretches.
About the Kareri Lake Trek
Elevation: 2934 m/ 9650 ft above the sea level
Trek Distance: 10 Km
Difficulty level: Easy to moderate
Time to reach: 6-7 hours
Traxplorers' recommended this trek as a great adventure opportunity
Kareri Lake Trek is a stunning weekend adventure for those people who are looking for some good options away from the beaten treks of Himachal Pradesh. This hidden trek is an awesome opportunity to explore the scenic beauty of nature which offers diversity in the landscape throughout the way.
After covering the trek of 10 km, one can do camping at the campsite up there on the top with a stunningly gorgeous view of beautiful Kareri Lake. The lake is surrounded by mighty mountains and lush green vegetation around. The crystal clear water of the lake provides a mirror image of the mountains which in itself is an eye delight.
Village Homestay
We advise getting a homestay or cottage in advance at Kareri village. It is better to stay the first night in the village and start your trek the next day early morning to give head start. The homestay in the village provides another level of experience. The local homestays offer an absolute charm of natural beauty around along with the opportunity to explore Himachali culture with the culinary delight of local cuisine.
Written by Supriya from Traxplorers
Volunteering with Refugee Children
A solo adventure is a journey of self-discovery that can help you explore your fears and overcome your limitations. And if you can do all this while traveling and contributing to a great cause, then you have found a perfect solo adventure.
Such an ideal adventure can be found in Poland volunteering with refugee children. The recent conflict in Ukraine has forced many children to leave their homes and seek shelter there. You can volunteer with a long-standing and reputable organization from Warsaw like Fundacja Ocalenie (The Rescue Foundation). They focus on helping refugees escape conflict zones.
A great program to volunteer in Poland involves working in pop-up daycares in refugee centers near the Ukrainian border. As a volunteer of such a daycare, once your application is accepted, you must attend a weekend workshop in Warsaw. The most important aspect of this workshop is a presentation by a child psychologist specializing in war trauma.
You then head to the border after having committed to a minimum of one week and a maximum of two at a time. Fundacja Ocalenie takes care of your transportation, accommodations, and provides you with a food allowance so that you can focus on your volunteering tasks without worry.
Volunteering with refugee children is a humbling experience and is one of the most rewarding solo adventures you will ever embark on.
Being able to give a sense of normalcy to children who have experienced trauma is an amazing feeling. Volunteering with refugee children abroad is an unforgettable adventure for solo travelers. One that, not only, will be extremely gratifying for you, but it will also give these refugee children the opportunity to grow up with dignity and hope for fulfilling lives.
Written by Bea Cińska from Pack Your Bags
Bako National Park
Located only an hour from Kuching, the capital city of Sarawak in the Malaysian part of Borneo, Bako National Park is the oldest national park in East Malaysia. Whether you want to make a day trip from Kuching or spend a few nights in one of the lodges in the park, it's one of the recommended adventures you can have if you travel solo to Borneo!
While you can join a trekking tour around Bako National Park, it is also relatively easy to stroll around the park on your own. The park ranger will give you a map for your direction guide, and you can enjoy the park's natural beauty with its diverse flora and fauna.
For more advanced trekkers, you can get into the woods and take the more advanced track to enjoy what Bako National Park has to offer. If you're lucky, you may see the famous proboscis monkeys in their natural habitat. Pay attention to the wild boars, since there are many of them around Bako National Park!
As it's situated by the shore of the South China Sea, walking around the seaside is easier for beginners. You can watch the boats that come and go, and you'll likely see the silver monkeys population around the park to enjoy its natural beauty.
Written by Marya from the Beau Traveler
Hike to Ciudad Perdida in Colombia
One amazing activity you should not miss out on when traveling Colombia solo, is the hike to Ciudad Perdida, which translates to Lost City. The Ciudad Perdida hike is a 4-day trek through the Colombian jungle in the Sierra Nevada de Santa Marta mountain range.
Ciudad Perdida is an ancient city that can only be reached by foot and that was only discovered around 50 years ago. The trek can only be done as part of an organized tour, which is great for solo travelers as you are bound to meet people while on the tour. The tours include a tour guide, food, accommodation, as well as transportation to the starting point of the hike.
While there are several tour operators doing the trek and each of them has several groups departing at the same time, you will spend most of the time with your group. That means you get to spend a lot of time with the same people and can get to know them very well, but still, get to meet other people as well at the different camps.
The Ciudad Perdida hike is an incredible experience. Especially since it takes a lot of effort to reach the ancient city, it is even more rewarding once you finally reach it.
Most tours start from Santa Marta, which is a great destination for solo travelers, as there are also a lot of other activities to do in the area, such as visiting Tayrona National Park or traveling to Minca, a little town in the mountains.
Popular Tours to Book
Written by Becky from Becksplore Travel
Cocora Valley Hike
Colombia may not be a country that normally bubbles up to the top for travel, and especially not for a solo adventure. And that's exactly why you should go!
This stunningly beautiful country should be on anyone's bucket list. People tend to hit the big cities, so if you want to see a side of small-town life in Colombia, head to Salento.
This tiny backpacker enclave is worlds apart from the big cities. Locals are really friendly and you'll find a lot of tourists here for a very good reason: hiking Cocora Valley.
Salento is a great place to visit solo as you won't remain on your own for long. You'll meet up with tourists with the same idea. It's a striking small town with fun brightly-colored homes.
This hike is epic and will take you between 4 and 6 hours, depending on your speed. It's a loop, and most people start off counter-clockwise to start the hike through the cloud forest (high-elevation rainforest). To complete this section, you need to pass over seven rather dodgy suspension bridges.
Take a break at the Acaime hummingbird sanctuary for an aquapanela. It's a local drink made from sugarcane that you can drink hot or cold, and enjoy the birds buzzing around.
Then, head up the steep part of the hike to the Finca, a small farm where you can get drinks and soups. There's a stunning view of the valley from the top of this large hill.
The last part of the hike is what it's famous for the wax palm trees. These cartoonishly-tall palms are the tallest in the world. If you're not up for the hike, there is an out-and-back trail that will take you there, though there is still some hiking involved.
Seeing Cocora Valley is a bucket-list adventure not to be missed if you visit Colombia. You may visit Salento solo, but you're sure to make hiking buddies along the way.
Written by Sam from My Flying Leap
Grey Whale Watching in Magdalena Bay, Mexico
Magdalena Bay in the Mexican state of Baja California Sur is a unique and special place.
Each winter from January – April, Grey Whales migrate south from the cold waters of the
Arctic to mate and breed in the protected bay. Seeing these creatures anywhere along their
migratory route is special. But something unbelievable happens within the bounds of
Magdalena Bay.

A phenomenon unexplainable by scientists, the grey whales that visit the bay each year are
known for their desire to interact with boats and humans. Touching animals in the wild is
usually a no-no in any ethical wildlife encounter, but the rules change in Magdalena Bay.
These gentle giants willingly approach boats and have been known to spend hours
splashing and playing with passengers. If a whale approaches your boat and 'spy hops'
(sticks its head out of the water vertically), and you don't give it a scratch or a smooch, it will
swim away to find a boat that will!

A truly once-in-a-lifetime experience, grey whale watching in Magdalena Bay is the perfect
adventure for solo travelers. There is a range of tours available, and you can opt for a
private boat, or to share with other travelers and reduce the cost. Nothing brings people
together like animals, and there won't be a dry eye on the bay if the whales decide they want
to play!

This area of Mexico is very safe, and solo travelers needn't have any concerns. The best
way to see the grey whales is on a tour with a specialist local tour operator. Magdalena Bay
Whales is the original whale watching tour, born and bred on the bay. They can help you to
arrange packages ranging from a single-day tour to a multi-day package including multiple
whale watching experiences and a stay at their island glamping camp on the bay.
Written by Sally from Sally Sees
Road Trip Across Mongolia
The Land of the Blue Sky is an underrated destination that is off the radar for many travelers. Despite having a small tourism industry that is slowly emerging and a lack of infrastructure in the countryside, Mongolia is safe for tourists and is well worth visiting if you are willing to get out of your comfort zone.
The best way to do a road trip in Mongolia as a solo traveler is to hire a driver and a guide or join a tour. Once you are set, get ready to experience the incredible vastness and unique set of landscapes of the Central Asian steppe; from the Gobi desert in the south to the crystal clear lakes in the north and west, and the neverending green grasslands in between.
Since Mongolia is not overridden by tourists, you will find yourself enveloped in the immensity of your surroundings. The long rides can be uncomfortable and bumpy and there is a very real possibility of getting a flat tire or getting bogged, but nothing a skilled driver cannot solve.
Along your journey, you will be hosted and warmly welcomed by Mongolian families and you will experience nomadic hospitality at its finest. You will have the chance to learn about the unique Mongolian culture and their nomadic way of life, which currently is the lifestyle of one-third of the Mongolian population.
While in the very remote countryside, you won't always come across hygienic infrastructure (running water or sitting toilets) or food variety (lots of fatty meat). A piece of advice for your Mongolian road trip is that you mentally prepare for any type of setback, bring with you any items that you absolutely need during your trip, sit back and go with the flow.
In summary, Mongolia is for those travelers who love nature and enjoy learning about different cultures while gently pushing the boundaries of your comfort levels.
Written by Patricia from Spanish Nomad
Hiking in Yosemite
If you are dreaming about an adventure where you can connect with nature, hiking in Yosemite is perfect for solo travelers that love the outdoors. Yosemite National Park is home to over 750 miles of trails that offer breathtaking views of massive waterfalls and rock structures that tower over the valley floor. There are trails for every ability level, from short flat trails to long treks up steep climbs to viewpoints overlooking the entire park.
Some of the best trails in Yosemite start right from the valley floor, traversing their way up to the park's best attractions. This accessibility makes it easy to do several small hikes in a single day. Some of the best short trails from the valley include the Lower Yosemite Falls Trail and the Mirror Lake Trail.
For more experienced hikers or those with a strong sense of adventure, you won't want to miss the Mist Trail that will take you to Vernal and Nevada falls with stunning views along the way. Another favorite for trekkers is the Upper Yosemite Valley Falls Trail, where you will get a heartstopping view from the top of the waterfall looking down 2400 feet to the bottom of the valley.
For solo travelers who are nervous about hiking alone, guided group hikes are available through several companies with options for customized hikes and treks to see the park's highlights. This is a great way to learn about the history and natural elements of the park while making new friends.
Don't miss out on exploring this National Park on a solo trip as it is the perfect adventure to one of the most beautiful places on the planet.
I recommend this popular tour from Viator HERE.
Written by Gabriel Glasier of Chef Travel Guide
Uluru
A unique adventure for solo travelers is to visit Uluru in the centre of Australia. The mostly arid landscape has many surprises, including waterholes, many bush wildlife and birds set against the massive red rock backdrops of Uluru and Kata-Tjuta.
Activities include viewing the sunrise and sunset over Uluru and Kata-Tjuta, so see the ever-changing colors as the light changes. You can also explore the base of Uluru and visit waterfalls (in the wet season), permanent waterholes, caves, and Aboriginal rock art. Options to explore the 11km/ 7 mi base of Uluru include walking, cycling, riding a Segway or driving around the base and doing several short walks.
You can also visit Kata-Tjuta and do one of three walks, the longest being the 7km / 5 mi Valley of the Winds walk. Another popular option is to do a helicopter flight over Uluru and Kata-Tjuta, to have another perspective of the desert landscape. Another great destination to visit is King's Canyon to do the famous 6km / 4mi Rim Walk, which can be done as a day or overnight trip from Uluru.
For solo travelers, there are many day and multi-day tour options to help you explore, including hop-on hop-off buses. Alternatively, hiring a car is a great option to explore the area.
There is a good selection of accommodation and dining options ranging from budget to luxury at Ayers Rock Resort, located in the gateway town of Yulara. The main tourist season is from April to October as summer is extremely hot.
Written by Anne Sutherland-Smith from Pretraveller
Hiking in Patagonia: W trek in Torres del Paine
Hiking the W trek in Torres del Paine in Chilean Patagonia is a great solo adventure. This 4-day trail is one of the most beautiful hiking routes in South America. The total distance of the hike is 100 km. It's a moderate route that doesn't require a lot of hiking experience or any special skills.
The W trek is a well-marked, popular trail with good infrastructure that can be done independently, with a guide, or in a group.
The scenery on the W trek is truly spectacular: turquoise lakes, indigenous forest, bizarre-shaped mountain peaks, and waterfalls. You can see the best of the region on this 4-day hike. The highlights of the route include the Mirador Los Torres, Grey Glacier, Nordenskjold Lake, Pehoe Lake, French Valley, Mirador Frances, and Mirador Britanico.
The summer months of November to March are the best time for walking the trail. During that period there are many hikers in the park even if you travel solo you'll meet people at the campsites and on the trail. The route goes through a controlled area of the park with several ranger stations, you can safely hike there enjoying the wilderness.
The W trek and the accommodation along the route can be easily booked online. Hikers can camp with their own gear, rent gear at the campsites, or stay in dormitories. It's possible to cook your own food or buy meals at restaurants. The town of Puerto Natales is a gateway to the park. It has a good tourist infrastructure. It's easy to get information, rent gear, and meet people.
Written by Alya of Stingy Nomads
Dog Sledging in Finland
Visiting the Arctic in winter is a fantastic adventure for a solo traveler. The adventure starts as you head off into the wilderness. While you may travel solo, the trip will always be part of a group so you will not be alone and will make some amazing friendships.
In the winter months, the north of Finland is a winter wonderland with deep snow. One of the most untouched areas is Riisitunturi National Park which is where some of the best dog sledgings can be found. This national park is a short journey from the ski resorts at Ruka and Kuusamo but couldn't be further from the bustle of the small resort towns.
The dog sledging will take you high onto the exposed fells. Here you will see the spruce trees covered in frost, bending into all kinds of shapes as the sun skirts just below the horizon, never really rising. This leads to beautiful colors in the sky during daylight hours.
At night, once your dogs are fed and settled you will have time to sit around an open fire or experience a traditional sauna whilst chatting about the day. Some days will be easy going with beautiful landscapes while others are more energetic with difficult corners and low trees.
If you are lucky you may see the northern lights which hang over the national park on clear nights, lighting up the landscape in a myriad of colors.
This adventure is perfect for a solo traveler as you will never be on your own, but at the same time, you will be able to experience the wilderness alone.
Written by Suzanne from Meandering Wild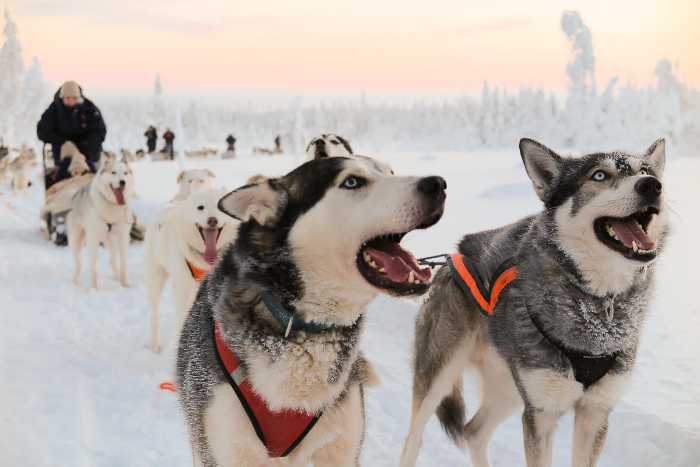 New Zealand's Great Walks
Hiking one of New Zealand's Great Walks is a great adventure for solo travelers and one of the best things to do on a trip to New Zealand.
Not only do these ten different multi-day adventures showcase the best scenery that New Zealand has to offer but they are a great way to meet other travelers too.
From crossing volcanoes on the Tongariro Circuit, beach hopping along the Abel Tasman, climbing up glacial valleys on the Milford or Routeburn, or camping with kiwi birds on the Rakiura, the only hard part is deciding which track to do!
Known locally as 'tramping' tracks, these hiking trails feature well-equipped huts, which typically include a hut warden, a warm fire, cooking facilities and gas, bunk beds, and bathrooms, so it's not necessary to bring a full set of camping gear, though tent sites are usually available too. Throw in a pack of cards and some snacks and you'll be sure to make friends fast.
Whilst some hikes should only be tackled in the summer season (October to April), the low winter season can be a great time to nab last-minute tickets to some of the year-round trails such as the Heaphy Track. The Great Walks are very popular, so if possible, book well in advance through the NZ Department of Conservation website.
Contributed by: Laura from Laura The Explorer
Maasai Mara
Visiting National Parks and wildlife reserves can be a powerful experience for any solo traveler and nature lover. The Maasai Mara (also spelled Masai Mara) is an excellent destination for solo travelers looking to experience nature and wildlife on both a grand and intimate scale.
Maasai Mara is a national wildlife reserve located in Kenya about 167 miles from the capital of Nairobi. It is just north of the Serengeti National Park in neighboring Tanzania. The name is derived from the native Maasai people who inhabit the area.
The Maasai Mara reserve covers 580 square miles of savannah. It is home to lions, elephants, giraffes, zebras, wildebeests, Cape buffalo, antelope, rhinos, cheetahs, leopards, hyenas, and much more.
The Maasai Mara is generally explored with the aid of a local guide due to the inherent dangers of traveling in a natural wildlife habitat.
Guided safaris can vary in size, ranging from private to larger groups.
Private safaris will generally be more expensive, but they are also more personalized and intimate. Larger group safaris are less expensive but also less personalized. Larger group tours do have the added bonus, particularly for solo travelers, of being an opportunity to meet new people from all over the world.
A safari experience will generally involve riding around with a guide through the sprawling, open savannah of the Maasai Mara in a 4×4 vehicle, such as a Jeep or Land Rover. Your guide will try to spot wildlife that might otherwise be hard to find.
Each safari ride is completely different. You may find yourself up close with a lounging pride of lions, a cheetah and her cub resting under a tree, or a majestic giraffe enjoying an afternoon snack amidst the tree tops.
As a solo traveler, the experience of going on safari in the Maasai Mara can be very powerful, moving, and even spiritual, as you experience the full wonder and beauty of nature in a very real and at times intimate setting. It is a truly unforgettable experience.
Written by Merry from Virginia Vacation Guide
Related Posts:
The 40 Best Solo Travel Destinations for Nature Lovers
9 Solo Weekend Trips From Paris To Take in 2022
The Solo Traveler's Guide to Visiting NYC
The Solo Traveler's Guide to Visiting Sonoma
Final Thoughts
This is just a taste of the types of adventures that are available for solo travelers in 2022. We hope this has given you some inspiration for your next trip!
Don't forget to check out our other blogs for more great solo travel tips and ideas. And if you're looking for even more adventures, be sure to follow us on social media or sign up for our newsletter. We'll be sharing even more great solo travel opportunities in the coming months!