The Solo Traveler's Guide to Visiting Sonoma
Are you thinking of visiting Sonoma County solo? Or maybe you've already booked your trip and are wondering what to expect? Regardless of where you're at in the planning process, this guide will give you all the information you need to make the most of your solo trip to Sonoma.
Disclaimer: Below may contain affiliate links, where I make a small commission. I only recommend products that I use and love at no cost to you.
Why Visit Sonoma County Solo?
There are plenty of reasons to visit Sonoma County alone. For starters, it's a great way to disconnect from the hustle and bustle of everyday life and take some time for yourself. Solo travel also allows you to move at your own pace, which means you can spend as much or as little time as you want to explore each destination.
And last but not least, Sonoma County is a solo traveler-friendly destination where you can easily find things to do whether you're looking for adventure, relaxation, or somewhere in between.
What to Expect When Visiting Sonoma County As a Solo Traveler
When visiting Sonoma County solo, you can expect to find plenty of things to do and see. From world-class wineries and vineyards to stunning coastline and redwood forests, there's something for everyone in Sonoma County.
If you're looking for a solo travel experience that's a little more off the beaten path, be sure to check out some of Sonoma County's smaller towns and villages, where you can find charming cafes, shops, and art galleries.
Is It Safe to Travel to Sonoma Alone?
Yes, solo travel to Sonoma County is safe. In general, solo travelers should use the same common sense precautions as they would when traveling anywhere else.
When exploring Sonoma County solo, it's always a good idea to let someone know where you're going and when you'll be back. And if you're going to be hiking or doing any other activities in remote areas, be sure to bring a map and let someone know your planned route.
How to Get Around Sonoma County As a Solo Traveler
There are a few different ways to get around Sonoma County solo. The most popular option is to rent a car, which gives you the freedom to explore at your own pace. You can also take advantage of Sonoma County's public transportation system, which includes buses and trains.
If you're staying in one of Sonoma County's towns or villages, you may be able to get around on foot or by bike. And if you're planning to visit a winery or two, many offer complimentary shuttle services.
What to Pack for a Solo Trip to Sonoma County
When packing for a solo trip to Sonoma County, be sure to bring comfortable walking shoes, as you'll likely be doing a lot of exploring. If you're planning to visit any wineries, it's also a good idea to pack a reusable water bottle and some snacks.
Other items to pack for your solo trip to Sonoma County include sunscreen, a hat, and a jacket or sweater, as the weather can cool down in the evening. And of course, don't forget your camera to capture all your solo travel adventures!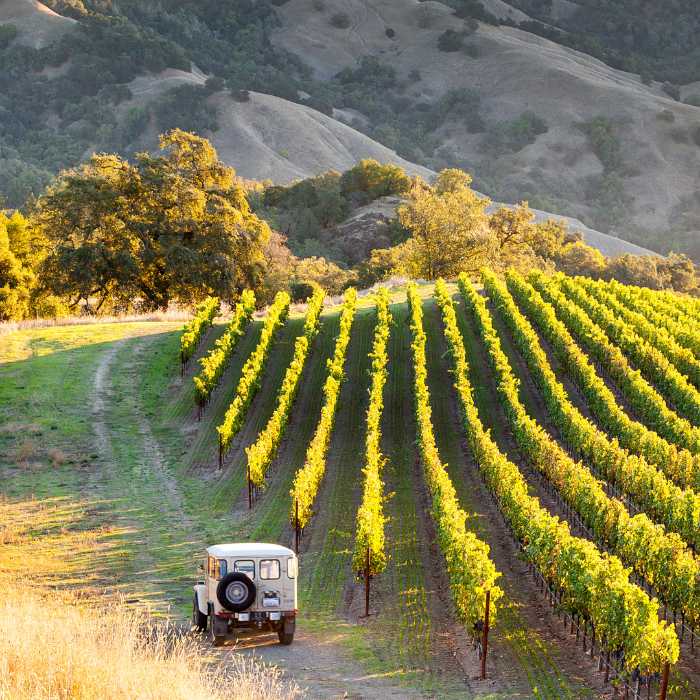 The Top Things to Do in Sonoma County As a Solo Traveler
Now that you know what to expect on your solo trip to Sonoma County, here are some of the top things to do while you're in town:
Visit a winery or vineyard
With more than 400 wineries and vineyards spread out across Sonoma County, there's no shortage of places to enjoy a tasting or tour. When visiting a winery solo, be sure to take advantage of any complimentary tastings or tours that are offered.
Visit a state or national park
There are several state and national parks located in Sonoma County, including redwood forests, beaches, and hiking trails. This is the perfect opportunity to get some solo time in nature and explore all that Sonoma County has to offer.
Take a scenic drive
One of the best ways to explore Sonoma County solo is by car. Soak up the stunning scenery as you wind your way along Highway 1 or take a leisurely drive through wine country. Either way, you're sure to have a solo trip that you'll never forget.
Check out a small town or village
Sonoma County's smaller towns and villages are great solo travel destinations. Be sure to explore the shops, cafes, and art galleries that each one has to offer. I love exploring the small towns solo because you can really take your time and soak up the atmosphere.
Enjoy a meal at a local restaurant
Sonoma County is home to some of the best restaurants in California. When solo traveling, dining out can be a great way to meet new people and try different foods. I love trying local dishes when I'm solo traveling, and Sonoma County definitely doesn't disappoint.
Related Posts:
The 10 Top Places to Go Alone in Los Angeles
7 Ways Traveling Solo Can Help You Find Yourself
17 Solo Hiking Trips to Take for Solo Travelers
Final Thoughts
Whether you're looking for world-class wine, stunning scenery, or small-town charm, Sonoma County solo travel has something for everyone. So what are you waiting for? Start planning your solo trip to Sonoma County today!