The Ultimate Solo Travelers Guide to Singapore
Singapore is a vibrant city-state that has become a popular destination for travelers from around the world. While many visitors come to Singapore with family or friends, there is also a growing trend of solo travel to this Southeast Asian destination.
Solo travel can be a great way to explore Singapore at your own pace, with the freedom to choose your own itinerary and experience the city on your own terms.
Whether you are a seasoned solo traveler or embarking on your first solo trip, this guide to solo travel in Singapore will provide you with all the information you need to plan your trip. From practical tips on transportation and accommodation to recommendations for the best places to eat, drink, and explore, this guide will help you make the most of your solo adventure in Singapore.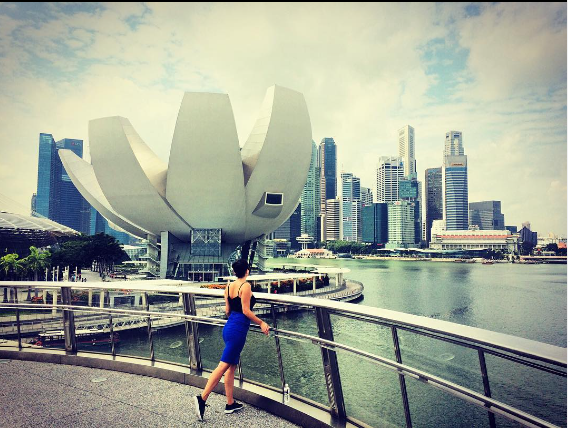 Understanding Singapore Culture
Singapore is a multicultural country with a diverse population. The country has a mix of Chinese, Malay, Indian, and European cultures. Understanding the culture of Singapore is essential for solo travelers to have a more enjoyable and meaningful experience.
One of the most significant aspects of Singaporean culture is its food. The country is known for its diverse and delicious cuisine, which reflects the various cultures that make up the country. Some of the most popular dishes include Hainanese chicken rice, laksa, and nasi lemak. Solo travelers can explore the hawker centers, food courts, and restaurants to sample the local delicacies.
Another important aspect of Singaporean culture is its respect for social harmony. The country is known for its strict laws and regulations, which are designed to maintain social order and harmony. Solo travelers should be aware of these laws and regulations and follow them to avoid any legal issues.
Singapore is also a modern and cosmopolitan city, with a thriving arts and culture scene. The country has a range of museums, art galleries, and theaters that showcase local and international talent. Solo travelers can explore the city's cultural offerings to gain a deeper understanding of Singaporean culture.
Finally, Singapore is a country that values diversity and inclusivity. The government has made efforts to promote racial harmony and social cohesion, and solo travelers should be respectful of this. It's essential to be mindful of cultural differences and to treat everyone with respect and kindness.
Planning Your Trip As a Solo Traveler
When planning a solo trip to Singapore, there are a few things to keep in mind to ensure a smooth and enjoyable experience. Here are some tips to help you plan your trip:
Visa Requirements
Depending on your nationality, you may need a visa to enter Singapore. Citizens of many countries, including the United States, Canada, and most European countries, can enter Singapore without a visa for up to 90 days. However, it's always a good idea to check the latest visa requirements before you travel. You can find more information about visa requirements on the official website of the Immigration & Checkpoints Authority of Singapore.
Best Time to Visit
Singapore is a year-round destination, but the best time to visit is between February and April when the weather is dry and pleasant. However, this is also the peak tourist season, so expect higher prices and larger crowds. If you're looking for a more affordable and less crowded time to visit, consider traveling between August and October, when the weather is still good, and the crowds are smaller.
Accommodation
Singapore has a wide range of accommodation options, from budget hostels to luxury hotels. If you're traveling solo, you might want to consider staying in a hostel or a guesthouse, as they offer a great opportunity to meet other travelers. There are also many affordable capsule hotels and pod hotels in Singapore, which are perfect for solo travelers who want privacy and comfort at a reasonable price.
Getting Around
Singapore has an excellent public transportation system, which makes getting around the city easy and affordable. The Mass Rapid Transit (MRT) system is clean, efficient, and covers most of the city. There are also buses, taxis, and ride-sharing services like Grab and Gojek, which are convenient and affordable. If you're feeling adventurous, you can also rent a bike or an e-scooter to explore the city on your own.
Safety
Singapore is one of the safest countries in the world, and solo travelers should feel comfortable walking around the city at any time of day or night. However, it's always a good idea to take basic precautions, like not carrying too much cash or valuables and keeping an eye on your belongings in crowded areas. If you're a solo female traveler, it's also a good idea to dress modestly and avoid walking alone in quiet areas at night.
By keeping these tips in mind, you can plan a safe and enjoyable solo trip to Singapore.
Navigating Singapore As a Solo Traveler
Singapore is a small island city-state but it has a lot to offer for solo travelers. The city is well-connected with a highly efficient and sprawling transit network that makes it easy to navigate. Here are some tips to help you get around Singapore:
Public Transportation
Singapore has an extensive public transportation system that includes buses, trains, and taxis. The Mass Rapid Transit (MRT) system is the backbone of the public transportation network and it is the most convenient and affordable way to get around the city. The trains are clean, fast, and air-conditioned, making them a great option for getting around in Singapore's hot and humid weather.
The buses are also a good option for getting around Singapore, especially if you want to explore the city's neighborhoods. The buses are air-conditioned, comfortable, and run on time. You can pay for your bus or train fare using an EZ-Link card, which is a prepaid card that can be used on all public transportation in Singapore.
Walking
Walking is a great way to explore Singapore, especially if you want to take in the city's sights and sounds at a leisurely pace. The city is pedestrian-friendly, with well-maintained sidewalks and pedestrian crossings. Walking is also a good way to explore the city's neighborhoods, which are full of interesting shops, cafes, and restaurants.
Taxis
Taxis are readily available in Singapore and they are a convenient way to get around the city, especially if you are traveling with luggage or if you want to get to your destination quickly. Taxis in Singapore are metered, so you don't have to worry about negotiating fares. You can also book taxis using ride-hailing apps like Grab.
Cycling
Cycling is a fun and eco-friendly way to explore Singapore. The city has an extensive network of cycling paths that connect parks, neighborhoods, and attractions. You can rent a bike from one of the many bike-sharing companies in Singapore, such as oBike or Mobike, and explore the city on two wheels.
In conclusion, Singapore is a highly accessible city for solo travelers. With its efficient public transportation system, pedestrian-friendly streets, and bike-sharing options, getting around Singapore is easy and convenient.
Accommodation Options For Solo Travelers
When traveling solo to Singapore, finding the right accommodation can be a key factor in making your trip comfortable and enjoyable. There are a variety of options to choose from, including hotels, hostels, and vacation rentals.
Hotels
Singapore offers a wide range of hotels to suit every budget and preference. From luxury five-star hotels to budget-friendly options, there is something for everyone. Some popular hotels for solo travelers include:
Marina Bay Sands
The Fullerton Hotel
Raffles Hotel
Yotel Singapore
Hotel Mono
Many hotels offer amenities such as free Wi-Fi, breakfast, and fitness centers. Some hotels also have communal spaces where solo travelers can meet and socialize with other guests.
Hostels
Hostels are a great option for solo travelers on a budget. They offer affordable accommodation and a chance to meet other travelers. Singapore has a variety of hostels to choose from, including:
Dream Lodge
The Pod Boutique Capsule Hotel
Adler Hostel
5footway.inn Project Boat Quay
Hostels typically offer shared dormitory-style rooms or private rooms at a lower cost than hotels. They often have communal spaces such as kitchens and lounges where guests can socialize.
Vacation Rentals
Vacation rentals are a good option for solo travelers who want more privacy and space. Popular vacation rental websites such as Airbnb and HomeAway offer a variety of options, including apartments, condos, and houses. Some popular areas for vacation rentals in Singapore include:
Orchard Road
Chinatown
Clarke Quay
Sentosa Island
Vacation rentals often come equipped with a kitchen and other amenities that can make solo travel more comfortable. However, it's important to note that some vacation rentals may have minimum stay requirements or additional fees for cleaning and other services.
Overall, there are plenty of accommodation options for solo travelers in Singapore. Whether you prefer the amenities of a hotel, the social atmosphere of a hostel, or the privacy of a vacation rental, there is something for everyone.
Must-Visit Attractions
Singapore is a city-state that boasts a wide array of attractions for solo travelers to explore. Below are some of the must-visit attractions that should be on every solo traveler's itinerary:
Marina Bay Sands
Marina Bay Sands is an iconic landmark that offers a stunning view of Singapore's skyline. The integrated resort features a luxury hotel, a casino, a shopping mall, and a museum. The highlight of Marina Bay Sands is the SkyPark, a rooftop observation deck that offers panoramic views of the city. Solo travelers can enjoy the view while sipping a cocktail at the rooftop bar.
Gardens by the Bay
Gardens by the Bay is a nature park that features a variety of flora and fauna. The park is famous for its Supertree Grove, a collection of artificial trees that light up at night. Solo travelers can take a leisurely stroll along the park's boardwalk and enjoy the stunning views of the Marina Bay skyline. The park also offers a range of activities, including guided tours, outdoor movie screenings, and concerts.
Sentosa Island
Sentosa Island is a resort island that offers a range of attractions for solo travelers. The island features several beaches, including Siloso Beach, which is popular for water sports. Solo travelers can also visit Universal Studios Singapore, a theme park that features rides and attractions based on popular movies and TV shows. Other attractions on the island include the S.E.A. Aquarium, the Adventure Cove Waterpark, and the Trick Eye Museum.
Chinatown
Chinatown is a vibrant neighborhood that offers a glimpse into Singapore's Chinese heritage. The neighborhood features a range of attractions, including the Buddha Tooth Relic Temple, a museum that houses artifacts related to Buddhism. Solo travelers can also explore the neighborhood's street markets, which offer a range of souvenirs and local delicacies. The neighborhood also features several restaurants that serve authentic Chinese cuisine.
Clarke Quay
Clarke Quay is a historic riverside quay that features a range of restaurants, bars, and nightclubs. The quay is a popular destination for solo travelers who want to experience Singapore's nightlife. Solo travelers can enjoy a drink at one of the many bars or dance the night away at one of the nightclubs. The quay also offers a range of dining options, including seafood restaurants and hawker centers.
Local Cuisine to Try
Singapore is a food lover's paradise, and solo travelers are no exception. With its diverse cultural influences, the city-state offers a unique culinary experience that is sure to delight any palate. From street food to fine dining, there are plenty of options to explore.
Street Food
One of the best ways to experience local cuisine is by trying the street food. Singapore is known for its hawker centers, which are open-air food courts with a variety of stalls offering affordable and delicious dishes. Some of the must-try street foods include:
Hainanese chicken rice: This national dish consists of poached chicken served with fragrant rice cooked in chicken broth and a variety of sauces.
Laksa: A spicy noodle soup with a coconut milk base, served with prawns, fish cakes, and bean sprouts.
Char kway teow: A popular stir-fried noodle dish with Chinese sausage, shrimp, eggs, and bean sprouts.
Satay: Grilled meat skewers served with peanut sauce and cucumber.
Fine Dining
For those looking for a more upscale dining experience, Singapore has plenty of options as well. The city-state is home to several Michelin-starred restaurants, as well as world-renowned chefs. Some of the must-try fine dining restaurants include:
Odette: A French restaurant with three Michelin stars, known for its contemporary cuisine using seasonal ingredients.
Burnt Ends: A modern Australian barbecue restaurant with one Michelin star, famous for its open kitchen and wood-fired oven.
Candlenut: A Peranakan restaurant with one Michelin star, serving traditional dishes with a modern twist.
No matter what type of cuisine or dining experience a solo traveler is looking for, Singapore has something to offer. With its diverse culinary scene, the city-state is sure to satisfy any food lover's cravings.
Safety Tips for Solo Travelers
Singapore is known for being one of the safest cities in the world, making it an ideal destination for solo travelers. However, it's still important to take precautions to ensure a safe and enjoyable trip. Here are some safety tips for solo travelers visiting Singapore:
1. Stay Alert
While Singapore is generally a safe city, it's still important to stay alert and aware of your surroundings. Avoid walking alone in dark or isolated areas, especially at night. If you're out late, take a taxi or use public transportation instead of walking.
2. Keep Your Valuables Safe
Pickpocketing and theft can happen anywhere, so it's important to keep your valuables safe. Keep your passport, cash, and credit cards in a secure location, such as a hotel safe. Avoid carrying large amounts of cash, and keep your bags and belongings close to you at all times.
3. Be Careful with Alcohol
Singapore has strict laws regarding alcohol consumption, and it's important to drink responsibly. Avoid getting drunk in public, as this can lead to fines or even arrest. If you do choose to drink, do so in moderation and be aware of your surroundings.
4. Use Common Sense
When traveling solo, it's important to use common sense and trust your instincts. If something doesn't feel right, it probably isn't. Avoid taking unnecessary risks and be cautious when interacting with strangers.
5. Know Emergency Numbers
In case of an emergency, it's important to know the local emergency numbers. In Singapore, the emergency number is 999. Keep your phone charged and with you at all times in case you need to make an emergency call.
By following these safety tips, solo travelers can enjoy a safe and memorable trip to Singapore.
Budgeting Your Trip
When it comes to budgeting for a trip to Singapore, there are a few things to keep in mind. Singapore is known for being a relatively expensive city, but there are ways to save money and make your trip more affordable.
Accommodation
Accommodation is likely to be one of the biggest expenses of your trip to Singapore. However, there are options available to suit different budgets. Hostels and budget hotels are a good option for those looking to save money. On the other hand, luxury hotels can be quite expensive. It's important to research and compare prices to find the best deal.
Food
Singapore is known for its delicious food, but eating out can be expensive. To save money, consider eating at hawker centers, which offer a wide variety of affordable local food. Additionally, many restaurants offer lunchtime specials that are more affordable than their dinner menus.
Transportation
Transportation in Singapore is efficient and affordable. The MRT (Mass Rapid Transit) system is a great way to get around the city. Consider purchasing an EZ-Link card, which offers discounted fares and can be used on buses and trains.
Attractions
Singapore has many attractions that are worth visiting, but admission fees can add up quickly. Consider purchasing a Singapore Tourist Pass, which offers unlimited rides on buses and trains as well as discounted admission to many attractions.
Overall, budgeting for a trip to Singapore requires careful planning and research. By being mindful of your expenses and finding ways to save money, you can have an enjoyable trip without breaking the bank.
Packing Essentials for Singapore
When it comes to packing for a solo trip to Singapore, it's important to keep in mind the city-state's tropical climate and diverse culture. Here are some packing essentials that will help any solo traveler make the most of their trip:
Clothing
Singapore's weather is hot and humid year-round, so it's important to pack lightweight, breathable clothing. Cotton or linen fabrics are ideal, as they are comfortable and help absorb sweat. It's also a good idea to pack a light jacket or sweater, as some indoor spaces like malls and restaurants can be heavily air-conditioned.
Footwear
Comfortable walking shoes are a must for exploring Singapore's many attractions and neighborhoods. Sandals or flip-flops are also great for beach days or visits to the city's outdoor attractions like Gardens by the Bay or Sentosa Island.
Toiletries
Pack sunscreen with a high SPF, as the sun in Singapore can be intense. Insect repellent is also recommended, especially if you plan on spending time outdoors in the evenings. Travel-sized toiletries like shampoo, conditioner, and body wash can be easily found at convenience stores and supermarkets in Singapore.
Electronics
Singapore uses the Type G power plug, so make sure to bring a universal adapter if your electronics require a different type of plug. A portable charger can also come in handy for long days of sightseeing.
Other Essentials
Other items to consider packing include a reusable water bottle, a small backpack or cross-body bag for carrying essentials, and a travel umbrella for unexpected rain showers.
Overall, packing light and practical is key for any solo traveler visiting Singapore. With these essentials in tow, any traveler can navigate the city-state with ease and comfort.
Frequently Asked Questions
Is Singapore safe for solo female travelers?
Singapore is considered one of the safest countries in the world, with low crime rates and strict law enforcement. As a result, solo female travelers can feel safe walking around at night and using public transportation. However, it is always important to exercise caution and be aware of your surroundings, especially in crowded areas.
What are some activities to do alone in Singapore?
There are plenty of activities for solo travelers in Singapore, such as exploring the city's many museums and galleries, taking a stroll through the beautiful Gardens by the Bay, or indulging in some retail therapy at the famous Orchard Road shopping district. Foodies can also enjoy the city's diverse culinary scene and try out local delicacies at hawker centers.
How many days should I spend in Singapore as a solo traveler?
The ideal duration for a solo trip to Singapore depends on your interests and travel style. However, a minimum of three to four days is recommended to explore the city's main attractions and experience its unique culture and cuisine.
What are some solo travel packages for Singapore?
There are various travel packages available for solo travelers to Singapore, ranging from budget-friendly to luxury options. These packages typically include accommodation, airport transfers, and guided tours of the city's top attractions.
Can I travel solo from Singapore to nearby destinations?
Yes, Singapore is a great base for exploring nearby destinations such as Malaysia, Indonesia, and Thailand. Solo travelers can easily book flights or take buses to these destinations from Singapore.
What are some tips for solo female travelers in Singapore?
Some tips for solo female travelers in Singapore include dressing modestly, avoiding walking alone in isolated areas at night, and using licensed taxis or ride-hailing services for transportation. It is also important to be aware of cultural norms and customs, such as removing shoes before entering a home or temple.