9 Solo Weekend Trips From Paris To Take in 2023
For good reason, Paris is one of the most popular tourist destinations in the world. The city is filled with history, culture, and art, and there is always something new to see and do.
However, Paris can also be crowded and expensive, and sometimes it is nice to get away from the hustle and bustle of the city. If you are looking for a solo weekend trip from Paris, here are nine great options to consider in 2022:
Disclaimer: Below may contain affiliate links, where I make a small commission. I only recommend products that I use and love at no cost to you.
Strasbourg
Strasbourg is a French city in the east of France and not very far away from Paris. Therefore, it can be easily visited during a weekend trip from Paris. The city has many things to discover and beautiful places to visit.
The first thing to mention is that Strasbourg is one of the cities where you will find the best Christmas Markets in Europe. Its famous market, called 'Marché de Noël,' has been voted number 1 for six years in a row by members of the Tripadvisor community. Visitors have been particularly keen on its lively festive atmosphere, a wide range of high-quality products offered in traditional wooden chalets, and European cuisine specialties.
To go shopping in Strasbourg, visitors should go to Rue du Faubourg Saint-Denis. It is a pedestrian street with a wide range of shops and boutiques with the most known brands. Most visitors claim that the selection of goods is one of the most diverse in Paris.
Travelers should not forget that Strasbourg has an international airport with direct connections to several important cities in Europe like London or Milan. Gare de l'Est is also a good starting point for exploring France and other European countries for those who prefer the train.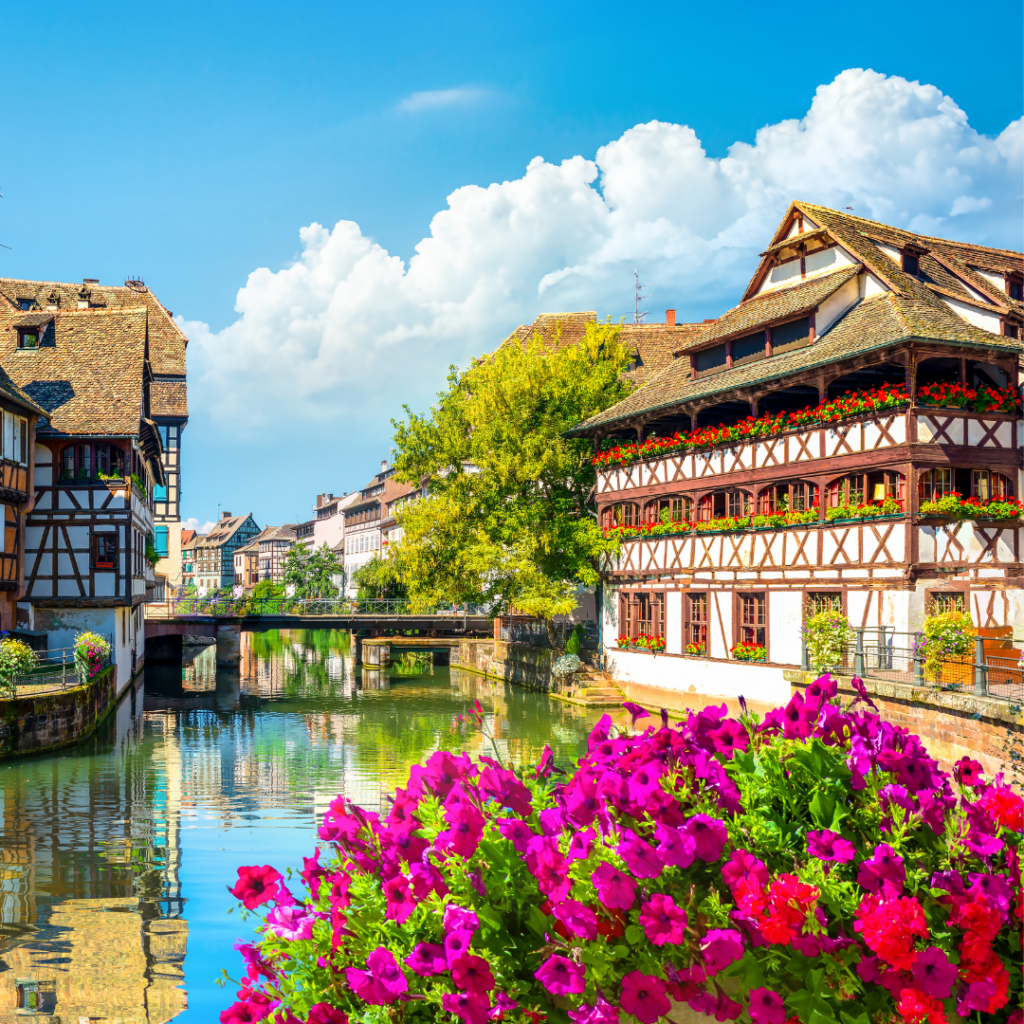 Chartres
Chartres is a medieval city in France well known for its cathedral, beautifully decorated with stained glass windows and considered one of the finest examples of French Gothic architecture.
Chartres is located about 50 km west of Paris. One way to reach Chartres from Paris is by train or car. The small town can be best explored on foot, where visitors will have an opportunity to learn more about the area's history.
Several fascinating legends are associated with Chartres, for example, the story of the mysterious Black Madonna figure. Many people believe that this is a blackened stone statue of Isis, but others claim it's connected to an earlier Roman deity called Diana of the Indus. Another legend refers to the Blue Virgin Mary figure where there is a belief that if someone sees her face, she will bring bad luck or even death to them.
Visitors will be able to enjoy medieval architecture as well as modern cultural events in the city center.
Chartres is known for its beautifully designed cathedral and its historical significance in the area, which has been evident since ancient times. The city can be considered one of France's oldest cities since several archaeological sites have been discovered in this town.
Colmar
Colmar is a beautiful little town in France that's only about one and a half hours from Paris by car or train. The city is known for its gorgeous architecture, vintage shops, and traditional Alsatian cuisine. If you're planning to go on a weekend trip from Paris this year, add Colmar to your itinerary.
This charming old town was once the third biggest city in France during the 13th century, but after two devastating fires, it fell into decline. Today the entire place has been restored beautifully to what you see today. This is part of why Colmar feels so authentically French—walking through the alleys, and you can feel yourself being transported back in time.
The city's famous Place des the Vosges makes for a perfect first stop. It's a big, open square with a fountain in the center and a German-inspired cathedral behind it. There are loads of cafes with outdoor seating under beautiful red umbrellas, so you can sit down to enjoy your French breakfast or coffee while taking in the view!
Colmar has a ton of great options since it's close to the Alsace and Germany regions. Try out some traditional German sausages or pretzels if you're feeling like a break from French food. You can also visit one of the many local vineyards to sample some wine or head over the Bridge of Kehl to find yourself in Germany.
Loire Valley
Loire Valley is one of the most visited places in France. The area is a UNESCO world heritage site and filled with art, culture, history, and some of the best food in Europe.
However, there are some great reasons to visit Loire Valley on a weekend trip from Paris.
Many people visit this region because of its castles, but what they do not know is that you can walk through time within just a few kilometers from each other. You can visit ancient castles that have been around for over 1000 years while also visiting chateaus built by kings and queens or even modern-day palaces. All these fantastic sites are tucked away amongst green pastures and forests, so visitors get to experience nature simultaneously as culture.
But Loire Valley is not just about palaces and castles, and it also has some amazing wines to offer. Several wine tours are available that take visitors through local villages where they can taste different varieties of wines. These tours are done mainly by bus or on foot, so you do not have to worry about getting back home if you get a little tipsy while tasting the wines. Tours stop at the best vineyards in the region, so there is no need to spend weeks researching where to go for your wine tour. You will be guaranteed only the highest quality wines when you join one of these tours offered by Loire Valley.
Chantilly
Chantilly is a lovely town situated 35 miles north of Paris. The town is named after the palace, which has been the home of the House of Plantagenet. This palace was built in the 1560s and was set up to serve as a retreat for the royal family. When you visit the town, you cannot miss taking a tour because it is full of fascinating history and artwork. You will be amazed by the luxury and grandeur that once existed in Chantilly, where kings would come to enjoy their time with friends and family, often riding horses on vast grounds surrounding the palace.
Chantilly provides an idyllic setting for those who want to live like royalty or just pretend for a day. This lovely town offers plenty of things to see and do for visitors to fully enjoy their time spent there. It is also the home of many renowned museums rich in fine art, paintings, sculptures, and other exhibits that will be impressive to your eyes. The place is not just brimming with good history, but it has breathtaking views too, especially the Chantilly forest, which can be reached by following a footpath or taking a leisurely walk around the park.
Nice
Nice is one of the most beautiful cities in Europe for all tourists who want to relax and spend an unforgettable weekend. The main advantage of Nice is that it takes only half an hour from Paris by train, which allows you to get out of the gray metropolis on Saturday morning, enjoy the beauty of the city, sea, and mountains in just a few hours, and return to work on Monday morning.
Nice is far away from Paris, about 200 kilometers. But it is so comfortable today with fast trains. You can get there comfortably in just over 2 hours of traveling time. Soaring train tickets are also cheap (about € 50 ), it's cheaper than traveling to England.
The most popular places among tourists are the Promenade des Anglais, known for its charm and rich history. It is here that you can enjoy an unforgettable evening watching the beautiful scenery of the blue sea, incredible sky with golden rays of sunset, diving into your senses. I'm sure that after spending time on this avenue you will remember it for many years.
Do not forget to visit museums during your stay at Nice: museums offer a wide selection of exhibitions about art, culture, and science. Cannes has several exciting museums where they are frequently held magnificent exhibitions.
Dijon
Dijon is a historical French city that has been the seat of power for many influential families since the early medieval times, including the Dukes of Burgundy. First mentioned in 96AD, it was a Roman colony called "Divio," making it one of the oldest cities in France.
Today, it's an essential contemporary center. It is well-known as being the food capital of France with over 300 different types of local produce, including fruits, vegetables, grains, and wine from its lush countryside. Although this site recommends weekend trips from Paris to Dijon instead of day trips due to too much to see and do in just one day, those who do have time during their visit should make sure they try some authentic Burgundian cuisine.
Lyon
Lyon, the cosmopolitan capital of the Rhone region, is often overshadowed by the French capital Paris. But Lyon is worth a visit on its own. The city can compete with Paris in terms of gastronomy, attractions, and culture. It is also worth spending a weekend in Lyon because of the proximity to its fantastic surroundings. There are plenty of things to see and do in Lyon that you will not regret spending a few hours or even an entire weekend here.
Lyon has much in common with Paris, including historic architecture, active cultural life, and gastronomy. But unlike the capital, the city is way more relaxed and easy-going. It also has fewer tourists, so its streets feel much livelier than those in Paris, which means you won't have to queue for monuments too long and can enjoy spending your free time waiting for a table outside one of Lyon's eateries without feeling chaotic.
Normandy
Normandy is a beautiful and historical French region that is located on the English Channel. If you are a history buff or simply want to get away from the hustle and bustle of Paris for a weekend, Normandy should be high on your list of places to visit. More specifically, visiting Normandy on a weekend trip from Paris is ideal for exploring this beautiful region while avoiding the mass tourism that can overwhelm other parts of France during the summer months.
Normandy is home to some of the most important artifacts in French history. Visitors come from all over Europe to see D-Day landing sites, medieval cities with half-timber houses, and perhaps even Neolithic standing stones called menhirs.
Even if you aren't one for museums or historical landmarks, there are still beaches that you can enjoy along with many other activities. For the more active traveler, Normandy is a great region to hike and bike around in. If you are looking for a more relaxing weekend trip away from Paris, then an English-style garden is just what you need.
Related Posts
9 Magical Things to Do in Paris At Night