The 40 Best Solo Travel Destinations for Nature Lovers
Are you a nature lover and a solo traveler? Do you love the idea of exploring new places solo, but find that most travel destinations are geared towards group travel or couples?
There is something truly special about being in nature by yourself, surrounded only by the sounds of the birds, the wind, and the rustling of leaves. It can be a great way to reset and recharge your batteries.
There are plenty of incredible solo travel destinations for nature lovers. If you're a solo traveler who loves nature, here are some of the best solo travel destinations for you to consider:
Rocky Mountain National Park, USA
Located right near Estes Park and home to some of the best hikes in Colorado, Rocky Mountain National Park is an amazing, 265,000+ acre park that is known for its stunning mountain landscapes, amazing scenic drives, and awesome alpine lakes.
Plus, it's the perfect solo travel destination since it's safe and the landscape is so impressive that you'll truly love hiking on your own, amidst the solitude of nature, taking in the natural beauty all around you.
However, you will need to arrive early – like well before 3:00 am or 4:00 am – to enjoy some of the more popular hikes in the park since parking lots fill up fast and trails get extremely crowded.
But, regardless of the crowds, treks to Bear Lake, Chasm Lake, and Alberta Falls are all worth your time.
You'll also want to visit sometime between June and September, particularly in September when you can enjoy the area's incredible fall foliage.
Yes, this is when the park receives the bulk of its 4.4 million annual visitors, but it's worth it since there is a very real avalanche danger here any time snow is on the ground.
During your visit, you also can't leave without driving along the stunning Old Fall River Road or the gorgeous Trail Ridge Road.
After all, Trail Ridge Road is home to the highest visitor center in the United States and is a great place to grab a photo op of Longs Peak from before Forest Canyon Overlook.
Whatever you do though, don't forget to snag a permit for $25 per car prior to your visit.
These are required for your visit and can include or not include access to the Bear Lake Road corridor.
Contributed by Meg of Fox in the Forest
Sao Tome and Principe
If you're traveling solo and love nature, then the island nation of Sao Tome and Principe is an ideal destination. It's adventurous yet friendly and small enough to be able to easily explore without too many logistical hassles. Located off the coast of western Africa, the islands sit on the Equator and are covered in lush rainforests. If you want to visit Sao Tome and Principe, you can just catch a flight from Lisbon, so it's convenient to reach from Europe.
Being a solo traveler in Sao Tome is far less daunting than in many other places in the world. The small size of the islands means that you can just base yourself in one place and take day trips rather than having lots of public transport routes to contend with.
Sao Tome is still relatively unknown when it comes to tourism, so you won't experience hassle from touts or come across scams as you would elsewhere. Indeed, the welcome from the islanders is genuine and warm, and the cultural exchanges here will make you feel like you're a tourist experiencing a bygone era.
There are lots of nature tours you can join, and you can choose to go on a private day trip or join a group excursion if you want some travel companions. There are also several specialist wildlife-themed holidays run by tour operators, which are great if you want to spend dedicated time with a naturalist.
Popular day jaunts include snorkeling and diving, whale watching, and seeing the turtle hatchlings scurrying down the beach towards the ocean. There's hiking in the rainforest too, which is a paradise for bird enthusiasts. If you want to go it totally alone, you can hire a car and explore the island independently too.
Contributed by Heather Cole of Conversant Traveller
Banff National Park, CA
Banff National Park is one of Canada's most beautiful and popular tourist destinations. Nestled in the Rocky Mountains, Banff offers stunning scenery, great hiking and camping opportunities, and a variety of other outdoor activities.
If you're thinking about taking a solo trip to Banff, you won't be disappointed. Banff National Park is safe for travel for solo travelers.
There are tons of things to add to your Banff itinerary. There are over a thousand miles of hiking trails for all skill levels, making it a hiker's paradise. As long as you follow marked signs, carry bear and bug spray, and wear comfortable shoes you will be fine!
Banff is home to a variety of wildlife, including elk, bighorn sheep, and grizzly bears. Whether you're on a hike or just driving through the park, keep your eyes peeled for some of these spectacular creatures.
Prefer to take it easy? Banff is filled with breathtaking scenery. So take a drive along the Bow Valley Parkway or the Icefields Parkway to really take in all that the park has to offer.
You can also go canoeing or kayaking on various lakes in the summer months in Banff National Park. Lake Louise is one of the must-visit at the Park. When visiting in the winter, you can go snowshoeing, winter hikes, or skiing.
Overall, here are a few things to keep in mind for Banff – remember that Banff is a very popular tourist destination, so be prepared for crowds during peak season (July and August).
When traveling solo, Banff can be expensive, so be sure to budget accordingly.
While Banff is generally safe, it's always important to take precautions when traveling solo. Familiarize yourself with the area and always let someone know where you're going before setting out.
Whether you're looking for an active vacation or a relaxing getaway, Banff National Park has something for everyone. solo travelers will find plenty to keep them busy in this stunning destination.
Contributed by Mayuri from Canada Crossroads
The Inca Trail, Peru
The Inca Trail is an unparalleled outdoor adventure you'll never forget, a bucket list experience, and arguably the world's most famous multi-day hike. It's also an ideal choice for solo travelers looking to make travel companions along the way while enjoying some of the most incredible mountain scenery in South America. Book your ticket and get packing for the Inca Trail; this is the experience of a lifetime, perfect for solo travel.
The Inca Trail is a multi-day trek that runs from the Sacred Valley outside of Cusco, Peru, all the way to Machu Picchu. Along the way, you'll see countless Incan ruins and walk along the stones laid in place centuries ago by the Incans who ruled here. While the hike isn't a walk in the park, it's doable for nature lovers with moderate physical fitness who are up to the challenge. The experience of walking triumphantly into Machu Picchu after completing the trail is like no other.
Hiking the Inca Trail is a fantastic choice for solo travelers, as you'll have the opportunity to meet and relate with other travelers as you take on the trail together. Most treks include at least six travelers, meaning you'll have a built-in group of new travel friends over your four-day tour. It is a great way to plan future travel and find travel companions if you're backpacking or traveling onward after completing the trek, as many backpackers are.
Contributed by Carley from Home to Havana
Moab, Utah
Moab, Utah is the perfect destination for the outdoorsy solo traveler. With outdoor activities abound, from hiking, biking, and river rafting to rock climbing, Moab is a nature lover's paradise.
Located next to two of Utah's national parks, Arches and Canyonlands, Moab is a great central location to settle in for a few days and explore the beauty of Southern Utah's desert.
If you plan on visiting Arches National Park during the high season (April – October), make sure to reserve a time slot in advance. The park has become increasingly popular in the past few years and this is necessary to avoid it becoming overrun by tourists.
Moab itself is a top tourist destination and is a very safe place to visit. The town is walkable and easy to get around with many delicious restaurants and fun shops to visit. There are also plenty of options for accommodation for every budget from camping and hostels to nice hotels.
If you prefer joining group activities while traveling solo, there are many tour options to choose from. You can go on a week-long river rafting tour on the Green River or go rock climbing on the red rocks with a group. This is a fantastic way to meet like-minded, nature-loving people.
For those that want to hike in the area, there are plenty of incredible hikes around Moab. The hikes are safe for solo travelers and are well-marked on the more popular trails.
It's best to avoid Moab during the summer months unless you plan to do a river rafting trip. The summer is exceptionally hot and it's just not as enjoyable to be outside in the extreme heat. The best time to visit is during the early spring and fall when temperatures have cooled off.
Contributed by Jenoa from One Year Around the World
Tucked in southwest Ireland's Country Kerry, Killarney is known for its quaint charms, colorful 19th-century architecture, and fantastic natural wonders. Ireland in general has a low crime rate and is widely accepted as a safe place for solo traveling, while its excellent transportation simplifies getting around on your own.
Killarney, Ireland
Killarney's friendly locals, many hostels and communities, day tours, and safe nightlife make it a great place to visit alone. Getting to town is also simple; Kerry Airport connects you to international destinations in the UK and Germany, and there are regular train and bus services.
There are plenty of things to do, although Killarney National Park should be the highlight of your trip. A sprawling 10,236 hectares of rugged mountains, lakes, waterfalls, and woodlands, it's truly a paradise for nature lovers. The landscape abounds with native oakwoods and yew, evergreen shrubs, Irish red deers, and other unique wildlife.
Don't miss the majestic Torc waterfall. It's 20 meters high and 110 meters long, and the walk here can be especially beautiful and relaxing. The walk up to the viewing point can be physically challenging, but the sight is well worth it. An easier alternative is Ladies View, which is a picturesque viewpoint where Queen Victoria's ladies-in-waiting once dropped by, hence the name.
Another fun way to explore Killarney's breathtaking sceneries is on horseback, or ponies to be exact. The Muckross Horse Riding Centre is a family-owned business that takes visitors around the beautiful mountainous paths of the countryside.
Contributed by Bradley from Dream Big Travel Far
The Ring of Kerry
Speaking of Killarney, the most popular thing to do in Killarney is the Ring of Kerry, a coastal driving route that starts in town and runs through some of the most popular natural attractions in the area. Travelers love exploring the forest, waterfalls, mountains, and lakes in Killarney.
The best things to do within the Killarney portion of the Ring of Kerry are to hike to the Torc Waterfall, visit the Muckross House (which has a garden, abbey, and traditional farm onsite), and explore Killarney National Park.
One of the most popular Ring of Kerry attractions is to hike or cycle through the gorgeous Gap of Dunloe. You can go the whole 7-mile stretch, or halfway and take a boat back across the Killarney Lakes.
For the more extreme adventurers, climb to the top of Ireland's tallest mountain peak – Carrauntoohil. It takes about 4-6 hours and can get a bit steep and treacherous towards the top, but you will be rewarded with incredible views of the stunning Irish countryside!
Or, if you prefer exploring beaches – the Ring of Kerry has beautiful, peaceful beaches too! The best are Derrynane Beach with its lengthy, sandy shores or Rossbeigh Beach with sandy dunes, a front and back strand, and is great for swimming in the summer.
Whether you're looking for a relaxing time exploring Irish nature, or a more adventurous experience, the Ring of Kerry in Killarney, Ireland is the perfect destination for solo travelers.
Contributed by Janelle from Make That Trip Matter
Zell am See, Austria
A truly beautiful solo destination for nature lovers is definitely Zell am See in Austria! This magical natural gem is absolutely worth seeing! Here you can expect an almost kitschy idyll, surrounded by high mountains, green meadows, and the turquoise blue Zeller See.
In Zell am See and in the immediate vicinity there is so much to experience. Whether sightseeing, sports, gondola rides to glaciers, gorges, or relaxing at lakeside resorts, you certainly won't get bored alone in this diverse region.
Zell am See is especially beautiful in summer. At this time, you can count on great weather, everything is green, the sun is shining and the atmosphere is incredibly relaxed. Also, you can go for a swim in the cool Lake Zellersee. If you like, you can take a boat trip from there and discover the highlights of the region from the boat.
Beautiful and a real highlight for nature lovers is a trip to the Kitzsteinhorn, a 3,200-meter-high glacier, which you can reach in no time by gondola. Another highlight is the Kaprun reservoirs, which offer plenty of photo opportunities. Sporty people, on the other hand, visit one of the numerous gorges, such as the Sigmund Thun Gorge, one of the most beautiful gorges in the country.
On top of that, the offer of the Zell am See Sommercard is really amazing. If you stay overnight in Zell am See, then you receive this free of charge from most accommodations. With it you can ride the gondolas for free, visit the gorges or use public transport.
Contributed by Martina from Places of Juma
Munnar
Munnar, the tea capital of the Indian state of Kerala, is another great destination for nature lovers. Consisting of lush forests, rocky terrains, numerous waterfalls, and tea plantations as far as the eye can see, it is one of the most beautiful and affordable hill stations to visit in Asia.
Solo travelers can comfortably spend multiple days in Munnar. Most of the activities and tours in town are pocket friendly, and there are many hostels in the vicinity. Although most touristic sights are spread further out from the center, you can hire a tuk-tuk for around INR 800 per day and visit as many as you like with your guide.
There are also several hiking trails in Munnar. You can book a guided tour or walk the paths on your own. In fact, you can even hike to some of the landmarks near the town center. Plus, local buses also go up to the highest viewpoint in the area.
One of the best things about traveling solo to Munnar is how friendly and welcoming the locals are. Even if you are a female solo traveling in India, this region is known for its safety, and locals do their best to make you feel comfortable. Just try getting a property in the center of the town, so you are close to restaurants and other eateries.
The food in Kerala is truly reason enough to make the trip. Do not forget to try Masala Dosas, Idlis, and other South Indian delicacies when you are there.
Contributed by Charu of Travel With CG
Cat Ba Island, Vietnam
If you don't mind heading a little off the beaten track then you definitely want to explore Cat Ba island. Situated in the middle of Halong bay, this island allows you to explore the UNESCO site in a different style compared to the popular overnight cruises. Plus it is much much cheaper! Don't worry about missing out because you can get a lot of day trips and cruises that you can tailor as per your needs.
A big bonus is that the island has a lot to do. If you love nature then visiting Cat Ba National park is a must. You can literally trek from end to end but you do have to get up really early to do it. It is quite the experience.
If you don't feel as adventurous, then just rent a motorbike and explore the islands. From rock climbing to sandy beaches, the island has something for everyone. Another perk is that I found the place safe which is always a concern when it comes to solo travel.
Make sure that you plan for some time to kick back and relax. The place is pretty laid back. Everyone is friendly and I just loved the vibe. The downside however is that you do have to put in a bit more effort to reach there!
Contributed by Penny from Globetrove
Cairns, Australia
Cairns is famous for being the getaway to the Great Barrier Reef, but there are many other activities in Cairns for nature lovers. And it's one of the best solo destinations in Australia.
It's effortless to get to Cairns as there are flights from every Australian capital city and a few international flights. And once you're there, the town is easy to navigate and safe.
In Cairns, solo travelers can choose among different types of accommodations to suit their needs and budget, with lively backpackers and liveaboard cruises to make friends or luxurious secluded retreats and sailing boats to peacefully connect with nature.
Many nature-based activities in Cairns require joining a tour, such as scuba diving and snorkeling on the reef, canyoning, white water rafting or tubing… So it's easy for solo travelers to tag along and join a group, even during the low season. There are lovely places to visit nearby, like the Daintree Forest, Cape Tribulation or the Cairns waterfall circuit. The roads are safe, and solo travelers can go there by themselves if they wish, but they can also easily join a group for a day trip or longer. Tours depart from Cairns, and it's also easy to find buddies at hostels or to use Facebook Backpacker groups.
In a nutshell, Cairns will please all nature lovers, whether they're looking for alone time to connect with nature or fun tours to make friends and have fun with nature-based activities!
Contributed by Eloise from My Favorite Escapes
Huasteca Potosina, Mexico
Huasteca Potosina is a region in Mexico in the state of San Luis Potosi, located about eight hours north of Mexico City. This region is best known for its thundering waterfalls, dazzling blue rivers and lush rainforest. A nature lovers dream, the waterfalls of Huasteca Potosina are some of the best in all of Mexico. Huasteca Potosina can be explored in two ways. One is from the small city of Ciudad Valles, considered a hub of the region you can then branch out on day trips to explore the sights. Or two, on a road trip staying in different destinations each night.
Although not typically known by international travelers, Huasteca Potosina is a great destination for solo travelers. Although it doesn't have the popularity of Cabo or Cancun, the region is very safe. Whether you like your solo travels to stay solo, or you prefer to connect with other adventurers, Huasteca Potosina is a great place.
The travelers that venture off-the-beaten track to Huasteca Potosina are nature enthusiasts, and it's easy to find common ground with other outdoors-loving travelers. There are several hostels in Ciudad Valles, and this is a fantastic place for solo travelers to connect. And a very common scene in these hostels is newly acquainted solo travelers coordinating tours, rental cars, and public transport routes to tackle some of the sights together.
If you prefer your solo travels to remain solo, car rental is very affordable. Driving yourself around the region is a safe and secure way to see all the sights and allows you to experience the region road-trip style.
The number of spectacular natural sights concentrated in one small region is astounding. If you're a solo traveler looking for nature in Mexico, you can't go past Huasteca Potosina.
Contributed by Sally from Sally Sees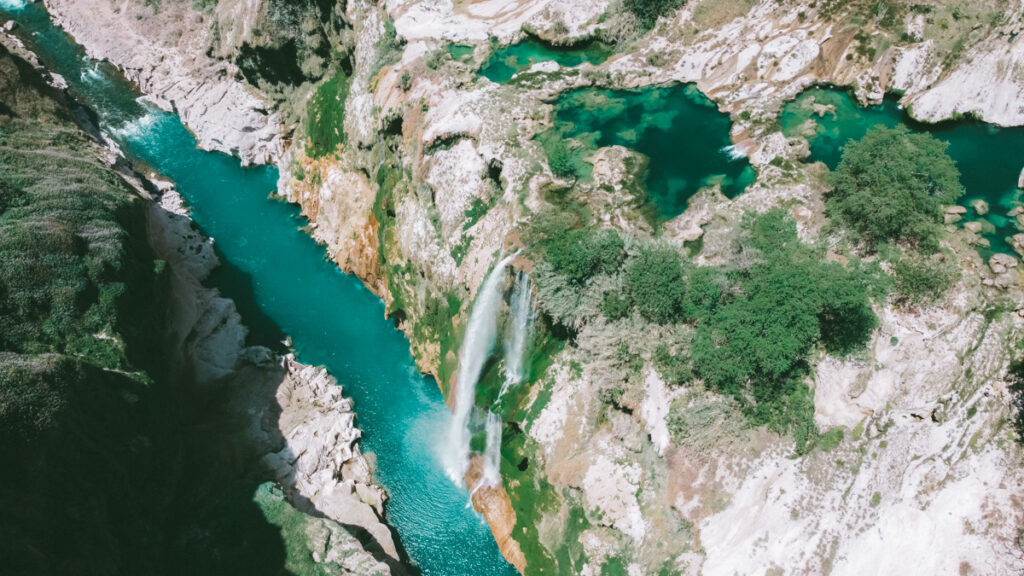 Eibsee, Germany
Eibsee is a lake in Bavaria (the southernmost state in Germany) and known to be one of the most beautiful lakes in Germany. Located right next to the Germany-Switzerland border, offering spectacular views of the Alps and crystal clear emerald green waters, the lake is a true paradise for nature lovers. There are plenty of things to do at Eibsee for all kinds of travelers irrespective of whether they are solo, with friends, or with family.
With a shore length of 8 km, one of the best things to do at Eibsee is to take a leisurely hike around the lake. The hike is not challenging in any way and is accessible by foot and by bicycle. There is even a boat and kayak rental option at the entrance to the lake where one can rent boats on an hourly basis starting at approximately € 9 for 4 persons.
Swimming in Eibsee is also an option during summertime. However, the waters of the lake are often quite cold, even in summer due to the lake's proximity to the Alps. Furthermore, Eibsee is located at the foothills of Zugspitze – the highest mountain peak in Germany. And so, one can combine a visit to Eibsee with Zugspitze. There are even more exciting locations nearby such as the entire Garmisch-Partenkirchen region and other lakes in Bavaria.
For those who would love to spend more time here, there is a hotel located at the shore of the lake. There is even a restaurant and coffee shop near the entrance to the lake.
Because Eibsee is located just 100 km South of Munich, one can rent a car and reach here from Munich in an hour.
It is also possible to reach Eibsee by public transportation, although there is a bit of walking involved. All in all, Eibsee´s emerald waters, beautiful location, and a wide range of activities offered to make it the perfect place for nature lovers to visit.
Contributed by Soujanya from The Spicey Journey
Acadia National Park
Acadia National Park is a great place for sole travelers who like to be out in nature. The main Mount Desert Island section of the park is right next to Bar Harbor, a lovely New England town with plenty of restaurants and bars, so it is possible to meet other travelers in the evenings and enjoy live music and great food after a day in the national park.
There is a free shuttle bus that goes to multiple destinations in and around the park, so there are more opportunities to meet people, rather than being stuck in your own vehicle all the time.
Acadia is famous for its hiking trails, and they are easily accessible for solo travelers. Some of the most famous are challenging 'iron rung' trails that involve scrambling over boulders, climbing up rungs embedded in the side of cliffs, and walking along narrow exposed ledges. The Beehive is the most famous of these trails, but there are others, as well.
For those with a fear of heights, there are easier, less challenging trails that end in sensational views over the surrounding islands and ocean. The easy walk along the Ocean Path, with a stop-off at Thunder Hole, is another highlight.
Solo travelers can also enjoy the popular sunrise from the top of Cadillac Mountain (vehicle reservations are needed) and the spectacular sunset at the picturesque Bass Harbor Head Lighthouse.
There are plenty of other activities to do, too, including joining a cruise on a sailing boat or a kayak trip along the rocky shoreline, that are perfect for solo travelers.
Contributed by James Ian from Parks Collecting
Hualien, Taiwan
Hualien is located in eastern Taiwan and is one of the best solo travel destinations for nature lovers. It is a small city and doesn't have the hustle and bustle of Taipei, but just a short drive away from Hualien is Taroko National Park.
The national park is full of hiking trails that range in difficulty from extremely easy to hike that is so challenging that you have to apply for a permit to hike the trail.
Taroko National Park is so special because there is something for everybody. If you want a traditional hike that surrounds you in nature, you can find it. There are also hikes that take you to beautiful pagodas and temples.
The national park is huge, and you can't see it in a single day. Most tourists spend two days in Hualien and visit Taroko National Park both days.
There is a dedicated bus that takes tourists to Taroko National Parks and stops at each of the hiking locations. The bus picks you up and drops you off at the Hualien Train Station, so you'll want to stay as close to the train station as possible.
Be sure to pick up a map of the national park before you get on the bus!
While Taroko National Park is the highlight of Hualien, don't miss out on seeing everything else the city has to offer. The Pine Garden and Martyr's Shrine are not to be missed.
After a busy day of hiking, be sure to stop by the Hualien Night Market. It is one of the best night markets in Taiwan, and there is no shortage of local foods to try. If you're brave, try the stinky tofu. It is a very popular dish in Taiwan.
Contributed by Erica Riley of Travels with Erica
Sea to Sky Highway, BC
The Sea to Sky Highway near Vancouver, BC is a beautiful area that is perfect for solo travel. The province of British Columbia has some of the most beautiful nature views in Canada, with the Sea to Sky known as one of the prettiest drives in the entire world.
The town of Squamish, the famous resort town of Whistler, or the more off-the-beaten-path Pemberton are all incredible options for a base along the Sea to Sky.
The area is known for welcoming everyone — especially if they come on their own and is especially popular for travelers to come to play and work from Australia and New Zealand. It's the ideal location for the independent traveler with a goal to discover, through outdoor challenges and cultural experiences to quiet peaceful moments.
The scenery is stunning, with towering mountains, incredible backcountry trails, pristine lakes, and lush forest. There are plenty of activities to keep you busy, from world-class hiking and biking to canoeing and kayaking. Adventure on your own or join in on one of the many activity options in the area to meet like-minded people.
You especially will not want to miss hiking one of the many backcountry trails in Garibaldi Provincial Park, or spending the day hiking Joffre Lakes. Both are areas of incredible natural beauty and endless hiking opportunities.
And, because it is such a popular destination, there are plenty of places to eat and stay. With so many options for accommodations, whether camping, hostels, or hotel, you'll be able to discover ones that fit your specifications and desire for a comfortable and safe night's sleep.
Contributed by Debbie Fettback from World Adventurists
Wales
One of the best places to visit for the nature lover and solo traveler is Wales. This country has beautiful beaches, waterfalls, mountains and incredible islands. The Isle of Anglesey is in particular the top destination to explore in North Wales.
Unlike the other parts of Wales, getting to Anglesey island is easy due to North Wales Expressway which runs along the beautiful coast. You will not have to worry about driving on narrow roads which you can find in abundance in other parts of Wales.
You can get to Anglesey island in 1 hour 30 minutes from Liverpool airport or in 2 hours from Manchester airport. With so many flights to those cities in the UK, it is really easy to plan a solo trip to the Isle of Anglesey.
There are many amazing lighthouses on the island set in the beautiful scenery that will take your breath away. One of the best things to do in Anglesey is to explore the tidal island – Ynys Llanddwyn. You will find there two lighthouses set on rocky cliffs and many beautiful sandy beaches.
Getting to the South Stack lighthouse will not be difficult when driving a car solo. The North Wales Expressway stops at Holyhead which is just 10 minutes drive from one of the most famous lighthouses in Wales.
The advantage of visiting Anglesey is that you can explore so many Welsh islands without getting a ferry. There are two bridges that you can use to visit the Holy Island or just walk to Ynys Llanddwyn during low tide.
Contributed by Paulina from the UK Every Day
Peak District, England
Nature lovers will find some of the most stunning landscapes in England. Britain's first national park, the Peak District is one of the best places for solo travelers looking for the picturesque English countryside. There are plenty of amazing places to visit in the Peak District to keep you busy.
This national park is a paradise for outdoor enthusiasts having many trails suitable for all abilities. The pretty village of Castleton is situated at the head of Hope Valley in the Peak District. It is a great base to explore the caves and taverns of the Peak District. Also, you can hike the famous Mam Tor hill nearby.
Ladybower Reservoir offers plenty of opportunities to walk, cycle, and fish. Located in the Upper Derwent Valley in the Peak District, the reservoir opened in 1945. For the best view of the surrounding landscapes of Hope Valley and the Ladybower Reservoir, climb nearby Bamford Edge. It's quite an easy hike and extremely popular with walkers and climbers in all seasons.
History lovers would enjoy a visit to the magnificent Chatsworth House. Built in the 16th century, it has been the home of the Duke and Duchess of Devonshire. Once here, you can explore the grand Painted Hall, historic State Rooms, and the Sculpture Gallery of the Cavendish family. They have one of the finest gardens in Britain.
Just a few minutes drive from the Chatsworth House is the cozy town of Bakewell. Located on the banks of the River Wye, Bakewell is famous for inventing the delicious dessert, Bakewell Pudding. The popular Monsal Trail starts from here.
Contributed by Moumita & Sankha from Chasing the Long Road
Galway, Ireland
"Ireland is a great country to visit as a solo traveler as the local people are so friendly that it won't take you long to meet some new friends and get all the local knowledge. And this friendliness seems to rub off on the people that travel around Ireland too. Galway is an awesome city to visit as you get a great mix of nightlife and easy access to some of the most beautiful stretches of coastline anywhere in the world.
Galway is renowned for having some of the best live music and nightlife anywhere in Ireland so you'll have no problem finding friends who are keen on a drink in one of the many local pubs. Even if you want to just go alone, you'll enjoy the lively atmosphere that Irish Pubs are famous for, and don't be surprised if someone tries to strike up a conversation with you while you sit at the bar.
After a night spent enjoying the local pubs, you can go and explore part of the Wild Atlantic Way, the world's longest coastal drive. This section of the drive is particularly spectacular and nature lovers will love a visit to the Cliffs of Moher. These dramatic sea cliffs get pummelled by the Atlantic Ocean and the walk along the tops of the cliffs are truly spectacular.
If you head in the opposite direction, you'll find places like Dog's Beach which offers white sand and blue water you would expect to see somewhere in Thailand rather than Ireland. Plus, there are many other beaches, cliffs, and coves that are a bit more off the beaten track. You'll love exploring this rugged section of coastline and Galway is the perfect base to explore from and you get the added bonus of a great night out at the end of your day exploring.
Luke from Wild About BC"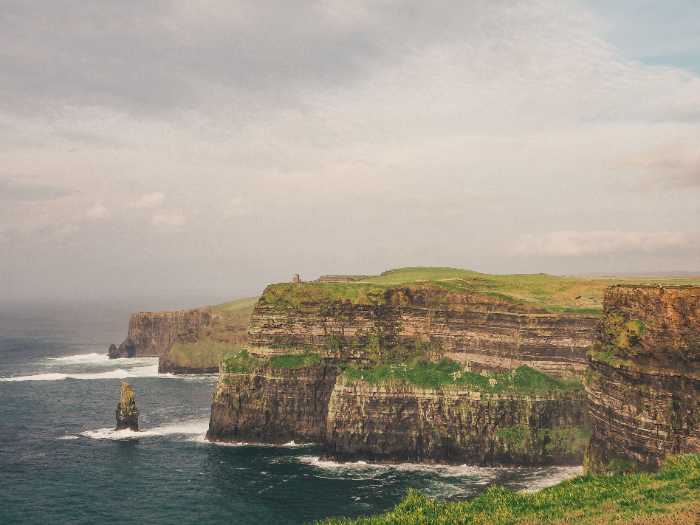 Tasmania, Australia
Australia's most southern state, Tasmania, is a nature lovers wonderland. With nearly 40% of Tasmania made up of national parks, it is an incredibly beautiful place with old growth forests, rain forests, dramatic alpine wilderness, and pristine marine landscapes. For solo travelers, Tasmania is a safe and compact travel destination.
Destinations nature lovers will have on their to do list include the World Heritage listed Franklin-Gordon Wild Rivers National Park in western Tasmania, Australia's largest temperate rainforest in Tarkine National Park, and the subalpine mountain peaks and valleys at Cradle Mountain National Park. Well-organized walking trails make these wilderness areas fabulous escapes for solo nature lovers.
Maria Island on the East Coast is the place to go to see Tasmanian Wildlife. Here you will come face to face with wombats, kangaroos, wallabies, and Tasmanian Devils. The Island also has over 100 bird species including the critically endangered swift parrot. You can do Maria Island as a day trip from the state capital Hobart or you can camp there in free campsites.
Also near Hobart, the Tasman Peninsula's coastline has 300m high cliffs, sea caves, blow holes, and coastal waterfalls. You can explore the area by foot on the 3-day Three Capes Track or take to the water. From the water, you get a great view of the coast, and you can also spot seals, whales, dolphins, eagles, and albatross.
As well as being an incredibly beautiful place, solo travelers will love that you can explore much of Tasmania's wilderness on foot so it's a great value place to visit and it is easy to find space to be on your own or join up with other travelers for company. Tasmania is relatively small, so it is easy to get around and there is a lot of low-cost camping.
Contributed by Natalie & Steve from Curios Campers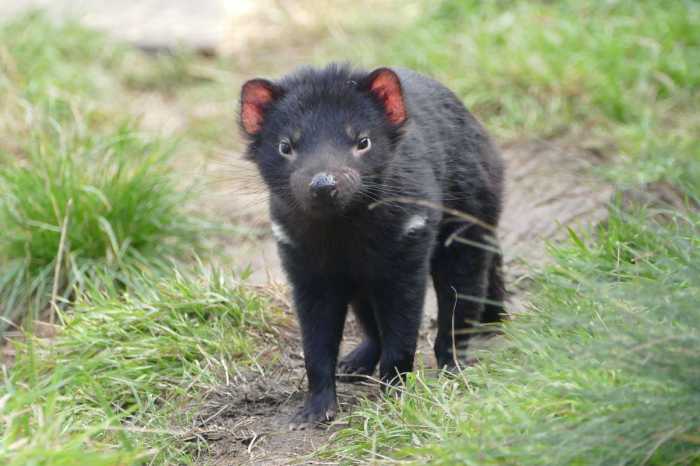 Rarotonga
Rarotonga is an island within a stunning archipelago found in the South Pacific Ocean just a short flight from Australia and New Zealand.
With gorgeous, white sand beaches, tropical forests, and iridescent, turquoise water, Rarotonga is a popular destination for anyone who loves nature.
The country is touted by many as a romantic, honeymoon spot thanks to its remoteness and untouched, natural beauty. However, many solo travelers will also appreciate the exact things that make Raro so great.
You don't need a significant other to enjoy sipping cocktails on the beach, snorkeling with diverse marine life, or hiking through dense rainforests. All of which make up some of the best activities in Rarotonga, and revolve around the idea of getting up close to nature.
Solo travelers will want to choose accommodation in Rarotonga wisely. Higher end options are amazing but tend to be tailored towards either romantic or family-oriented holidays.
The best places to stay in Rarotonga are along the south or west coastlines, regardless of whether you are traveling alone or with others.
For mid-range Rarotonga resorts, our favorite spot is Castaways Resort which always has a good mix of travelers, otherwise, Rarotonga Backpackers will be a great beachfront accommodation for meeting other people.
In terms of safety, Rarotonga is really one of the safest places you could visit. Crime is minimal and the island is too small for any sort of organized criminal activity. Regardless, always take typical precautions such as not walking around at night.
Contributed by Delilah from Our Travel Mix
Kaziranga National Park Assam, India
Solo traveling is a way to escape everyday life and rejuvenate yourself while enjoying nature. With its diverse flora and fauna, Kaziranga National Park in Assam is heaven for solo travelers and nature lovers. It's a critical biodiversity hotspot located at the Himalayan mountains' foothills on the river Brahmaputra's banks. The park mainly focuses on preserving the rare one-horned rhinos endemic to his region.
To explore the Indian forest Kaziranga, take a bus from Guwahati to Kohra. It's a five hours long journey. The main gate of Kaziranga National Park is here. Some well-known animals are rhinoceros, Asiatic water buffalo, elephants, deer, and even tigers. More than 500 species of birds are also seen here. Book a safari to witness this great wilderness.
The mode of transport for the safari is jeeps and elephants. Bird enthusiasts can walk the separate bird-watching trails. Forest rangers will always accompany you during your explorations. Plenty of accommodation options are available at a stone's distance from the park. Local people and forest officials are always ready to offer help to tourists. Thus, your solo trip to Kaziranga National Park will be easy and comfortable.
Contributed by: Ruma from The Holiday Story
Kruger National Park
Kruger National Park is located in the northeast of the Republic of South Africa, next to the border with Mozambique, about 6-hours from Johannesburg. This national park is known as one of the best places to go for a wild safari not only in the African continent but in the entire world. Kruger National Park covers an area of 19,623 square km (7,523 square miles) where wild animals such as giraffes, elephants, zebras, lions, impalas, hippotamus, and rhinoceroses roam freely. There are over 148 species of mammals, 508 species of birds, 51 kinds of snakes, and 114 replies that call Kruger National Park their home.
You are not allowed to touch, feed, or go near the animals for their safety and yours. However, visitors and nature lovers can rent a car and drive on their own to find different animals. If you don't want to drive, you can also book a tour that includes transport and a very knowledgeable guide to help you spot animals in their natural habitat.
The main attraction in Kruger National Park is finding the Big Five. This includes rhino, buffalo, elephant, lion, and leopard. Remember to bring a great set of binoculars and buy a checklist map. The map will help you know which animals can be found in the park and count how many you saw at the end of your trip.
But before you book your trip, there are many things to know before visiting Kruger National Park such as the best season to go, what to pack, and tickets. You should also consider staying inside Kruger National Park. At night, you can hear the animals making very thrilling noises. However, during peak season, everything books up quite fast. I highly recommend you to spend at least 3-days if you have limited time, but about 6 days is perfect.
Contributed by Elizabeth of Three Week Traveller
South Africa Safari in Kruger National Park
Speaking of Kruger National Park, a South African safari in the Kruger National Park is a dream destination. Stay in the bush and see animals wandering past, comfortable in their natural habitat. Go for game drives and see the Big Five – elephants, hippos, lions, leopards and Cape buffalo – as well as a huge variety of other animals including antelope, crocodiles, kudu, giraffes, zebra, warthogs, and more. There is something magical about seeing wild animals with the freedom to run and explore as they wish, and it definitely puts everyday life into perspective.
As well as wildlife, there are also a huge number of birds and insects in the South African bush. If you want to learn more about the ecology of the area, a walking safari is a wonderful way to see birds and smaller animals up close and gain a better understanding of how all these different creatures also co-exist.
Accommodation around the Kruger National Park is incredibly varied and comes at many different price points, from campsites to luxury safari lodges. The atmosphere tends to be very inclusive, especially at the lodges, with communal drinks and dinners making it a great option for solo travelers. The national park and surrounding area is also generally safe (as long as you listen to the rangers' instructions if you're near wild animals).
There are also a number of other beautiful natural attractions near the Kruger National Park, including Blyde River Canyon and Bourkes Luck Potholes, some interesting rock formations. You can easily spend some time hiking through the area and discovering rivers, waterfalls, and spectacular scenery.
Mt. Rainier – Washington
Washington state is home to some of the most beautiful destinations for nature lovers; the amount of sheer beauty that encompasses the Evergreen State is mind-boggling. No surprise, Washington is a lovely solo travel destination for nature lovers, especially the grand Mt. Rainier National Park. This National Park is massive and has five separate entrances/regions to explore: Sunrise, Paradise, Longmire, Carbon River, and Ohanapecosh. However, don't be deterred by the impressive acreage because this park is top-rated and frequented by travelers worldwide. Millions of visitors hike the popular trails that encompass this national park.
Combining the popularity of this national park and the vast regions to explore creates a worthwhile trip for all travelers, especially solo travelers. It's recommended for solo travelers because it's busy enough to keep the trails lively but not too busy that they are overcrowded. Solo travelers will especially appreciate this fact for safety reasons from wildlife. If they need help in the worst-case scenario of an unexpected injury, someone will come across them. This brings an important note, Mt. Rainier is heavily marked with trail headers, so keep to the main trails for your safety.
To ensure your solo travels are bustling with activities, you'll want to try hiking infamous trails such as the Skyline trail loop and Pinnacle Peak trail. The former path being an intensive but worthwhile hike, this hike is best for mediate to advanced hikers due to the length and elevation gain. However, the view you're rewarded with and wildflowers in full bloom at the end is worth tackling this aggressive trail during the late summer. If hiking aggressive hikes are not your thing as a solo traveler, you can head on to Pinnacle Peak, an easy hike that offers breathtaking views of the sleeping volcano.
Beyond hiking at Mt. Rainier National Park, travelers can enjoy various activities such as lunch at Paradise inn and seeing the wondrous Myrtle falls in the park's Paradise region. Beyond Paradise, travelers can stroll through the massive red cedars and Douglas firs that align the patriarch's trail and watch wildlife from afar; when you're done with the outdoorsy stuff, head on back to Sunrise point and make sure to snap a photo of the panoramic viewpoint. Overall, Mt. Rainier National Park is a definite must-see for Solo travelers wanting to explore beautiful outdoor destinations.
Contributed by Yesenia from The Sisters Who Voyage
Boquete, Panama
Boquete is one of the best places in Panama to visit on a solo trip as a nature lover. Not only are the natural surroundings amazing but it also has a lively backpackers atmosphere that you will absolutely love.
While Boquete is one of the top destinations in Panama for nature lovers, don't worry about seeing an overload of tourists here. Panama still seems a little bit off the radar when it comes to mass tourism and that is a good thing.
Boquete is located in the west of Panama close to the border with Costa Rica. It is a highland town in the midst of beautiful rolling green hills at an altitude of 1200 meters. There are many activities in and around Boquete. The most famous one is hiking the 10 kilometers Los Quezales trail through Volcano Baru National Park. In case you are wondering what a quetzal is, it's a colorful bird, and the mountain slopes in Boquete are one of the best places in Panama to spot them.
Furthermore, you can hike up to Mount Baru, enjoy hot springs at Los Pozos de Caldera, cross the jungle by zip line or swim in a small canyon at Los Cangilones de Gualaca. Do be aware that many of these natural attractions will require a short drive or public transport.
The best place to stay in Boquete is Arte Hostel if you like a festive hostel vibe. For more introverted travelers, Hostal Garden by Refugio del Rio, is a good choice, with a peaceful atmosphere and cute garden.
Contributed by Annelies from Travelers and Dreamers
Kampot, Cambodia
Kampot is easily one of Cambodia's gems that not enough people know about, let alone visit. Located in the south of Cambodia, Kampot is awash with foreign expats but still exhibits true Cambodian culture throughout its streets.
While there are numerous reasons why Kampot is the best solo travel destination for nature lovers, none epitomizes it more than the Preah Monivong Bokor National Park that shadows Kampot. The National Park is absolutely bristling with wildlife and is one of the best activities to do, especially if you're a solo traveler.
To get there, you can hire a scooter at $5 a day; this is a really popular choice for solo travelers as you can stop wherever you fancy. Alternatively, you can hire a tuk-tuk driver for the day which will cost you roughly $15 per person.
The winding roads up to the national park are so beautiful; just make sure to avoid the monkeys that litter the roads.
Once you've climbed, make sure to visit the giant Buddha statue at Wat Sampov Pram as it's truly remarkable.
Then go on to the abandoned church, recently reopened casino, and multiple viewpoints. However, you absolutely must visit the Popokvil Waterfalls as it is truly breathtaking.
Not to worry if you're traveling solo, everything the National Park has to offer can all be visited by yourself.
Make sure to also visit the Waterpark at Arcadia Backpackers Hostel. Here you can have an absolute whale of a time splashing around, making friends, or enjoying their HUGE slide. If you like to get the adrenaline going, definitely give this waterpark a visit.
Overall, Kampot, and the Preah Monivong National Park, in particular, is an absolute not miss if you're traveling solo and love your nature. The area is full of natural beauty and is a great place to experience true Cambodian culture.
Contributed by Alex and Leah from Alex and Leah on Tour
Gran Canaria, Spain
Gran Canaria is a fantastic destination for a solo traveler passionate about spending time in nature. The island is so varied that is often referred to as a tiny continent, with both amazing beaches and plenty of high mountains. Whilst the South of the island is sought mostly by families who want to enjoy the beaches, the North is much wilder and less touristy.
One of the most beautiful places to stay in Gran Canaria is Agaete, a beautiful white village in the north of the island. The coastline here is rough, with spectacular cliffs dropping sharply into the ocean. Close to Puerto de la Nieves, the harbor of Agaete, there are a few natural volcanic rock pools where you can enjoy swimming safely in the refreshing water of the Atlantic Ocean. Access to these pools is free of charge.
If you are interested in the gastronomy of the island, in the Agaete Valley you will find Finca Los Castanos, where you can learn how coffee grows. This is the only place in Europe where coffee is grown in a traditional way.
Further inland, deep in the mountains, you will find the beautiful village of Tejeda, where many travelers chose to base themselves if they are choosing a hiking holiday in Gran Canaria. There are many high-altitude hikes that will reward you with spectacular scenery to the center of the island. On a clear day, you can even spot Teide, the highest mountain in Spain, located on the nearby island of Tenerife.
Contributed by Joanna from The World in My Pocket
Wildlife Safari in Casanare, Colombia
Colombia is most well known for the perfect weather of Medellín and the colonial charm and gorgeous beaches of Cartagena. One of its lesser known places and the perfect solo travel destination for nature lovers is its eastern plains, known as the llanos orientales. This massive area between the Andes mountains and the Amazon rainforest that is part of Casanare province is home to a unique cowboy culture and a vast diversity of animals.
For nature lovers, that makes it a perfect solo travel destination. During the rainy seasons from March to June and September to November, the plains flood and become home to tons of migratory birds species. During the dryer months in July, August, and from December to February, the scarcity of water makes it easier to spot rarer animals such as anacondas and giant anteaters. Some lucky visitors even manage to catch glimpses of the rare jaguar. Throughout the year, it's easy to spot the capybaras, deer, foxes, and field owls that are plentiful on these plains. The sunsets are also spectacular!
For solo travelers looking to spot animals, it's the best place in Colombia, even better than the Amazon itself. The best way to visit is to organize a stay at one of the hatos or cattle ranches that double as nature preserves. From there you can organize a safari out on the plains either by truck or on horseback. You'll also get the chance to learn about the culture in these still very traditional and rustic ranches.
It's a truly unique and rugged destination but the hospitality you'll get at the hatos make it a perfect solo travel destination for nature lovers.
Contributed by Adam McConnaughhay from Cartagena Explorer
Ericeira, Portugal
Ericeira is a picturesque whitewashed fishermen's village half an hour north of Lisbon's airport in Portugal. It is also the only World Surf reserve in Europe and people come from far and wide to walk the quaint cobblestone streets and enjoy the atmosphere and very Portuguese architecture and charm.
Solo travelers particularly enjoy the surf scene and how easy it is to meet other travelers in restaurants and bars. The numerous surf camps and schools provide an amazing relaxed atmosphere wherein meeting others comes naturally and dinner and drinks usually follow a great day of surfing. Portugal is known for its friendly locals and affordable prices, and Ericeira is no exception!
Breakfast is an event here, and usually consists of that excellent Portuguese coffee with a number of traditional or more modern vegan options eaten while people-watching in the square. Soaking up the sun is an occupation here which all enjoy. It can either be done surfing, on Ericeira's numerous beaches or while hiking, biking, or doing any other of the many things to do in Ericeira.
Although the village has recently seen a lot of action in the winter months, the summer months are busiest with visitors dining on terraces and grabbing a drink at one of the many bars. The nightlife is definitely something to look for too, especially in high season when street festivals start up with live music and locals dancing in the streets!
Regardless of what time of year you decide to visit, the sunshine, great atmosphere, and fabulous seafood will definitely leave you wanting more.
Contributed by Michelle Côté from Ericeira Family Adventures
Quebec City
Quebec City is a fantastic destination for solo travelers. Not only is it extremely walkable, but it's also a wonderful jumping off point for amazing nature escapes. Within city lines, there's endless history to explore. Place Royale dates back to 1608 and is North America's oldest square. Located in the lower town, this spot is home to one of the city's most popular coffee shops, Café La Maison Smith Notre-Dame. This is the perfect place to enjoy a pick-me-up and/or work remotely.
Quebec City's upper town offers gorgeous views over the St. Lawrence River. This area is a popular meeting place for city tours, a great way to connect with other travelers. It's also home to a number of pubs and taverns such as La Bûche.
The crown jewel of the upper town is the iconic Fairmont Le Château Frontenac, the famous hotel. Stroll along Dufferin Terrace for a view of it and then stop off for a relaxing picnic lunch at Parc du Bastion-de-la-Reine. This free public park offers some of the best views in the city.
Beyond city lines, there's amazing natural beauty to explore.
One of the best options for an outdoorsy excursion is to take a day trip from Quebec City to Montmorency Falls. A playground for nature enthusiasts, Montmorency Falls is an easy 15-minute drive outside the city.
This stunning waterfall draws visitors throughout the year and even trumps Niagara Falls in height! Spring and summer offers a refreshing waterfall mist, while autumn displays a stunning backdrop for leaf-peeping.
In winter, the park continues to welcome visitors, even offering snowshoeing adventures. Hikers can climb up to the top of the falls for a panoramic perspective. Alternatively, there's also a cable car if you wish to ride back down and take in the view.
Contributed by Elena Pappalardo from The Carry-On Chronicles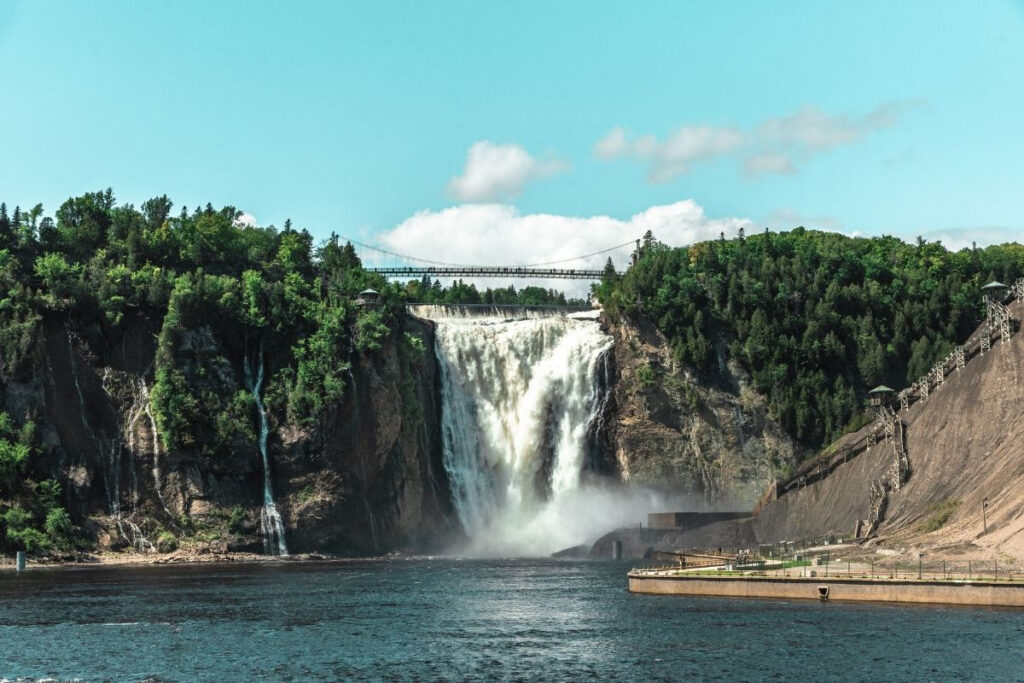 Camino De Santiago, Spain
Camino de Santiago (the Way of St James) in Spain is one of the most famous pilgrimage routes and the most beautiful hiking routes in the world.
The spectacular Camino de Santiago is on UNESCO's World Heritage List. The St James Way is a net of well-marked trail routes across Spain. The Camino de Santiago routes lead to the tomb of St James the Apostle in the beautiful Cathedral of St James in Santiago de Compostela in Galicia in Spain.
The most popular routes are the Camino Frances (which starts in Saint-Jean-Pied-de-Port in France), Camino Portugues (which goes from Lisbon in Portugal), and Camino Primitivo (which goes from Oviedo in Asturias).
Camino Inglese (which goes from Ferrol in Galicia), Camino del Norte (from Irun in the Basque Country), and Camino Via de La Plata (from Seville in Andalusia) are some of the well-liked routes as well.
The Camino de Santiago routes differ by the length and difficulty of the hiking terrains, but they always go through amazing landscapes and marvelous historical places.
The Camino de Santiago routes are some of the best-marked hiking routes in the world. So, many people choose to hike them solo. Camino de Santiago routes provide hikers with enough solitude when wanted but also with much-appreciated companions when needed. An average Camino de Santiago pilgrim is a person who enjoys active vacations, long-distance trails, and a nature lover who wants to decompress from busy everyday life. Some pilgrims are spiritual enthusiasts on their quest, and some are creative souls seeking new inspirations.
Regardless of the reasons and purposes, hiking Camino de Santiago is one of those must-have adventures in Spain that everybody should experience in their lifetime, especially if they love nature, trails, and cultural heritage.
Contributed by Milijana Gabric of World Travel Connector
Santander, Spain
Santander, located in Cantabria in Northern Spain, is an excellent destination for solo travelers since it is safe and compact but full of surprises.
It is the type of destination that you won't probably think of, but it is perfect for you if you want to experience a different side of Spain. Calmer, less touristy, and greener than other Spanish cities.
Not only does Santander have interesting historical buildings and delicious food, but incredible landscapes too. From the moment you step into Santander, you will see the combination of coast and green mountains.
One of the best things about visiting Santander is that you don't need to go far to immerse yourself in nature. The city has twelve beaches with beautiful golden sand, and it's surrounded by a few islands too.
A must-see place in Santander is the Magdalena Peninsula, where you can walk around, enjoy the sound of the waves hitting the cliffs and visit a former royal palace (Palacio de la Magdalena).
On top of these beautiful places in Santander city, if you love hiking, there are plenty of opportunities to do so as Cantabria is known for its impressive landscapes.
If you are after a challenging hike, you can start the famous Camino del Norte route from Santander, but if not, you can find many local hikes in apps like Alltrails or ask for routes in the tourism office.
Contributed by Cristina of My Little World of Travelling
Lagos, Portugal
Lagos is a beautiful coastal town in the Algarve region in Southern Portugal. It's a well-known summer holiday destination. Due to its location, Lagos offers excellent weather year-round which is perfect for outdoor enthusiasts and nature lovers.
Lagos has 9 stunning sandy beaches near the center. Some beaches are great for snorkeling, some for surfing, and some for relaxing. The beaches are surrounded by rugged limestone cliffs that offer breathtaking views of the coast.
There are many incredible things to do in and around Lagos. Hiking enthusiasts can enjoy several hiking trails with incredible coastal scenery. The boardwalk at Ponta da Piedade is an easy hike not-to-miss in Lagos. Going out on a boat to watch dolphins is another popular activity in the area. If you like water sports then surfing at Porto de Mos Beach or kayaking along the cliffs to Ponta da Piedade is a perfect way to spend a day.
Everything in Lagos (beaches, supermarkets, hotels, restaurants, etc.) is within walking distance. You don't need a car to move around the town which is great if you're a solo traveler. Public buses in the Algarve are cheap. It's easy to get to Lagos from overseas. You can fly to Faro International Airport and from there take a bus or a train or get to Lagos from Lisbon.
There are plenty of accommodation options in Lagos including hostels. Some of them have group tours and activities such as surfing lessons, kayaking, or cycling tours. You can meet people and make friends while enjoying beautiful nature.
Contributed by Alya of the Algarve Family
Yosemite National Park, USA
Yosemite National Park, California's crowned jewel in the Sierra Nevada Mountains, is one of the best solo travel destinations for nature lovers. The Yosemite Valley specifically, is the perfect place to visit and explore. With tons of hikes, restaurants, and activities to offer, there are so many things to do in Yosemite Valley for solo travelers.
The top reason Yosemite Valley is so accessible for solo travelers is that you get an amazing exposure to nature without compromising any safety. During the spring, summer, and fall months, there are always visitors in the valley. There are popular, easy hiking trails that are well populated, like the lower Yosemite Falls trail or the Vernal Falls trail, and there are many restaurants and public areas, especially in the Yosemite Village area.
It is recommended to stay in the valley if traveling overnight, that way you are right in the heart of the action and don't have to worry about making the long journey in and out of the park each day. For solo travelers, the Yosemite Valley Lodge would be the best accommodation as it provides the most privacy and security. Curry Village is often a fun alternative if you're looking to meet other travelers, but this location offers tent cabins with shared restrooms, so it may not be for everyone.
At least 2 days is recommended in Yosemite to get the full experience. There is a very helpful visitor center on site as well, where solo travelers are free to ask questions and get trail recommendations, maps, or directions. The whole valley is very walkable and there is a free park shuttle that operates year round as well.
Contributed by Olivia from the Girl With Blue Sails
Iriomote Island, Japan
Looking for stunning natural wonders in Japan? From Mount Fuji to Nachi Falls, Japan is a country filled with natural beauty, and Iriomote Island is no exception. From its lush jungles to its towering waterfalls, Iriomote Island is filled with breathtaking scenery.
A well-known outdoors retreat in Japan, 90% of Iriomote Island is unpopulated. As the majority of the island consists of Iriomote Ishigaki National Park, this leaves a lot of natural space to explore!
But where is Iriomote Island? Located in the Okinawa Prefecture, Iriomote Island is actually located closer to Taiwan than the rest of Japan (including Okinawa Island). Thanks to this southern location, Iriomote enjoys a subtropical climate.
This provides the perfect environment for a plethora of adventurous outdoor activities, from hiking Iriomote Ishigaki National Park, spelunking through its various caves, swimming, scuba diving, snorkeling, and kayaking through the lush mangrove forests!
But is Iriomote Island a good destination for solo travelers? Yes! Japan in general is a great country to explore alone, and this includes Iriomote Island. Not only is Iriomote Island extremely safe, but it's also filled with friendly and welcoming locals stoked to share its natural wonders, and it's easy to make friends on the numerous tours and trails the island offers!
If you're worried about hiking alone, don't fret! The island also offers a wide variety of hiking trails, so it's great for both beginner hikers and advanced trekkers. For the more challenging climbs, consider using a guided tour.
Overall, Iriomote Island is the perfect nature-filled destination for solo travelers visiting Japan, filled with an abundance of adventurous activities and spectacular scenery (while also being safe)!
Contributed by Mia from Walk a While with Me
Lapland, Finland
Lapland is one of the world's largest wilderness areas, stretching across both countries. This vast expanse of forests, lakes, mountains, rivers, and fjords is where you'll find the Northern Lights and the midnight sun.
The best place to explore Lapland from is the city of Rovaniemi. There are plenty of things to do in Rovaniemi – many of which can teach you about the nature and history of the area. The Artikum museum has a wide variety of exhibits featuring the local wildlife and the impact of climate change on the area. You can visit Santa Claus' Village or spend a night in a snow hotel or glass igloo! Ranua Wildlife Park is a great way to get up close to some of the local wildlife. This outdoor zoo only houses Arctic animals in an environment that is close to what they would have in the wild.
From November through March, the Northern Lights are usually visible. The light pollution in this area is minimal, so if you get a clear and cold night, the chances of seeing them are likely. You can enjoy being out in nature by going on a snowmobile ride or husky sledding. Gliding through a winter wonderland is a peaceful experience. On the other hand, if you visit in the summer, you can hike the Arctic Trail or go on a river cruise.
The incredible nature of Lapland makes it one of the best travel destinations for nature lovers.
Contributed by Pam from Directionally Challenged Traveler
Blue Mountains, Australia
Approximately 1 hours drive west from the CBD is the base of Australia's Blue Mountains National Park. Appearing blue from the distance due to the Eucalyptus vapor emitted by the trees which cover the landscapes, the National Park covers an area of over 11,000 kilometres square.
Its status as UNESCO World Heritage listed due to its natural value and unique fauna make it an ideal destination for the nature lover, and its also a great location for solo travelers.
Most of the mountain towns are built along the highway, the primary road passing through and over the mountains, and they are charming small communities.
Quirky stores and cafes abound, and the solo traveler will feel right at home relaxing for an hour or two over a meal or coffee.
With hundreds of walking options, ranging in length and difficulty, to choose from there is plenty of scope for seeing the stretching sandstone cliffs, green valleys, and tumbling waterfalls of the region.
If you venture out near dawn or dusk you might be lucky enough to catch a glimpse of some of the unique Australian wildlife, such as Wombats and Kangaroos, and being solo in the bush offers a chance to see some of the spectacular bird species found in the mountains.
For lovers of history, the traditional owners of this region are the Darug and Gundungurra, and the area is populated with signs of their early occupation, including rock carvings and paintings, and one of the oldest sites in the Sydney basin at Kings Tableland.
While the train line follows the highway, making it an easy location to visit using public transport, many of the best tracks and lookouts are a distance from the train stations, so more can be seen more with a private vehicle.
Contributed by Holly from Best of Blue Mountains
Wicklow
Wicklow is an Irish county about an hour south of Dublin, and it's long been the destination for Dubliners looking to retreat from the city into the countryside. To the east, you'll find a stretch of coastline with beaches, a cliff walk from Bray to Greystones, and the charming Wicklow Town. Across the county to the west are the Wicklow Mountains, with plenty of hikes, charming towns, and walking paths.
Country Wicklow in Ireland is a perfect choice for solo nature lovers because it's very safe, with a variety of activities for different types of travelers. You'll find that most people in Ireland are kind and helpful, which is always appreciated when traveling alone.
You can start your day with a hike in the Wicklow Mountains. For a stunning hike that's easy to follow and full of beautiful vistas, visit Glendalough, a lake adjacent to a set of monastic ruins. If you're a bit more adventurous, you can instead hike Wicklow's highest mountain, a 3,000 foot peak near Glenmalure called Lugnaquilla. For a relaxed walk through the woods, try the Vale of Clara Forest Walk, a mostly flat path that follows the pristine Avonmore River.
After you finish your hike or forest walk, head to the beach. Brittas Bay is by far the most popular; on a summer day, you can soak in the sun and saltwater late into the afternoon. In some spots, the sand is even firm enough to do a little yoga on your beach towel! For dinner, make your way to Bray, the center of Wicklow's food scene. If it's warm enough, you can order your food to go ("for takeaway") and then eat on the pebble beach looking out over the sea.
Contributed by: Amber from Amber Everywhere
Galápagos Islands
Visiting the Galápagos Islands is a once-in-a-lifetime experience for observing wildlife, and it's on everyone's bucket list for good reason. The moments when you first see animals endemic to the islands like blue-footed boobies and Galápagos penguins are simply incredible. Because it's a more luxurious destination, many young solo travelers worry that they will have a hard time meeting people. Yet, it's quite the opposite, and the Galápagos Islands is one of the best destinations for solo travelers.
Day tours to the best sights are how you will spend most of your time on the islands. You'll be on a boat with 10-12 people for 8+ hours which presents a great opportunity to get to know other travelers. Plus, most visitors to the Galápagos are experiencing something they've dreamed about for years which leads to very positive, upbeat vibes.
You also won't incur extra costs as a solo traveler. There is no need for taxis because the towns are walkable and there is public transportation. There are plenty of tours departing daily, so you won't end up in the solo traveler predicament of having to pay a guide 2-3x the normal price because you are the only person on a tour.
Plus, there are backpacker hostels on all the islands you can visit in the Galápagos. Apart from saving costs, staying in hostels is a great way to meet other solo travelers.
Another reason the Galápagos Islands is a great place for solo travelers is that English is widely spoken. You don't have to worry about language barriers when figuring out how to locate your accommodation or deciding which tour is the better deal. The lack of a language barrier also makes it easier to chat with locals and learn about their lives as islanders.
Contributed by Mark George from Georges Backpacking Guides
Final Note
These are just a few of the amazing destinations that solo travelers can enjoy if they love being in nature. These locations offer something for everyone, whether you're looking for incredible views, chances to see rare wildlife, or simply a place to relax and recharge. So get out there and explore the great outdoors!