Solo Travel: The Best Places to Visit in Nice Alone 
Known for its stunning coastline, crystal clear waters, and historic old town, Nice in the south of France, is an ideal space to spend a couple of days on your own. Soak up the French Riviera sunshine, enjoy a day trip or two, and explore all that this beautiful region has to offer.
With so much to see and do all around Nice, picking out the highlights might be difficult if you've never been before. So, that's why I'm here to help you see the best of the best while you're exploring the stunning city of Nice. If you're traveling solo, check out these activities and excursions that'll give you a true Nice experience that you'll never forget!
1.Wander the Promenade des Anglais
One of the most iconic and well-known locations in Nice is the expansive and beautiful Promenade des Anglais. A beautiful walkway that snakes along the coastline and beachfront, it's here that you'll find the Instagram-worthy "I love Nice" sign. Take a snap before continuing to walk along the beautiful beach. Dip your toes in the water, take in a sunset, and maybe even join the locals for a jog along the waterfront.
After you've explored a bit, choose from one of the many bars and restaurants along the Promenade des Anglais and settle in for a delicious meal and a drink or three. There are plenty of places to choose from, all with their own unique atmosphere and vibe.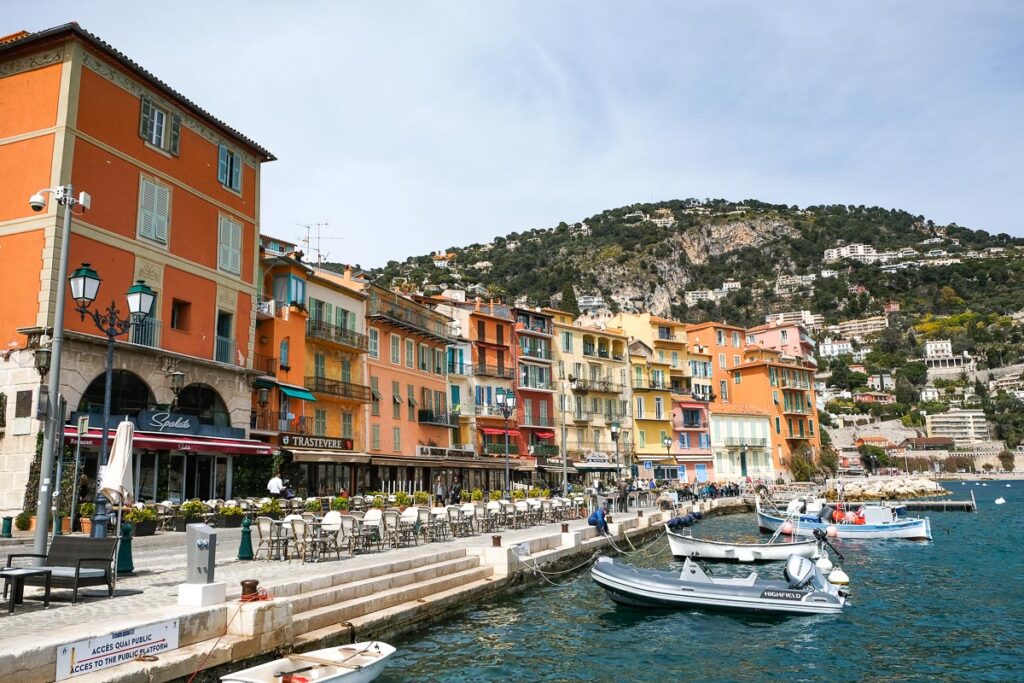 2. Join a food tour
Speaking of food, you can't visit France and not enjoy all the amazing food that's on offer. Being on the Cote D'Azur, Nice is home to some of the world's best seafood, cooked in some magical, mysterious, and mouthwatering ways. Now, with so many great restaurants, bistros, and cafes all around the city, seeking out the best spots can be tricky for an outsider.
Find other like-minded solo or small group travelers by joining a food tour around Nice. A lot of the time, these tours will take place around the sprawling labyrinth of Vieux Nice, or the Old Town. Revel in the beautiful orange-colored architecture and history as you guide ushers you from tasty spot to tasty spot. Don't forget to try a giant bowl of fresh moules marinieres – you can thank me later!
3. Be inspired at the Museum of Modern and Contemporary Art of Nice
When you're traveling on a solo basis, it can often feel quite quiet. Embrace this vibe by spending time at the Museum of Modern and Contemporary Art of Nice. Featuring pieces by Warhol and Lichtenstein, there are a lot of different styles to enjoy here.
In addition to work by Pop Art pioneers, the Museum of Modern and Contemporary Art of Nice also plays host to rotating exhibits from all over the world. If you're looking for the next big thing in the world of modern and contemporary art, you can also explore exhibits created by students from the School of Nice. You might just witness artwork by the next Picasso or Matisse!
4. Take in the view from Colline du Chateau
After indulging in your delicious food tour, get some fresh air and amazing views by hiking up to the Colline du Chateau. A ruined castle, which is beautiful in itself, Colline du Chateau also offers one of the best views of Nice in the entire area.
Wander up there, take in the sights, and get a few snaps. Some locals take picnics and drinks up there to enjoy as well, so if you want you can make a full day of this excursion. The park closes at sunset, so you can go later in the day, and witness a beautiful sunset before heading back down the city in the evening glow.
For more ideas, while you're in Nice, check out this one-day itinerary!
5. Visit Monaco for the day
Only 15 minutes away by direct train, the principality of Monaco is well-known for being a playground for the rich and famous. With harbors that are filled with some of the world's most expensive superyachts, casinos that have been made famous by James Bond, and one of the most elite Formula One races of the year all happening in this tiny country, it's well worth a day trip.
It's super easy to get to Monaco from Nice by train or by bus, both of which are super affordable and run regularly. Monaco is a pretty expensive place once you're there, so be prepared to treat yourself!
6. Take a bike tour
If you're short on time and want to get your bearings around Nice, book yourself onto a bike tour. Nice has a ton of bike lanes which makes exploring on two wheels relatively safe and easy. Find out from your guide where the best places to go are, how far everything is, and learn more about the history and culture of Nice.
You can find tons of high-rated bike tours online, and if you're not looking forward to extra exertion, you can also take an e-bike tour instead. It's also a great way to meet other solo travelers who are staying in Nice.
7. People watch at Place Massena
Looking to be surrounded by the hustle and bustle of Nice? Head to Place Massena, pick a cafe with alfresco seating – they pretty much all have outdoor seating in this area – and watch the world unfold in front of you. Sip on a coffee and pastry while you see tourists and locals alike mingle in the heart of the city.
Here, you'll also find the Nice Flower Market. It's a bit of a misnomer as it no longer just sells flowers, but also sells groceries, gifts, and other homemade or homegrown wares. After you've had your fill of chilled people-watching, join the crowds and shop for lunch or souvenirs.
8. Join a boat tour along the bay
As the Cote D'Azur is a major part of what makes Nice so spectacular, it would be a shame not to hit the water while you're there. There are plenty of different boat tours, all with varying budgets, lengths, and routes, so you can find the one that best suits you.
Sail along the coastline either towards Monaco, or westwards towards the star-spangled town of Cannes. Take in the beautiful views of Nice from the water – a unique view that you cannot get any other way!
9. Hike to Villefranche-sur-Mer
If you're not really a fan of boats or prefer to get out and about by foot, Nice and the French Riviera in general are home to some outstanding coastal hiking paths. You can easily lace up your sneakers or walking boots and head east to the charming town of Villefranche-sur-Mer.
Separated into two sections, you can either visit the town at the top of a large hill, or you can head to the gorgeous beach which is right next to the train station. After you've enjoyed the panoramic coastal views that come with your hike, and chilled out and recharged at the beach, you can opt to hike back or jump on the train straight back into central Nice.
10. Wander the streets of Vieux Nice (Old Town)
You can't visit Nice and not spend at least half a day wandering around Vieux Nice, or the Old Town area of Nice. A lot of the time, you'll find yourself walking through this area to get to popular attractions, or as part of a tour.
If you have the time, just wander aimlessly around these streets, popping into stores and cafes as they interest you, and taking in all the beautiful architecture and design features that surround you. You won't regret it!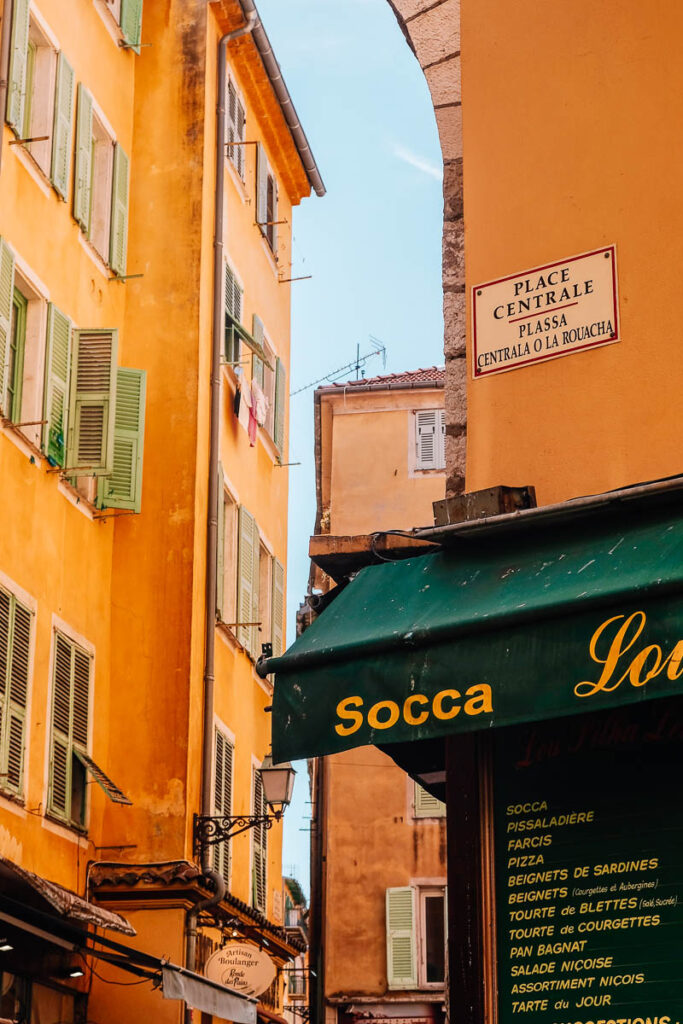 Final Note
All in all, Nice is a beautiful and compact city, bursting with history, culture, and great food. All of this makes it the ideal place to explore as a solo traveler. With frequent travel connections to other cities by frequent and affordable trains, and an international airport Nice is super accessible and has a little something for everyone. Whether you want to laze on the beach, hike up a storm, or learn more about French history and culture, it's all here, ready for you to discover.
Author Bio: Dayna Brockbank is a budget-crazy travel blogger at Happily Ever Travels. She calls Nice, France home after being a nomad around Southeast Asia, Europe, & Mexico for 5 years. She speaks 3 languages and is a bit obsessed with Duolingo.