The Best Places for Solo Female Group Travel in Albania
Solo female travellers planning to explore Europe's Balkan region should choose Albania. It's home to friendly locals who welcome tourists with open arms and are always willing to help. Aside from discovering its rich culture and history, there are plenty of amazing things to see in the country during your solo trip.
Since Albania's tourism industry is slowly thriving, you'll now find many tour companies happy to accommodate solo travellers for a group trip, which is a cheaper and more enjoyable way of exploring the country.
Below, check out our list of the best places for solo female group travel in Albania.
1. Shkoder
Shkoder is a cosmopolitan city, exuding a laidback vibe and will delight you with its harmonious blend of cultures, history, religion, and warm and friendly people. The city has a thriving bike culture, and cycling is the best way to get around. But if walking is your preferred way of exploring, you'll find the streets of Shkoder extremely pedestrian-friendly.
A popular pastime is to go for a relaxing stroll by Lake Shkodra, Southern Europe's largest lake. Those interested in culture and history will find stunning monuments and museums throughout the city.
One of Shkodra's claims to fame is having a mosque, Catholic church, and Eastern Orthodox churches all within easy access to one another. Its people are proud to say that they all live in harmony regardless of each other's beliefs and religions. It's also worth noting that there was a time when Albania banned religion, making it the first officially atheist country in the world.
Other highlights of Shkoder include the incredible ruins of Rozafa Castle and its many beautiful parks, fascinating museums and historical monuments.
2. Kruja
Steeped in history, culture, and beauty, Kruje is one of the best places in Albania for female solo travellers to visit. Most visitors would come here for the Kruje Castle and the Skanderbeg Museum, but there's more to see in this charming city. It plays a significant role in the history of Albania and is one of the country's oldest settlements, having survived invasions and foreign sieges.
Seeing the Skanderbeg castle should be on top of your list of things to see in Kruja. It's one of Albania's most impressive castles. Beside it is the Kruja Museum, where you can learn more about the castle's history and the city. You can also admire the city's magnificent views from the top, which is one of the reasons why you should visit the castle.
The Kruja bazaar is a fun place to stroll around in Kruja. You will find it in the old part of the town, just beside the castle. Dating back to the 14th century, it has a fantastic selection of shops and stalls selling local handicrafts and souvenirs.
Kruje is also a haven for nature and wildlife lovers. The mountains and rivers surrounding the city are home to different varieties of birds and animals. Venture into its National Park, hike through its trails and discover incredible wildlife.
3. Durres
While Albania is easy to travel to as a solo female traveller, you'll find it more convenient to explore the country on a group tour. There are excellent group travel tours in Albania, suitable for those exploring the country solo. You can customise it according to your preferences. For instance, if you prefer to explore the beach, you can include the city of Durres on the itinerary.
Durres was once the capital of Albania. It is now famous for its long stretches of sand, home to gorgeous beaches with rows of sun loungers and colourful umbrellas. While you could easily spend the day lounging at the beach, there are many other things to discover in Durrës. You can explore the city's ancient history spanning an impressive 3000 years. Stroll through the city centre, where you'll find remnants from the Roman, Byzantine, and Ottoman times.
One of the historical sights you must not miss is the Durres amphitheatre. Originally built by Emperor Tragan during the 2nd Century AD, it is considered one of the largest Roman amphitheatres in the Balkan region.
4. Berat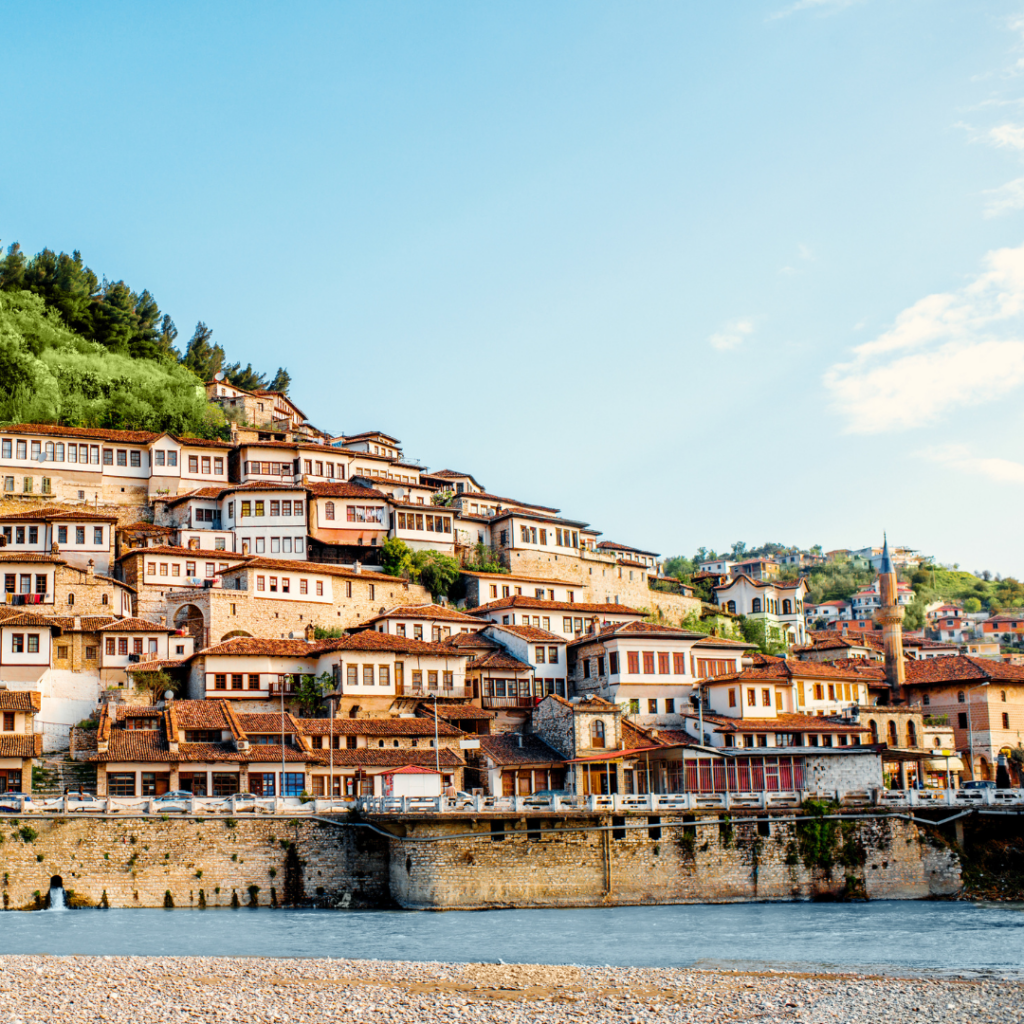 Berat lies in central Albania, also called the city of a thousand windows. It's an enchanting city flanked by the Osumi River and wreathed in fig trees. Famous for its Ottoman houses cascading down its gentle river valley, Berat is the perfect place for solo travellers fond of discovering ancient architecture and history.
One of the top things to do in Berat is to hike towards Berat Castle, which overlooks breathtaking views over the river valley. From above, you'll see a maze of small buildings peeking through trees and a sea of terracotta rooftops.
For those who want to get active on their holiday in Albania, consider hiking in Osumi Canyon. It's also a place to enjoy rafting and other activities. The canyon is one of Albania's most stunning places, where brilliant blue waters cascade into a river between soaring canyon walls.
If you want to relax, head to Bulevardi Republika. It's bursting with bars and cafes and a fantastic spot to enjoy snacks while people-watching. Pull up a chair at one of the outdoor cafes, order a cup of coffee, and keep your eyes peeled on the bustling street.
5. Saranda
Nestled in the southern part of Albania, at the country's border with Greece, Saranda is a charming coastal town home to beautiful beaches and excellent restaurants serving fresh seafood. It exudes a relaxing vibe and is the perfect place for ultimate relaxation.
Saranda's picturesque promenade is a favourite spot for locals and visitors to hang out. It's where you can admire breathtaking ocean views, including the Greek island of Corfu, just across the sea.
While in Saranda, don't forget to visit Butrint National Park, a UNESCO World Heritage Site home to ancient ruins dating back over 2,000 years. The area used to be the shelter for Romans, Greeks, and early nomadic tribes, making it an interesting place to explore.
If you want a taste of Greece on your holiday to Albania, consider visiting the nearby island of Corfu, only 45 min by ferry from Saranda. Get there in the morning, discover its beautiful beaches, indulge in delicious Greek cuisines, and travel back to Saranda in the evening.