5 Amazing First Time Solo Female Travel Destinations
Want to find out where the best first time solo female destinations are before planning your big trip abroad? This post has 5 great suggestions for you!
Traveling solo for the first time can sometimes feel a bit overwhelming, but once you get started with it, it's an amazing feeling! Thanks so much to our contributor who is giving you a first hand glimpse into her suggestions of first time solo female travel destinations to try out for yourself! Keep on reading to hear about her experience!
Going solo on a traveling adventure can be a life-changing experience. I know the feeling; butterflies in the stomach and a smile covering your entire face. You are in a wonderful moment about to make an epic leap into the future, wondering, playing with the idea in your mind of every possible destination to just pack a backpack and go to.
On the other hand, you might feel that beautiful adrenaline of doing something for the first time that scares you a little.
I've been there too and know what you ́re going through; picking the destination for the first time is not an easy task. I've put together this list of five places that I loved visiting when I started traveling so I can give you that little push forward you might be needing.
Read carefully about my first time solo travel destinations, picture yourself in my shoes, and choose where your baptism journey will be. It ́s going to be a blast, I promise.
Buckle up because here we go!
5 First Time Solo Female Travel Destinations
London, England
England's capital was indeed my first ever solo trip. I come from a traveling family. My dad had one of those jobs where we moved all the time. This first solo trip was the moment my wanderlust started.
London is a very fancy, crowded city with lots to see. You will feel safe surrounded by people all the time. On the other hand, the city design can be a little daunting if you are not familiar with it.
Let me give you some tips for a better experience.
· Go on foot – All the important places are close by (London Eye, Big Ben, Tower Bridge), so it's better to do it on foot. Pack comfortable sneakers, you'll need them.
· Mind the weather – London's weather is unpredictable and moody. Dress in layers and always bring a rainproof jacket with you.
· Mind your clothing – A fancy, big town like London is full of beautiful restaurants you will want to have a drink at. They will not let you in on flip flops and a scruffy shirt.
My secret spot
Here ́s my gift to you, the secret spot I loved when I was there: Hampstead Heath's swimming baths. This is a women-only pond you can take a swim at and relax if the weather allows it.
Tokyo, Japan
After my first positive experience in the UK, I decided to take more risks and go to Japan. Yes, my dad almost got a stroke when I told him, but got over it fairly quickly. My tickets were booked and there was no turning back.
Japan is beyond amazing. Everything you read about it is true; from the culture to the landscapes to the technology. What I can warn you about is the language barrier and the feel of isolation. You will literally not understand a word anywhere. Although it is very (very) safe, getting lost might cost you precious time of your visit.
Finally, beware of the subway when in rush hour. There is a special wagon only for females that's marked in pink on the platform that can keep you safe from male rubbing.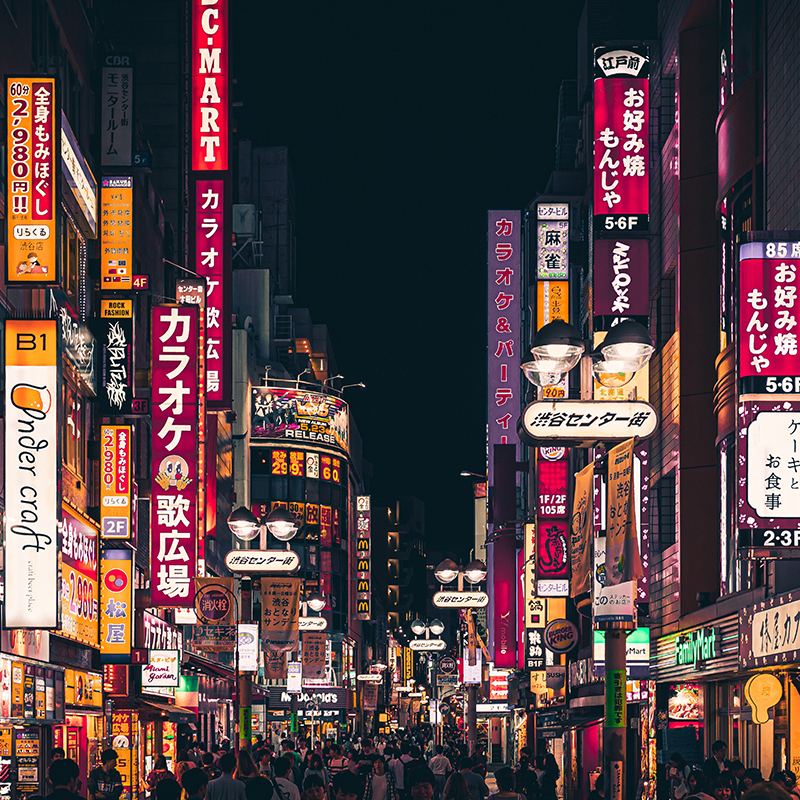 Let me give you some extra tips:
· Make an itinerary – Mark your path for the day reading blogs in English. Japanese people are willing to help at all times, but the language is a barrier.
· Go shopping – It is something I didn't do and regretted a lot: go shopping! Japanese clothes are years ahead of the western world and feature all kinds of cool innovations.
· Eat on the street – Besides being one of the safest cities on the planet, they have very high food standards. You will not believe the taste of the original sushi. Do yourself a favor and eat on the streets.
My secret spot
This one is not as secret as the female pond, but don't miss the Shibuya Sky Observatory that opened in November 2019. You can see the entire city and, on a clear day, even Mount Fuji.
New York City, USA
My third big city in a row was The Big Apple. I was not completely sure about traveling to NYC alone, but after two successful experiences, I decided to give it a try.
To be honest, the first thing that got me about New York was that I felt inside a movie all the time. We've indeed seen those yellow cabs and crowded streets so many times that it is a common image in our memory.
Although I was afraid that it was not going to be a safe experience, I quickly found out that using common sense was enough. I did two things I thoroughly recommend: hide your cash and don't wear a long purse. Pickpocketing in crowded areas is not uncommon, don't go around with $500 in your purse carelessly.
This city is definitely one of the great first time solo female travel destinations!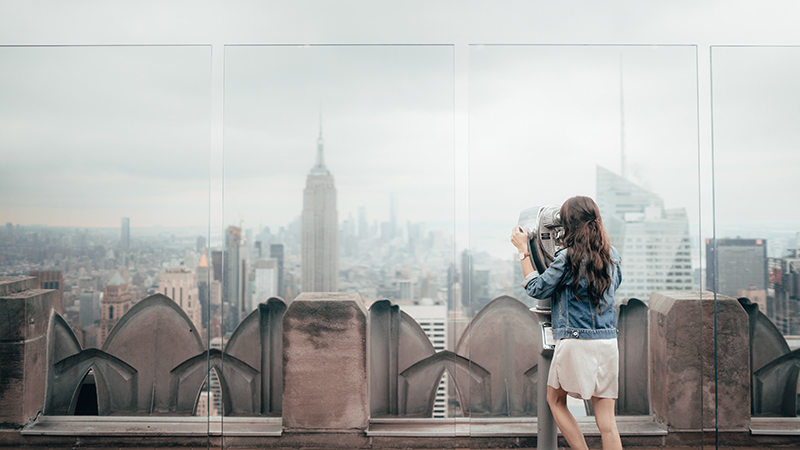 Here are some tips:
· Walk, girl – Pack your walking shoes because getting lost in Downtown Manhattan is a one-of-a-kind experience I recommend.
· Don't overlook Broadway – I know it sounds cliché but few things on Earth can beat a Broadway play. From the costumes to the singing, everything is top-notch.
· Central Park at sunset – Besides visiting the "Imagine" icon and taking a selfie, Central Park is immensely beautiful. Go there for the sunset, you won ́t regret it.
My secret spot
This is not a spot, but an activity; go to the Peculier Pub for the weekly Reddit meeting and have fun meeting strangers.
Amsterdam, Netherlands
After The Big Apple, nothing could stop me. My next destination was one that I always dreamt about: Amsterdam.
Contrary to what you might think beforehand (I thought it too), Amsterdam is not a huge crowded city. It is more of a beautiful, picturesque European city than a colossus like New York. You can do most of the destinations by bike. Also, public transport is among the best in the world.
I even went to the Red District to see what went down and felt completely safe roaming the streets by myself. Although it is great to see it at least once, I don't recommend it for more than one night.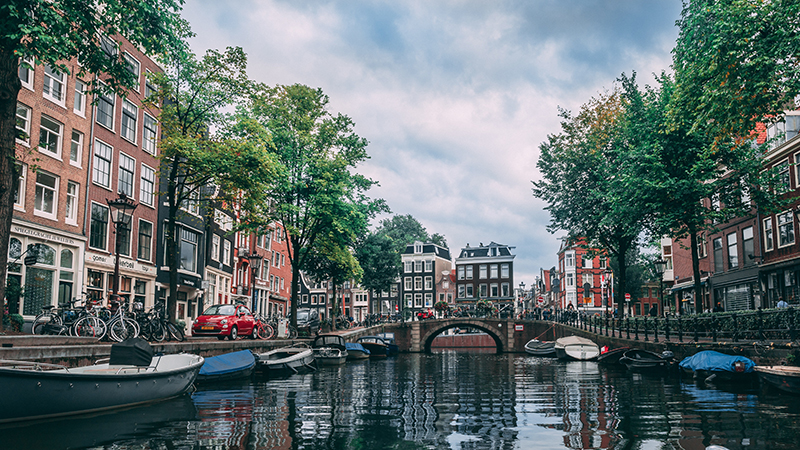 The city is full of colors, little canals, and vibrant nightlife; you will definitely enjoy it. Let me give you some tips:
· Get a bike – Bicycles are the most common means of transport in the Netherlands and hence everything is built for them. If cycling is a pleasure, it is twice as good in Amsterdam.
· Watch it with the smoke – If you are going to a coffee shop to try some of the legal cannabis in the city, pay special attention to the clerk, and follow instructions. You might lose an entire day otherwise.
· Try the cookies – This is something nobody tells you about the Netherlands: they make amazing cookies. Don't leave without trying them!
My secret spot
Speaking about cookies, I am leaving you my favorites, Van Stapele, here. Bear in mind they only bake them at request, so order before you go. Yes, they are made of chocolate and melt in your mouth.
Bali, Indonesia
This was actually my most recent trip at the beginning of 2020. I spent New Year's day in Bali and it was an amazing experience in this awe-inspiring place.
If you are someone with a spiritual side like I am you're going to love that side of town. On the other hand, if you want to go wild, you'll find many places to lose your mind and find it three days later. Also, you can do a little of both and achieve balance.
I would recommend you take on yoga and meditation while you're there. Bali has some of the best schools in the area and schedules adapt to tourists. Also, go out and enjoy nature, rent a bike, and don't be afraid to get lost; Balinese people have a beautiful heart.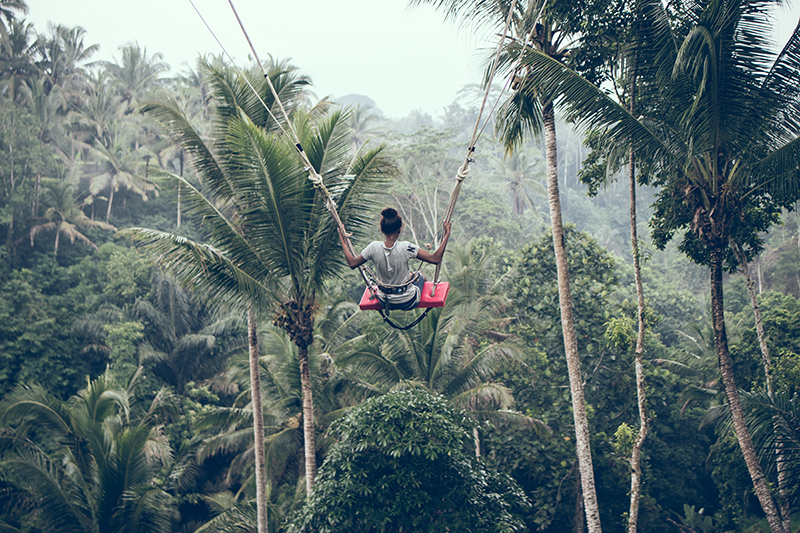 Let me give you some tips:
· Go to the beach – Even if you are a wild party-goer, don't miss out on the beach life. Sunsets are magical and the water is a chapter on its own. It doesn't get much better than that.
· Go scuba diving – Bali is one of the best and cheapest places on Earth to go scuba diving. You'll find all kinds of colors and sizes underwater that will marvel at your senses.
· Rent a scooter – Whatever you do in Bali, transit is a nightmare. You'll get more things done much quicker while driving a scooter around. Don't worry, most places will give you classes too.
My secret spot
Without a shadow of a doubt, The Yoga Barn in Ubud is my favorite place. Did you ever imagine stretching in a yoga class in front of breathtaking scenery? That is exactly it.
I've found an increasing number of female solo travelers in my journeys since that time in London. Besides making me feel proud and empowered, it made me want to put together this piece so we can be more women hitting the road by ourselves.
The world is more beautiful than you ever imagined and we only have one life to enjoy it. What are you waiting for? The world is waiting for you.
Related Posts
Solo Travel for Women: Tips and Safety Hacks
Become an Au Pair: Everything You Need To Know About Being an Au Pair
Benefits Of Solo Travel (Why You Should Travel Alone)
Solo Travel for Women: Tips and Safety Hacks
Solo Female Travel USA: The Best American Cities for Solo Travel
Best Places to Travel Solo for Women
First Time Solo Female Travel Destinations: 7 Must See Cities
Is New York Safe for Solo Female Travellers? Safe Travelling in NYC
Happy traveling!
First Time Solo Female Travel Destinations