Gorilla Trekking in Rwanda- Everything You Need To Know
If gorilla trekking has long been on your bucket list, it's time to make that a reality. There's something about these gentle giants that would trigger a sense of thrill and excitement, especially for those who love wildlife. 
But to guarantee an incredible experience, you must plan your trip well. So, here's everything you need to know about gorilla trekking in Rwanda, from the best time to do it and what to pack for your trip.
What is Gorilla Trekking?
Gorilla trekking is a safari adventure where you trek through the dense tropical rainforests in search of gorillas and witness them in their natural habitat. The length of treks can vary from half-day to full day. Two of the most popular countries for gorilla trekking are Uganda and Rwanda. Your gorilla trekking of Rwanda will take you through the Volcanoes National Park, home to ten habituated gorilla families with 11 to 33 members.
A gorilla trek is the highlight of your safari in Rwanda, and the mountain gorillas are the country's biggest draw. It's a unique and memorable wildlife adventure, offering a fascinating experience. Although more physically demanding than game drives, gorilla trekking allows a much more up-close and personal wildlife encounter.
Mountain gorillas are critically endangered primates. Seeing them in their natural habitat is an incredible experience, not only because of their sheer size but also because they have behaviors that mimic that of humans. Although gorilla trekking is not cheap, it's worth it. Also, the money will go to the rehabilitation and conservation of these gentle giants, along with the preservation of their habitat.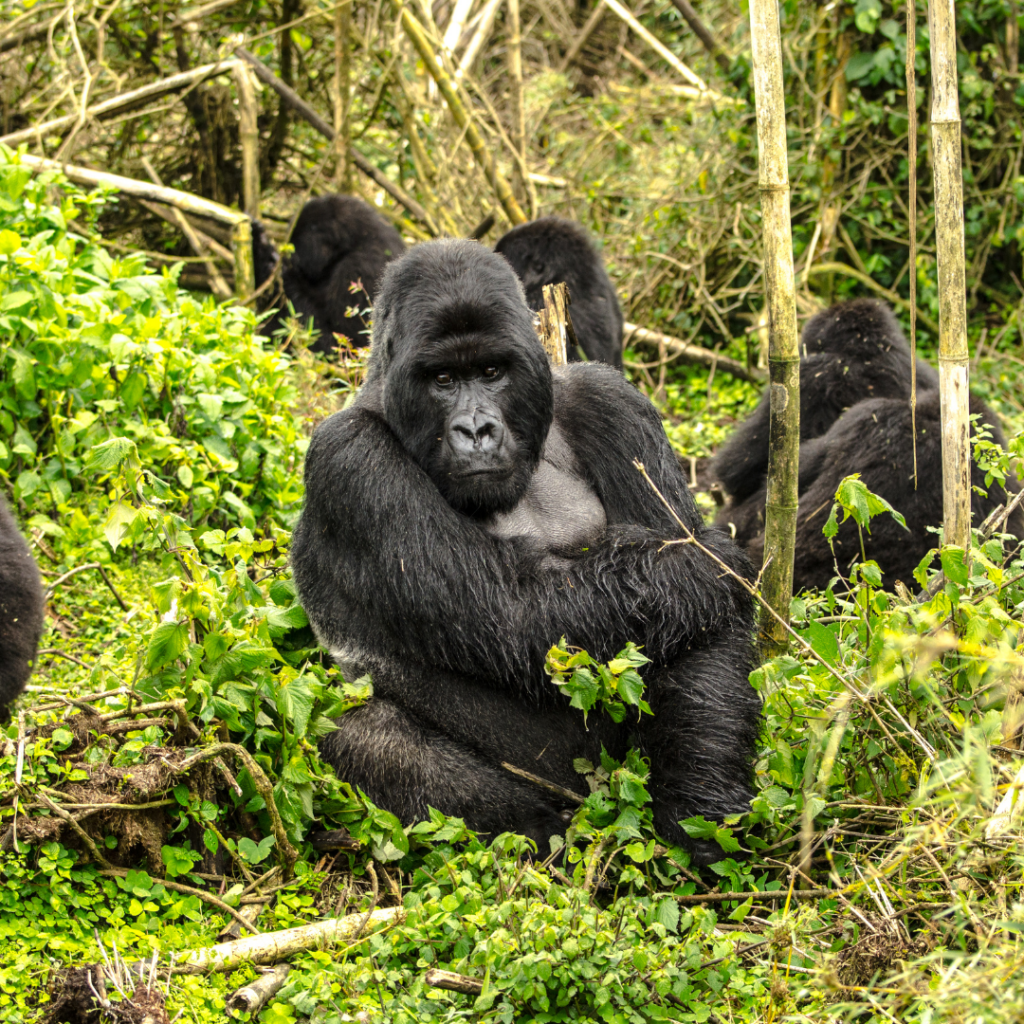 When is the Best Time to Go Gorilla Trekking?
The best time to go gorilla trekking in Rwanda is during the drier period, between June and September. You will have a higher chance of spotting mountain gorillas during this time. Meanwhile, the rainy season, which runs from March to May, is the best time for tracking chimpanzees. In fact, chimpanzees love the rain and are said to perform "rain dances" during this period. November is also an optimum time for gorilla trekking, as it's quieter by then.
It is best to avoid trekking on rainy days when the mountain trails are muddy and challenging. Also, you cannot avail of any discounts during the rainy days despite being off-season.
The weather in Rwanda hardly varies throughout the season due to the country's position, which is south of the Equator. Most days are warm, with temperatures averaging between the late teens or mid-twenties, depending on the area in the country. Nights can be colder, especially at higher altitudes.
Where Can you Go Gorilla Trekking?
The best places for gorilla trekking are Rwanda, Uganda, and Congo. These countries are in the Central African region, which boasts a forest ecosystem well-suited to these primates. When planning your trek, search for reliable tour companies that will organise the safari on your behalf. These companies can arrange excellent gorilla trekking safaris in Rwanda, leaving you with memories to treasure for the rest of your life!
Rwanda and Uganda are the top destinations for mountain gorilla treks and seeing them in their natural habitat. These gorillas are the world's rarest primates, with only 800 in the wild. While Congo is also home to mountain gorillas, the country has a history of conflict and instability, which makes it unsafe for tourists to trek the mountains. Gorilla trekking and tourism are crucial to the economy of Rwanda. As such, the Rwandan authorities are working hard to develop and improve their tourism infrastructures.
Currently, Rwanda's mountains have ten groups of mountain gorillas available for tracking, including the Susa group, which you'll find high up in Mount Karisimbi. This group is the subject of studies by famous primatologist Dian Fossey. You will find some other groups of mountain gorillas on the lower slopes, which are much easier to track. But since they are wild, they are constantly moving.
Highlights of Gorilla Trekking in Rwanda
Your gorilla trek in Rwanda begins by checking in at the office of Volcanoes National Park in Kinigi. They will divide you into groups according to your fitness level. You will also meet your park rangers for the day. As a welcome ceremony, you will see the performance of Intore dancers, one of the trek's highlights. Also called the "Dance of Heroes," the traditional war dance will be performed by Rwandan men.
After the performance, you will ride the safari car with your guide and drive for forty minutes to the trailhead of the trek. From there, porters will meet you to carry your backpacks through steep mountain paths. They will also hand you sturdy walking sticks, which helps make trekking easier.
The most anticipated part of the trek is seeing the gorillas. The park rangers will let you spend an hour with these gentle giants, although you must maintain a distance of ten metres away. Although they are usually safe and friendly, these animals live in the wild. You will see them sleep, swing, and play, which is a fascinating experience.
Aside from seeing mountain gorillas in their natural habitat, another highlight of your trek is encountering golden monkeys, chimpanzees and forest birds.
What to Pack for a Gorilla Trekking Experience
Gorilla trekking in Rwanda is no walk in the park. It takes you through the thick tropical rainforest, so you must come prepared. Above all, wear the proper attire.
It is best to wear long trousers and choose something water-resistant. Tuck it into your socks to prevent insects from crawling to your legs. Pair it with a long-sleeved shirt to protect yourself from cold, especially during the early hours of your trek. More importantly, you need to wear a sturdy pair of hiking boots. The paths can get muddy and slippery, so your trekking shoes must have good traction.
It's also a good idea to wear hardy gloves to protect your hands from thorns. During your trek, you will hold on to branches and vines to keep yourself from falling down the mountainside. So, wear something to protect your hands.