Paris In One Day Itinerary: 10 Places to See
If you only have enough time to spend one day in Paris, you're probably wondering what the must see things are! This post is going to give you some amazing ideas for your Paris in one day itinerary.
Paris is one of the most popular tourist destinations in the world, so if you find yourself getting the chance to go there even if it's only for 24 hours, then you should definitely try to make the most of it!
There are so many amazing things to see and do in Paris, that you might feel overwhelmed with how to fit in the best things into one day. Of course, spending 24 hours in Paris means you won't be able to see everything you might want to, but there is still plenty of time to see things in the city.
Whether you're seeing Paris in a day from London, or maybe over an extended layover, you can easily do a Paris in a day tour.
Spending even one afternoon in Paris can be enjoyable and worth the visit if you know where to go! You may also choose to go exploring Paris on foot and just go for a walk around sites like the Eiffel Tower or along the Seine River if you're looking for a cheap day out in Paris!
Keep on reading to find out how you should spend your one day in Paris.
This post may contain affiliate links, which means I may receive a commission, at no extra cost to you, if you make a purchase through a link. Please see my full disclosure for further information.
Eiffel Tower
Of course the Eiffel Tower was going to be at the top of this list. The Eiffel Tower is one of the most recognizable landmarks in the world, and one of the reasons people choose to visit Paris.
There are many ways to experience the Eiffel Tower in Paris. You can go for a walk around, or even have a picnic in the area overlooking the Eiffel Tower. If you're wanting a really amazing view of the Eiffel Tower though, one place to get that is at Trocadéro.
If you want to get amazing pictures without a ton of tourists getting into your shot, it's best to visit early in the morning if at all possible. If you manage to be here around sunrise, the lighting will make for dreamy pictures too!
If you want to go up inside of the Eiffel Tower, it's a great idea to book your tickets ahead of time online. You can book your tickets here.
Visit Notre Dame
Unfortunately due to the devastating fire that took place at the Notre Dame in 2019, the church has been closed for the foreseeable future until they're able to finish their restoration project. You are, however, still able to view the outside of the church from afar. While walking along the Seine River on the opposite side of the church, you're able to get a great view and can still take some pictures of this historic masterpiece.
Visit Sainte Chapelle
While you're in the area, you can check out Sainte Chapelle. Here they have the most stunning stained glass that is definitely worth seeing for yourself.
Visit A Local Cafe
Paris is known for its beautiful cafe's so it won't be hard to find one on your trip. If you'd like to have a plan before you go, grabbing a hot chocolate at Angelina would be a great option!
Check Out The Louvre
The Louvre is such an amazing place to visit. Whether you just want to go and get a few pictures outside with the pyramids or if you want to spend a few hours exploring the art it holds, the Louvre is definitely a really cool place to see if you have the time! If you're on a time crunch, it's also a great idea to purchase your tickets ahead of time here. You can buy your tickets to the Louvre here.
Colonnes de Buren
Another place to check out if you're in the area of the Louvre is the installment of the Colonnes de Buren. These pillars are a fun place to have a little photoshoot on your Paris trip.
Take A Stroll Around Le Marais
Take a walk through the neighbourhood of Le Marais.
Take A Tour Of Palais Garnier
The Palais Garnier is the stunning opera house in Paris. If you're interested in architecture, this place is definitely a must see to add to your Paris travel itinerary!
Take In The View From Arc de Triomphe
The view at the Arc de Triomphe is amazing. From here you can have a view over Paris with the Eiffel Tower in the distance. You won't need to buy a postcard, you can literally make your own with views like this! If you want to buy your tickets ahead of time, you can buy them here!
Window Shopping Along Champs Élysées
Champs Élysées is known for their high end luxury shopping. Where else in the world is better to stroll around looking at Chanel and Louis Vuitton than Paris?
Other Things To Know About Paris
Where To Eat In Paris?
Of course there are countless places to sit down for a bite in Paris, but if you're visiting, why not take advantage of trying out some of the world famous places?
Ladurée
75 Av. des Champs-Élysées, 75008 Paris, France
Angelina
226 Rue de Rivoli, 75001 Paris, France
Holybelly
19 Rue Lucien Sampaix, 75010 Paris, France
Café St-Régis
6 Rue Jean du Bellay, 75004 Paris, France
Bouillon Pigalle
22 Boulevard de Clichy, 75018 Paris, France
La Bouteille d'Or
9 Quai de Montebello, 75005 Paris, France
Where To Stay In Paris
If your trip requires an overnight in Paris, then there are many options for you. You could try an Airbnb to try to have a Parisian experience, or you could choose from the many wonderful hotel options that they have.
Here are a few hotel options for you:
CitizenM
8 Rue Van Gogh, 75012 Paris, France

Book Here
Hilton Paris Charles de Gaulle Airport
Roissypole, Rue de Rome, BP16461, 95708 Tremblay-En-France, France

Book Here
Generator Hostel
9-11 Place du Colonel Fabien, 75010 Paris, France

Book Here
Plaza Athénée
25 Avenue Montaigne, 75008 Paris, France

Book Here
When Is The Best Time To Visit Paris
Paris is a great time to visit any time of year!
Paris in the winter is of course the coldest time of year, but if that doesn't bother you then the benefit is you'll be dealing with a lot less tourists!
Paris in the summer is also great, however the prices will be higher and you'll be dealing with a lot of fellow tourists which can sometimes be overwhelming and it definitely increases wait times to get into places which isn't ideal when you're only spending one day in Paris.
Paris in autumn is a great time to go. The weather is still warm, and since it's school time again that means that there will be less tourists around. The prices also begin going down too!
Paris in the spring is what I would recommend! Everything is beginning to bloom which is absolutely stunning, especially in a city like Paris. Plus the weather hasn't gotten too hot yet, and tourist season still isn't in full swing!
However, I feel like any time that you can get yourself to Paris is the right time!
Best Day Trips From Paris
There are many great day trips to take from Paris if you plan on staying longer than one day. You can explore other areas of France such as visiting the Palace of Versailles, or doing wine tastings somewhere like Loire Valley (in a castle, no less!) You can find some great day trip options here.
Paris In A Day Tour
If you want to see Paris in a day but feel overwhelmed to do it all yourself, one way that I have found very helpful to get the feel for a city is by doing tours!
Hop on, hop off bus tours are great because you get the chance to see the main points of the city and if you feel overwhelmed trying to figure out a new city on your own in such a short amount of time, especially if you feel intimidated by not knowing the language, then this is a really great option. One of the benefits of using a hop on, hop off bus tour is that you're able to get off at predetermined stops and explore the areas and attractions that most excite you, then you can hop back on and explore some more.
I hope you've found this Paris in one day itinerary helpful in planning your short trip to Paris.
Whether you're looking to explore Paris on foot, or are wanting a cheap day out in Paris, there's something for everyone's travel style here.
Related Posts
Paris Is Always A Good Idea And 20 Other Paris Quotes
Things to do in Paris at Night
Where To Stay In Old Quebec: Auberge Place D'Armes Quebec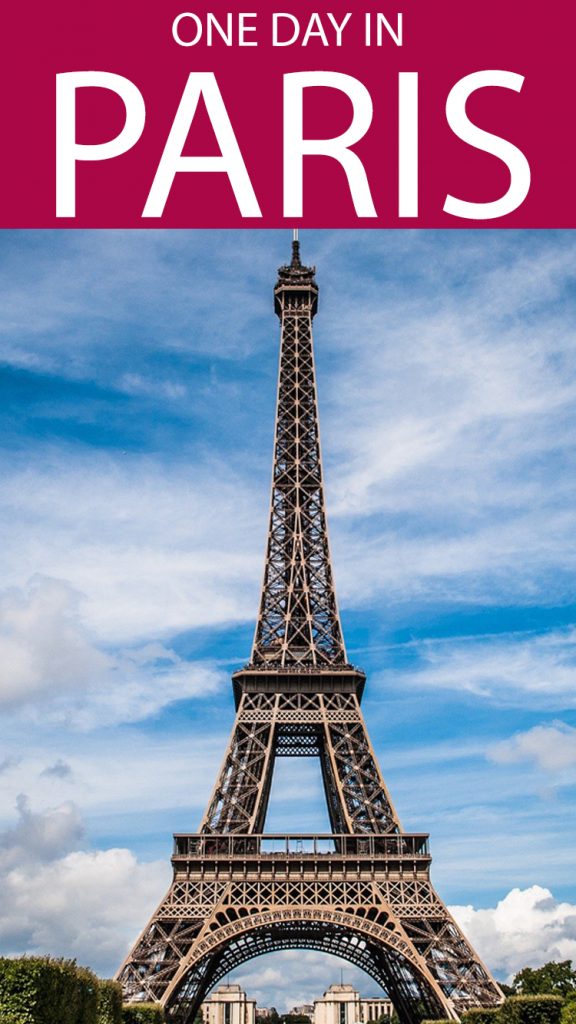 Paris In One Day Itinerary