12 Places to See in London Off the Beaten Path
London is a great place to be, and the city offers more than you can think of. There are amazing off the beaten path treasures to explore in the city. These attractions will not remain hidden for long, and you can explore them in your upcoming travel endeavors.
You will come across beautiful buildings, antiquities, hidden-away art, and other amazing attractions that don't appear on one-of-a-kind traditional tourist itineraries in the city. There are remarkable places in London off the beaten path you don't want to miss on your next trip to this outstanding city.
Places to Visit in London off the Beaten Path
The Churchill Arms
The Churchill Arms is a pub located at 119 Kensington Church Street. This colorful pub is on the corner of Campden street, Notting Hill in London. The Winston Churchill interior theme defines this wonderful attraction in the city.
The exterior of the pub is decorated with plant and live flowers, and everything inside the pub brings out the Winston Churchill theme. The antique signs on the adorning walls of the chain of pubs is worth a visit. Other key features include Churchill and the wartime memorabilia. The windows are also blemished glass, and the ceiling beam is quite low from the main entrance, so don't forget to mind your head.
As you enjoy your favorite drink inside the Churchill Arms, don't forget the tasty Thai food. Book a table in advance and be part of the many regular Londoners and tourists who fancy the idea of spending quality time in the historical place.
Brown Hart Gardens
The Brown Hart Gardens is a great public place for visitors and local people alike. It is located off of Duke Street, Mayfair. The gardens were established as public gardens for the working-class homes located in the Brown and Hart Street.
Over the years, the property has gone through tremendous transformations. It is easy for tourists and local shoppers to access the property and enjoy the relaxing environment. This raised terraced gardens in the south of London and on Oxford Street are a beautiful oasis that you will, without a doubt, fall in love with. Remember, it is built over electricity substation in Mayfair and offers more than beautiful scenery.
Related: How to Use the London Tube for the First Time
Davenports
You may have heard about Davenports but don't know how to locate the world's oldest family-owned magic shop! The shop was opened by Lewis Davenport as a magic shop in 1910 and is located in London's west end.
This magic shop is found in the Charing Cross Underground Arcade, and you might walk around Trafalgar Square without finding it, unless you're actively looking for it. Most importantly, Davenports is a great attraction site for both young and old who desire to take a magic class.
Sky Garden
Looking for an amazing place to spend a perfect romantic evening and enjoy the spectacular views of London? Look no further than the Sky Garden, and enjoy free and amazing views of London. It's a favorite London gem and a public space with amazing observation decks, open-air terrace, and landscaped gardens.
The Sky Garden is located at a building popularly known as "The Walkie-Talkie" at the top of 20 Fenchurch Street. The garden provides fantastic views of the legendary London skyline.
You can have a drink or a bite at one of the incredible Sky Garden's bars and restaurants. Besides the tasteful cocktails and food, Sky Garden is a great spot for live music and sunrise yoga, among other activities you may enjoy.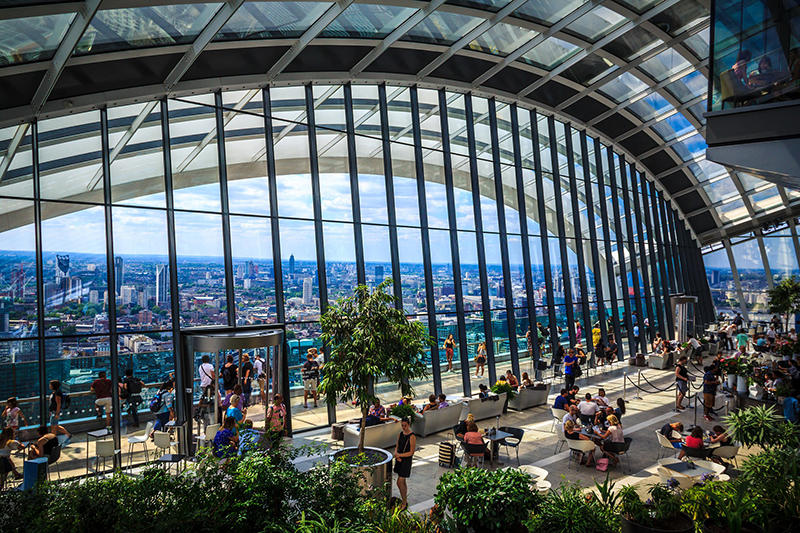 Little Venice
You should also take some time to visit the area of Little Venice to get a glimpse of the remarkable waterways and canals around London!
More amazing is the fact that this London gem is located where the Regent's canals and Grand Union meet. Hence, the settings create an attractive neighborhood to cozy pubs, waterside cafes, and charming restaurants.
A canal boat ride to the puppet shows, or to do other amazing things in the charming London is no longer a challenge. In essence, there are many things to explore in Little Venice. You can walk downstream and pass through other amazing sites like the Camden Town or ZSL London Zoo.
Daunt Books
Daunt Books is a fantastic gem in London where you will find a lovely and warm space where you can move around from one corner to another and pick out great books. The Marylebone branch offers more than you can imagine and will make you feel like you are going back to a Harry Potter film.
Keep yourself busy as you amass robust knowledge from the books you come across. The beautiful wooden interior defined by a different floor of books is a wonder you cannot resist.
Primrose Hill
Primrose Hill is a must see public park located in London, specifically on the north of Regent's Park. The hill provides a clear view of central London, Belsize Park, and Hampstead. The park also offers amazing amenities from an outdoor gym, the Hill Trim Trail, a children's playground and clean and properly cared for toilets.
Neal's Yard
Neal's Yard is a fantastic small alley that opens up to a colorful courtyard to health food cafes and shops. The gem is full of more than normal things to expect in any courtyard.
Neal's Yard offers a means to break away from busy everyday life. You can have a snack, coffee, or even lunch while you admire the surroundings or watch other people go by with their day-to-day chores.
Chelsea Physic Garden
Chelsea Physic Garden is located in the hidden corner of the incredible city of London. The garden is close to the Chelsea Embankment, the Albert Bridge, and King's Road across the Thames, one of the city's remarkable secret gardens.
The garden dates back to the late 17th century, and it remains the second oldest botanical garden in England. At Chelsea Physic Garden, you will see the tallest olive trees in the UK.
Columbia Road Flower Market
Columbia Road Flower Market is a real gem of London, that is effortless to fall in love with. It's just a few minutes walk from Brick Lane and located in the East End of London. The market is held every Sunday from 8 am to 3 pm, and there are more than 50 stalls selling a vast variety of flowers and plants, more than you can likely imagine!
Camden Passage
If you are looking for lovely service and great food and drinks, Camden Passage is the best place to be or visit in London. You can as well enjoy a weekend stroll and the buzzing atmosphere in the London streets filled with vintage, antique, and outdoor markets. The cafes, contemporary shops, and restaurants offer more than you can imagine.
Shakespeare Globe
Indeed, there is a lot to do in London, but your visit cannot be complete without visiting Shakespeare Globe. You will get an opportunity to reconnect with legendary Shakespeare and enjoy English art, literature, and theatre.
The theatre offers a cozy atmosphere with plenty of space for everyone. At the theatre, you can also enjoy great views, food, artwork, and general theatre services. There are also plenty of materials to choose from and use them as gifts.
I hope that this list of places to visit in London off the beaten path has been helpful in your planning stages for your next trip to this beautiful city. Check out these beautiful hidden gems when looking to get out of the usual tourist hot spots around London.
Related Posts
How to Use the London Tube for the First Time
Warner Brothers Harry Potter Tour London
Where to Stay in London: Luxury Edition
Things to do in London on Christmas Day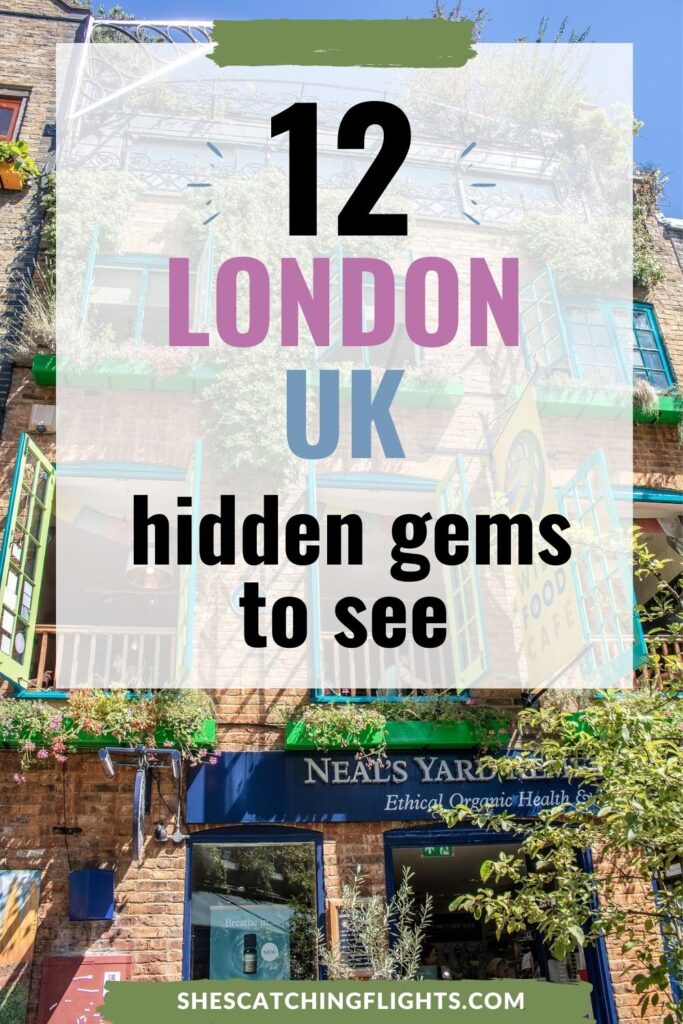 Places to See in London Off The Beaten Path