Dublin Ireland Itinerary: 9 Must See Things in Dublin.
Interested in a list of the best day tours in Ireland for your Dublin Ireland itinerary? Keep on reading to see our top suggestions for what to see on your next visit!
Ireland's largest city, Dublin, is regarded as a gateway to the Emerald Isle. There is so much to explore in Dublin with its rich cultural and literary history. It's a vibrant city that boasts plenty of attractions that's perfect for anyone. Unlike other major cities in Europe, Dublin is compact and is easily walkable. You can visit the must-see places in Dublin pretty fast. We have made a list of the best places to visit if you're going to Dublin.
Dublin Ireland Itinerary
Trinity College Library
Located at the heart of Trinity College University, this historical library has some of the most distinctive collections in the entire world. At least 6.5 million volumes are representing 425 years of academic development. It is a significant research library that garners an international reputation.
Find all of your research needs among vast ranges of disciplines available in this library. The Old Library is considered as one of the most beautiful libraries in the world. There is a place in this library called the "Long Room" which is an excellent place to also see while you're here. It will feel like you're going back to the past while you're inside.
A fantastic piece of gospel manuscript called "The Book of Kells" is also available for viewing in this grand library. It contains the Gospels of the New Testament and various tables and texts. This was made by monks with their beautiful and artistic penmanship. An astounding literary history that is a "must-see" when you're in Dublin. The Trinity College Library is also a must see if you're a fan of architecture – it's worth the visit just to see the building itself!
Related: Top 10 Things to do in Copenhagen, Denmark
The Guinness Storehouse
This is where you'll experience the history and origin of Ireland's famous beer. The Guinness Storehouse is a great place where you can learn about the culture, ingredients, and history of the Guinness story.
There is an exhibit that boasts 200 years of Irish history. You will learn more about Arthur Guinness and how he created the popular beverage. The Storehouse even has records of the history of its employees. You can search your family name at the kiosk to know if your ancestors worked here.
A history of transportation is also exhibited in the Guinness Storehouse. Many models of planes, ships, trains, horse carriages, and many other vehicles that helped Guinness export their product worldwide.
A Guinness taste experience is also available. Here you will know how they pour, store, and serve their famous drink. It's definitely a rich tasting experience that does not compare to Guinness served outside of Ireland. Where better to have a pint than where the drink is actually made!
Learn more about touring the Guinness Storehouse here.
Jameson Distillery
This is the original site where the Jameson Irish Whiskey was distilled and produced. Tour this factory and learn how to blend your own personal whiskey. Anyone interested in Irish culture can enjoy this experience, whether you are a novice or expert on whiskeys.
The distillery offers tours that last for about 40 minutes. During these tours, you can expect audiovisual presentations, the history of the Distillery, and learning about whiskey production from germination to maturation.
There's also a whiskey tasting activity where you can compare Irish, American, and Scottish whiskey. This place is a historical landmark that is a must for those who are into Irish alcoholic beverages.
Learn more about touring the Jameson Distillery here.
The Temple Bar
Dublin isn't just famous for its historical landmarks and rich history. Pubs and nightlife are also popular in this city. A famous pub in Dublin is called "The Temple Bar".
The Temple Bar is a great place for whiskey lovers as this place has over 450 different kinds of rare whiskeys, which is one of the largest collections in Ireland. The pub has a distinct red exterior color so you can't miss it!
This pub has a very lively atmosphere, so expect a lot of people when visiting. Famous Irish bands also sometimes play live music here. Beautiful smoking areas, heated seats, and a buzzing atmosphere are some of Temple Bar's main highlights. Many tourists often come back here for its fun and phenomenal atmosphere. This is definitely a great place to chill and have fun while you're in Dublin!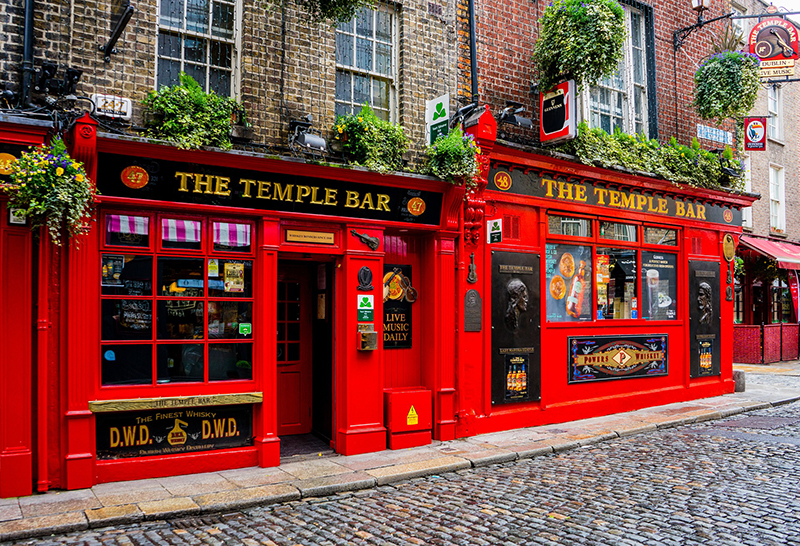 St. Patrick's Cathedral
An essential part of Ireland's cultural history, St. Patrick's Cathedral has been a top spot for Dublin's tourist destinations. This cathedral was built in honor of Ireland's patron saint. The cathedral was built over 800 years ago during the 13th century.
St. Patrick's Cathedral is a cultural experience that provides the ambiance of medieval Dublin. St. Patrick himself baptized people here in this iconic cathedral. It is one of the largest cathedrals in the country. This place is also famous for its great choir. Jonathan Swift, a renowned author, known for his work for "Gulliver's Travels" is also buried here. The cathedral has some of the most beautiful medieval architecture and history that deserves a spot in your places to visit list.
St. Stephen's Green
St. Stephen's Green is a great place to be in if you're visiting the central area of Dublin. This beautiful park remains green throughout the entire year. A popular site since 1880, this park has been enjoyed by visitors and tourists worldwide. It is a nine-hectare park in the Dublin City Center. It's also a perfect place to visit if you don't want to leave central Dublin. This park has a Victorian theme layout with over 250 trees covering the area. Fantastic greenery with summer and spring Victorian flower beddings provide an excellent nature ambiance.
Enjoy colorful scenery with the different flowers and plants seen in this park. There is a waterfall and Pulham rock work on the western side of the park. Various monumental sculptures are also located throughout the park of important figures such as Arthur Guinness and James Joyce. The park is a great place to relax while visiting the center of Dublin. Enjoy the tranquil atmosphere and lush scenery when visiting this beautiful and vast green space..
The General Post Office
The General Post Office building in Dublin is classic architecture worth seeing. This building is an iconic symbol of Ireland's failed Easter Rising Rebellion. This building is hard to miss as it is the largest building on O' Connell Street and found precisely at the center of Northside Dublin. It is one of the last buildings in Dublin that has a Georgian Architecture. A city landmark that's hard to miss, this place deserves to be on your go-to list to visit Dublin.
A famous statue called the Cuchulainn is visible on the outside premises of the building. This is a bronze sculpture that represents the death of Ireland's major mythical figures. It pays honor to those rebels who died for Irish Independence. Some of the main attractions in this place are the museum and exhibits Irish nationalism. Visit the General Post Office for a rich historical experience of Ireland and how it came to be.
Dublin Castle
A beautiful, historical structure to see in Ireland, the Dublin Castle fascinates every person that visits. Located in the center of Dublin, the castle is made up of several buildings of varying architecture.
You will see the Chapel Royale on this site. It has elaborate woodwork that's beautiful and unique. The castle and its grounds have been used in history as a water station, seat of the parliament, royal court for entertainment, and a military residence. It's a great piece of Irish history that's a must see for anyone visiting central Dublin!
Kilmainham Gaol
If you want to learn more about the darker part of Ireland's history for your Dublin Ireland itinerary, you can check out Kilmainham Gaol. Kilmainham Gaol is a former prison that was built in the late 1700s. It's an infamous prison known for disturbing themes of Irish History. Executions such as public hangings took place on the gallows of this prison. The executions are prominent both inside and outside the gates. It's a silent and working prison from 1787 to 1924: these housed children, men, and women. The youngest person known to be imprisoned in this place was just seven years old at the time. During the famine years, people would intentionally break laws to be imprisoned in Kilmainham Gaol and be fed.
Tourists will be given insights and what is liked to be detained within Gaol's walls. A major exhibition is available that details the penal and political history of Irish nationalism. The last words of the executed rebellion leader of 1916 are also displayed. A bus stop is available just outside Kilmainham Gaol. The tours usually provide a brief overview of Irish History and Kilmainham Gaol. Experience panoramic insight into one of the most disturbing times in Irish history when you visit this place.
I hope you found this Dublin Ireland Itinerary helpful for your upcoming visit to Dublin. If you find yourself spending 7 days in Ireland, this list should help to fill up your time in Dublin whether you're traveling solo, with friends or with family.
Related Posts
Top 10 Things to do in Copenhagen, Denmark
Dublin Ireland Itinerary: Must See Things in Dublin.