10 Fun Places To Visit in Oregon on a Road Trip
Are you looking for some fun things to do in Oregon for your upcoming trip? If so, you may be wondering what you should do and see while you are there.
This list will get you prepared for places to see and things to do on your Oregon road trip. These Oregon vacation spots are just the tip of the iceberg of the amazing things that you can see on an Oregon coast vacation.
Oregon has no shortage of natural beauty.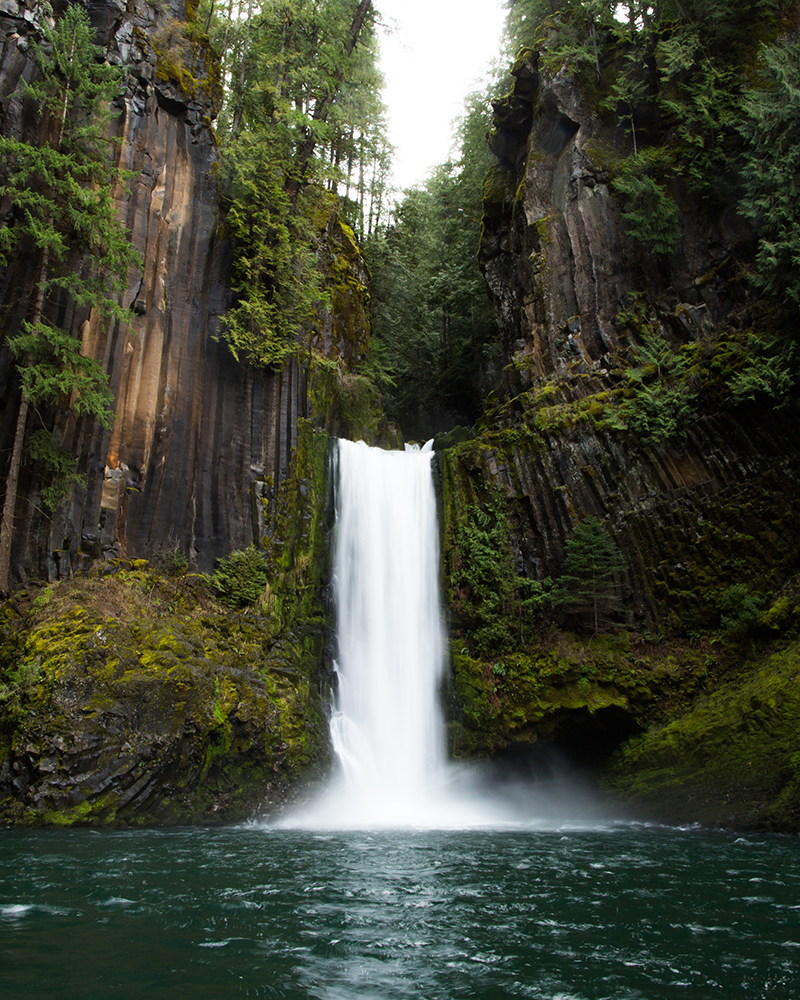 There is plenty of great shopping, restaurants, and cultural experiences to enjoy as well. Here are some fun things to do in Oregon that you won't want to miss on your visit.
10 Fun Places to Visit in Oregon on a Road Trip
Portland
There are so many amazing things to see and do in Portland. Portland is Oregon's largest city and so has many different ways to explore!
You can walk, bike, ride the streetcar, or rent a scooter to get you around the city.
The Portland International Rose Test Garden is home to more than 550 species of roses. It is gorgeous when they are all in full bloom.
Forest Park is an oasis of green inside of the city. It has more than 5000 acres it is one of the world's largest urban forests.
Hungry from all of your sightseeing? Then head over to the 5th Avenue Food Cart Pod. Here you can find a unique meal or snack. After all, Portland is known for its amazing food.
Old Chinatown, Pioneer Courthouse Square, Washington Park, and the Portland Art Museum are all worth checking out if you have the time while in Portland.
Cannon Beach
Haystack Rock in Cannon Beach, Oregon may be one of the most recognizable natural attractions in all of Oregon.
Featured in major motion pictures like The Goonies, and Kindergarten Cop this 235-foot rock formation juts up out of the ocean. The best time to visit Haystack Rock is during low tide so that you can see the colorful sea creatures living in the tide pools at the base of the rock.
Haystack Rock is not the only attraction to see in Cannon Beach.
There are more than 15 art galleries in Cannon Beach, and it is also home to some amazing food at restaurants like the Sea Level Bakery and Coffee, MacGregor's Whiskey Bar and Restaurant, and the Wayfarer.
Crater Lake National Park
Crater Lake National Park is Oregon's only national park. It is the home of Crater Lake, the deepest lake in the United States, and the 9th deepest lake in the world.
The lake was formed more than 7,700 years ago when Mount Mazama, a 12,000-foot volcano erupted and collapsed.
The waters of Crater Lake are crystal clear and deep blue, and with more than 183,000 acres the park has lots to explore. You can fish, canoe, ski, camp, hike, or take a scenic drive around the rim of the volcano.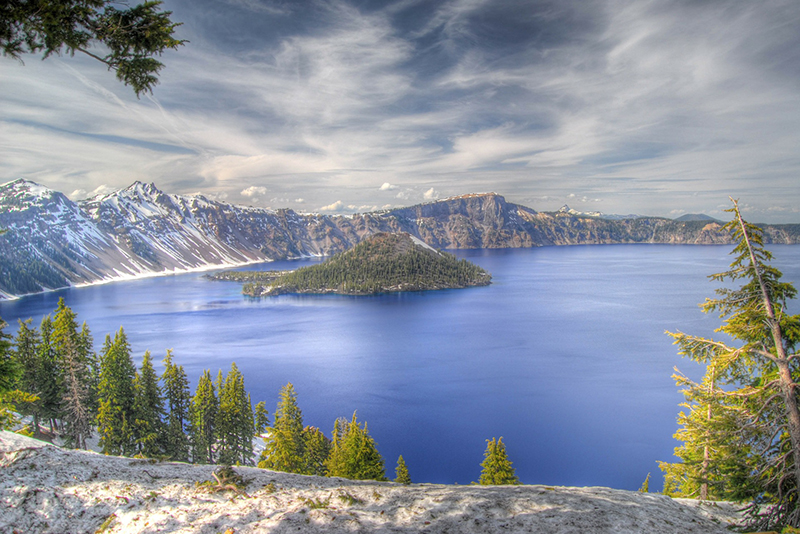 Powell's Books
Powell's Books is the world's largest independently owned bookstore and its flagship store is located in Portland, Oregon. It actually covers an entire city block!
If you are a book lover and even if you aren't you should pop in and check it out.
Powell's Books offers new, used, and rare books and with over 4 million titles in stock, the whole family can find something that they will enjoy reading.
Astoria
The city of Astoria is the oldest city in Oregon. Astoria was founded in 1811, and named for John Jacob Astor.
Astoria has been the location for several major motion pictures like Free Willy and The Goonies, you may even recognize the iconic Astoria-Megler bridge that connects Oregon and Washington over the Columbia River.
While visiting Astoria make sure that you visit the Astoria Column for amazing views, take a ride on the recently restored old 300 trolley, and visit the Columbia River Maritime Museum.
Columbia River Gorge
The Columbia River Gorge Scenic Area is the largest national scenic area in the United States.
Located 30 miles East of Portland, here you will find more than 90 waterfalls, gorgeous views, historical museums. There are also some amazing restaurants with locally sourced products, and outdoor adventures galore.
The gorge is 80 miles long and up to 4,000 feet deep in some areas.
Hiking, mountain biking, windsurfing, skiing, and snowboarding are all popular activities in the Columbia River Gorge.
Bridgeport Village
If you need to do some shopping while you are traveling in Oregon then Bridgeport Village is the place for you.
This sprawling shopping and lifestyle center comes in at just under 500,000 square feet with nearly 100 boutiques, stores, galleries, yoga studios, wine bars, and restaurants to explore.
There is also a large movie theater and play areas for the kids to enjoy while you shop!
Sea Lion Caves
The Sea Lion Caves in Florence, Oregon on Highway 101 is a privately owned wildlife preserve and bird sanctuary that has been in operation since 1932.
The caves are known as America's largest sea cave and it is the home to Steller sea lions and their cubs, as well as rare birds, and grey whales.
The sea lions can be found inside of the cave from November to April, and during the spring and summer months, you are likely to find them lounging on the rocks.
The Sea Lion Caves are open 363 days a year, from 9:00 -5:30 daily, and the price of admission is $14 for adults, $8 for children 5-12, and free for children under 4. The Caves are open every day except for Thanksgiving and Christmas.
You will need comfortable shoes to explore the observation areas around the caves, and there are a lot of steps. You can also enter a cave observation area from the Sea Cave gift shop elevator which will take you on a 200-foot descent. Be prepared, it's loud when the cave is full of sea lions!
Mount Hood
Mount Hood, a potentially active stratovolcano, is Oregon's highest point at 11,249 feet high.
Located about 50 miles southeast of Portland the mountain is home to ski resorts, hiking trails, campgrounds, and more.
The mountain is also the star attraction of the one million acres Mount Hood National Park. Here you will find glaciers, hot springs, waterfalls, and wide varieties of wildlife and fauna to explore and enjoy.
Thor's Well
Thor's Well in Cape Perpetua, Oregon is an old collapsed sea cave that appears to "drain" water from the ocean into a seemingly bottomless pit.
Thor's Well is also known as the "drainpipe of the Pacific". It is as magnificent as it is dangerous. Do not turn your back on the ocean while exploring this natural wonder. Thor's Well is best seen at high tide when the strong waves crash up against the rocks and then "drain" into the hole.
You will not run short on things to see, do, and explore if you have the opportunity to travel to Oregon. Not only is Oregon full of natural wonders but it also has a lot to offer culturally and historically as well.
I hope that these Oregon road trip ideas have gotten you excited for your road trip along the Oregon coast.
What will be the first stop on your trip to Oregon? Do you have any must see attractions or other fun things to do in Oregon to add to this list?
Related Posts
3 Day Seattle Itinerary: 7 Fun Things to do in Seattle
Best Things to Do in California
Fun Things to Do in Oregon