The Top Places to Take Pictures in Las Vegas
If you're looking for where to take pictures in Las Vegas, you've come to the right place!
As a photographer, I'm always looking for the best places to take some pictures. I was a bit concerned about if I'd be able to get some great pictures in Las Vegas, but it turns out there was no need to worry.
Las Vegas is a very interesting city and is a lot of fun to photograph with it's bright lights, eccentric people and wild colours.
I wanted to share with you the places on the strip that I found the most fun and interesting to photograph for the few days that I was there. So if you're wondering where to take pictures in Las Vegas the next time you're there, check out these fun Las Vegas photo shoot locations, including the best place to photograph the Las Vegas Skyline of the Strip and Las Vegas street photography.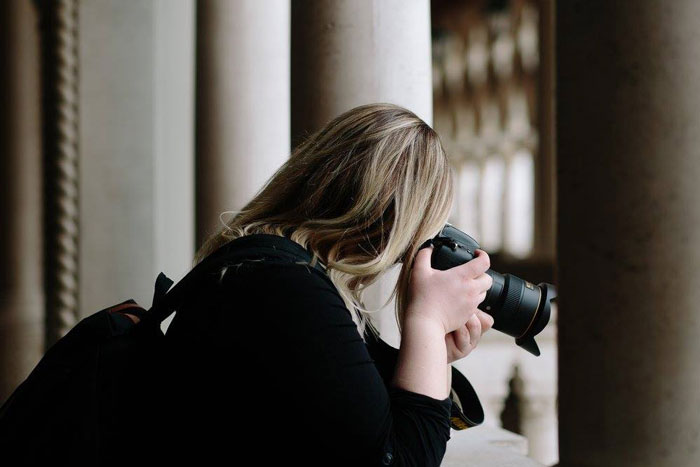 This post contains affiliate links. If you make a purchase, I may earn a small percentage at no extra cost to you.
Las Vegas Strip
Just walking down the Strip in Vegas is sure to give you inspiration, and Instagram worthy shots. There are so many architecturally interesting buildings, and iconic hotel facades as well. Since I'm from Canada I was fascinated just by the palm trees alone! I visited around Christmas too, so it was fun seeing some of them be decorated for the season.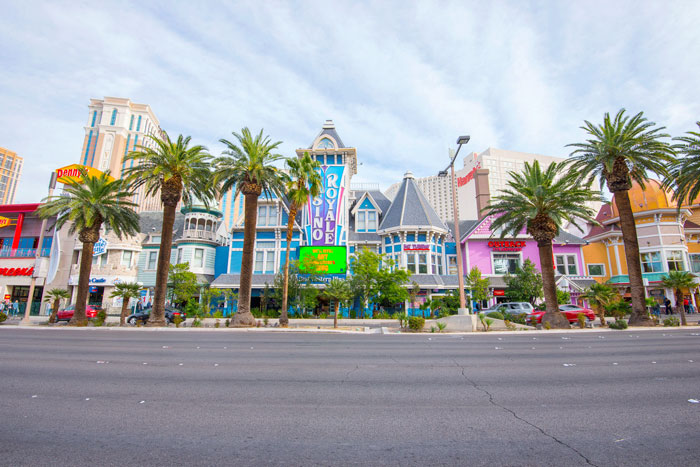 Vegas And The Strip From Above
My friend and I were lucky enough to get a great deal and upgrade at the Cosmopolitan Hotel in Las Vegas on the Strip, and the views were unbeatable! Not only did we get the best view of the Strip and Bellagio fountains, we also had a breathtaking view of the mountains in the distance. I never thought about the nature part of Vegas until I went there, so seeing mountains was surprising and so exciting to see! Since our balcony overlooked all of the action, we had many opportunities to photograph the scenes in different lighting conditions which was amazing! We also never missed a Bellagio fountain show.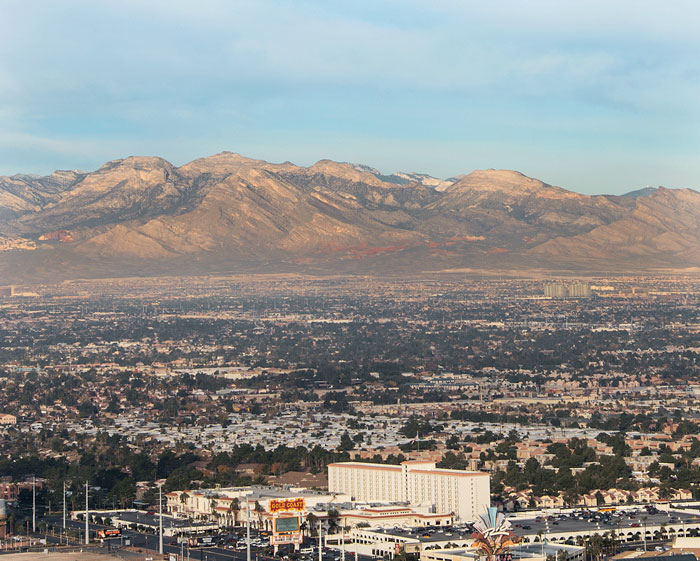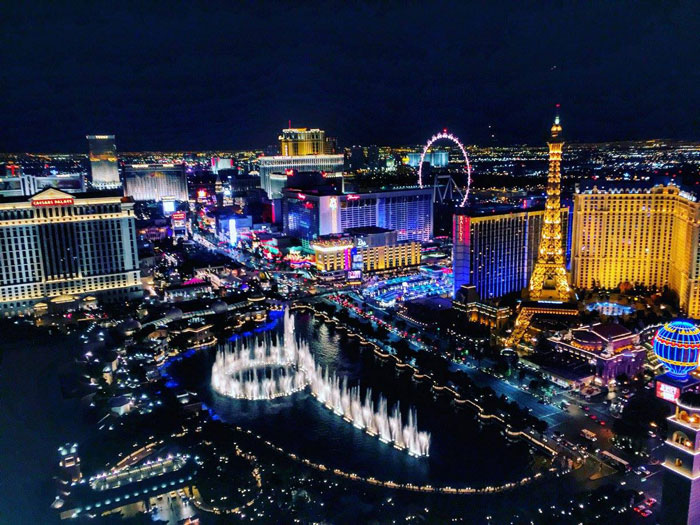 The Bellagio Fountains
Not only is photographing the Bellagio Fountains from above amazing, but seeing them just on street level is equally beautiful. They have shows at different times through the day, so you're sure to be able to catch at least one show if you look for it. It's the most impressive fountain I've seen to date, and is a pleasure to photograph. Seriously… It's fun to photograph!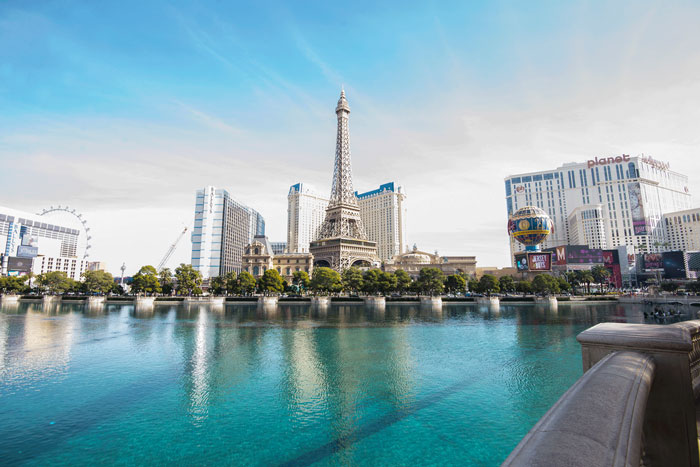 Hotels On The Strip
You have to see the hotels on the Strip! They all have so much character. They're all so theme oriented, so it's like going into a whole other world when you go into them. Nothing in Vegas really feels like real life as it is, but the hotels are crazy in the best way. Since they're all so different, it makes them all so much fun to photograph. Again, since I went around Christmas, there were Christmas decorations everywhere. Since this is Las Vegas, they were obviously completely over the top! If you're visiting Las Vegas around Christmas, I HIGHLY recommend checking out the beautiful decorations at the Bellagio Hotel!
Other hotels I loved taking pictures of were the Venetian (a replica of Venice Italy) and the Wynn hotel which has a carousel made from live flowers! It's something you really need to see in person to fully appreciate!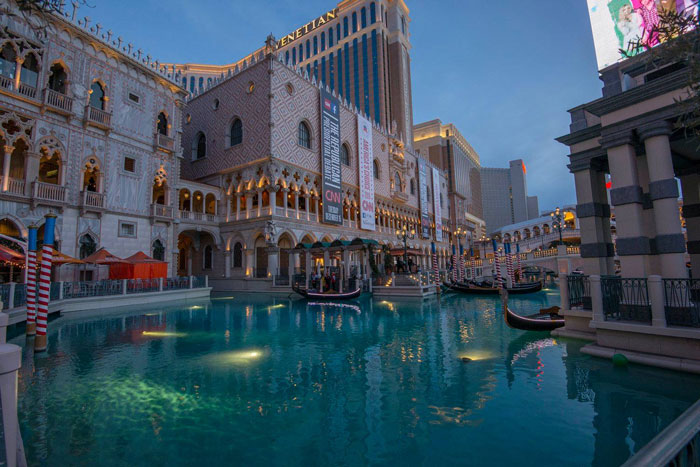 If you're looking for the best places to take pictures in Las Vegas, I hope this list was helpful to in getting you started. There are so many amazing things to take pictures of in Vegas, so this is obviously just a small sample from my quick trip, but if you have the time I would suggest also exploring off of the Strip to see other gems that you can photograph that are slightly off of the tourist path!
In case you're interested, these photos were taken in 2015 on the Nikon D600 with the 16-35mm lens which I swear by! I plan to switch back to Canon in the future, and they now carry this lens too, so I will be repurchasing for sure!
Related Posts
Staying At The Cosmopolitan Hotel In Las Vegas
15+ Fun Things To Do In Las Vegas Besides Gamble
How To Take Good Photos With iPhone: Photography Tips For Beginners
High Tea At Fairmont Hotel Vancouver
Where To Take Pictures In Las Vegas