The Cosmopolitan Hotel Las Vegas: The Perfect Stay
Planning a trip to Las Vegas and don't know where to stay? Keep reading to learn why you should stay at the Cosmopolitan Hotel in Las Vegas!
When I had the opportunity to stay at the Cosmopolitan Hotel Las Vegas, I was so pleasantly surprised by the experience.
My friend and I had booked a trip through West Jet Vacations and found an amazing deal on the Cosmo Hotel combined with a flight. We had looked at other hotels in the same price point, but none seemed to even compare to the style of the Cosmopolitan hotel for what we were looking for, for our girls trip.
This post contains affiliate links which means if you make a purchase, I'll make a small commission at no extra charge to you.
Once we arrived at the hotel in Las Vegas and went to check in, we were told that for a small amount we could upgrade our room, so we decided to get the room upgrade. I can honestly tell you, we were not disappointed!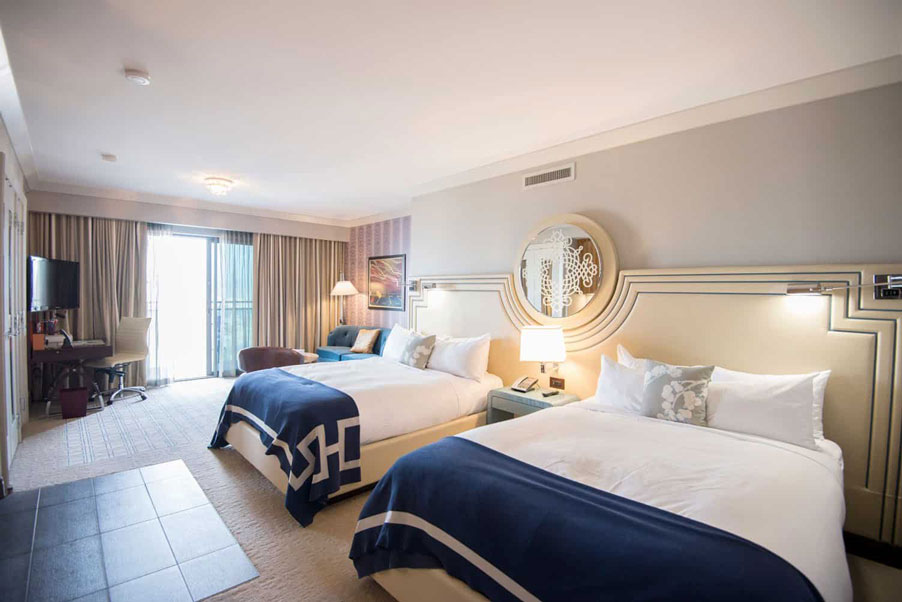 We were upgraded to a room looking directly out over the Bellagio Fountains and our hotel room had a view of The Strip! I couldn't believe our luck with getting this place, it seemed to be almost too good to be true! If I'm being honest, we squealed like little children when we saw our view of The Strip, and were fascinated every time we watched the Bellagio Fountains put on a display!
After we were able to calm ourselves down, we explored the rest of our fancy Las Vegas hotel room and were equally excited over the bathroom! Okay, maybe the bathroom isn't as exciting as the view, but we were still pretty darn excited! The bathtub and shower were both HUGE and overall, the finishes were just as high end as the rest of our room. To this day the Cosmopolitan Hotel Las Vegas is the fanciest hotel I've ever stayed in!
*If you want to travel with your own toiletries, here is a good option!*
The location of the Cosmo is perfect for everything you could want to do in Vegas! We could walk everywhere we wanted to go and could come back to hang out in the room for a bit before venturing out onto The Strip again. It's near all of the other hotels of course, so we spent a lot of time going into other hotels on The Strip and checking them out too.
Fun fact: The Strip is actually pretty close to an outlet mall and we took a taxi out there to do a bit of shopping, and we ended up getting matching Kate Spade wallets for an amazing price, so if you're looking for some activities to do off of The Strip, that could be an option for you!
Whenever we were in our hotel room, we had the balcony door wide open. We spent a lot of time on the balcony when we weren't walking around and playing tourist. We always knew when it was time to go to the balcony to watch the Bellagio Fountain display because they sound a bit like fireworks. It took us a time or two to realize this is where the sounds were coming from, but after that, we ran to the balcony every time we heard them go off.
Cons of the Cosmopolitan Hotel
Of course in full transparency I'm going to tell you about the cons of our hotel room at the Cosmopolitan Hotel from our experience.
One con is that even though we had a fridge it was pretty useless to us. It was fully stocked and if you moved anything in the fridge, you would automatically be charged. Another thing I didn't love was the smell of the hotel. This doesn't apply to the rooms, they were fine, but in the casino area and lobby had a super strong perfume smell. I noticed this in many of the hotels though so it's not only applicable to the Cosmopolitan. Maybe I'm too sensitive to smells? But I didn't love it.
So even though there were some cons, as there are in pretty much anything, there were definitely no deal breakers. I would 100% stay here again on a future trip to Las Vegas.
Final Thoughts On The Cosmopolitan Hotel Las Vegas
I am so glad we found this amazing deal for the Cosmopolitan Hotel in Las Vegas! I had such an amazing time at this hotel and am already looking forward to being back again! The Cosmo has such a fantastic location in the middle of all of the action of Las Vegas. Plus I still can't get over the view! Seeing the Bellagio Fountains any time we wanted, as well as having an unobstructed view over The Strip was so priceless! The price is definitely worth staying here for too, if you can get a deal for this Las Vegas hotel, I would suggest going for it!
If you're looking for a great Las Vegas hotel deal, I would definitely check out what options are available for the Cosmopolitan Las Vegas. You can check out the Cosmo Hotel's website here.
Related Travel Articles:
15+ Fun Things To Do In Las Vegas Besides Gamble
Where To Take Pictures In Las Vegas
Why You Should Stay At The Cosmopolitan Hotel Las Vegas