My trip to Mount Mansfield in Stowe Vermont is a great example of how sometimes a trip doesn't go as planned then turns out better than you originally could have hoped.
The day started off dramatically with me having to find a way to convert money that I wasn't able to do previously, and ATMs weren't showing my Canadian debit card any love. Afterwards, we were able to explore the town of Stowe a bit more throughly, then off we drove to the Mountains (not that it was a far drive, we were surrounded by mountains on all sides).
The original plan of the day was to take the Stowe Gondola to the top of the mountain and enjoy a meal and some shopping while we were out there. Well our GPS (who really gave hit and miss directions throughout the entire journey – super outdated) took us to the wrong parking lot, and we didn't realize that all we had to do was drive down the road to find it. At this lot however, there was a toll road to drive up the mountain. We decided to take our chances and try to make it up the hill with the Honda Civic. My friend was a bit worried about if it would make it up, but none of the other cars coming down the mountain looked any worse for wear, so off we went.
The trip up the mountain is about 20 minutes, zig zagging up narrow, winding, unpaved roads (it's actually not as bad as it sounds). You are surrounded by beautiful views and all of the drivers are very courteous of each other on this trek. Once you reach the top parking lot, you are surrounded by beautiful views, and a lot of cars in the parking lot. It's also hard to get a nice photo without being photo bombed by some porta-potties. Neither of us had ever hiked before so we didn't have that on the agenda, so we figured this was it and prepared to head back down the mountain. I then overheard a woman telling an older gentleman that if you went down a certain path, you would be rewarded with 360 degree views. I figured if he and his group of peers could do it, so could we and off we went.
It started off easily enough. Walking on fairly level planks through the bush.
Once the planks end, the rocks begin, and next thing you know you're hiking up some steep rocks.Every time we hit a plateau, we were in awe of the view.
The higher we went, the more vast and beautiful the view. By the time we reached the top, we were out of breath and sweaty even in the chilly mountain air. The view was incredible, and even though the colour change was behind this year, we saw pops of colour playing through the mountains.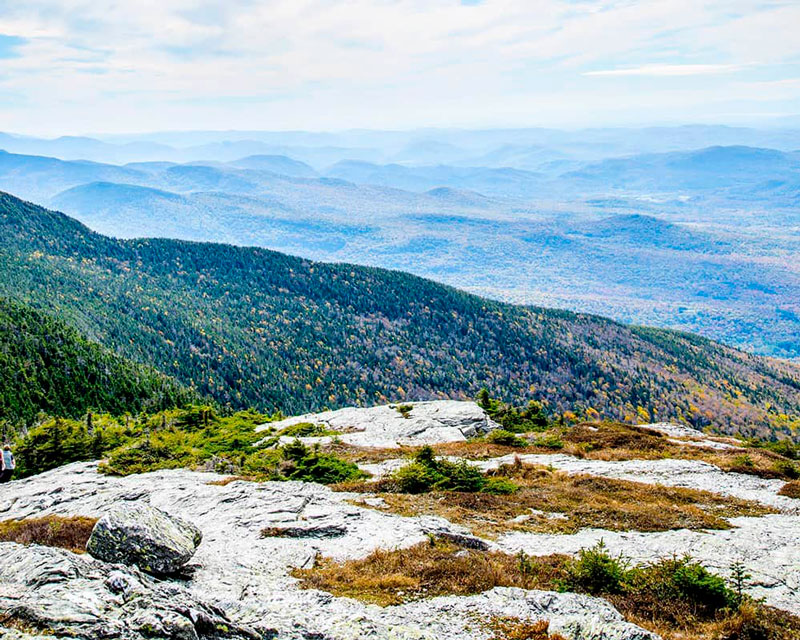 Because these mountains are covered in trees and other greenery, when you look out, it looks like one big blanket covering the Earth.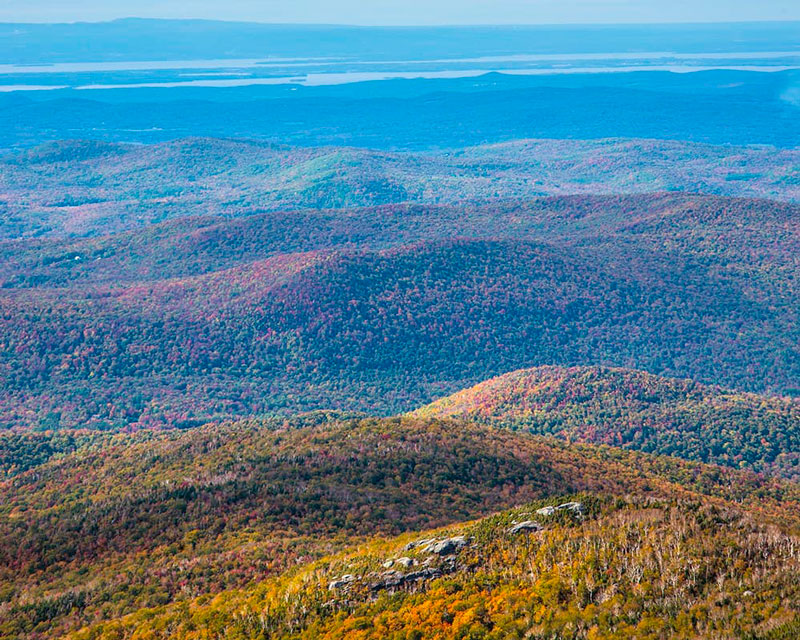 The hike down was unfortunately a little bit tricky as we didn't come prepared with proper footwear or the very popular set of walking sticks. My toes were being squished into the tip of my cheap boots, and my friend was sliding all over the place with his sailor type dock shoes. Protecting my camera equipment became a worry at times. But we made it.
Now let's circle around to when I mentioned that this trip shows how a trip that doesn't go as planned but turns out great. With our original trip in mind, I was most excited for shopping. I couldn't wait to see what expensive souvenirs I would be returning home with. By going up the mountain on this route however, we were really able to connect with nature again and the thoughts of materialism slipped away. And I think that is the point in being at a place like this, and I'm really thankful I got to truly be able to experience the nature that was around me. It made this trip a lot more memorable.
Related Posts
Hiking Mount Mansfield