8 Fairytale Towns In Europe You Have To Visit in 2023
There are so many beautiful fairytale towns in Europe that look like they come straight from a storybook! You have to see them to believe them, so get an idea of where to travel to in the list below.
In spite of what your parents may tell you, fairytales are real, especially when you visit some of the beautiful fairytale towns in Europe!
At least, towns and cities that look like they've been pulled right out of the pages of a fairytale book would make you think so!
Europe is dotted with beautiful, quaint, and cozy towns, but some really stand out from the crowd – whether on account of how well they've been preserved over the centuries, their natural beauty, or the activities they offer, these fairytale locations are worth visiting at least once in your lifetime.
Below, we'll take a look at some of Europe's most idyllic fairy-tale settings and what makes them so unique.
Fairytale Towns in Europe
Rothenburg, Germany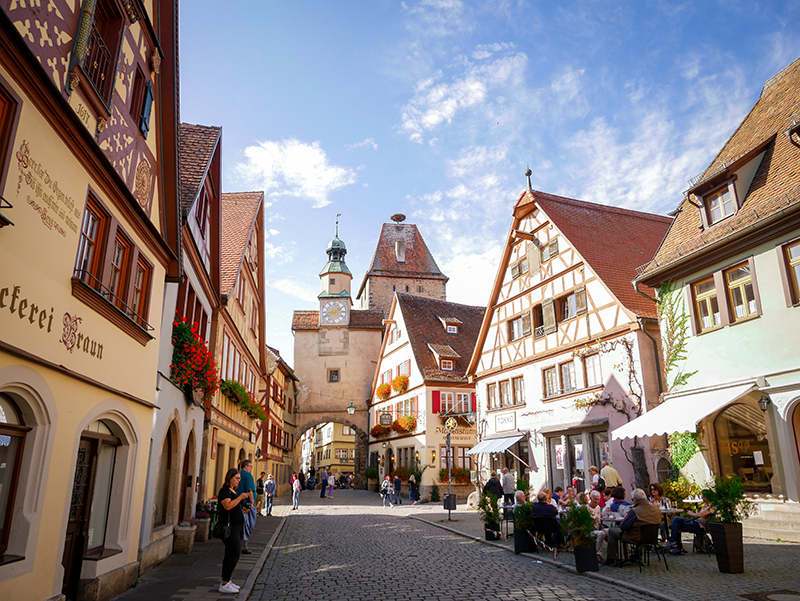 Rothenburg, officially known as Rothenburg ob der Tauber, is a beautiful medieval city – one of the most well-preserved in Germany – replete with colorful buildings connected by ancient, winding stone streets.
Visitors love to stroll through the city's Old Town and visit the picture-perfect Plönlein, a unique forked street that leads to two 13th-century gates. Take a walk through the open air of the old Marktplatz and pay a visit to the beautiful old Rathaus (townhouse).
Also, be sure to walk along the city's surrounding wall. This wall runs over 2 miles and connects the ancient town gate and 40 separate towers – you can easily imagine yourself as a medieval town guard and get the exact same view, hundreds of years later, that they would.
By the way, it is important to make sure you're going to Rothenburg ob der Tauber, as Germany has more than one Rothenburg!
Český Krumlov, Czech Republic
Český Krumlov is a very well-preserved medieval town nestled in the rolling green hills of the Czech Republic's Bohemia region. You can think of it as a smaller, less tourist-packed version of Prague.
With only around 15,000 residents and its tall castle tower, Český Krumlov dominates its surroundings and seems like the perfect place for the fairy-tales of your childhood to play out.
The center of the city is its castle, dating back to around 1240 and given its distinctive Renaissance flair during that era. One interesting feature of this castle is that bears fill the moat around it, "guarding" the castle – this tradition dates back to the Renaissance era, when the Rosenberg family lived here.
Take a stroll through the city's Old Town, lined with cobblestone streets and cute little stores. Also, feel free to take a guided tour of the castle – another of its highlights is its Baroque Theater, one of only two remaining in Europe.
Additionally, you can also easily rent a canoe and travel down the city's canals – this is a unique way to explore the city and something you can't necessarily (or easily) do in larger, canal-laden cities such as Amsterdam, so take advantage of the opportunity!
Hallstatt, Austria
Hallstatt has been described as one of the most "beautiful villages in the world," and it's no wonder why: this quaint city rests on the Hallstätter See (Lake Hallstatt), nestled between the tall peaks of Austria's Northern Limestone Alps and, with its cute, traditional buildings, it really does look like something out of a fairy tale.
The best view of Hallstatt is provided by approaching from the other side of the Hallstätter See, and frequent ferry trips that cost 3 euros make this possible.
Try the Central Square Marktplatz, which is dotted with handicraft stores and boutiques where you can easily find a beautiful souvenir or two. As you follow along the roads, some of them will turn into staircases, which you can climb to experience the vertical side of the village.
Hallstatt is a very small town with a population of around 780 people, but be warned – long gone are the days when this idyllic village was off the radar of tourists! Beautiful pictures of Hallstatt shared across the Internet have brought a lot of attention to it, and justifiably so.
Bibury, England
Bibury was called the "most beautiful city in England" by poet and novelist William Morris and, after a short visit, we think you'll agree.
Located in the Cotswold region of Gloucestershire, Bibury is mostly known for its adorable stone cottages topped with pitched roofs, especially those along the narrow, winding street of Arlington Row – possibly the most photographed street in England!
The city known as Bibury is actually made up of two hamlets – Bibury and Arlington. These are divided by the Coln River, a tributary of the Thames.
You'll find three bridges crossing over the river and connecting the two hamlets – the Row Bridge especially makes for great photo opportunities.
While here, be sure to pay a visit to St. Mary's Church, which dates all the way back to the era of the Saxons (pre-1066) and has been added to over the centuries.
Colmar, France
Situated in France's Grand-Est region, Colmar's half-timbered buildings and beautiful, plant-lined canals will quickly make you fall in love. Colmar supposedly served as the inspiration for the French village of Disney's Beauty and the Beast, making it a "true" fairy-tale town.
Colmar is a town you want to take your time in – stroll through on a sunny day and you'll be privy to colorful, pastel buildings, windows dressed with flower boxes, and dangling lamps.
You'll find cute little stores selling chocolate and wine – could we really call it a trip to France without some chocolate and wine? – along with antiques that'll make excellent souvenirs.
Besides walking, the other way to get around Colmar is via its canals – take a short boat-tour through the area of the city known as "Petit Venice" (Little Venice) for many choice photo opportunities.
Colmar straddles the line between French and Germanic Europe, so you'll see it as a unique mixture of these two cultures, not unlike the more well-known Strasbourg.
If you want a slice of authentic, romantic Alsace, Colmar is the place to go!
Giethoorn, Netherlands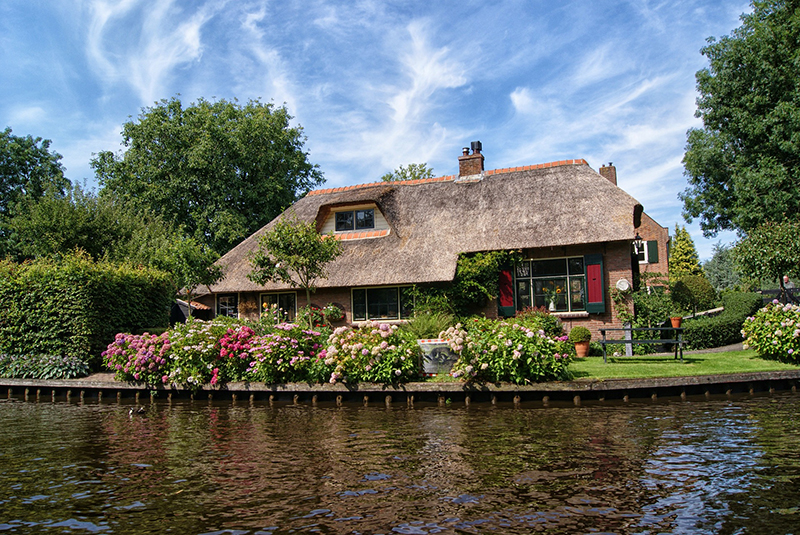 If you've ever wanted to experience the "real" Netherlands – or at least the Netherlands outside of Amsterdam – Giethoorn is a lovely village you'll want to look into.
Situated in Overijssel, about one and a half hours' drive by car or bus from Amsterdam, this city is known as the "Dutch Venice" for its many canals. Just like Venice, canals are the main way to get from one area of the town to another – some houses are not accessible besides via water, so even the mail carrier must travel by boat!
Unlike Venice, however, this city is not incredibly crowded or noisy.
This little village is replete with thatched-roof farmhouses, which really make it look like a snapshot, frozen in time from an era long past.
Explore the city on foot, or rent a bicycle or canoe to get around a bit more rapidly.
Cinque Terre, Italy
When you think of a beautiful, idyllic Italian coastal city, something like Cinque Terre will probably come to mind.
Cinque Terre means "five lands" in Italian and is so-called because it's made up of five separate villages. With colorful pastel buildings built on coastal outcroppings, the fact that Cinque Terre is a real place that exists really boggles the mind!
Just imagine some of Italy's finest seaside cuisine while you take in the view of the western Mediterranean stretching into the horizon, or walking up to an ancient castle which once oversaw the coastline, chill ocean breeze blowing on your face – in Cinque Terre, you can make this a reality!
Annecy, France
Annecy is located along the French Alps and sits by Lake Annecy, so the natural beauty surrounding this city is stunning.
Visit the old town to see pastel buildings dotted with flower boxes or visit a French bakery for a pastry or croissant.
The Pont des Amours (Lovers' Point) is an iron bridge that provides a great view of Lake Annecy – don't be discouraged by the name if you're alone!
From this bridge, you can make your way to the Jardins de L'Europe (Gardens of Europe), a huge wooded park with beautiful trees that makes an excellent place for a picnic.
The true dream would be to visit every one of these cities sometime, but even if you can only visit one or two of these fairytale towns in Europe, you'll get a lot of bang for your buck while you experience the culture, beauty, and homey feeling these towns have to offer.
Have you ever. explored any of these fairytale towns in Europe?
Related Posts
Where To Travel Alone: Best Countries To Travel Alone
Top 10 Things To Do In Copenhagen Denmark
Hidden Gems in Paris: The Best Secret Spots in France's Capital
Fairytale Towns in Europe