The 15 Best Countries To Travel Alone in 2023
When looking for where to travel alone for the first time, the options can feel overwhelming. Check out this list of the best countries to travel alone.
Solo travel is growing in popularity these days which is a beautiful thing to see. Deciding where to travel solo can be overwhelming since there are so many amazing options! This list will go over some of the best places to travel alone in Europe and around the world. These are great ideas for first time solo travel destinations.
These are also some of the best places to travel alone as a female, as they are known to be safe travel destinations overall. If you live relatively close to any of these places, they are also great to keep in mind for weekend getaways for one!
Travel Alone In Portugal
If you're looking for a sunny and colourful European destination to escape to, Portugal is a great option for the solo traveler. Take in the beautiful beaches and sunshine, then take a stroll through the cobblestone streets and perhaps find some beautiful tile artwork to bring home with you as a reminder of your visit.
Travel Alone In Iceland
Iceland is one of the safest countries in the world which makes it a perfect place to visit when you're getting used to traveling solo. Iceland is such a beautiful place to visit, with waterfalls, a black beach, volcanoes and stunning views in every direction. This is one place where you want to make sure you don't forget to bring a charged camera and plenty of memory card space. There isn't much traffic in Iceland either, so it's not too overwhelming to rent a car and do your own little road trip.
Travel Alone In England
England is a great choice for a new solo traveler. The country's main language is english which takes away the anxiety that you may feel with language barriers. The public transportation in London is also very easy to navigate so you won't have to rely on taxis or anything, even getting to and from the airport is handy. In London there are many free museums to enjoy on your trip if that's your thing, and there is so much rich history to learn about. England as a whole has so much to offer outside of London too. There are many quaint towns and villages to visit, and beautiful countryside landscapes.
Travel Alone In Switzerland
If you're looking for mountains and pristine lakes, Switzerland has them! Switzerland holds a great reputation for being a clean and safe country which is great for solo travelers. There is so much natural beauty to see on a trip to Switzerland. You can hike on the mountains, or glide above them if that's more your speed. You can also take train journeys through the mountains and get an up close and personal look at what most people will never be able to see. Switzerland is also a must visit bucket list destination for chocolate lovers.
Related: One Day in Zurich Switzerland Itinerary
Travel Alone In Canada
Of course I had to add my home country of Canada on this list! Canada is a very welcoming country to visit. Plus it's so massive that there is literally sooo much to see when you visit. If mountains are your thing, visiting British Columbia or Alberta would be perfect. If you're into city life and nightlife Toronto or Montreal might be for you. If you're looking for some great nature Nova Scotia is the place to be. May I suggest doing a road trip up the Cabot Trail during the fall?
Travel Alone In New Zealand
Another country abundant in natural beauty, New Zealand is a nature lovers dream to visit. Doing a road trip in New Zealand is a great way to see the country. Be sure to bring along hiking gear since you can get some spectacular views if you decide to do some hiking.
Travel Alone In The United States
The USA, like Canada, is very large so has a ton of things to offer! If you're wanting a beach vacation I'd suggest Hawaii, California or Florida. If you're wanting to explore some big cities, there are endless options but two places that come to mind are New York City and Chicago. Looking for a wild weekend? Las Vegas of course! If you're looking for nature you'll have to narrow your search. Forests? Dessert? Mountains? The USA has so much to offer the solo traveler!
Travel Alone In Denmark
Denmark is a very colourful country with a very long history. Denmark has many old historic buildings, but they're also known for their modern design. You can walk through the streets and absorb the history, then follow that with a visit to some of their more modern buildings like the Opera house. Find out some of the best things to do in Copenhagen here.
Travel Alone In The Netherlands
The Netherlands is a beautiful country to visit. Check out the unique architecture, stroll along the many canals, maybe even try your hand at a bike ride in Amsterdam! If you visit in the spring, be sure to visit some tulip farms! They also have events like the Dutch Tulip Festival and the Dutch Flower Parade.
Travel Alone In Ireland
Ireland is a great place to visit if your English is strong and you're nervous about the idea of traveling solo somewhere where you don't speak the language. It's a great place to get your feet wet. The locals are friendly, and there is so much available to see for people with all types of interest. Take in a pub crawl and experience authentic Irish pubs, especially on nights where live local music is offered. If nature is more your thing, the whole country is full of natural beauty. Check out some of the must see areas like Giant's Causeway or the Cliffs of Moher. If you're into architecture, Trinity's College has one of the most famous libraries in the world which is definitely worth visiting.
Travel Alone In France
When you think of France, I bet one of the first thoughts that come to mind is Paris, and for good reason. Paris is the city of love, and it is such a beautiful spot in the world. Have fun with some shopping, indulge in some pastries, and enjoy the old architecture. If you're planning on adventuring outside of the city, there is so much to see! You can explore wine country, take in some old castles, or head south and enjoy the warmth and beautiful beaches. You can easily spend a good amount of time in France.
Travel Alone In Austria
Austria is rich in culture and history. If you're a music fan, Vienna could be a wonderful place for you to visit as it is known as the City of Music. Take some time to explore the city, then take in an opera at the famous Opera House. Or if you're a fan of the Sound of Music, you can take a tour of some of the sights from the movie. If you're able to make it to Austria during the Christmas season, then be prepared to fawn over the adorable Christmas markets!
Travel Alone In Scotland
Scotland has something for everyone to enjoy! If you love historic architecture, it's got it. If you love nature, be sure to check out the Scottish Highlands. If you're a Harry Potter fan, be sure to check out the Jacobite Steam Engine! You can even book tickets for your own trip on the train route that is shown in the Harry Potter movies when the Hogwarts express is bringing all of the students back for another school year.
Travel Alone In Japan
Japan is known for being a very clean and safe place for travelers. The locals are also friendly which is a huge bonus when you're traveling solo. Chances are that you'll have some language barriers to work through especially if you come across something that you need to read if there is no english translation to help. If you're finding you're having a hard time, try out a language app like Google Translate to help you communicate!
Travel Alone In Australia
Australia is a fantastic place to visit solo. The trip is long for many of us, so try to make up for it by staying a while and really taking the time to explore the vast country. You can see some amazing animals like kangaroos and koalas, and maybe some less cuddly creatures (giant spiders anyone….?) Soak up the sun and salty air on your adventures and explore some famous sights like the Sydney Opera House (I realize this isn't the first time I've suggested visiting an opera house on this list, but man they do make them so dang beautiful!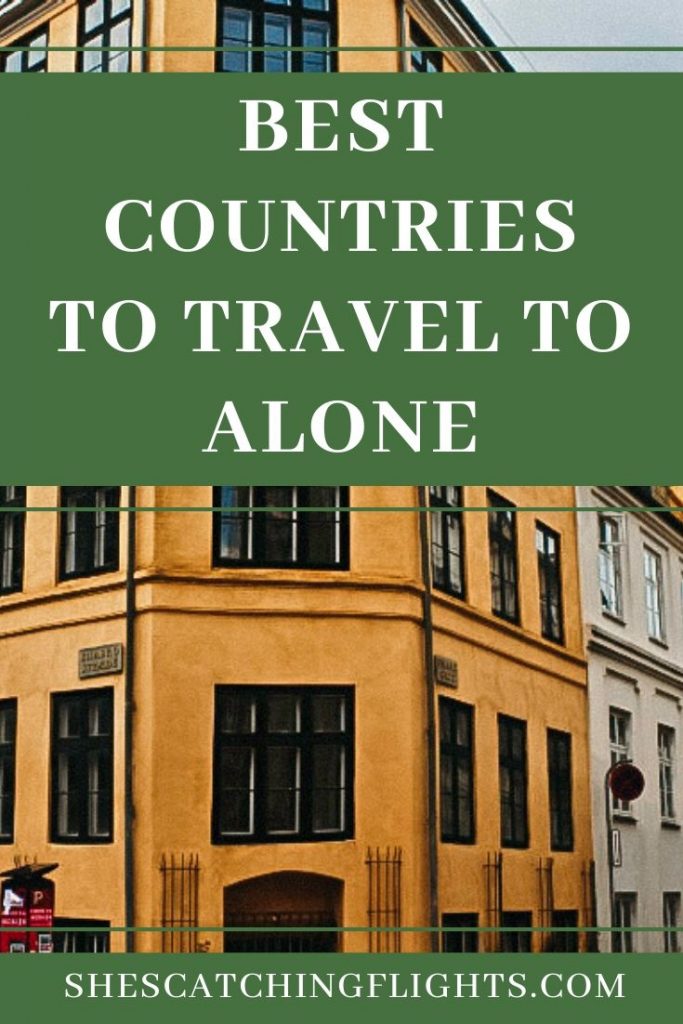 I hope you found this post on the best solo holiday destinations helpful in deciding where you should travel! These are some of the best places to travel for beginners, so decide which one excites you the most and let the travel planning begin!
Where are you hoping to travel first? Let me know in the comments below!
Related Posts
Top 10 Places In New York City
Weekend In Copenhagen Itinerary
How Solo Travel Changes You for the Better
Fairytale Towns In Europe You Have To Visit
Where To Travel Alone: Best Countries To Travel Alone