Day Trip To Bay Of Fundy Nova Scotia from Halifax: What to Expect
Interested in visiting the Bay of Fundy Nova Scotia? Find out what to expect below!
Disclaimer: Below may contain affiliate links, where I make a small commission. I only recommend products that I use and love at no cost to you.
I recently had a friend fly out to Halifax for a week to visit me, and we made sure to get in as much sightseeing as possible in that time, and we knew for sure that we wanted to see the Bay of Fundy Nova Scotia (there are some areas to see the Bay of Fundy in New Brunswick, but we'll have to save that for another time).
She came for a visit last summer, so then we saw some of the biggest 'tourist attractions' like Peggy's Cove, so this time we wanted to check out some other places, some of them not heard of as much, the Bay of Fundy being one of them. I have to say that as a travel blogger in Halifax, I'm a bit surprised at myself for not visiting here sooner!
Check out some recommended TOURS HERE
I was actually surprised by how many people had never heard of the Bay of Fundy when I told them that was on the agenda for her visit! I had always heard of it, I knew what it was, but I had never actually gone to see it in person, so I was also excited to get the chance to see something new.
The drive to the park where we decided to see the Bay of Fundy was about an hour away. There are different places that you can go to see it, but some of them are quite a bit farther. One of the coolest locations actually looks like it's in New Brunswick. That place will still be on my bucket list, but probably for a full weekend trip. The park we visited is called Burntcoat Head Park.
After doing some research, we settled on going to Burntcoat Head Park because it looked like the coolest Bay of Fundy location that would be a relatively short drive away, and we definitely weren't disappointed!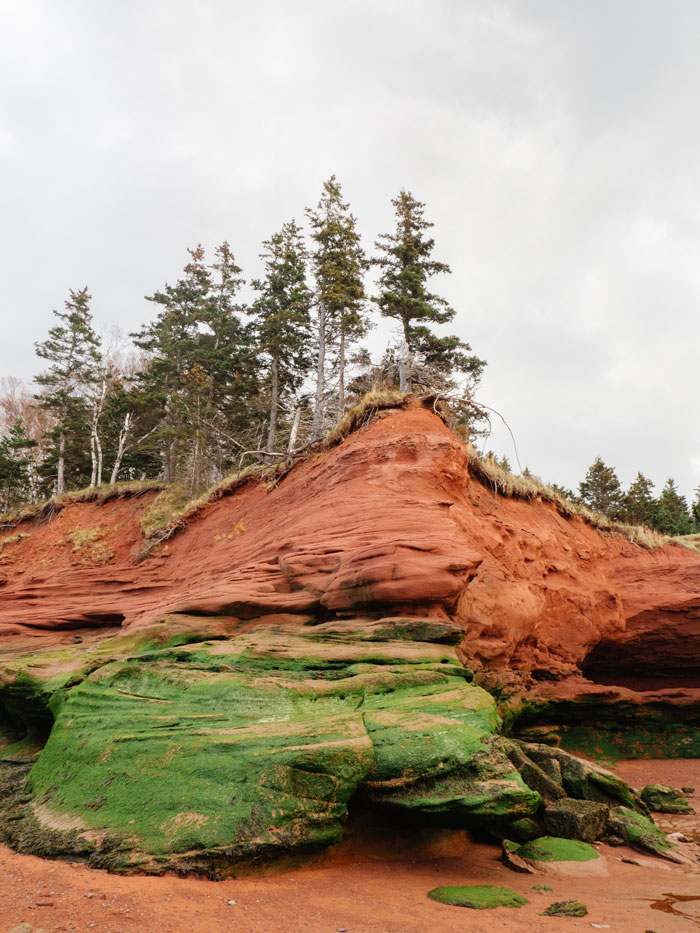 This park has a really cool lookout lighthouse that you can climb to the top of to look out over the bay from above, and there is also an on-ground lookout where you can look out at the view, however it's more obstructed by wild plants. Don't get me wrong, it's still beautiful and worth spending some time looking out at, but it's just not going to be your best view of the ocean floor.
Then if you keep walking, you'll come to some stairs where you can actually walk down and walk along on the ocean floor! This is a really neat experience, and if you look down at your feet while walking, it looks a bit like you could be walking on Mars!
Fun fact: The Bay of Fundy tides are the highest tides in the world!
Things To Keep In Mind When Going To The Bay Of Fundy
When you're going to the Bay of Fundy, there are some things you should be sure to keep in mind. First of all, the park itself opens at 10am. We arrived at 10:30 and figured that we would have plenty of time to explore the ocean floor, BUT the tide was coming in shortly after, so we had to leave the floor by 11am, which only left us half an hour to really explore the area, and we definitely could have spent more time there. So you really want to make sure you try to find out the tide times to see when it's going to start coming in. When you get to the park they have a sign there that lets you know the tide time and when to come in on that specific day.
There are also signs around telling you to not step in the tide pools. A tide pool is basically a little puddle. Basically, little creatures could be living in them, and you don't want to hurt them.
Then there are also signs letting you know to be cautious of little holes in the ground. They aren't there by accident, they are actually little burrows that clams make, so you want to avoid those too so you don't end up hurting them.
Another pretty important thing to keep in mind when you're going to the Bay of Fundy is to bring shoes that you aren't super attached to because they will get dirty on some level, depending how careful you are as you're walking around on the ocean floor.
I brought my trusty Adidas shoes since they're falling apart (literally the stuffing is coming out of them. I don't even know how that happened)! It turns out I didn't have to say goodbye to them on that day though, because they actually have a shoe washing station with little brushes that you would use to scrub dishes that you can use to scrub the mud off of your shoes. That's definitely a good idea. Even though you can clean the shoes, it's best to bring a pair that would be easy to scrub off, so just keep that in mind.
Is It Worth Going To The Bay Of Fundy?
Definitely! It's such a cool experience to walk on the ocean floor, and to look up above you knowing that in a few hours the area will be covered in water again. It's also neat to see things like the seaweed and other signs of nautical life. If you're into nature, then this is a very worthy experience to have.
I don't feel like it required more than an hour or two however, at least not at Burntcoat Head, so you could plan it as just a half day thing once you include the time of the drive to and from the city again.
Related Posts
Visiting Peggy's Cove Lighthouse Halifax, Nova Scotia
Halifax Public Gardens In Nova Scotia
Crystal Crescent Beach Halifax, Nova Scotia
Bay Of Fundy Nova Scotia Day Trip From Halifax