Chester Carry On Luggage Review
Interested in getting a new carry on but not sure which direction to go in? Keep reading to learn why the Chester Carry On Spinner Suitcase is a great option!
This post may contain affiliate links, which means I may receive a commission, at no extra cost to you, if you make a purchase through a link. Please see my full disclosure for further information.
I was recently thinking about getting a new carry on suitcase as I prepare to amp up my travels next year. The day after I decided I would look into it, the company Chester reached out to me to see if I would be interested in checking out one of their carry ons! What perfect timing!
Of course I said yes, and now I've been testing it out for the past few weeks. I recently moved into my own place, and have been doing weekend trips to my mom's house for visits so it was the perfect way to try out this Chester carry on! I even brought the suitcase to my mom's empty once just to see how much I could fit into it to bring home. I'll get more into that experience a bit farther down in this post.
I always prefer to travel carry on only which has been easy with weekend trips to my mom's place. There is more than enough room to fit all of the clothing, makeup, hair products etc. that I want to bring with me. There's no padding inside, leaving the suitcase to be like a shell, which leaves more than enough room to stuff in whatever you may need. The shell itself feels very sturdy and strong, but without making the suitcase heavy which is perfect when you don't want to go over your weight allowance when you're flying.
This suitcase can also handle heavy loads if you need it for that as well. On one of my visits, I actually brought the suitcase with me to my mom's empty and filled it up with books that I wanted to bring home with me. There's no way I would have been able to bring all of that home with me in one trip without the suitcase, it made it so easy! Even with all of that weight inside, the wheels still moved with ease.
I've had a few hard shell suitcases before, but I have to honestly say that this has been my favourite to date. It's so easy to walk with, it has 4 wheels that all move smoothly, the suitcase feels very lightweight, and it feels strong. I haven't experienced any issues with it. I actually ended up getting it a few days after my mom returned home from a trip to Denmark, and she mentioned that she wishes I had gotten it before her trip so she could have used it!
When I got it delivered, it came in a box, and within the box it was wrapped up with a protective dust cover which I loved. I actually plan to store it in there when I'm not using it to help keep it in good shape.
What Does The Chester Carry On Come With?
The suitcase has 4 wheels that move easily in all directions, including on uneven surfaces like stone walkways. It's lightweight and comes in a variety of colours.
There is a built in TSA lock that is easy to set with your own password (I love this feature)! In fact, hours before my mom's trip to Denmark, she lost her lock and we had to buy another one last minute, an issue that would have been avoided if she had been using this suitcase!
The zippers to get into the suitcase are so smooth, which is something that I find so important, but it's usually something that is overlooked (until your zipper snags… no worries with that here)!
It also comes with a super handy bag that could be used to store some dirty laundry, shoes, or other items that you might want to keep separate in your luggage.
This carry on even comes with zipped enclosure on both sides of the suitcase. Every single suitcase I've ever owned has either only had one side that could be zipped off from the other half of the suitcase, or only had straps to hold things in place.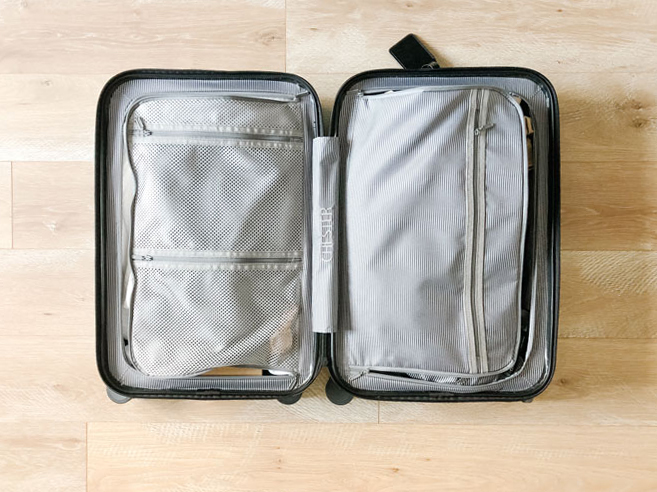 This suitcase offers a zipped enclosure to both sides which is fantastic if you're into keeping different parts of your suitcase separated like me. I love having bathroom products on one side, and clothing on the other side. This way you don't have to worry about products leaking. Even if they're in a zip bag, sometimes the bag can leak, so this offers a lot of security to make sure my clothing won't end up covered in shampoo.
Then of course, it comes with a luggage tag and the productive dust cover. Even if you decide not to use it, it's nice that it comes packaged in it to protect it while it's on its way to you.
Is The Chester Suitcase Worth It?
I definitely think so! It's good quality and everything you could ask for in a carry on suitcase. You can buy it directly from their site here, or you can check them out on Amazon here.
Thanks so much to Chester for sending me this suitcase to try out. As always, all opinions are my own.
Related Posts
The Ultimate List of Must Have Travel Items
How To Travel Alone For The First Time: Tips For Solo Female Travelers
Chester Carry On Luggage Review