13 Things to Do Alone in Portland, Oregon
If you're looking for things to do alone in Portland, Oregon, you've come to the right place. Whether you're a local or just visiting, there's plenty to keep you entertained in this vibrant city.
From exploring its parks and gardens to checking out its trendy restaurants and bars, Portland has something for everyone. So why not explore it on your own terms? Here are 13 ideas to get you started.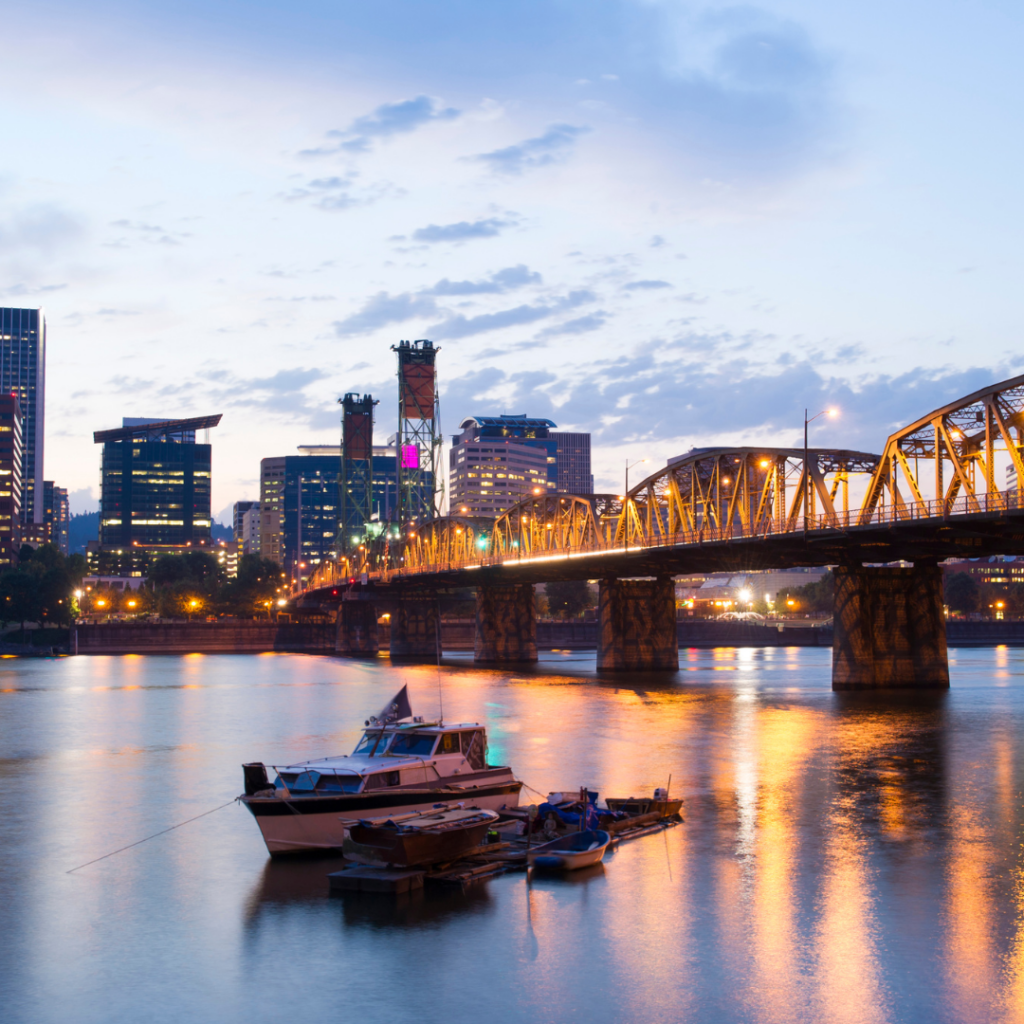 Is Portland Good for Solo Travel?
Portland, Oregon is a good place for solo travel, as there is plenty to do that can be done when alone.
In fact, most activities in the city are great for people in groups or those are are solo!
Although there can be a stereotype about Portland being unsafe, there are many solo travelers who visit the city and feel safe.
Any large city that you visit is bound to have some areas that feel a bit sketchy and you may want to avoid. So that isn't just the case for Portland.
It's impossible to tell you that you'll feel safe in the city, but if you're always aware of your surroundings, avoid going out alone after dark, and stick to popular destinations (such as those on this list), you'll better your chances of feeling safe.
The Best Time to Travel to Portland
Portland is a great year-round destination, but there's definitely a better time to plan a visit, to fully enjoy your time.
The rainy season typically starts in October or November and lasts until April or May. Although it can definitely still rain well into the summer, because the Pacific Northwest is just a pretty rainy area.
The summer months, from June through September, are the best times to visit Portland, as it's usually warm and sunny.
During this time, it'll be less rainy and you can expect most things to be open and ready to be explored.
13 Things to Do Alone in Portland
Visit the Stunning Multnomah Falls
Being so close to the Columbia River Gorge, it would be tough not to include the picturesque Multnomah Falls in this list of things to do in Portland alone.
This 620-foot waterfall reigns in as the tallest waterfall in Oregon and acts as the backdrop for many photo shoots for visitors to the state.
You can choose to view the waterfall from the main viewpoint or take the hike up to Benson Bridge and beyond to the top of the falls, which is a 2.6-mile roundtrip hike.
Even if you're solo, a trip to Multnomah Falls will give you just a taste of the natural beauty that the Pacific Northwest has to offer.
Plus, the gorge is home to some of the best hikes in both the states of Washington and Oregon, year-round.
See the Cherry Blossoms at Tom McCall Waterfront Park
One of the best times to visit Portland is in the springtime because you'll get to see nearly every street lined with beautiful, pink cherry blossoms.
Down near the Willamette River, Tom McCall Waterfront Park is one of the best places to see the cherry blossoms when they're in season.
The best trees are typically near the bridge that crosses the river, nearest to the Japanese American Historical Plaza.
Although these flowers are only in blossom during the spring, it's a highly popular time to visit Portland, and the blossoms make it so worth the visit!
Visit Powell's City of Books
If you're a book lover and are visiting Portland, then you definitely can't leave without making a stop at Powell's City of Books.
This bookshop is the largest in the world, taking up an entire city block in the downtown area of the city.
Solo travelers will find that Powell's is one of the perfect places to visit, as you're able to wander through the rows of books, sit in the coffee shop and read, or find a novel to read in the store.
This isn't just a tourist trap, it's also just a great place to find a good book, whether that be new or used!
Shop at the House of Vintage
Thrift shopping is a popular way to get used, good quality clothing for a low price, and Portland has plenty of shops around town to check out.
Among the most popular is the House of Vintage; a giant vintage shop that features a huge variety of items from the 1920s to the 2000s.
If there's something vintage that you're on the hunt for, there's a pretty great chance that you'll find it at the House of Vintage.
See the Portland Weird Sign
Portland has an unofficial motto that states to 'keep Portland weird,' which shows you that you're bound to see some pretty unique things in the city!
In the city, you'll see signs everywhere that have this motto on them, but there's only one original sign.
The original 'Keep Portland Weird' sign is located behind Dante's Nightclub in Old Town.
This iconic sign is certainly worth a visit during your trip to Portland, and can be done in just a few minutes!
Add it to your exploration of the downtown and Old Town areas, and while you're in the area, make a stop at Voodoo Doughnuts, which is just across the street!
Visit the Portland Art Museum
Museums are a nice way to get to know the culture and history of an area, and the Portland Art Museum is just that for a visit to this large city.
It's the oldest art museum in the entire Pacific Northwest and features a variety of art that honor the Indigenous people of the region.
Visiting the museum and educating yourself and learning about the Native people who lived in the area around the Columbia River and Portland.
Hike at Washington Park
If you're wanting to immerse yourself in a little nature while in Portland but don't want to go too far from the city, consider visiting Washington Park.
This area is located just minutes from Portland and allows visitors to embrace the nature within the city.
Surrounded by forest land, you can enjoy a few different attractions such as the Portland Japanese Gardens and the Hoyt Arboretum.
Both of these areas are great for walking around and enjoying the outdoors, specifically the arboretum, which has 12 miles of hiking trails.
Take a Day Trip to Mount Hood
On the other hand, if you want to get into nature and are willing to drive for a bit, take a day trip to Oregon's tallest mountain, Mount Hood.
Located just about 1.5 hours from the city, Mount Hood towers above the skyline at 11,249 feet above sea level.
There are so many hikes around the area that showcase the beauty of the PNW, so you'll want to remember your hiking boots.
One of the best hikes to embark on is the McNeil Point Trail, which gives some of the best views of the mountain, and allows you to really get into nature.
There are shorter ones nearby if you're looking for something a bit less strenuous when you're solo, such as the Trillium Lake Loop.
Try a Delicious Slice of Pizza
One of the best parts about traveling somewhere new is trying out whatever food they're known for, so it's no different for Portland!
Portland is known for a few foods (donuts being one of them!), but pizza is one of the top items on the list.
So while you're in the city, make a stop at one (or a few!) of the pizza shops and decide for yourself whether you think it's deserving of that title!
Some of the best pizza places include Ranch PDX, Life of Pie Pizza, Sizzle Pie, and Apizza Scholls.
Visit the Portland Saturday Market
The Portland Saturday Market is known as the world's largest open-air arts and crafts market in the country that is still continuously operating.
The market has been open since 1974 and is located in Portland's historic Old Town near Tom McCall Waterfront Park.
It's open on Saturdays from March through December and you'll be able to find a variety of items that are made by local artists and vendors.
From artwork to handmade jewelry and delicious homemade foods, there's a large variety of things to see as you wander through the market.
Grab Lunch at a Food Truck
Portland has a huge food scene, so it's no surprise that there are a variety of 'food truck villages' around the city.
Street food is some of the best food around, so make a visit to some of Portland's food trucks and try a huge variety of cuisines.
A few locations where you can find food trucks include at Portland State University, downtown on Fifth Street, and at Pioneer Courthouse Square.
You'll find everything from Thai food to burgers to breakfast sandwiches to ice cream at these mobile restaurants.
See the Portland Rose Garden
Located within Washington Park is the Portland International Rose Test Garden, which is home to over 10,000 roses that bloom between May and October.
It is the oldest continuously operating rose test garden in the country, and the public is able to visit and see the beautiful flowers.
Portland actually has been nicknamed "The City of Roses," so it's only right that you make a visit to the garden during your Oregon trip.
Spend some time walking through the garden, photographing the roses, and taking in the sights and smells.
There is a fantastic view of Mount Hood from the garden, as well as downtown Portland.
Find Some of the Best Murals
Another fun thing to do in large cities is to find the murals that have been painted on the sides of buildings.
If you're a fan of street art or just art in general, then this is a nice free way to see some art from local artists.
The most popular mural is, of course, the 'Keep Portland Weird' sign, which is located behind Dante's Nightclub.
There are many other murals around town such as a rhino painting, located at 1300 SE Morrison Street, and a large blue elephant at 2314 NE Alberta Street.
Even just a drive around the city will expose you to some of the best local artists around!
FAQs: Portland, Oregon Solo Travel
Is Portland, Oregon Safe for Solo Female Travelers?
It's tough to give a full answer as to whether or not any city is safe for solo female travelers.
But if we're looking at Portland, we can say that yes, certain areas of Portland are safe for solo females.
There are areas in the city that solo travelers, in general, should avoid, but so does any other city.
The places on this list are located in generally safe areas, and many solo travelers feel safe in them.
How Do You Get Around Portland?
There are a few ways to get around Portland, including rental cars, biking, and public transportation.
The city is known to be one of the most bike-friendly, so renting a bike or using a bike-share program is a good, cheap way to get around.
Public transportation is also a great option, with the TriMet bus and the MAX Light Rail systems.
Can You Explore Portland Without a Car?
Yes, Portland can absolutely be explored without a car.
It's a very bike-friendly city, so you can either rent a bike or use a bike-share program, which both make getting around the city pretty easy.
Also as mentioned above, you could use public transportation.
Wrap-Up: Solo Travel in Portland, Oregon
There are so many fantastic activities in the large city of Portland, Oregon, and it's even a great place for solo travelers.
From wandering around downtown to eating at the food truck courts to getting into nature, there are plenty of things to do alone in Portland.
---
Author Bio:
Kassidy is an avid hiker and weekend adventurer who loves exploring her home state of Minnesota and her favorite place in the country, the Pacific Northwest. She loves sharing her adventures and tips on her blog, The Hiking Helper.