Carnival Cruise Tips: What You Need To Know Before You Book Your Trip
If you're looking for Carnival cruise tips for your upcoming cruise, then keep reading!
Cruising can be a great way to see the world, and are an especially great way to escape the cold weather if you decide on a southern based cruise itinerary.
Since we've been getting the first hint of winter recently, it can be depressing to think that this is just the beginning. To escape the thoughts of the cold wind outside, I've been reminiscing over the memories of my cruise with Carnival.
A few years ago I worked with Carnival Cruise Line and got to experience sailing on their ship the Carnival Splendor. I had the best time with them and you can learn more about the experience by clicking here.
Since I had never cruised before, I spent a lot of time doing some research online to learn from other people's experiences. So now that I have the experience, I want to share what I've learned with you!
Related: Can You Travel Solo on a Cruise? Yep! Here's How.
This post is mostly based from my own experience cruising with Carnival, however, these would work for most cruises and cruise lines. So if you're interested in Royal Caribbean cruise tips, cruising with Norwegian Cruise Lines, MSC, Celebrity Cruise Line, Princess Cruise Line etc. these can apply to you too!
So let's dive into these Carnival cruise tips!
Check Out The Cruise Ship Webcams
Want to keep up with where the different ships are at? Carnival Cruise Line has a really neat feature where you can check out the webcams from different ships. Just say you wanted to check out the Carnival Vista and see what the passengers are seeing, just head over to this link and you can see where all of the different ships are on the map and choose the one you're interested in checking out, and you can have access to their webcam! This is a lot of fun if you're researching where you'd like to go or what ship you'd like to experience.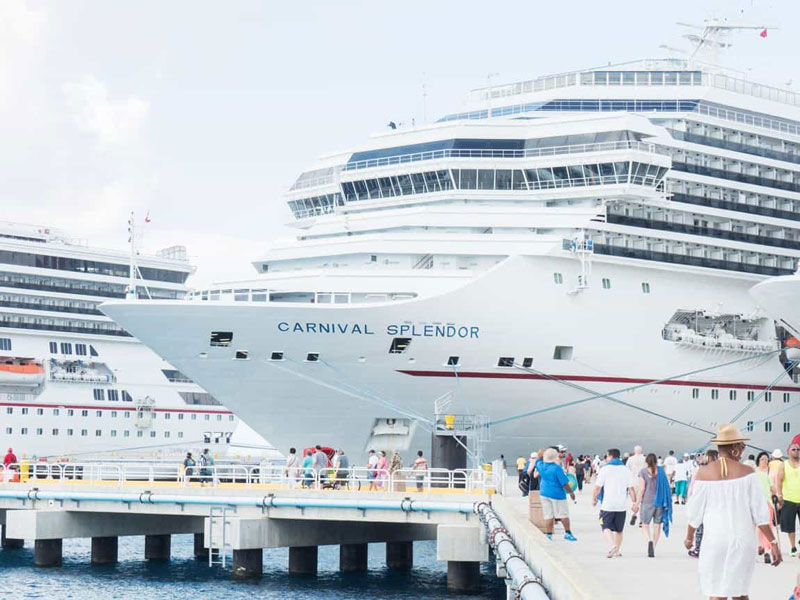 Know Which Staterooms To Avoid When Booking Your Cruise
People book cruises for all sorts of reasons. It could be a romantic trip, a friends trip, a family trip with kids etc. Different trips come with different noise and activity expectations, but I feel like most people look forward to spending some time being able to just relax in their stateroom between activities. This is why it can be so important to know what to look out for when you're choosing your stateroom during the booking process.

Before booking, know what ship you're booking on and do a quick Google search of tips for that specific ship. Example, you could type in Carnival Breeze rooms to avoid. People generally write about their bad experiences, so this can be very helpful for you to keep in mind.

As a general rule when picking your cruise ship cabin, check the floor plan of the different levels and stay away from the areas that have loud events like a casino, theatre, club etc. Also try to avoid areas too close to the elevators if you want to have a more quiet experience, especially as you sleep.
Make Sure You Pack Everything You Think You'll Need
When you're cruising, it can be hard to get something that you have forgotten. Or if you can get it, it's likely going to be much more expensive to buy because you can only get it on the ship. They know that they can charge higher because they're your only shopping option once they've left port.
Some items that might be overlooked while packing are your toothbrush, toothpaste, shampoo, conditioner, sunscreen, beauty products, contacts, etc. I have a whole post that you can check out which has a cruise packing list. Check it out if you want to make sure you're covering all your bases when it comes to what to pack for a cruise.

I hope you found these cruise hacks helpful! Have you ever been on a cruise before? What would you share as your favourite cruise tips and tricks?

Related Posts
Why Seeing The World On A Cruise Is A Good Idea
Sailing On The Carnival Splendor
Carnival Cruise Tips