The 10 Best Things to Do in Tirana, Albania
Albania is still an overlooked country on the travel scene.
But, it won't be for much longer with beautiful mountains in Theth National Park in the north, jaw-dropping beaches in the south, and vibrant culture in the center in Tirana, Albania.
Tirana is a city that is an up-and-comer on the travel scene. Labeled the Youth Capital for 2022, the city has a buzz you feel as soon as you step off the plane.
But, it's only going to stay hidden for so long. And more people are discovering this beautiful country every day.
So, let's cover a few things about Tirana before diving into the top things to do.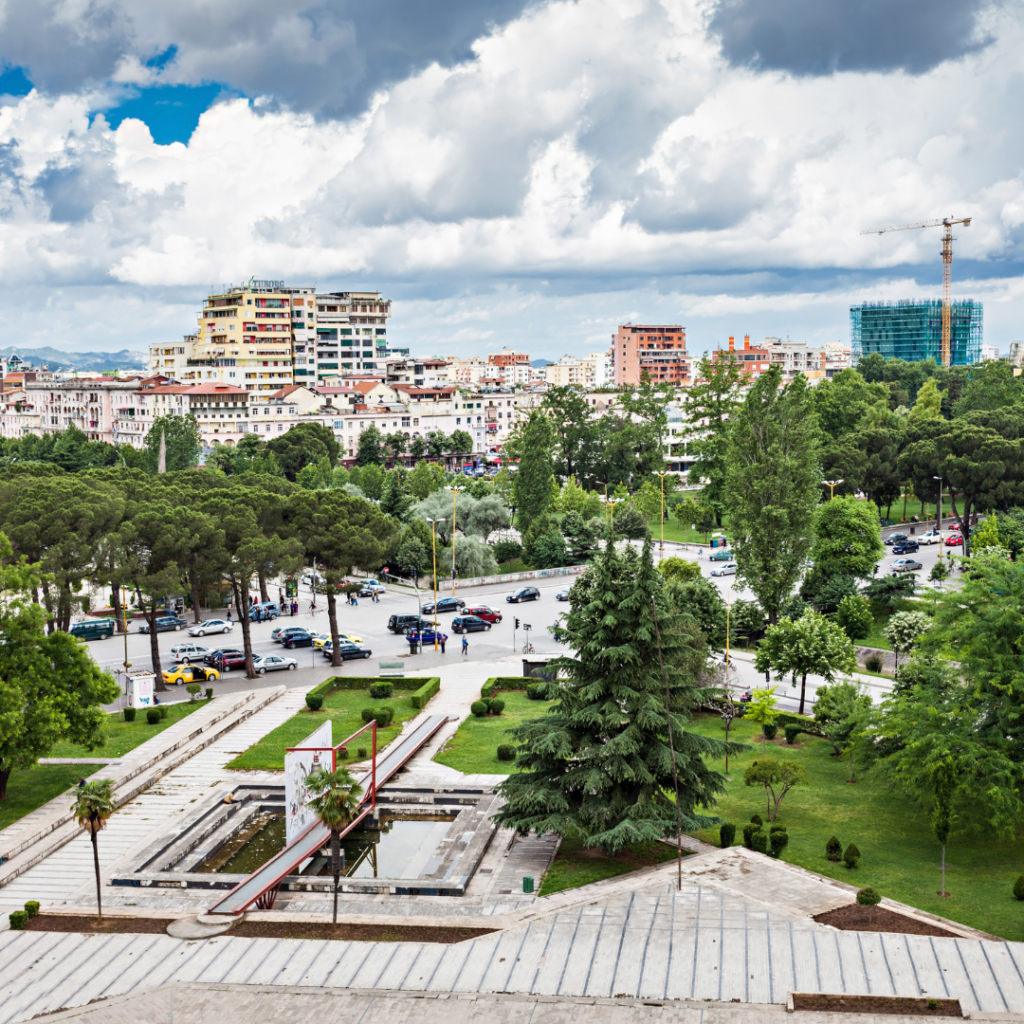 What is Tirana, Albania, known for?
Tirana is the beating heart of Albania.
Besides being the capital, it's the country's central economic, social, and cultural hub. It's not known for one thing but for being a combination of all parts of Albania.
If you're visiting Albania, you can't miss Tirana (literally, it's the main airport in the country).
Is Tirana expensive?
Not at all. You can eat, sleep, and live very cheaply in Albania.
For example, a standard meal costs less than $8, and it's not uncommon to see cheaper meals! So, if you're on a budget, Tirana is a perfect destination for you.
So, now that we've covered the basics, let's check out the top things to do in Tirana, Albania.
10 Things to Do in Tirana
The city may be small, but that doesn't mean it skimps on things to do. From culture to fun to activities, Tirana has something for everyone.
So, beginning with a bit of history and culture, let's check out the top things to do in Albania and Tirana.
Visit the National History Museum
The National History Museum is perfect if you want to dive into everything that Albania was, is, and will ever be.
Beginning in the middle ages, through the Ottoman Empire, and past the Enver Hoxha communist regime.
It's perfect for a look into how Albania became what it is.
And, it's not very expensive, so it's perfect for a quick afternoon trip. Given the proximity to other attractions, this is an ideal place to visit before heading to another landmark. Since it's so close to Skanderberg Square, the House of Leaves, Pyramid of Tirana, and Et'hem Bey Mosque are all close.
This is one of the top can't-miss destinations in Tirana.
People-watch in Skanderbeg Square
Speaking of Skanderbeg Square, it's a great place to sit and watch Albanian life go by.
Once the sun sets, Albanian families gather in the square to talk, relax, and let children chase each other on bicycles.
The square is large, and there are seats around the outside. But, get here early because they fill up fast. Plus, small restaurants and food stalls are located around the square to snag some food if you get hungry.
Nothing beats grabbing some qofte and grabbing a seat in the most popular area in Tirana.
A must-visit if you're visiting Albania.
View Tirana's dark past at the House of Leaves
The House of Leaves is a humbling experience.
Honestly, it demonstrates the power communist leader Enver Hoxha possessed during his reign until the fall of communism.
The museum displays devices used for spying, from cameras to minor bugs to entire suits. And, you hear real stories from family members affected by the government. The instruments used, the stories, and the feel of the building showcase how dark the times were.
Don't miss this if you're visiting Tirana.
Check out the Pyramid of Tirana
The Pyramid of Tirana doesn't look like much at first glance, but it's had many uses.
This structure has a fascinating history. It began as a museum, changed to a conference center, and changed again into a NATO base. Now, it's being transformed into a center for IT and robotics.
If you're visiting soon, this structure may be under construction. But it's still a fascinating place to check out while passing by.
And, it's right in the center of the city.
Wander the hiking trails of the Grand Park
You may not realize it, but there is a large park right in the center of Tirana.
And, if you enjoy the outdoors, it's the perfect place to escape for a little while. The trails wind their way through and around the trees, eventually popping onto stone sidewalks. So, you'll have plenty of time to explore and enjoy nature in the city.
Plus, it surrounds an artificial lake so that you can enjoy a picnic by the water with the locals. Throughout the day, you'll see locals jogging next to the lake.
And you can quickly join them! A track runs around the entire perimeter of the lake, offering you (and others) a perfect opportunity to exercise.
And there are more than a few restaurants in the park to enjoy a nice evening meal surrounded by nature.
Visit Et'hem Bey Mosque
This mosque is a centerpiece in Tirana.
And, with its majority Muslim population, a sacred building that exists among all the others. Construction began in 1791 or 1794 (they're unsure which year) and didn't until the 1820s. After enduring oppression during communist rule, the mosque eventually reopened in grand fashion.
You can hear the prayer call out at night as it rings across Skanderbeg Square. Due to its location, the sound stretches far across the city and can be heard far away.
Not to mention, it's right next to the famous clock tower of Tirana, so you can visit both in one quick stop in the itinerary.
Take a cable car to Mount Dajti
Mount Dajti is excellent for a quick day trip or a trip for families.
Plus, the cable car ride is fun, no matter your age. Beginning on the outskirts of Tirana, the cable car takes you up to Mount Dajti in the Skanderbeg mountain range, where you can play mini-golf, grab food, visit a small zoo and bee farm, and more.
The trip is cheap, only takes around 15 minutes, and is perfect if you're looking for some fun things to do in Tirana, Albania.
Plus, you can find some hiking trails beyond the park itself. You just have to do some hunting.
But, be sure to be safe as there is some dangerous wildlife in the area.
Flashback to the communist era at the two Bunk'Arts
One Bunk'Art is easily accessible near Skanderbeg Square, and the other you'll want to visit when you visit Mount Dajti.
Whichever order you visit them doesn't matter, but make sure you visit. These museums are former bunkers that have been repurposed as communist-era museums.
Showing the lives, news, and history surrounding the time, you get a glimpse into the capital city's past. Be prepared to spend some time here. The museums are detailed and take quite some time to get through.
So, you should have an afternoon blocked off if you plan on visiting.
If you're into sightseeing and history, a tour of the Bunk'Art museums is for you.
Grab dinner in Blloku
Blloku is the "happening" area of Tirana.
You'll find bars, restaurants, and anything else you're looking for. And it's perfect for spending an afternoon or evening.
It doesn't hurt that some of the top restaurants are in the area. Whether you're looking for local or international cuisine, Blloku is the area to find it. Plus, you'll find many of Tirana's youth wandering the streets in the area.
If you're looking for nightlife, Blloku is your area.
Check out the markets near Skanderbeg Square
Almost every night, there's a different market set up near Skanderbeg Square.
Vendors set up their stalls and sell everything from jewelry to t-shirts to small trinkets. Or, you can grab some food nearby and simply enjoy the environment.
You'll see Albanians out in their best attire, roaming the streets with family and friends, and generally enjoying the vibe of a beautiful evening. It's one of the best environments in the entire city.
If you're unsure where to find the market, just head to Skanderbeg and follow the crowds.
Wrapping up
If you're visiting Albania, Tirana's things-to-do list can't be skipped.
Offering a view of every aspect of the country, Tirana is one of the best cities to see in Albania. And it continues to get better with time.
But, you shouldn't waste any time. More people learn about the country every day.
So, you should book your trip to Albania before it's too late!