How to Take Selfies When Traveling Alone
If you're wondering how to take selfies when traveling alone, this post will give you some helpful tips.
Wondering how to take selfies when traveling alone?
It's a solo traveler's dilemma: How do you take pictures of yourself when you're traveling alone? It seems like such an easy task, but it can be difficult to get the perfect solo shot.
How many times have you tried to snap a selfie with your arm outstretched and found that your fingertips are just too far away from your face? If this sounds familiar, we've put together some tips for taking pictures of yourself while travelling by yourself.
This post may contain affiliate links, which means I may receive a commission, at no extra cost to you, if you make a purchase through a link. Please see my full disclosure for further information.
Tripods
When traveling alone, a tripod is your best friend when wanting to take pictures with yourself in them for your travel memories.  They are also great for taking group pictures and self-portraits.
A tripod can take a picture of you from a distance, so it's easier to get your whole body in the frame without having to awkwardly reach behind with one arm or stand on tiptoes to see over the top of the camera. You'll be able to set the timer on your camera, so you run back into the frame while it takes the photo.
There are a lot of different types of tripods available that work for solo travellers.  You'll need to think about how much weight they will hold or what kind of surface they're meant to stand on before buying one. A table tripod is perfect for a solo traveller, because of its lightweight construction and versatility.
You can also grab a lightweight tripod that can work really well for your travel selfies, as well as keeping your travel photos still and straight.
Help from Strangers
Sometimes you can get passersby to take a few photos of you while traveling. Just be careful not to leave your camera unattended with strangers, as you never know who might grab it and run.
If someone seems trustworthy enough then ask them if they would take a photo of you. Usually, a good rule of thumb is asking a woman with children for the picture. Just make sure she's not too busy wrangling the kiddos.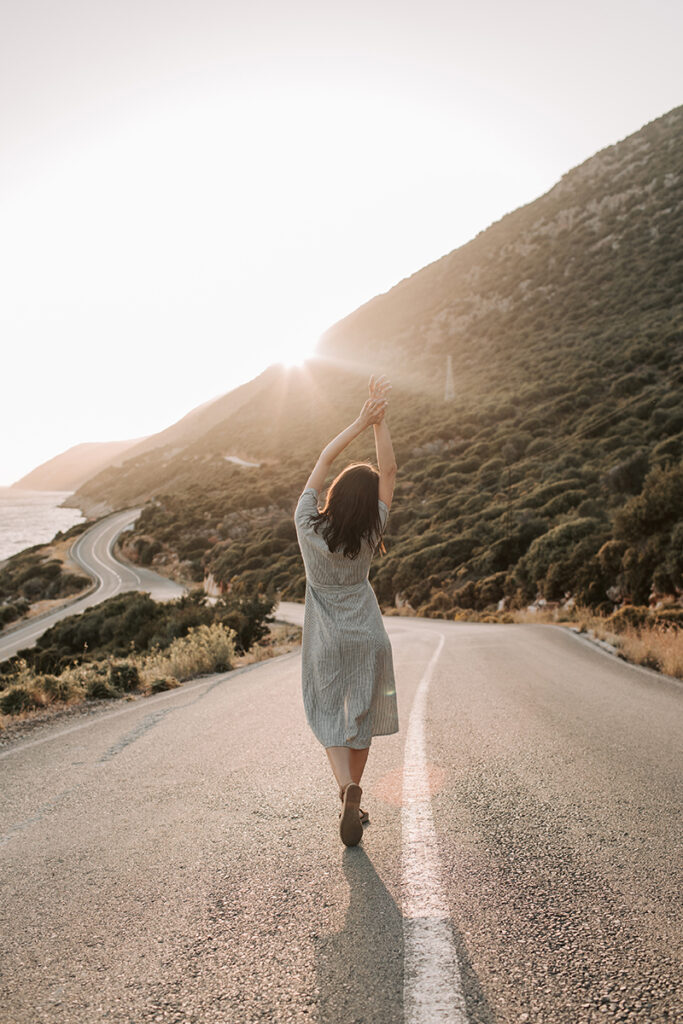 Balancing Camera on Random Objects
If you're on your own and you don't have a tripod with you, you can try to balance your camera or phone on random objects nearby.
All you need is a steady surface to set your camera on and something that's large enough for the camera not to tip over.
For example, try balancing it on top of a fence or railing if there's one nearby, or balance it between two rocks in the ground. The key is having an object with stability; otherwise your photo can end up being blurry.
You can also use the timer to take photos with your camera on a surface that isn't stable, but this will make them harder to capture without any help from someone else nearby who can set it up for you and press the shutter button when they see you ready.
Selfie Stick
Of course, you can always use the infamous selfie stick!
If you're traveling solo and want photos of yourself but don't have a tripod, then it's time to break out your selfie stick.
Selfie sticks are lightweight and use bluetooth technology so that the camera is away from you when taking pictures (no more arm strain!). You can find these at any electronics store, and of course on Amazon.
There are many ways to take photos of yourself when you're traveling alone. It's important that, as a solo traveler, you continue to document your experiences and not let them go undocumented for fear or lack of company. We hope these techniques will help inspire some creativity in capturing the sights and scenes from your trip! Have any other tips for taking awesome pictures on vacation? Share them with us below!
I hope that some of these tips are handy for you on your next solo adventure.
Related Posts
How Solo Travel Changes You for the Better
Is It Weird to Travel Solo? 7 Reasons Why It Isn't
Can You Travel Solo on a Cruise? Yep! Here's How
How to take selfies when traveling alone