The Best Places to Live in Greece for Expats
Greece is a country located in Southern Europe. It has a rich culture and history, which attracts many tourists annually. Greece is also a popular destination for expats, as it offers a high quality of life and plenty of job opportunities. In this article, we will explore the best places to live in Greece for expats.
Disclaimer: Below may contain affiliate links, where I make a small commission. I only recommend products that I use and love at no cost to you.
Santorini
Santorini's distinct look is what most people imagine when they think of Greece. They envision the signature blue-roofed, whitewashed houses lining winding staircases carved into the hillside on the coast of the Aegean Sea.
For those who enjoy dichotomous lifestyles, Santorini can deliver. In the winter months, life in this picturesque city is relaxing, slow, and quiet with a population of around 15,000 people. Whereas in the summer tourism transforms Santorini into a fast-paced, crowded metropolis.
If you're a multilingual expat or have work experience in tourism, Santorini could be right for you. And, while the average home in Santorini has a price tag of over a million dollars, it can be a beautiful, temporary destination.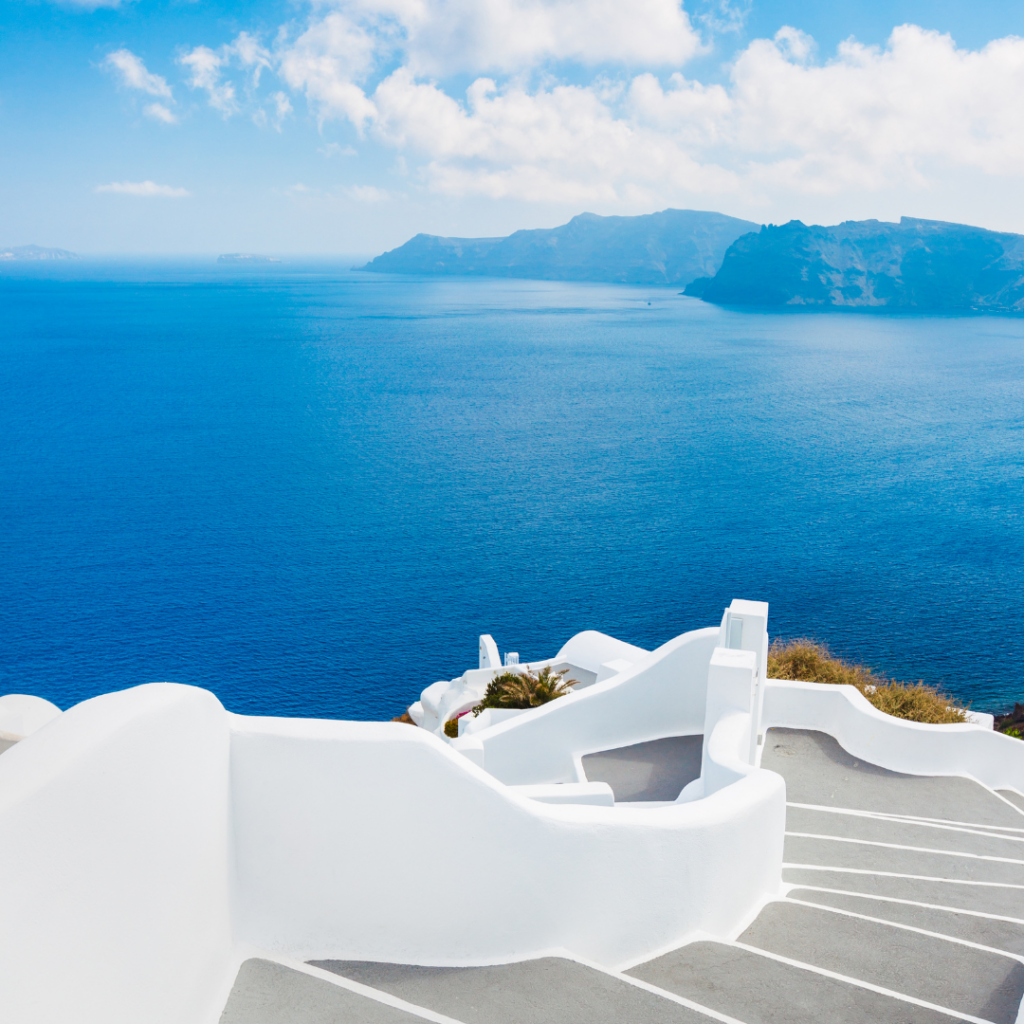 Mykonos
Among the smaller Greek islands, Mykonos is known for its lavish resorts and beautiful beaches. Don't let its size fool you though, this island is a popular tourist spot. While there's no avoiding the high island prices, Mykonos offers its residents and expats one of the most active nightlife scenes in all of Greece. With trendy restaurants, bars, music festivals, and beaches, a good party is easy to find.
Mykonos is ideal for expats wanting to take advantage of the buzzing nightlife, start a foreigner-friendly business, or simply take in the landscape.
Thessaloniki
Thessaloniki is the second largest city in Greece. This port city sits along the northern part of Greece's mainland. As such, this city borders some Eastern European countries. Expats can live in this centrally located city while being able to easily visit these neighboring cities and countries. Also, if you're a history lover, Thessaloniki is filled with Greek ruins, including ancient temples, marble columns, stone facades, churches, and original frescoes.
If you're an expat craving great food, affordable living, accessible travel, true summer and winter weather, Greek culture, and all the amenities of a large city at a slower pace, Thessaloniki may be perfect for you.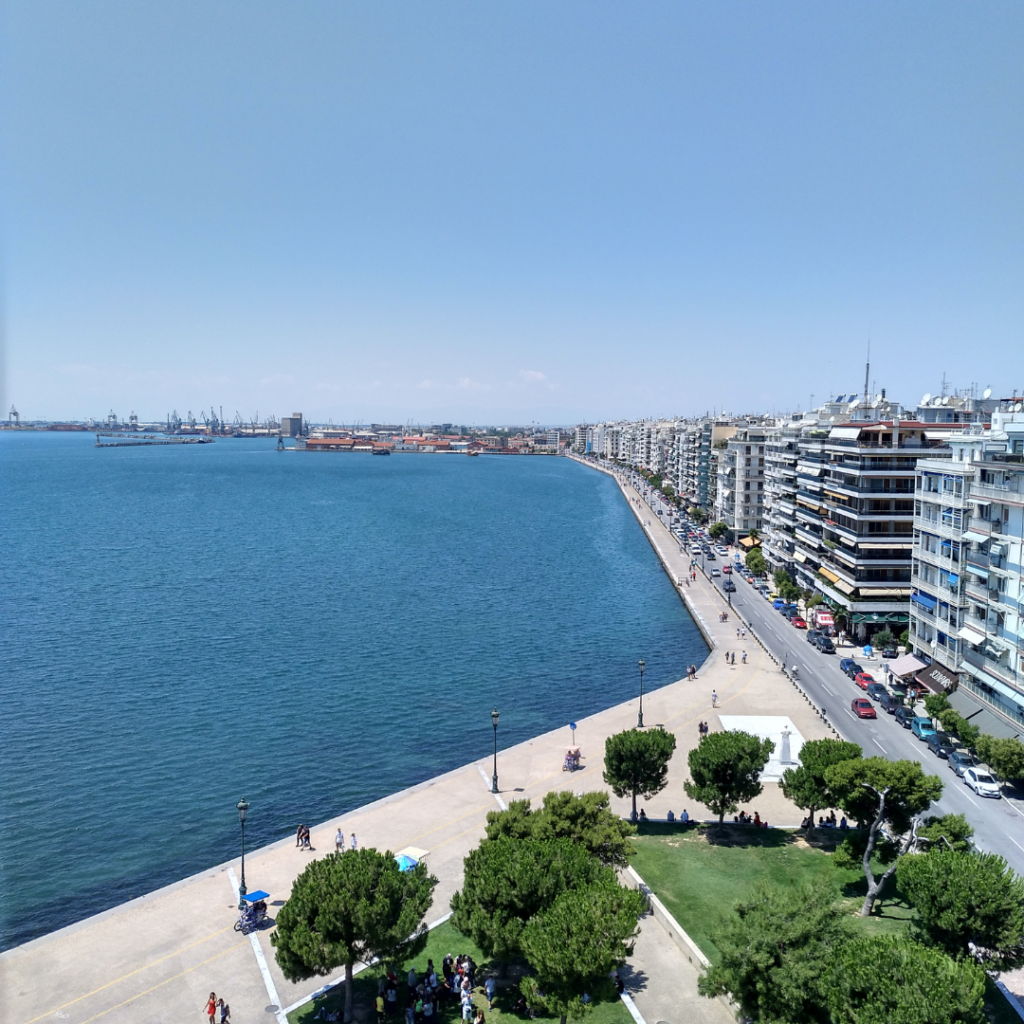 Rhodes
Rhodes is popular among expats interested in a more peaceful, less hustle and bustle destination. This city offers many leisure activities, such as boating, beach volleyball, urban exploration, and local shopping. Also, Rhodes is well-equipped with plenty of schools and medical care for an expat family.
Rhodes's expat community enjoys helping each other out from best restaurant recommendations to how to find work and learn the language. Whether you're looking for a place to retire, move with your family, or you're single and want some time to yourself, Rhodes is an all-around great place for all types of expats.
Patras
Patras is the third largest city in Greece. It's a unique place that has the commercial prospects of a big city with the intimate community spirit and the low-cost living of a smaller town.
Home to Greece's busiest airport and a bustling ferry system connecting many European cities, Patras offers a large tourism population. This is an appealing destination for expats who have a passion for teaching or are looking to pick up some work during their residency. Additionally, Patras is ideally positioned to the sea and mountains making it a great place for expats who enjoy the outdoors and the Greek countryside.
Corfu
Corfu attracts thousands of travelers year-round, resulting in one of the largest expat communities in Greece. As a result, the island of Corfu has plenty of amenities and services catering to expats and tourists.
At over 35 miles long, Corfu's different regions offer its expats different things. If you're looking for resorts and parties, the eastern and southern regions may be a good choice. Inland offers a hilly, mountainous backdrop, while the northern and western regions are more remote.
Corfu has a little bit for everyone. Come to this city to enjoy reasonable living costs, opportunities to find work among the city's establishments, and a large expat community to deepen your international connections.
Athens
No list of best places to live in Greece for expats would be complete without including the capital of Greece herself, Athens. Athens is a major tourist destination for both Greeks and foreigners alike. This city is also home to more international, multilingual education institutions than any other city in the country.
Being the most populated city in southern Europe, Athens-proper has a high cost of living. However, the up-and-coming Koukaki district or the upscale, surrounding neighborhood area of Kifissia offer more affordable living costs for expats. When you're not working, this city is home to some of the most iconic historical sites, including the Acropolis Museum, the Parthenon, and the "Neighborhood of the Gods" in the Plaka district.
Related Posts:
30 Places To Visit Before 30: Travel Bucket List Before 30
10 Smallest Countries In Europe
The 15 Best Countries To Travel Alone in 2022
Final Note
So, whether you're looking for a place to retire, move with your family, or you're single and want some time to yourself, Rhodes is an all-around great place for all types of expats. With plenty of leisure activities available and an expat community that is always willing to help out, Rhodes offers everything an expat could want in a destination city.